Ok, here it is. The much anticipated crib post. First we have to talk about how giddy we are to have a mini-me mattress going on. Let me explain. Remember back when John and I talked about saving our pennies for an organic mattress (after sleeping on a sketchy old hand me down for far to long) back in June of last year? Yeah, we actually had a "mattress fund" going until we could take that baby home. And pretty much ever since the day that we sprung for our own Organic Serenity Natural Dunlop Latex Mattress By Savvy Rest we dreamed of someday getting a mini version for our offspring in the form of a totally organic crib mattress (p.s. don't you like my mattress pageantry below?).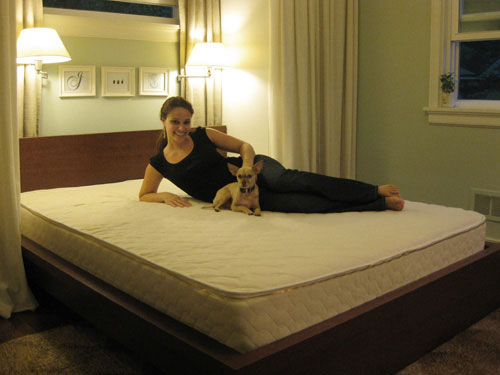 After all, if John and I didn't want to go to bed with just anything (my obsession with all things eco made me yearn for a pure and organic mattress free of fireproofing chemicals and made from 100% natural materials that are just as good for the planet as they are for people) we certainly wanted the same thing for the beanette. So imagine our sheer delight and amazement when the thoughtful and generous people at Savvy Rest contacted us and offered to send over an organic crib mattresses for our big nursery makeover. Yeah, it was enough excitement to make my bladder almost burst (this reaction might also have something to do with all the kicks I've been getting lately- we have a little can-can dancer in there).
So when The Savvy Baby (isn't that an adorable name for a crib mattress?) arrived a few weeks later we were still pinching ourselves. And Burger fell in love too. In fact here's a video of us catching Burger in the act of enjoying the new mattress (or you can watch it here on YouTube).
And fear not, that puppy's cleaner than we are. And of course we'll be adding an organic all-wool waterproof mattress pad along with an organic fitted sheet so please don't worry that our baby girl will get some sort of dangerous chihuahua-borne illness.
But back to our baby… er, I mean the mattress. What makes it so covetable? Well it's totally free of any chemicals and made from five inches of firm all-natural latex. The top and bottom of the mattress are also covered with flame-retardant quilting made of organic wool fiber and organic cotton fabric (it meets all the fire-proofing standards here in the US without being sprayed or dipped in any chemicals). Plus wool is naturally repellent to dust mites and keeps the mattress's inner environment dry so baby P will sleep cooler in the summer and warmer in the winter.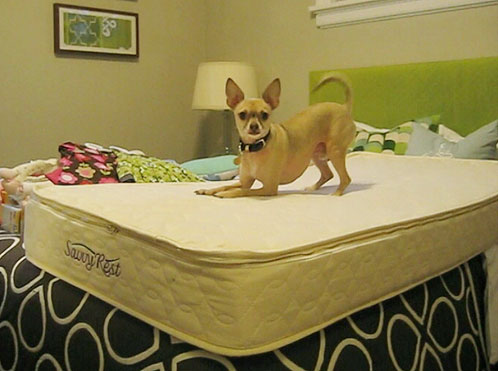 Doesn't it sound like the Ferrari of crib comfort? Seriously we were thrilled and we can't thank the sweet folks at Savvy Rest enough for their amazing gift. Of course we haven't taken it for a spin since it's a bit too short for us, but we can definitely vouch for the comfort-factor and durability of our own personal Savvy Rest mattress which we've enjoyed for almost a year now (check out an update on how we like it right here). And we haven't mentioned that Savvy Rest is based right here in Virginia so it's sort of a "local" company too. Gotta love that it didn't need to travel far to arrive right at our door.
So that's the rainbows and unicorns (read: happy-go-lucky) part of the story. Then it was time to figure out where we'd be putting our lovely new mattress… as in, locate a crib. This is easier said than done my friends. It was a major challenge to straddle the line between "we'd like it to be reasonably green and non-toxic since that's the way we live" (we compost, have a rain barrel, use non-toxic cleaning products, etc) and "our budget isn't in the $700-1500 range so all those entirely eco crib options sadly aren't within reach for us" (with things like strollers, car seats, cloth diapers and other big ticket items still on our must-buy list we unfortunately had to set a crib budget and stick to it).
We quickly realized that we'd be happy to find a crib that was somewhat of a compromise (a bit more eco than most super cheap cribs with a few great non-toxic features but obviously nothing in the sadly-unattainable-for-us $700+ price range of those amazing industry leading green crib makers like Oeuf, Cariboo, Pacific Rim, DucDuc, Spot on Square, Argington, and Q Collection Junior). So after a bit of research and soul searching we arrived at a decent little "must-have list" that we thought would work best for us in order to narrow down all the contenders and hopefully leave us with something perfect for Baby P. Here was our required criteria:
A crib that was constructed entirely out of solid wood (since pressed wood and MDF can be held together with off-gassing glue and formaldehyde)
Something with a non-toxic finish (since babies are known to inexplicably gnaw on their cribs)
A price tag under $400 if at all heavenly possibly (our initial budget was actually in the $200 range but we scored such a good deal on a secondhand nursery chair that we had a bit more to put towards the crib).
A crib that meets or exceeds all of the established US safety standards
Something modern-ish with clean lines and a white finish (to work with the rest of the room and feel gender neutral enough to reuse for future bambinos)
A solid well rated stationary crib (we wanted to avoid anything with a drop side since there have been so many recent recalls)
We also had a bonus list of "it would be nice" characteristics that weren't necessary but were definitely welcome:
A crib with some sort of pull out storage underneath it (we're all about maximizing our stash-it space)
Something that can be converted to a toddler bed or daybed (we'd like to work with what we have for as long as possible)
A splash of darker wood to balance the clean bright white finish on the rest of the crib (we actually found ourselves loving the dual-toned look but it wasn't that easy to hunt down)
Free shipping (because that's always a nice bonus when purchasing such a big ticket item)
Our minds swirled with a ton of possibilities that we carefully considered as we went…
Idea #1: Could we make our own crib to meet every prerequisite? After a bit of deliberation we realized that with all the safety features, testing and industry standards we'd better leave crib-making to the experts.
Idea #2: Could we grab an unfinished solid wood one (made from birch, maple, oak?) and use a no-VOC stain or paint to finish it ourselves? Well, after hunting down very few totally unfinished solid wood options (many were already stained or sealed so we wouldn't be able to easily alter the finish) we realized that unfinished cribs were generally in the $500-1200 range (a bit to a lot out of our budget) and usually had country-ish lines due to their raw and unfinished nature (we were interested in something a bit sleeker and more clean-lined).
Idea #3: Could we hunt down a used one? After all, that would be the greenest thing to do. But a bit more consideration had us thinking about those ever-changing safety standards and a slew of recent recalls so it seemed like getting something new that meets all the current safety standards was the right choice for fearful first time parents like us. Especially since my mother generously offered to foot the bill and kept mentioning that we should get something new that we could use again and again and again (somehow she thinks we'll end up with seven babies since she herself is one of seven). The good news is that we've actually purchased an awesome thrift store nursery chair so we were as green as it gets in that category… stay tuned for those details.
Anyway, with all of that pre-hunt brainstorming out of the way, we dove headfirst into active "crib shopping" mode armed with our handy little list of boxes to check off and all the confidence of a nervous eight pound chihuahua (we have to be honest, it was quite intimidating and we were super worried that we wouldn't find anything at all). But we did manage to dig up this good-looking crib made with solid wood and non-toxic finishes. The only downside: it doesn't outright say there's no MDF or pressed wood so there probably is. Plus the $379 price is very close to the top of our range (as in scraping right up against it) so we were hoping to find something that checked off all of our boxes and not just most of them for that price point. Back to the drawing board.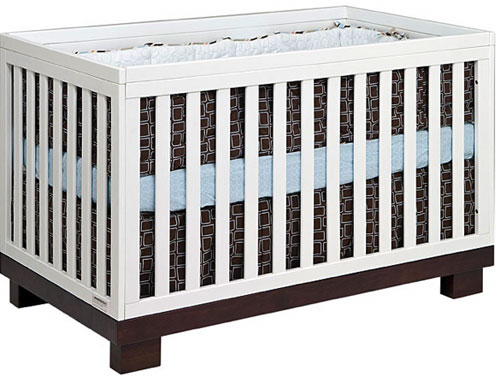 Then we came across this chic looking $419 crib, which was also made with solid wood and non-toxic finishes. But again it doesn't outright say that there's no MDF or pressed wood (something that cribs with this feature like to shout from the rooftops) so it also fell a bit short of checking off that last box (and was also a bit over our max budget). That's ok… maybe the third time is the charm?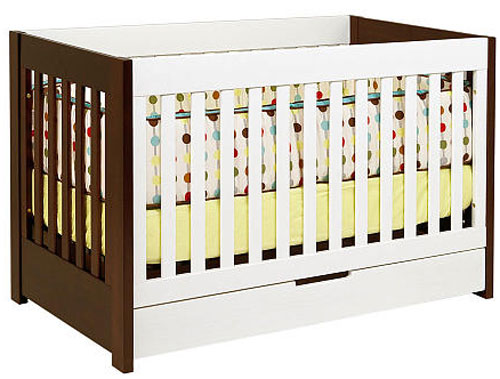 Spoiler alert: nope. We then stumbled upon this crib by DaVinci. We actually heard through a few online reviews that DaVinci cribs were usually made from solid wood, finished with non-toxic paint/stain and even came with BPA free crib guards- but there was hardly any information for this particular model except for the super vague "made from Asian hardwood" line (which could also be true if the thing was riddled with MDF) so we're not really sure it met much of our criteria at all. The styling was also a bit less clean-lined than we wanted, although there was definitely something charming and undeniably "classic" looking about it. On the upside, it did come in white (our desired color) and was priced extremely well at $267… but it just didn't do everything we hoped that our future crib would do. Moving on.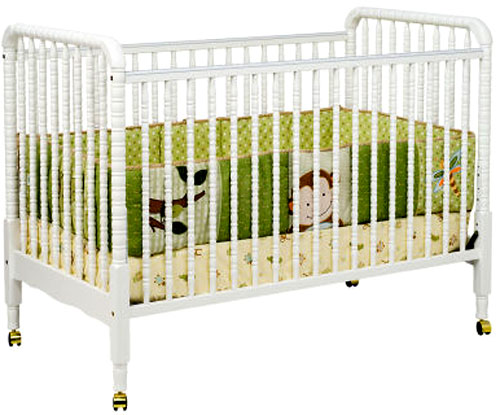 We began to wonder if we were (pardon my language) being hard-asses. Was our wish list akin to J-Lo asking for nothing but white candles in her dressing room? Were we tirelessly trolling for something that just didn't exist? We allowed ourselves just two minutes to wallow in self pity before deciding that we had work to do. Back to the search.
Next we came across two potential Ikea cribs, but the first one wasn't the white color that we hoped for (although it did seem to be made mostly from sustainable solid wood). Sadly it also didn't boast keywords like "non-toxic" or "low-VOC" when it came to the clear acrylic lacquer finish, and we learned along our little researching tirade that any crib with these features likes to highlight them in bold (so we always assume that if it doesn't say something is: no-VOC, non-toxic, sustainable, completely comprised of solid wood and nothing else, etc- then it probably isn't). Too bad because the price was pretty fantastic at $159. But that's ok, there was another affordable Ikea option to evaluate.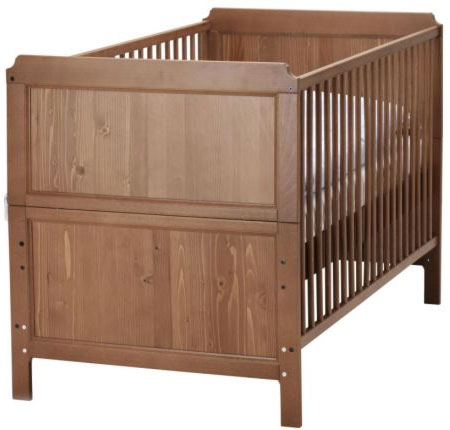 Our second Swedish find (priced at just $99) also mentioned some nice solid wood & plywood materials (no word of pressed wood or MDF) but again neglected to describe that the "tinted clear amino resin lacquer" finish was anything especially non-toxic or low-VOC. (Insert the womp-womp sound effect here).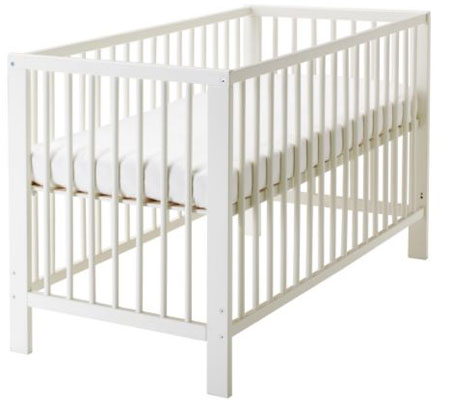 Admittedly they were both amazingly priced and we actually know of at least three happy babies with these affordable and stylish Ikea cribs so by no means are we saying there's a thing wrong with them (or the other cribs that we found along the way)! They just didn't quite check off all the little boxes that we established going into our big crib hunt. We quickly learned that selecting a crib is definitely a subjective and surprisingly personal decision. What's right for one person might not be right for the next mom and dad to come along so we definitely believe that ironing out what's most important to you (and acknowledging that it won't always be as important to the next person) will help you locate something perfect for your family. To each his own, right? But back to our search…
Next we found this crib. At $490 the maple finish was the only one that we could *almost* afford (it was still nearly $100 over budget). Since the tone of the maple is a bit shy of the deep chocolate color that we lean towards, the white finish would have been our preference… but at $700 that option was out of our price range. And although the maple coloring didn't really work with our ever-evolving nursery scheme, there was something intensely charming about this guy. He's actually the cream of the eco crop (Argington is one of those fancy top-of-the-line green companies) and is made entirely of solid wood, touted as one of the most eco-friendly options out there, and constructed with all materials (glues, stains, and finishes) that are 100% non-toxic. Too bad it wasn't the color we were looking for and the price was ultimately still a bit cost prohibitive for two savers like us. Oh well, back to the drawing board.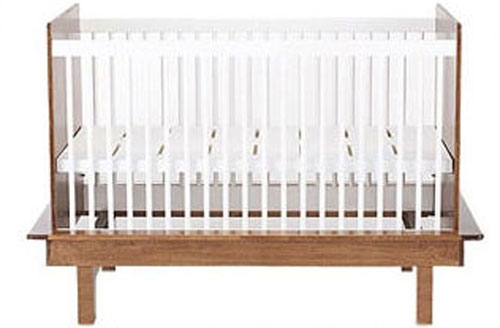 This crib was also super appealing thanks to the eco-advantages that it boasted (made entirely from sustainably grown wood with non toxic finishes). But the $700 price tag was just too steep for us, and the rounded corners wouldn't fit our lovely new mattress. So we gave it one last look and clicked that window closed as a single tear slipped silently down my cheek (ok so I'm exaggerating, but this entire exercise was kind of an ooh-this-might-be-it-nope-keep-looking roller coaster ride).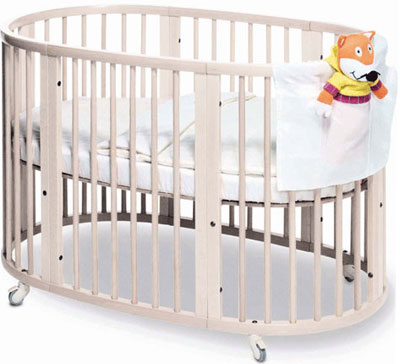 Then we found this write-up which honestly helped A TON (update: we've since unlinked to the write-up because the site was hacked and then removed so it was a dead link). It reinforced that affordable eco cribs were few and far between (especially in the white coloring and clean-lined styling that we were looking for) but there were a few non-budget-breaking options that were still a bit "greener" than the average crib in that price range.
Ahhhhhhhhmmmmmmm.
Yes, that's the sound of us breathing a long, deep sigh of relief. The affordable reasonably-green-crib-roundup that we had tracked down was insanely helpful! And the last crib they featured not only met all of our initial criteria but also checked off all of our bonus "would be nice" boxes too. And at $299 it was definitely within our budget. Were pigs flying? Could it really be? Oh sweet victory. It was described as "made from New Zealand pinewood with a non-toxic finish" and "the solid wood and wood veneer construction means no toxic VOCs or formaldehyde associated with pressed wood." It also met or exceeded all US safety standards and received one of the highest user ratings we'd seen (over 85 people had weighed in after purchasing it and it earned almost five full stars out of five). Plus the $299 price tag even includes the rail to convert it to a toddler bed or daybed, there was free to-the-store shipping, it came in white and had a splash of darker wood, it was clean-lined and sleek looking and it even had a handy little storage drawer (talk about a few nice little bonuses).
It really was one of those miracle moments. Perhaps it'll be up there with actually meeting our baby girl for the first time in May. Ok so that's probably pushing it, but after hours (literally at least four solid ones) spent looking for something that consistently eluded us it seriously felt like a major coup to click the "buy" button and exchange a few nerdy high fives that we save for special occasions like these.
We could hardly wait to get it home, put it together, add our awesome new mattress, and test it all out with The Burgette. And about a week later we found ourselves doing just that. Nice, right?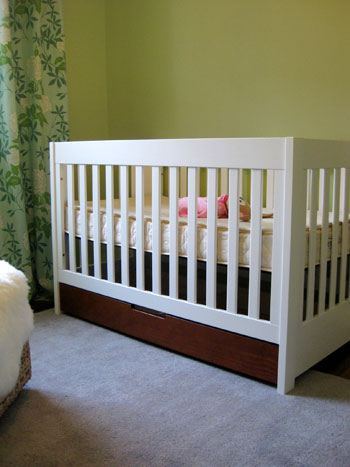 Oh, maybe we should stop to explain who Burgette is. She got her name because she's sort of a hybrid between Burger + The Beanette (we whipped her up thanks to this Burger zoonie and a recently gifted newborn sleeper… just so someone could take our new nursery addition for a spin). Look… she likes it!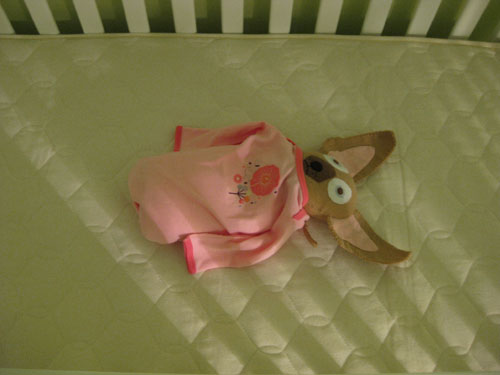 And although we luckily were able to assemble things pretty quickly, we sped things up even more for your viewing pleasure (watch it below or over here on YouTube):
So there you have it. The mind-numbingly exhaustive play by play of how we ended up with an amazing organic mattress and a solid clean-lined white wood crib without any pressed wood or MDF and a non-toxic finish. Of course we realize that one comes from a small Virginia based company and the other comes from a giant big box store (and yes, that it could be even greener if we had twice to three times as much to spend on it). But one thing we've already learned about impending parenthood is that it's all about balance. And we love that we were able to add a thrift store nursery chair to the mix (stay tuned for those details). Balance really feels like it's the key. We won't be able to keep our little one away from certain things (like boys for instance) or feed her a completely organic diet until she's 25, so we did the best we could and set out with a few simple "goals" for the bean's sleeping situation. And we lived to tell the tale. Whew. Now there are only 579,088,989 more dire decisions that we'll have to make before she graduates college. This should be interesting…
Psst- Wanna see our nursery progress from the very beginning? Here's our painting post and here are a bunch of accessory-hunting details.