Reader Redesigns
Clara has had her play kitchen for over a year and a half and she still plays with it nearly everyday, which is practically a toy miracle considering how quickly other items are dismissed. So play kitchens have a special place in our hearts. And this one is extra special because, well, Casey and Phil had a ton of fun making their own – and brought lots of new ideas to the table. They don't have a blog, but they outlined their process here for you guys:
Much like you guys, my husband Phil and I decided to build our daughter Zoey a play kitchen for Christmas. I sketched it out to mimic our kitchen cabinets, and I knew she'd love a pretty realistic looking stove in a fun color. Luckily my husband is a fantastic carpenter, so we built the whole thing from scratch using scrap lumber from from our whole-house renovation and butcher block left over from our previous house's kitchen renovation.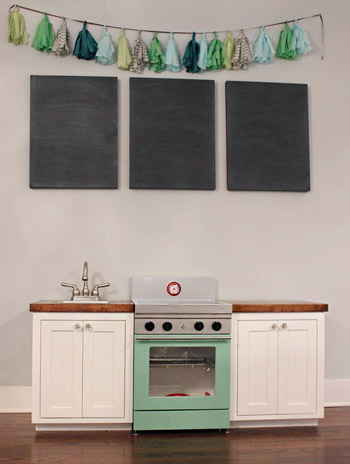 All said and done we spent an embarrassing amount of time on this, but I think the end result was worth all the work!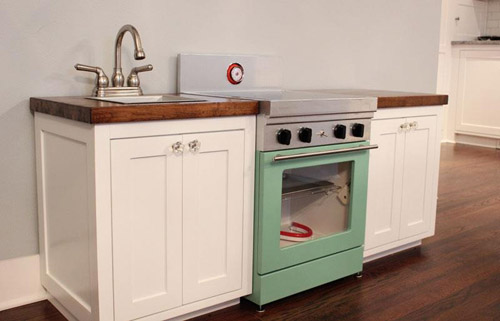 The cabinet building was pretty straightforward- we built basic cabinet boxes, added the face frames, then added the extra paneled detail on the sides. Phil build the doors separately and we attached them after everything was painted. The stove was a little (okay, a lot) trickier. We build it in 2 major parts- the lower half (the painted part) is all one unit, and the upper half (the stainless part) is the other half.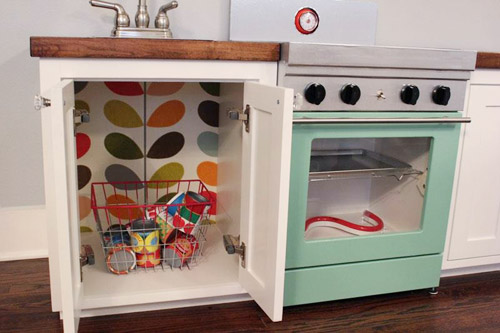 Phil loved the idea of dimmable "burners" so that was definitely our biggest expense in the whole project – but he was right that it takes the whole thing to the next level. Zoey loves them! For the top half we sandwiched the LED lighting in between 2 layers of wood to hold it in place. We used a 6″ hole saw to create the 2 openings where the coiled LED lighting shines through. We wrapped the top part in stainless contact paper, covered the lighting with a piece of tinted plexiglass, then we put the whole thing on top of the lower half.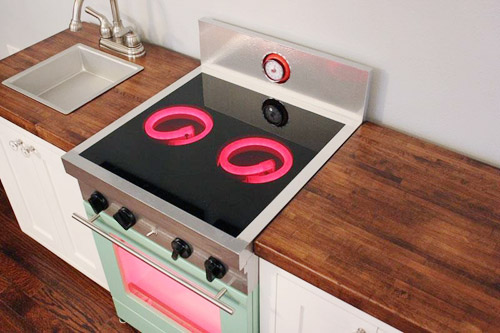 And I know people love a good resource list, so here's where we got things:

Hope you enjoy! -Casey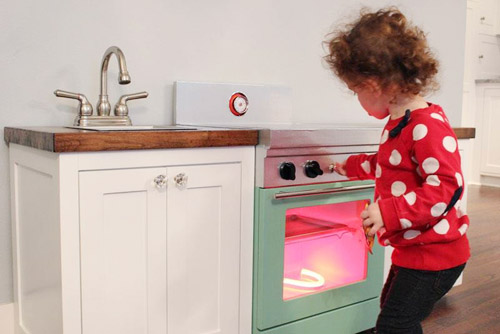 Isn't it awesome? Zoey is one lucky kid to have such resourceful and creative parents who have so much fun building things for her. Thanks for sharing your creation with us, Casey and Phil!
&nbsp&nbsp&nbsp
…in his bedroom. Well, most of it. Here's Emma's hilarious letter about the makeover they turned out for their son's room:
We moved in to this three-storey 1876 "brownstone" (sidebar: it is neither made of brownstone nor located in New York City) three years ago – we're in Ontario, Canada. We've been working our way through the house converting what was four separate apartments back into a single home. This bedroom is up on the third floor and it belongs to our 5-yr old son, Angus. The 'Before' photos were taken when we first looked at the house and, at the time, this bedroom was the living room of a medical student at the University nearby.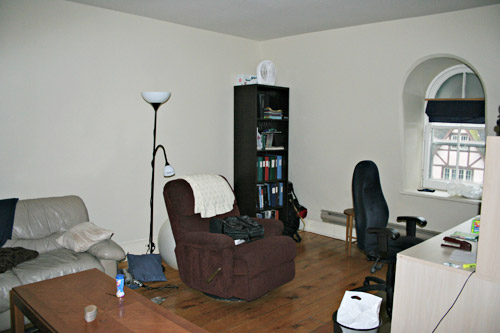 When we finally got our hands on it and finished some necessities in the rest of the house – like a working kitchen and toilet – we decided that (a) the room needed closets and (b) it should be out-of-the-park awesome so that he'll never leave home and will look after us when we are old and can't find our false teeth (sidebar #2: we will re-visit this plan when he is 16 and takes up the drums, or when he is married and his spouse doesn't want to sleep on a bunk). Enter the built-in bunk bed loft, which my husband made while I helpfully pointed out where things didn't line up.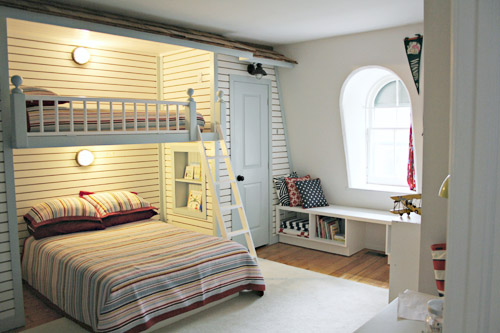 We were going for a campy/beach club look and he added in the cedar shake roof to make it feel like a real playhouse… or maybe a crab shack…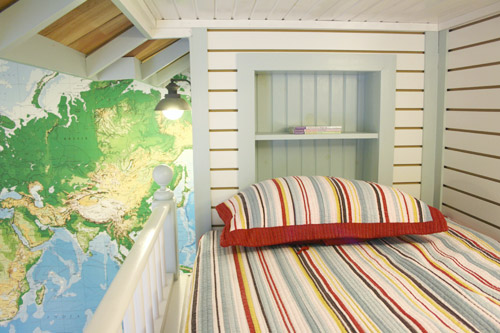 I was dying to try this map wallpaper after seeing it online. In fact, I think I impulse-ordered it well before we had even moved in to the house. We had heard a few times that wallpapering is a real relationship tester, so we armed ourselves with a bucket of paste and few glasses of wine late one night once the kiddos were asleep. The wall wasn't quite big enough for the whole earth, so the most nerve-wracking part was deciding which parts of the world to leave out (sidebar #3: our son is going to be floored when he discovers the existence of amazing places like 'New Zealand', 'Fiji' and 'Alaska').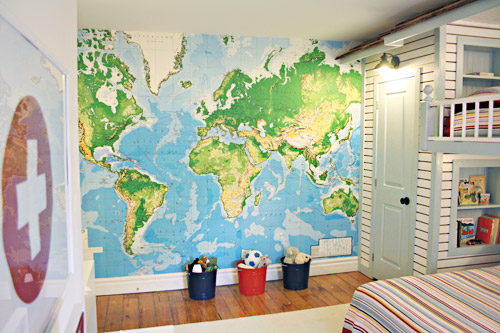 This room was so much fun to do.  Hope you guys like it! -Emma J.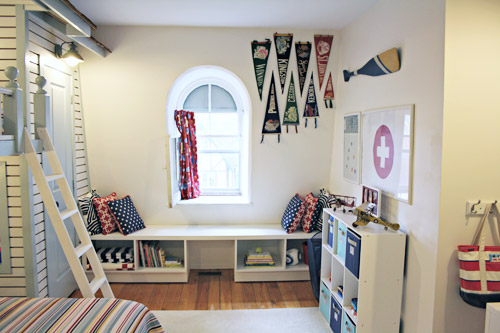 Angus is a lucky guy, right? I think Emma has as good a shot as any of us at keeping her kid around forever. You can see more pics and learn more about the makeover right here on her blog. Thanks Emma!
&nbsp&nbsp&nbsp