The boldest color we've ever used on any wall is Martha Stewart's Plumage (which we slathered all over our guest room walls). Long story short: we've loved it ever since. So when Jackie sent us her dining room makeover boasting lots of Plumage, of course we were all over it. Here's her letter:
"When we moved into this house, the dining room started with just a table and the bamboo armoire. We didn't even have dining chairs.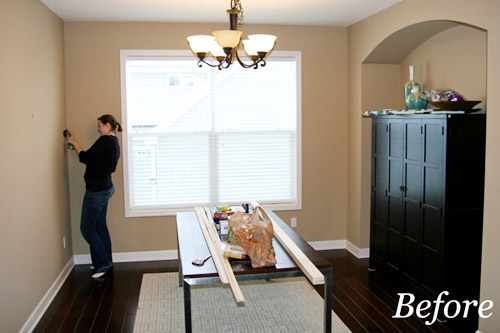 Over the last six months I prioritized finishing this room in time for the holidays. It is filled with DIY projects including art silhouettes, board and batten walls, mercury glass vases, jute wrapped monogram, and my favorite: the DIY linear crystal chandelier.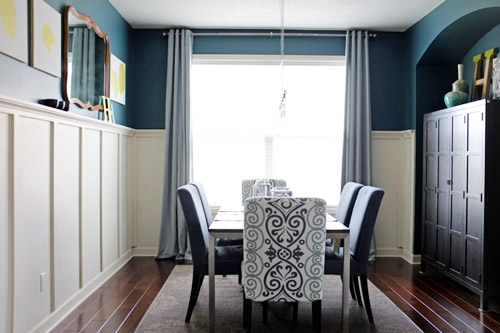 After making the head chair slipcovers from tablecloths, I followed your tutorial to dye the side chairs a coordinating color.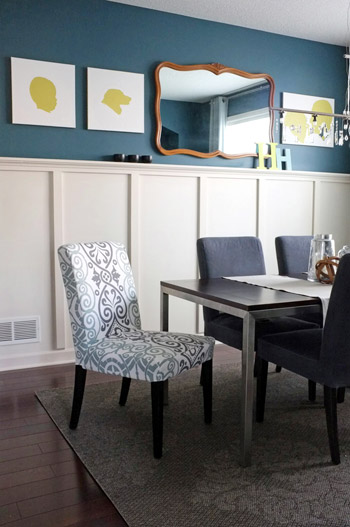 It took me two tries to get the right color too, but your story gave me confidence for the second round of dying.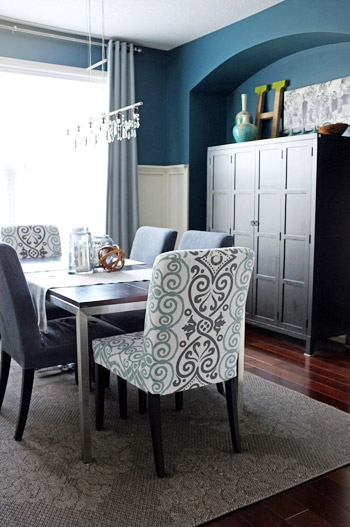 I have blogged about all the DIY dining room projects on my blog, aptly named Teal & Lime (I promise I do like other colors too). Thank you for your continued inspiration and over-sharing. I've really enjoyed watching you transform your new home." – Jackie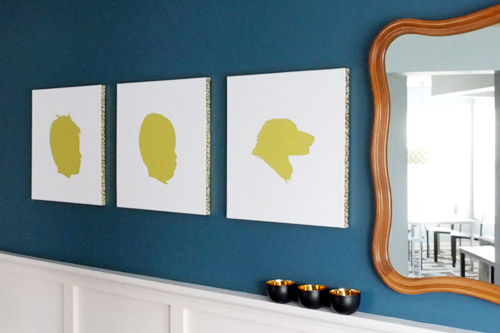 Since it's no mystery why we fell for the teal and lime color scheme, we just have one question: what time is dinner? Thanks for sharing Jackie! Aren't those silhouettes mixed with the curvy wood mirror fun? Can you believe they DIYed the board and batten walls and even made those slipcovers from tablecloths? Such an inspiring room! Let's play the what's-your-favorite-part game. Mine is the dapper dog silhouette and Sherry's is the curvy wood mirror (closely followed by that homemade linear crystal chandelier).