When you see the pictures in this post, you'll agree that Meghan and her husband can churn out a huge transformation. But what we also loved about Meghan's email was the story behind how their before became a stop-you-in-your-tracks after. So if ever you were to not scroll right to the pictures and just read as you go, this might be a good time.
"Like the two of you, my husband and I bought a house that needed work, though in our case we couldn't reuse much thanks to some frugal prior owners. We decided to gut our kitchen, family room, dining room, and bathroom down to the studs/subfloor when our first child was 12 weeks old. Oh and we both worked full time AND DIY'ed EVERYTHING because my husband is cheap ambitious. There were a lot of late nights and weekends and our son learned to snooze away to the sound of a nail gun. With a refrigerator in the garage we actually had to go outside in the middle of the night to get a bottle for 2 AM feedings. You'd think we'd have learned our lesson, but have since renovated most of the rest of the house with two additional babies. Three boys in under three years while totally renovating a home DIY style. Do not try this at home. Here are some before shots, orange paneling and all (don't be jealous):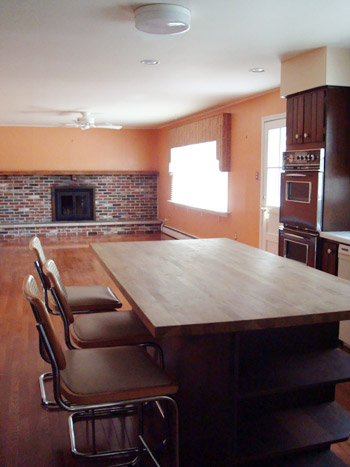 Notice the back and left side walls. Now you see them…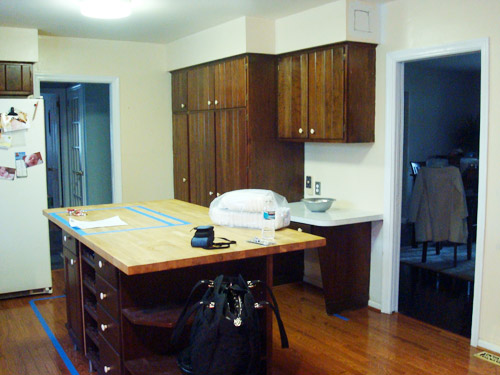 …now you don't: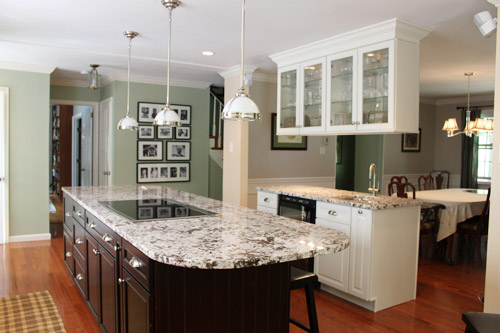 We also turned all the doors into windows and the window into a door (because why do anything the easy way?) and had to shut down the heat for a week to move the baseboards around a bit. Of course we did this when it was freezing outside so our poor son actually slept all bundled up with mittens. But he didn't seem to mind.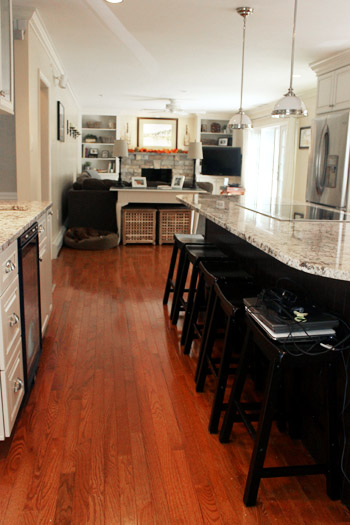 The cabinets, windows, and sliding door (really almost everything in the room) are from Home Depot, the lighting is Restoration Hardware, one of my two splurges (the other being the Ming Green marble backsplash), the toy boxes under the console table are Ikea end tables, and all the accessories are HomeGoods and Ikea. Thanks for letting me share!" – Meghan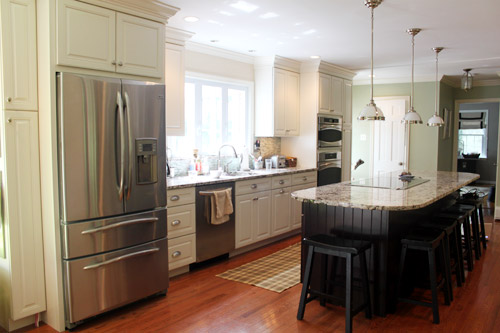 So… is anyone else exhausted just hearing that story? Sometimes we find it hard enough to DIY something with one toddler. So we can't imagine it with a twelve week old baby. Job well done – Meghan! Thanks so much for sharing. And can you guys believe that's the same house? Amazing, right? Let's play the what's-your-favorite-part game. Sherry loves the thick crown molding while I'm all over those pendant lights.