We figured during the week of our big kitchen reveal it was only fitting to share a reader's kitchen makeover as well. And this kitchen redesign comes from an atypical source. It's not from a female blogger who is documenting the DIY-ing of herself and her man. It's actually from a male blogger who goes by "Beard" – although he does have a female sidekick in the form of "Pigtails" (the daughter that he's a single dad to). So, long story short, I found their backstory quite endearing, Beard's blogging style quite amusing, and their kitchen makeover, well, quite awesome. Here's his letter:
I recently gutted and rebooted the kitchen on my 1950's brick ranch (using inexpensive materials like Ikea cabinetry and reclaimed wood for a bench and table setup).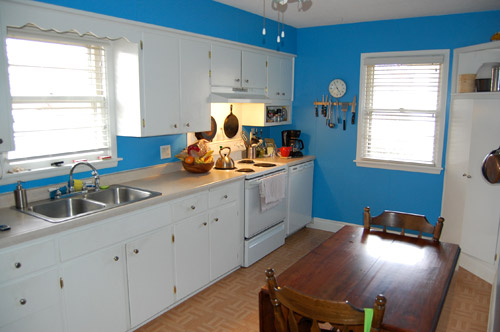 Goals for the reboot:
Be smart with the available 100 square feet. Kill clutter and chop it down to the basics.
Open things up by reducing the number of cabinets, shrinking appliances, and deleting the soffit and ceiling fan. Recessed lights for a smooth finish up top.
Install a robot that cooks and mops up messes, a.k.a. Rosie.
Move the dishwasher from the random corner to a slot beside the sink.
Build a slim table to fit the space without dominating.
Create a warm look that's different than what I typically see out there.
It turned out just right, hit all the goals but one.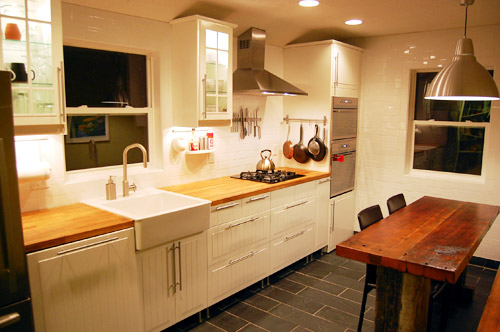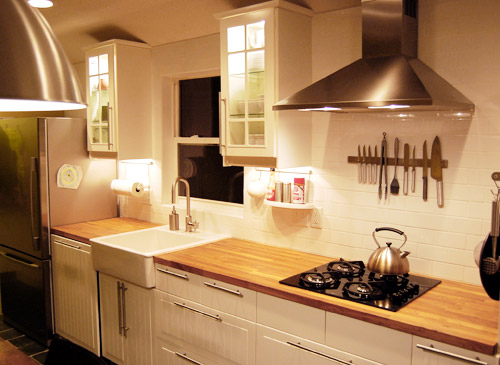 Yeah, the kitchen will never be this clean again. Ever. – Beard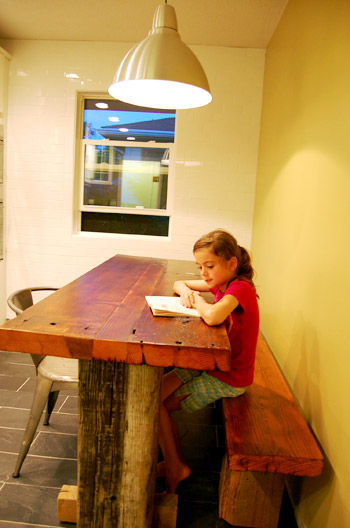 Be sure to check out Beard's blog for more of the story on the makeover (there's a cool tale behind the table). And thanks to Beard for bringing some testosterone to the reader redesign this week! Virtual fist bump. Petersik out.
Psst- We announced this week's big Crate & Barrel giveaway winner. Click here to see if it's you.