Okay, okay – so we're taking a breather from our usual kitchen-related reader redesigns to share a super cool project on a smaller scale. Well, if you call a project that involves 120 hand-drawn monsters a "small" undertaking. Now I've got your curiosity piqued, eh? I'll let Jen explain:
My son Daniel is a prolific artist and I wanted to showcase some of his sketches and decided that I would do so on a duvet cover. He designs his own Pokemon, complete wtih names, types, and evolutions and he chose those for the project. Here are his design sheets: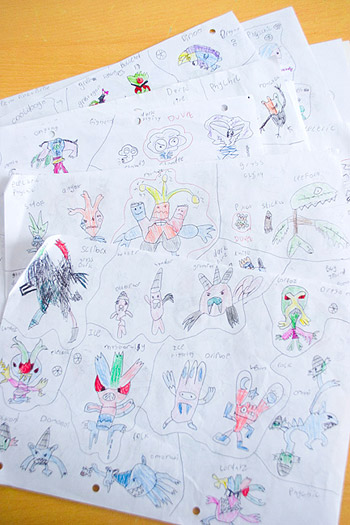 I photographed each chosen design. Then in Photoshop I erased all extra marks around the edge, used the Hue / Saturation tool to effectively bleach out all colour, converted it to grayscale and increased brightness and contrast to get a nice, pure black & white image to trace. Then I resized each chosen character to fit on a sheet of paper and printed them out.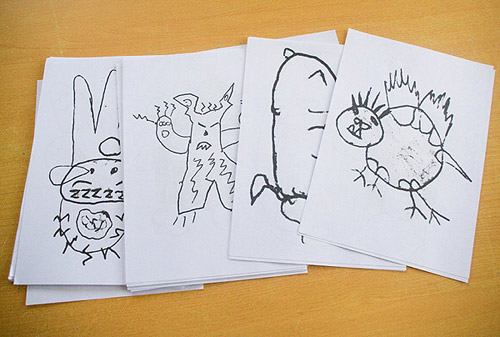 I chose the first image to trace, put it on a piece of cardboard and slid it into the top left corner of the duvet cover. Then I began tracing it with the fabric marker.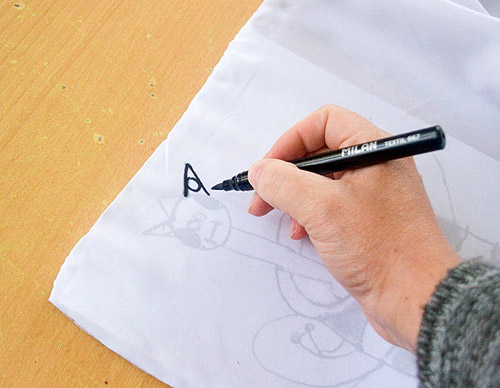 This is after about four and half hours of tracing: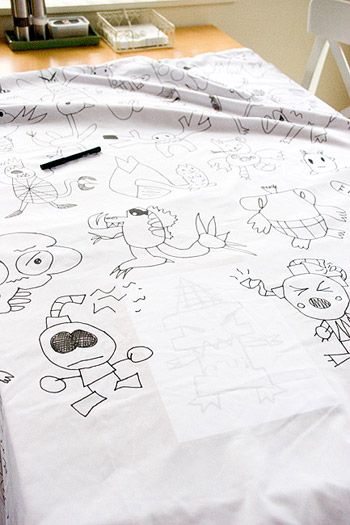 Preparing the images took around 2-3 hours (I didn't take note of the time) and the actual tracing took around 8 hours. I didn't do it all in one go but worked on it as and when I had time, packing it away in between tracing sessions. And here is the final product, which I am so happy about – and thankfully Daniel likes it too! – Jen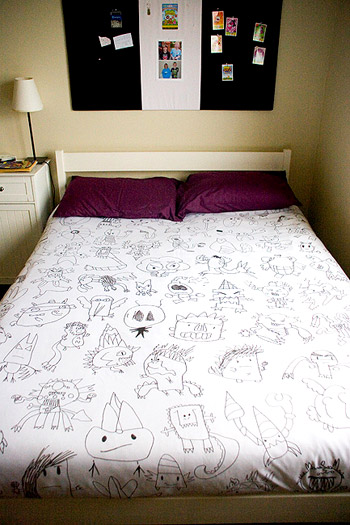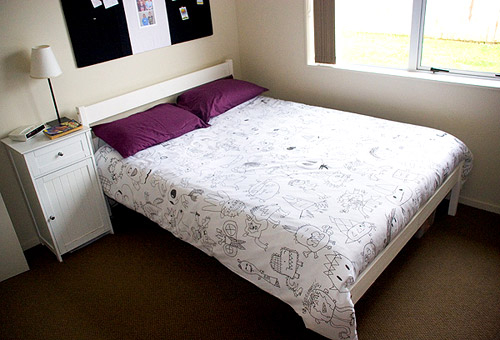 Now c'mon, how cool is that? Daniel not only gets to sleep among his (very inventive!) creations every night, but also gets this daily reminder of how dedicated his mom is to celebrating his imagination. You can check out Jen's blog for more pics and info on the process, like whether or not it survived the wash (spoiler alert: it did!). Maybe we'll make Clara one of these someday. And even if kid doodles aren't your design of choice, I can see this method working to transfer a large handwritten love letter or something. So cool.
Psst- We announced this week's giveaway winner. Click here to see if it's you.