The soft spot we have for stencil projects has certainly grown since our office undertaking, but this one by Amy at The Casablanca Transformation would probably win over even the most skeptical stencil fans. And it actually sounds doable in well under fourteen hours! Score. Here's her letter:
No matter how many decorating projects I do in my lifetime this one will surely go down in history as one of my all time best! I am so happy I had the idea and even happier that I dared to try! Here is the plain white leather bar stool before: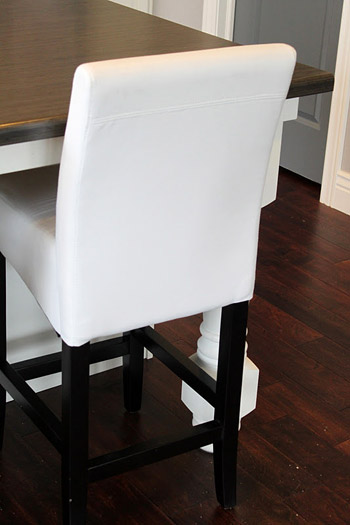 And the after!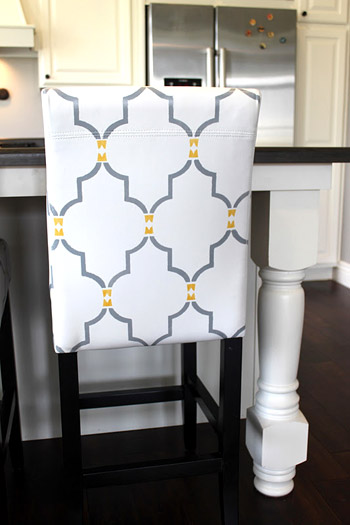 I used a stencil from cuttingedgestencils.com and the paint is from turtlefeathers.net and is called Angelus Paint. It is made especially for painting leather (it has a bit of give to it and won't crack). Since the chairs came unassembled I decided to leave them that way to make it a little easier to stencil. I was amazed at how easy the process was – total time was only about 4 hours.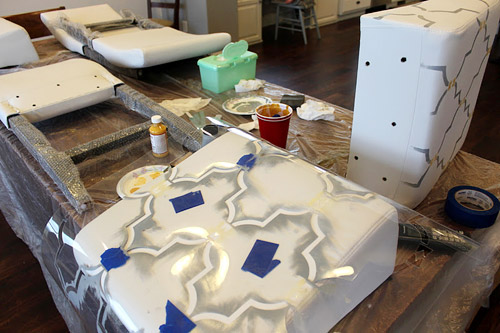 I loved that I could pick out the exact style and colors I wanted for these chairs – a custom chair at a very cheap price! I bought the chairs 2 for $152 from overstock then add in the $80 in materials and my total cost is $384 for four bar stools ($96 each)! To have these stools custom upholstered in a fabric of my choice would have cost a lot more than that and they would have been ruined so quickly. I am hoping this painted leather alternative means they will stand the test of time and three boys! – Amy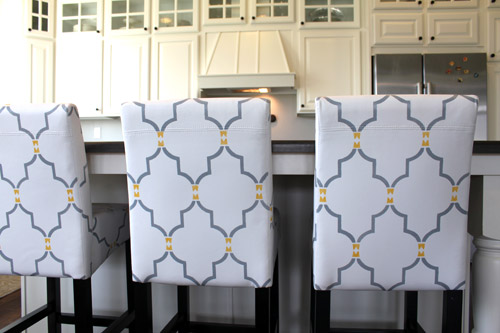 Awesometown, right? You can check out more details over on Amy's blog. Is anyone else's head filling with ideas of what else they could stencil? And look at that pretty kitchen in the background. Me-ow.
Update: We just learned that there are some follow up posts about a few pitfalls with these chairs (specifically she wasn't happy with the quality of the chairs themselves or the acrylic finisher that she used), so more details can be found here and here. Although Amy did drop in to say the actual stenciling process really works and some other chairs that have been stenciled (of better quality) are holding up great (without any acrylic finisher). Hope it helps!