We were so happy to stumble upon Beth's email in our inbox. Her retelling of her kitchen redo had all the elements that we love in a good renovation story: an ugly before (a brown fridge!), lots of DIY details (yesss!), a bit of drama (the counters arrived the day before Christmas, yowza!) and – best of all – a beautiful after. Here's her note:
Hello, Sherry & John! We bought our current home a little over a year ago, and to say it was outdated is the understatement of the century. Like you, we wanted something to fix up and make our own. Our kitchen was dark, ugly, and closed in. No matter how often/well I scrubbed the fridge, it smelled like garlic, and the OLD electric stove/oven burned everything.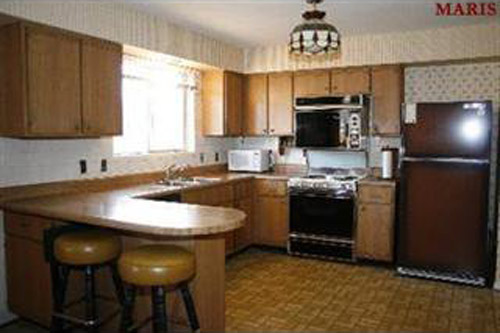 The first thing we did was remove the existing linoleum and carpet in the adjacent family room. We lived on sub floor for almost a month because while the floor was up we tore down a wall between the formal dining room and the kitchen. With 4 kids under the age of 10, and a dog, it was a challenge to say the least.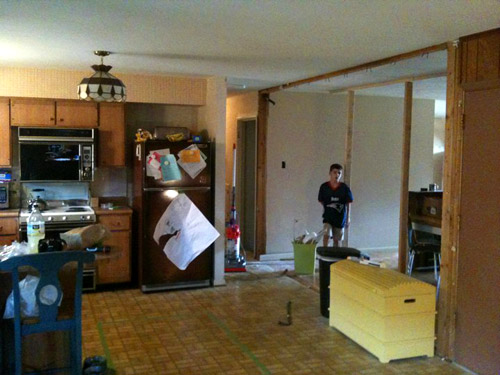 Finally, we were prepped to install prefinished hardwood flooring that matched the hardwood throughout the rest of the house. So, we ripped out all of the rest of the cabinets, demo'd the soffit, and installed the floor in a little over a weekend. Once the floors were in, we started installing cabinets that we had ordered from Home Depot. They're technically 'in-stock' cabinets, but we had to order ours since we wanted 36 inch upper cabinets, and a few drawer configurations that they didn't offer in the store for some of our lower cabinets.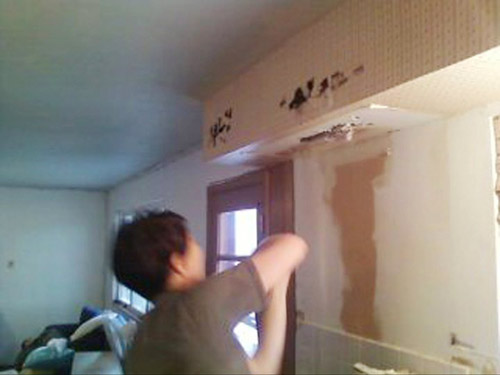 Originally, I wanted to have my brother-in-law help my husband make concrete counters (he is a concrete finisher by trade) but we worried about the weight being supported enough, particularly because our island is pretty big. So, we went with Silestone counters in the color "cement." The counters were installed the day before Christmas Eve (you can imagine my stress level!). My husband Jake installed a marble subway tile backsplash that goes all the way to the ceiling.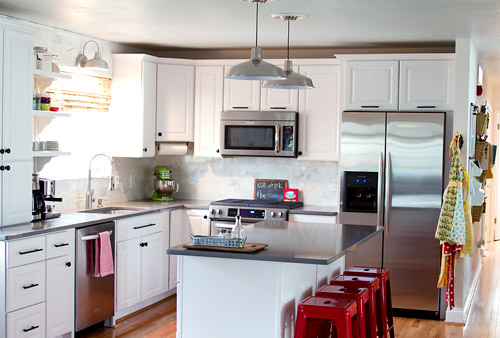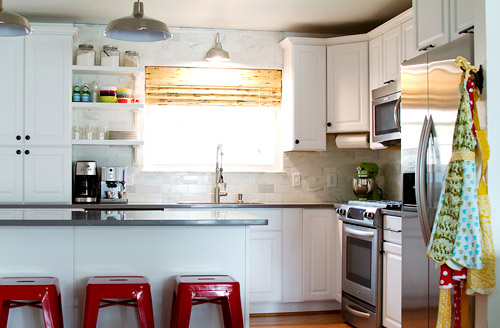 Obviously, we got all new appliances (Kitchen Aid). The lighting is warehouse lighting and an outdoor light. The red counter stools are from Overstock. The open shelving was made with bits and pieces that Jake found at Home Depot. The corbels were actually ordered from the same company that we got our cabinets from.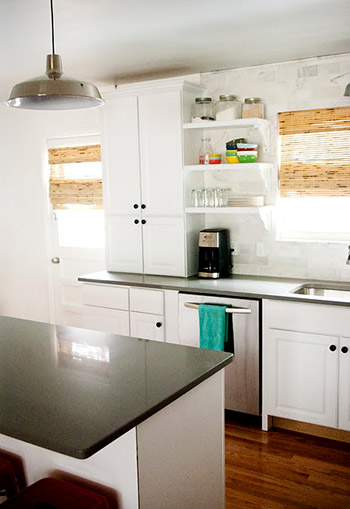 The whole project took more time than I had hoped for, but with four littles and Jake and I doing all the work ourselves, that is to be expected. I still can't believe that this is my kitchen! Hope you enjoy! -Beth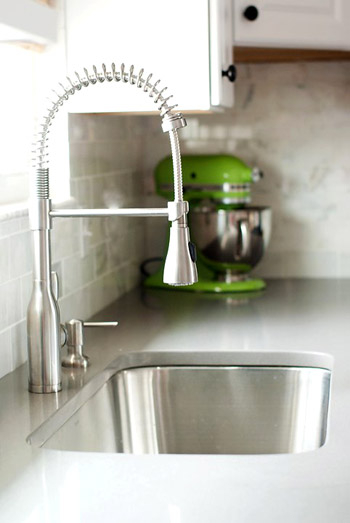 Thanks so much to Beth and Jake for sharing their beautiful kitchen! You can read and see more about the project on Beth's blog. Didn't they do an amazing job? It doesn't even look like the same room. Let's play the favorite part game (Sherry and I both picked those killer stools). I have to admit they're giving me some ideas for ours…