Even though we've been embracing a clean-lined and colorful aesthetic lately, we can definitely appreciate all sorts of styles. And we've still got a soft spot for the warm, layered neutrals that we filled our first house with. So when Rhoda sent over this redo of her sister Renee's room, it was like a shot of wow to a part of our design brain that we hadn't exercised in a while. And we kinda want to curl up in what looks like a SUPER comfortable bed. Here's Rhoda's letter:
Hi, Sherry & John! Just wanted to share my latest project: a redo of my sister's bedroom suite. It's a big space that had not been touched since 1999, so it was in dire need of an update.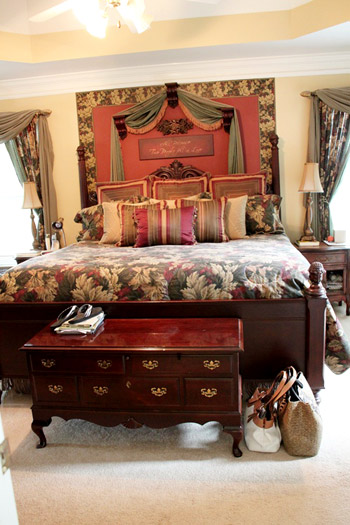 Here's the new view walking into the room now. That stenciled wall just makes it, I think! My sister and I worked on it together.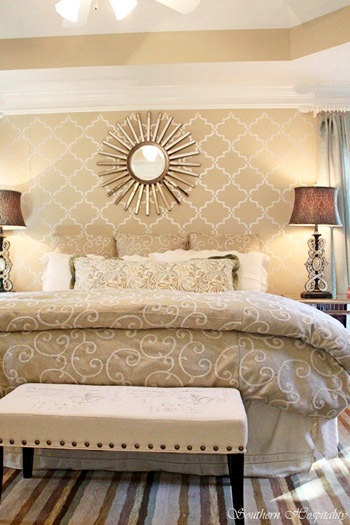 She has great taste and had already decided on the colors she wanted for the room, as well as the start to the fabrics. She just asked me for some help picking out the rest of the fabrics, rugs, artwork, accessories, lamps, and drapes. It was really fun to put our heads together.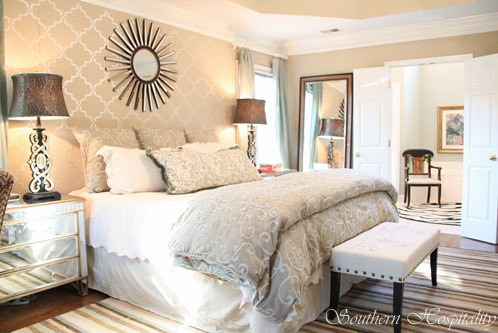 She already had these nice wingback chairs, so instead of buying new, we opted to have them recovered by a local upholsterer and he did a great job.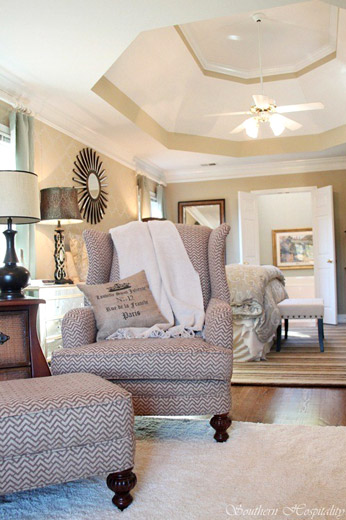 We had so much fun putting this room together and I hope you love it as much as we do. My sister feels like she's in a brand new place now. Thanks for the look! – xoxo, Rhoda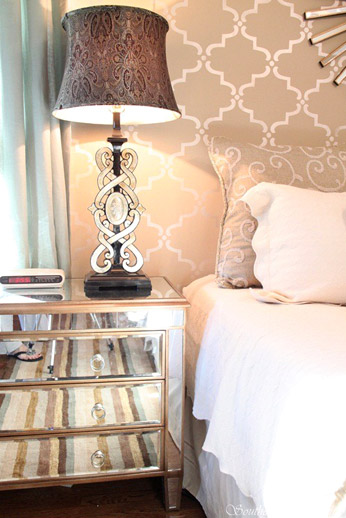 Isn't it crazy to scroll up to that first shot and see how much it has changed? Rhoda's got a ton of extra photos and info about the makeover on her blog, so head on over if you want to soak up some more. She even has a peek into the equally swanked up bathroom and sitting room over there. But while you're here, let's play the what's-your-favorite-part game. I'm really digging the recovered chairs and Sherry's all sorts of in love with that plush striped rug.