Q: Now that you're in your third house, I'm sure there are things you've learned about budgeting, decorating, house hunting, etc. having been through the process a few times now. Would you ever consider writing a post about what your first and second house taught you? -Alison
A: Sure we'd consider it. In fact, here it is! Like anything in life, you hope your previous experiences will help make you smarter about your next one. And I think having our first home influenced the selection and design of our second and now the same thing is happening again – plus we now have the extra benefit of comparing the first two. We talked in this post already about how stylistically (well, at least color palette-ly) we'll probably land somewhere between our light & beachy first house and the bold & colorful second house. But beyond that, there are some other influences that those first two places had on the selection and continued evolution of this place. Here's a sampling of them in no particular order: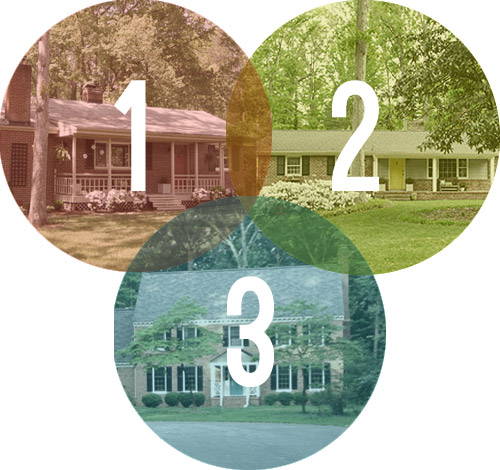 We want to splurge less than we did in the first house, but more than the second. In hindsight (which always seems to be 20/20) we feel like we may have overspent in the first house and underspent in the second one (we spent around 35K on improvements to our first house and around 15K on improvements to our second house). A great example of this is to compare our two kitchen remodels. The first one cost us around $17,000 because we splurged on materials (granite counters, custom cabinets) and labor (the only thing we DIYed was painting – so we even had pros gut the room and hang cabinets for us back then). Our second house's kitchen reno came in under 7K (including all new appliances) because we tightened our belts in both areas, like painting the existing cabinets and doing all of the labor ourselves, except for electrical and counter installation.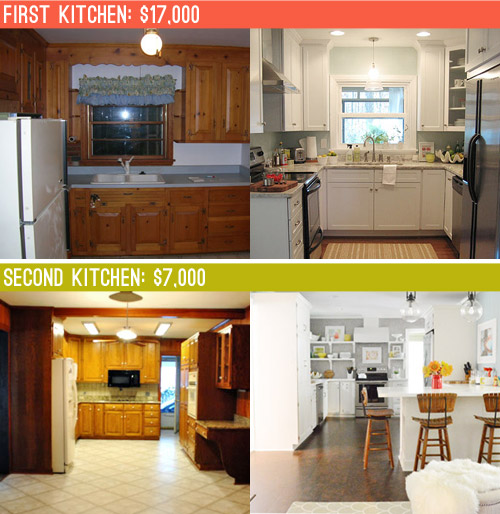 We're happy with the end products of both, but realize our modestly-sized first house probably didn't need a $17,000 kitchen and our second one probably could've been taken up a notch now that we're looking back (at the time of course we were clutching our wallets and trying not to spare an extra penny if we didn't have to). I, for one, wish we had gone with new cabinets in our second kitchen because while the paint made them look updated, they didn't necessarily feel new in our day-to-day life (they didn't feel like new cabinets when you opened them, we couldn't configure them to have hidden hinges like modern cabinetry, etc). So for this third kitchen we plan to save on labor whenever we can like we did for our second kitchen, but put more of our savings into higher end finishes whenever we can – especially because we plan to be here for the long haul.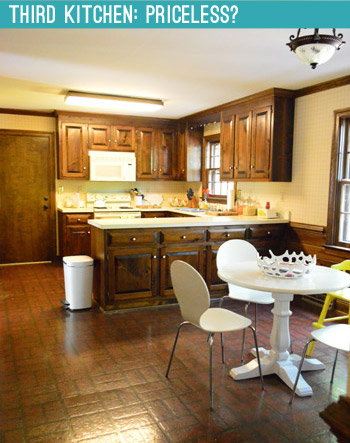 We wanted to bring some of the cozy back. The main motivation for moving from our first to our second house was the need for more space. I had just started working from home and Clara was fresh out of the oven, so 1,290 square feet and only one full bathroom was suddenly feeling very cramped – especially with so many relatives and friends staying with us to visit Clara. So we nearly doubled our square footage with our second house, thanks in large part to the big living room addition in the back. One surprising result was that after 2.5 years there we missed the coziness of our first living room (aka "the den"), which is why we were so drawn to the living room in this house, which reminds us of that space. Our current house is nearly the exact same square footage as our last one, it's just more evenly divvied up across all of the rooms rather than having one football-stadium-sized living space. So it feels like we have the best of both worlds here: 2.5 bathrooms so we're not all fighting to use one, but a cozy living room and slightly larger bedrooms (since every bedroom other than the main one in our first and second house were pretty modestly sized).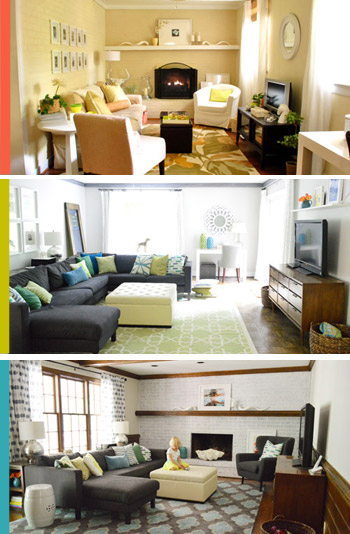 We want openness too, but where it counts. I realize "openness" is kind of opposite of coziness, but an airy feeling and a nice easy flow is still something that we want out of this house – just like we did in our last two. In our first house we tried to let the rooms breathe a bit by widening a few doorways and painting almost all of the spaces in a light and cohesive color palette. And in our second house we took out a big wall to connect the kitchen and dining room.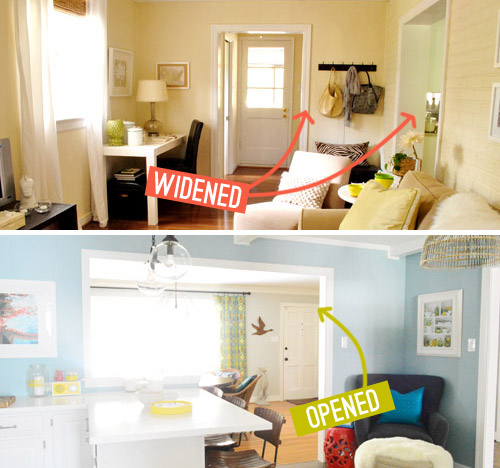 But one thing we've yet to achieve in either house is openness between the kitchen and living room, which has always been something that appeals to us. Coincidentally, both of our previous living rooms (well, the den in the first house) were additions to the original structure, meaning they were separated from the kitchen by an exterior brick wall… a wall that could only be opened so much since it was load bearing to the max. But not this time around. The only thing that stands in our way is a wet bar and a bookshelf (okay, and the associated plumbing) so we're excited to finally connect the two most used spaces in our home like so many model homes and house crashings that we've admired like this one, this one and this one.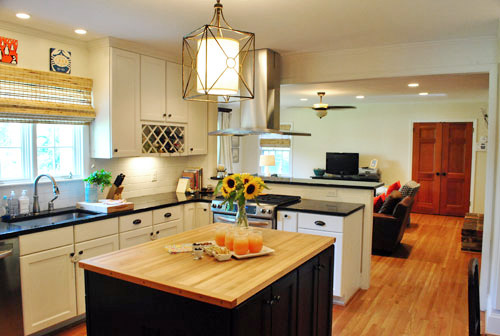 We made floors a top priority. By the time we'd left our first house, every inch of floor was new – from having new hardwoods installed in the kitchen/living/laundry to getting the rest of the house's old oak flooring refinished. It was a pain having to shuffle all of our furniture around to make that all possible (evidence pictured below), but it was well worth it in the end. Yet for various reasons we never got around to doing it in our second house, and it's probably our #1 regret of that house. Somewhere between having more furniture to get out of the way and working on our book behind the scenes while trying not to displace Clara for too long it just never happened. So that's why we jumped on redoing the floors upstairs and polishing them downstairs right away here. We're not completely done with all of our flooring updates (hello faux brick linoleum in the kitchen) but we're glad we dealt with all of our hardwoods right off the bat.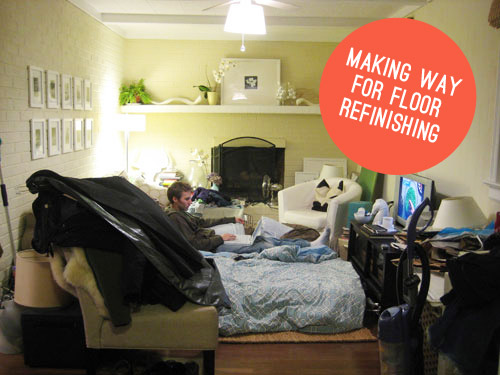 We wanted to get outside easily. This may sound silly, but convenient access to our outdoor areas was a must for us. All four of us (Burger included) like being outside, but in the last two houses we were never quite able to incorporate our outdoor areas into our daily routine as much as we wanted. For instance, cookouts were inconvenient because getting from kitchen to grill involved a trip through one or two other rooms in both houses. So when we saw the big deck off the back of this house we saw lots of potential – especially once we convert our big bay of windows in the kitchen to doors (you still have to go through the living room to get out there now). Plus, having it all on the same level as our first floor (rather than down some steps like our last two patios) has already made it a more natural extension of our indoor living spaces. We've never been outside as much as we were this summer. I think we could star in a series called Deck Dynasty.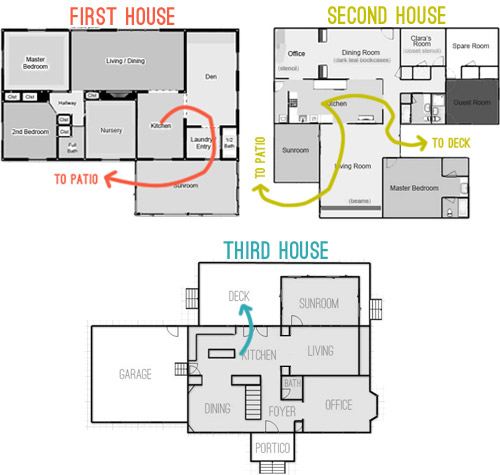 Patience is paramount. Our previous experiences as homeowners have also taught us to be comfortable with transformations not happening overnight. We very wrongly assumed that we'd be done painting our entire first house along with fully renovating the kitchen in the first three months of home ownership. We were off by… oh, about four years. And at first we were really frustrated and disappointed by how long it was taking and how not-instant most of the transformations were. But by our second house we'd learned (and learned to love) that homes take years to evolve and come together. Especially the good ones full of thought and heart and meaningful touches. There's actually a lot of excitement and freedom in letting go of the idea that a house should be done within a few months or even within a few years. So in this house we hope to continue enjoying the journey and having fun living in a full-of-potential-but-not-at-all-finished home. Not only do we enjoy planning and saving our pennies for updates, we also like thinking things through and taking the time to do things right – especially because we plan to be here forever and a day.
I'm sure there are other things we've learned along the way (maybe even subconsciously) but I figure these are a good start. Now what about you guys? How have your previous living experiences (everything from renting or living with roommates to living at home with the rents or traveling abroad) informed the way you're living now – or what you're looking for in a future home?
**********************************
As a little Friday bonus, here are four fun projects, chats, or questions going on over on the Forums. We also announced this week's giveaway winners, so you can click here (and scroll down to the Rafflecopter box) to see if it's you.
| | | | | | | |
| --- | --- | --- | --- | --- | --- | --- |
| | | | | | | |
| by PrettyOrganized | | by curvyfurniture | | by crabandfishblog | | by karazzies |