Holy cats, have we really been blogging for six years?!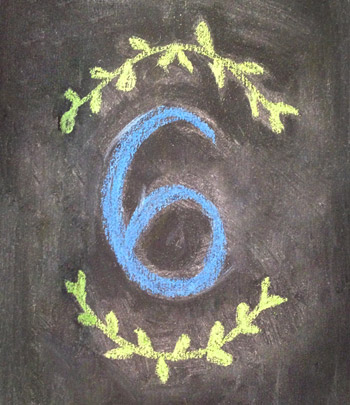 It feels like Blogiversary 5 just happened, and that it was mere months ago that it was 2007 and we were posting tiny pictures and writing a few sentences each night about whatever was going on under our roof. All of the years of this adventure have been exciting, but the last 12 months in particular have brought things we never could've expected when we started this site: a book that somehow landed on the best-seller list, a lighting collection that we designed right here in Richmond with a local company, a short film on Oprah (what?!), and probably the most exciting thing of all to us… a new house in a neighborhood that we've dreamed about living in for longer than we've even been blogging.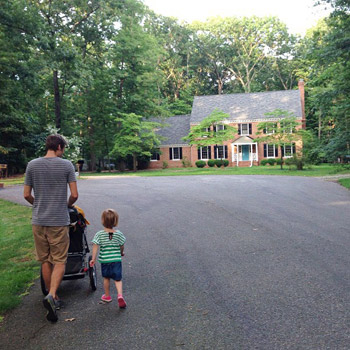 For our sixth blogiversary, we wanted to start things off with a twenty piece orchestra to serenade you while you eat your Toaster Strudel and scroll through this post, but the logistics were a little tricky. So we decided to go for the next best thing: a week of blogiversary fanfare and behind the scenes banter (just like we've done for the past few years here, here, here, and here). And the festivities start right now. Here are a few of the things that we have on tap for this week:
a day in the life post full of pictures & details about an average day for us (just keep scrolling for this one!)
an awesome giveaway that just happens to involve plane tickets
a mathy medley of pie charts and blog stats about how we spend our time, where our money comes from (and where it goes), along with a few pretty intense facts & figures (some of which even surprised us)
a Q&A video full of answers to tons of personal questions that you guys submitted via Facebook
a behind-the-scenes post about our recent Oprah stint (there's a pretty funny story about how that day started out…) along with a clip for you guys
a post about a side gig that didn't work out (you win some, ya lose some, so we thought sharing something that didn't work would be a fun pulling-back-the-curtain moment)
a chance for you guys to tell us about yourselves, which John can't wait to spin into an infographic-tastic recap for everyone
So on with the show! Some of our favorite blogiversary posts to look back on are our "Day In The Life" rundowns, since it's fun to look back at what times were like in previous years – especially to see how our surroundings and our family has changed (click there to read the ones from 2012, 2011, 2010, & 2009).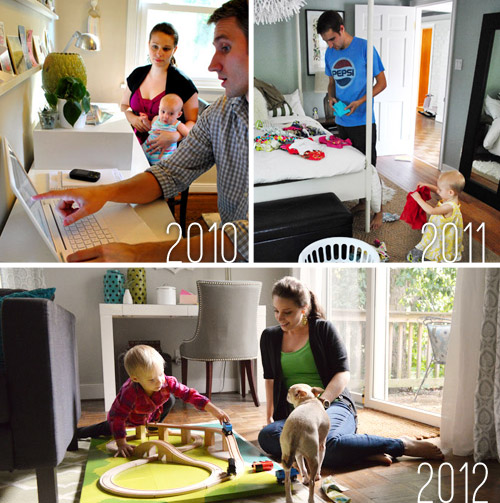 But documenting yourself all day can make an already long day that much longer (ex: setting up the tripod to capture laundry folding), so this year we instituted an iPhone pic-only policy so that our day would be less filled with camera set-ups and more, well, like a real day in our lives. So forgive the crummy quality of some of the pics. That's real life, yo.
6:15AM: John's up. Today he goes for a run around the neighborhood, but some days it's the gym (and some days it's just staying in bed). Once back, there's even a little bit of time to respond to a few emails before us girls wake-up.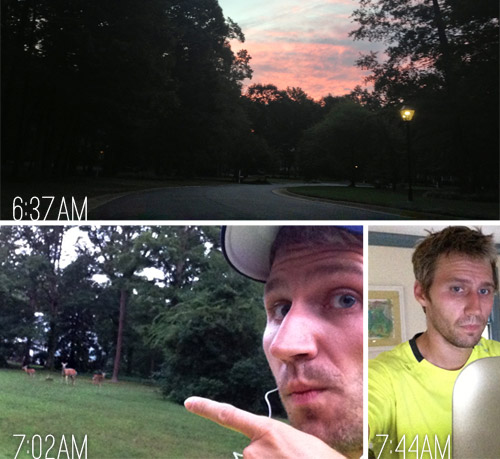 7:45AM: Clara's awake and she and John start the day slow with some playing in her room (they made a Lego dragon). I'm out of the shower and getting dressed, and Burger gets out of bed, but only for a second for a potty break. Then it's back up to bed for him.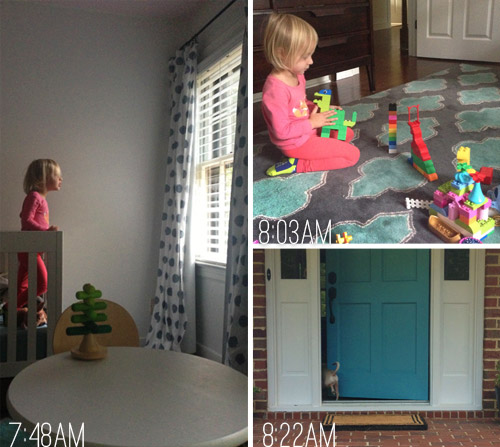 8:30AM: Everyone's downstairs. Breakfast is eaten in various places, including Clara's morning cup of yogurt while she takes in some Jake and the Neverland Pirates after some magnet-doll playing with me. I get a jump on reading, approving, and answering comments that collected overnight while John squeezes in a shower & a shave.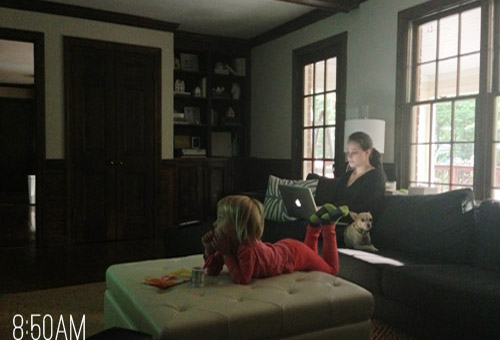 9:00AM: Running a bit behind schedule for school, I get Clara dressed quickly while John tosses her snack into her school bag. John and Clara are off just in time for the 15-20 minute drive to preschool (depending on lights). I hang back to proofread and double-check that morning's post before it needs to go up at ten – making sure links work, all the images are in, and doing some last minute tweaks.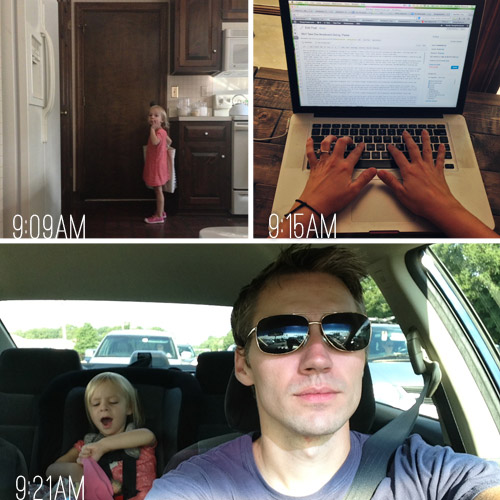 9:45AM: Clara's dropped off at preschool so John runs a couple of errands on the way home, namely stopping at the grocery store to replenish the fridge. I steal a few minutes to respond to emails before hitting publish on the post at 10.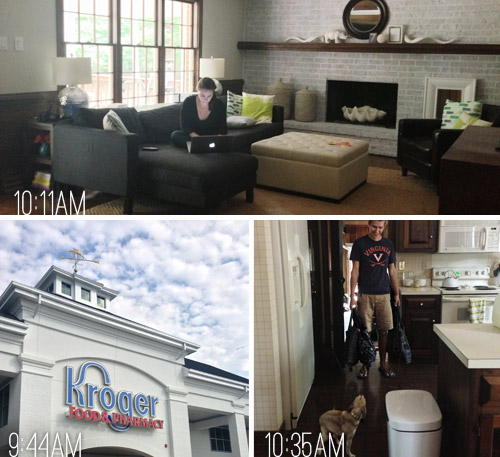 10:30AM: John's home from the grocery store and I'm busy doing comments on the morning post. Once the food is put away, John takes advantage of the quiet house to focus on some computer work: backing up photos, responding to emails, and starting to select and size pictures for a post later in the week. I take some last minute photos for an upcoming post since the sun finally decided to come out and then I do some emailing about the showhouse before starting on a post for the next day.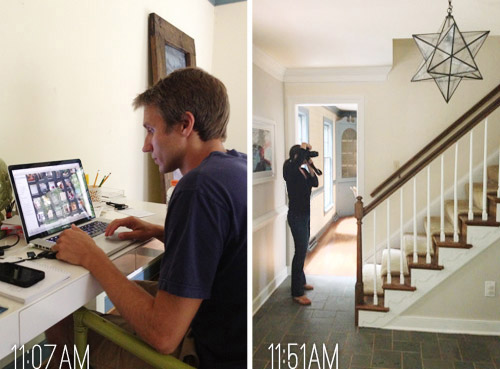 NOON: Time to pick-up Clara at school. Since we've got a meeting right afterwards, we both head out. Once Clara's picked up at 12:30, we swing by Jason's Deli to grab a quick lunch before of our 1:30 meeting.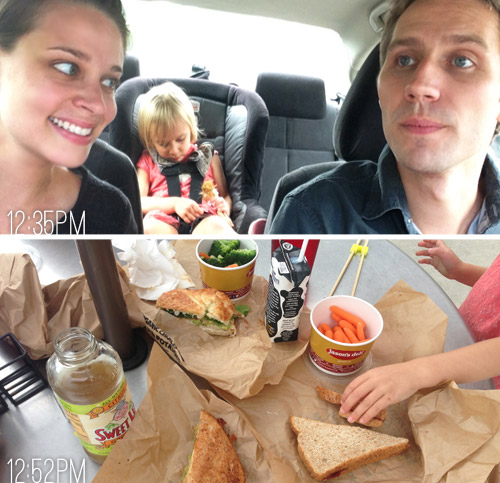 1:00PM: Back in the car to make the 30 minute drive to our appointment, which is photographing the Massey Street of Dreams for the quadruple House Crashing post we shared last week. This is already starting to feel like one of those days where we live in the car.
2:15PM: John's photographing the homes while I gather info from our guide, Justin. I also steal away to publish the afternoon post from my phone at one point. Justin's 10-year-old daughter was there so Clara spent most of the time playing with her new friend, although they eventually both ended up resting since we were close to Clara's nap time, and Justin's daughter was under the weather (hence not being in school and tagging along with us).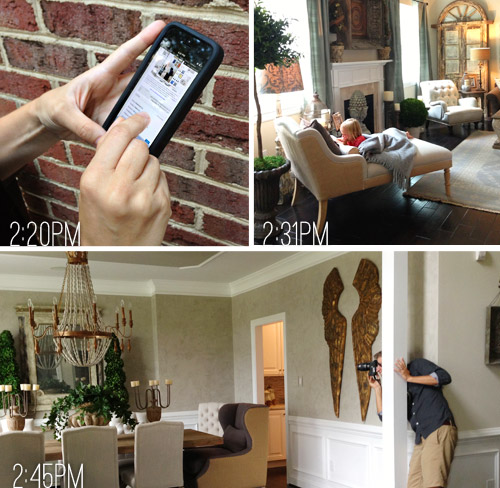 3:00PM: We leave the Street of Dreams to make the 40 minute drive home. I use the car ride to catch up on the comments that built up while we were touring. Clara reads a book in the backseat and John checks in with her periodically to make sure she hasn't fallen asleep. Can't lose a real nap at home by letting her drift off for ten minutes in the car!
3:45PM: We're home and Clara is down for a nap. This is usually prime project doing-time, but I have a phone interview in a few minutes related to the Super Soul Sunday clip, and a showhouse call with the builder and his team afterwards. John gets changed into work clothes so he can caulk the sunroom's trim & nail holes while I juggle two phone calls, a few emails, and attempt to finish the post I started earlier that day.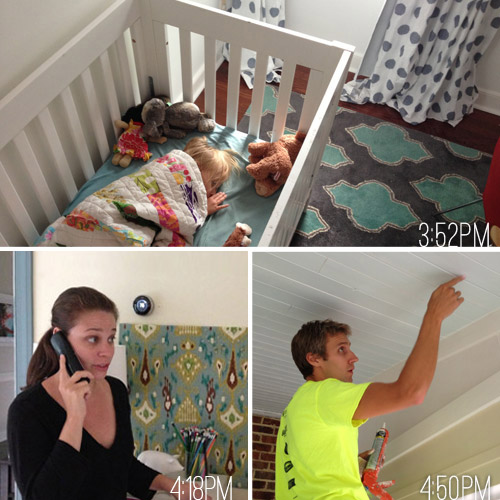 5:30PM: Clara's up from her nap, so I go up there to grab her and we play in her room for a little while.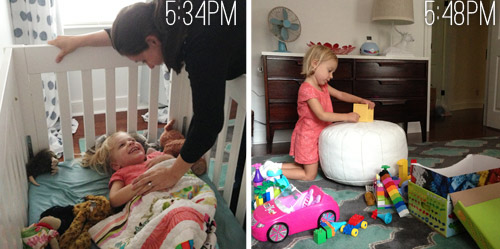 6:00PM: Family walk time! We don't get one of these every night, but this weather is too gorgeous to skip one today. We talk about Clara's school day, the upcoming posts we're both writing, and what projects we each hope to get done the next day.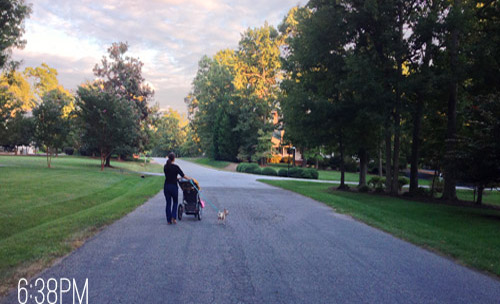 6:45PM: Home from our walk and time for dinner. Tonight's a family favorite – chicken squares (update: here's the recipe). Clara puts her mixing skills to work with me while I check in on comments again and finally finish the post I've been working on sporadically throughout the day. The thing about sharing 7 posts in a 5 day period is that we're always working on finishing some that are already written, writing new ones, and answering questions for the ones that are already up.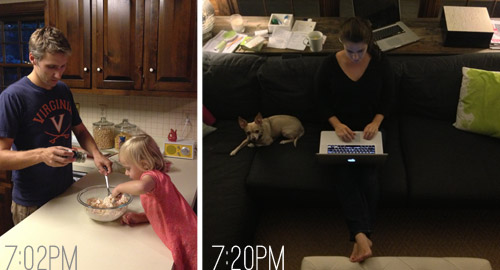 7:30PM: Dinner is ready so we sit down to eat together. Clara gets her tomatoes and veggies down with minimal encouragement and even eats half of a chicken square. I clean up after dinner while John tackles a few emails that have built up throughout the day. Then Clara and I snuggle on the couch for a few minutes, finishing up the episode of Jake and the Neverland Pirates that she started before school.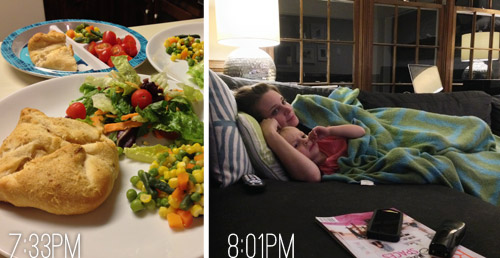 8:15PM: Bedtime for Clara. She votes for a different mix of helpers each night, but tonight it's Mommy on teeth brushing and PJ changing duty while Daddy is in charge of reading the story.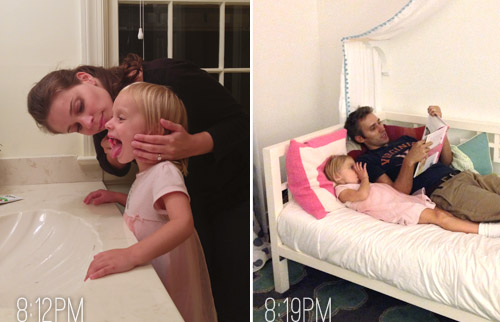 8:30PM: With Clara tucked in bed, it's time to squeeze in a few more hours of productivity before we stow our laptops for the night. John finishes the post he prepped pictures for earlier in the day while I catch up on any questions that came up on Facebook or Instagram during the day along with sending some book outline stuff to our publisher (yes, we're officially working on Book Two! Ahh!). Eventually the TV gets turned on and we're sort of half watching as we finish up some last minute emails, comments, and miscellaneous computer work. We can't believe other than John's sunroom caulking, we haven't done much DIY at all, which means tomorrow will probably be a project-heavy evening (after Clara's all tucked into bed) to make up for it.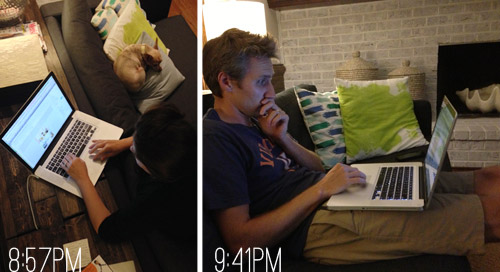 10:00PM: To resist the urge to keep working, we clean up and turn the lights off downstairs, put our computers away, and head up to watch TV in bed. Our current routine is trying to catch up on old Scandal episodes on Netflix (John's 70% into it and I'm about 120% into it thanks to his sister getting me addicted).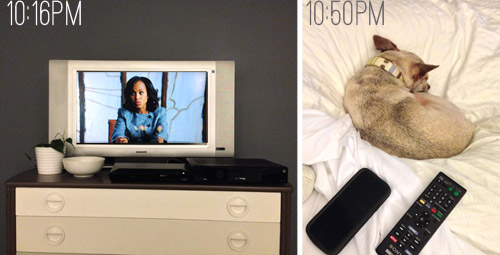 11:30PM: John has already fallen asleep a couple of times mid-Olivia-Pope tirade, so the TV goes off once that episode is over. With teeth brushed and contacts out, John has a second wind and reads a few pages of a book while I decompress with some Pinterest browsing on my cell phone along with some late-night texting with Katie Bower and Roo. Burger finally comes under the covers to snuggle between us, and the lights are out by midnight.