Since a bunch of you guys have requested more details on what layout changes we're pondering and what paint colors we're currently leaning towards, we thought we'd share a giant brain dump about what's flying around in our heads at the moments (which will change as we go I'm sure!). Y'all ready for this? Lots o' words. Lots o' diagrams. Lots o' links. Please fasten your blog-reading seatbelts and be sure that your desk chair is in its upright and locked position.
This is what the first floor looked like when we bought our house (we've since removed the three sets of the double doors off of the kitchen).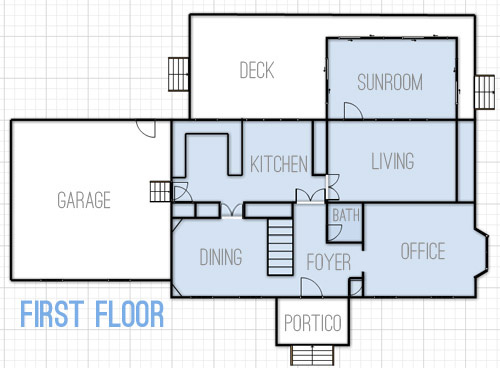 But here's what we're thinking we'd love to do over time with the first floor.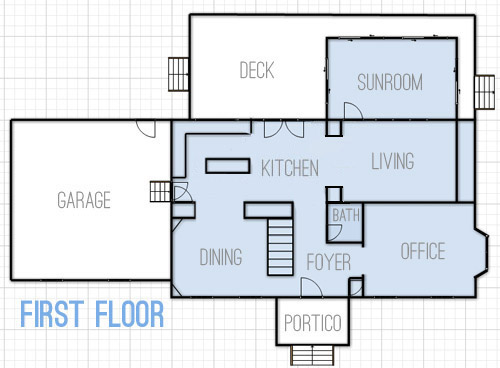 Widen the doorway between the kitchen and the dining room for easier flow
Create a wide centered doorway between the kitchen and living room with built-ins around it (sort of like the opening between the office and dining room in our last house)
Change kitchen layout from U-shaped with a peninsula to an L-shaped area with an island (and add french doors to the eat-in area that lead to the deck)
You can't see this change in the floor plan, but we'd eventually love to convert the sunroom to an open covered porch with new columns and no more sliders (many of the sliders are bad and the posts are rotten) – we're envisioning something like this
As for the second floor, this is what it looks like now.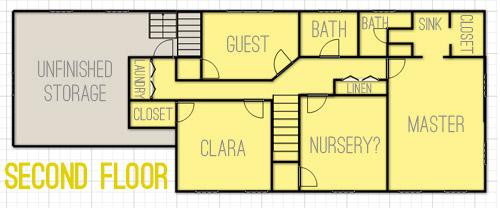 And we've thought about changing things up like this.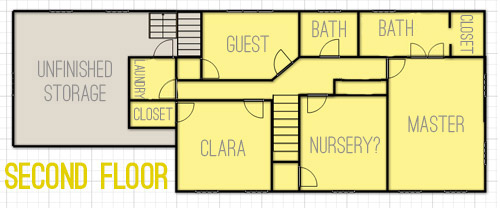 The most major layout change will be opening up the sink nook and the bathroom area in our bedroom to create one big bathroom instead of having two single sinks separated by a wall
In the hallway between the nursery and our bedroom there's a double doored linen closet that we'd love to open up to make a built-in nook in the hallway, sort of like this (but with concealed cabinetry on the bottom and nice built-in shelves on top)
You'll notice there's a door added to the end of the hallway where the laundry nook is. We briefly considered adding that to make it a legit room, but we actually think it'll close things off more (and it will be weird to have to walk through a room to get to another room when we finish the unfinished storage area) so for now we're unsold and plan to keep it open.
And of course eventually we want to drywall the unfinished storage space to create a bunkroom/movie room that we think could come in handy for older kiddos and their friends.
As for color scheme ideas, here are a few swatches (they're all Benjamin Moore) that we've been loving lately. They wouldn't all be wall colors, so some might be the color of a bathroom vanity or a piece of furniture or even the color of a ceiling or another "accent" spot (like the back wall of Clara's play-closet). *This is a first-thought paint palette (meaning there will be accessories, art, fabric with many other tones in it – and it'll most likely evolve as we go).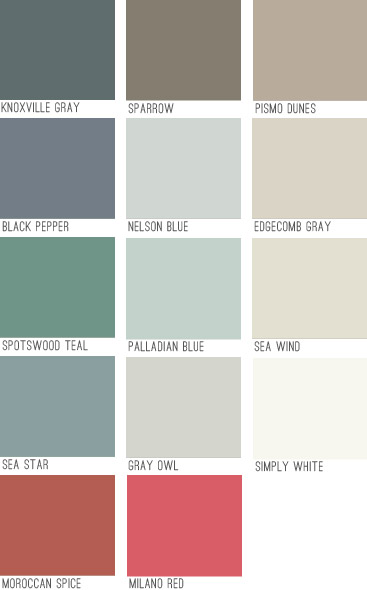 We think colors like Knoxville Gray or Black Pepper could be awesomely dramatic in the dining room with crisp white trim and built-ins, while many of the lighter neutrals will go in living and bathroom spaces and some of the deeper mid-tones might end up in bedrooms (we like the idea of Sea Star or Sparrow in our bedroom with lots of white furniture and linens). The brighter pops of color like Moroccan Spice, Milano Red, and Spotswood Teal are just for accents (like a piece of furniture, a bathroom vanity, or even a mirror or frame – most likely in a white or neutral painted room).
It's fun to see how the new swatches compare to our first house's palette (which was almost entirely tan, cream, and soft blue-gray)…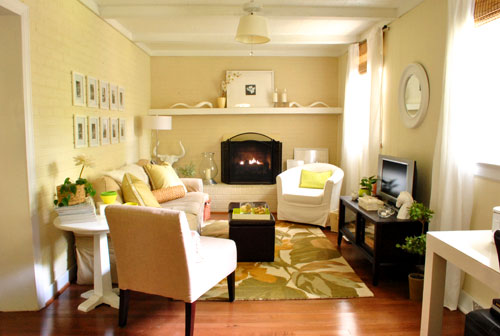 … and our second house's color scheme (which had a bit more boldness like deep teal walls along with softer gray, pink, and taupe ones).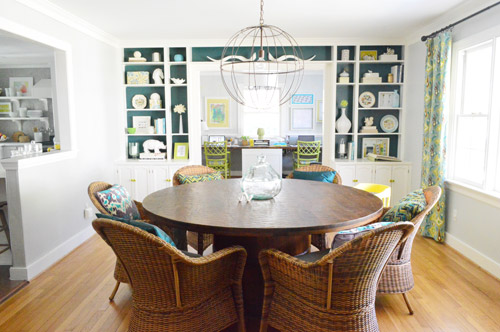 We feel like this palette will be a nice blend of our previous homes (more traditional and warmer than our last house's palette with a lot of the neutral and classic feeling that our first house had, but with more happy hits of color). We're excited that among the soft neutrals and rich moody hues there are also some warm accent colors like red and coral. We think we'll like the mix of the warm colors (tan, coral, red, brown) with the cool tones that we've always been known to love (like blue, green, and gray). It's also nice to have classic white trim and doors, mocha hardwoods, and gray slate flooring to temper things and keep things classy (Stay Classy San Diego!) as we go.
And now I'll end this brain dump with some inspiration images that I've been pinning like crazy when it comes to the "vibe" of this house:
*update: here's why we don't post these photos on our blog instead of linking to them
We're still working on just getting things back to a non-blue-trim-and-wallpapered state, so nearly all of those more major room transformations are probably a ways down the pipeline (big builds and furniture/fabric purchases will mean saving our pennies each time, so they'll definitely be spaced out between cheaper and easier things over the next few years). But It should be fun to see where we actually end up down the line. And to have this post to look back on so we can see how close – or how incredibly off – these early predictions of ours are.
Oh and I thought it might help to say that since these are all half-formed first-thoughts, if you have specific questions about what will go where or how we'll accomplish a certain future project, chances are we haven't thought it through yet… but when we do we'll just mumble about it to our beanie babies. Just kidding, you know we'll blog all about it!