We're back with another house crashing adventure from our recent road trip through Charlotte, North Carolina. You already caught a sneak peek of the amazing kitchen, so we're back to fill in the blanks. And oh man, this family couldn't have been sweeter if they were made of sugar. Seriously. And their completely transformed 60's ranch couldn't have been more charming. Even the outside had us at hello (you know we love a brick ranch).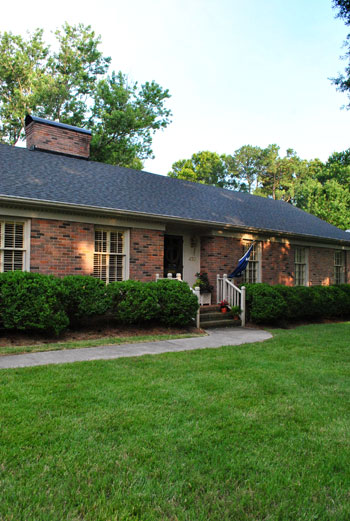 Since they tackled such an amazing makeover, we decided to toss in some before pictures to show you just how far Kristen, Stan, and their one year old son Davis have taken it (well, Davis was in the belly most of the time- they worked hard to complete their renovations just days before he was born). And in baby compatibility news, he and Clara got along swimmingly. Cute, huh?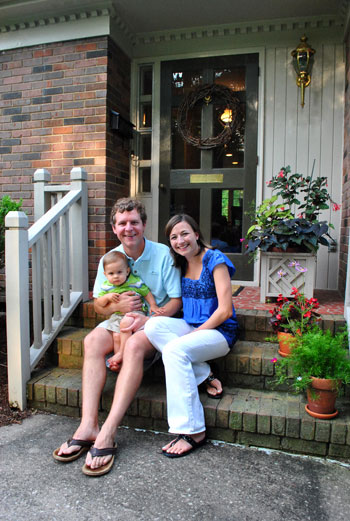 Here's the photo we shared in last week's sneak peek, but now we have actual info for ya. Like that gorgeous oversized lantern above the island is by Troy Lighting (here's a link), the vent hood is a GE Profile 36″ island hood, and the butcher block counter is from Locust Lumber (right outside of Charlotte).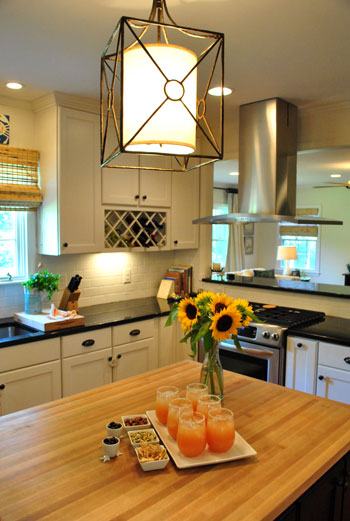 And look at the spread they tossed together to greet us! Nuts, chocolate candies, ice cold grapefruit drinks, and even animal crackers for the kids. Did I mention this family was sweeter than sweet?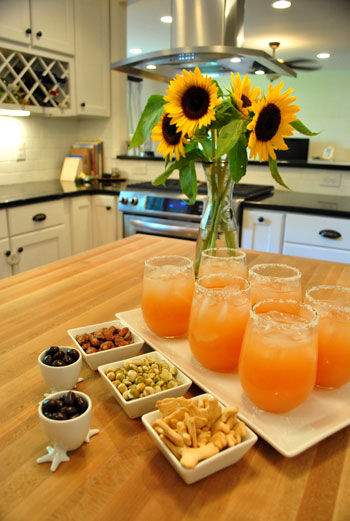 Of course I played the role of Debbie Downer by suggesting that we wait to eat/drink so we could snap our photos beforehand. You don't wanna know what that island looked like after we snacked (just picture scrunched up napkins full of half nibbled animal crackers, a few matchbox cars, and a bunch of empty glasses).
So we ran around grabbing photos as fast as we could (animal crackers awaited!). Here's a wider view of the lovely kitchen that leads out into their family room: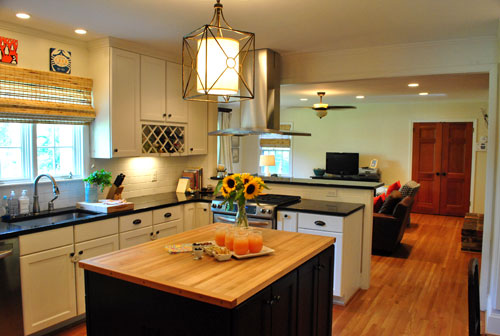 And this is what the kitchen looked like from the same angle before they started their renovations about a year and a half ago: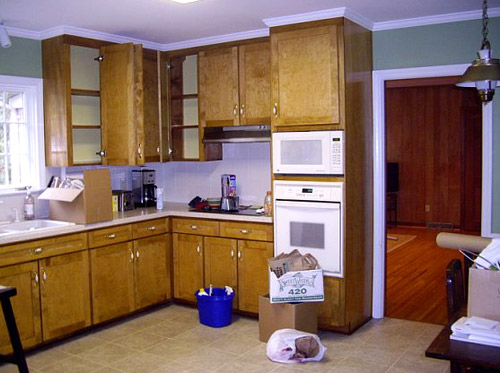 Pretty darn amazing, eh? Here's the other view of the kitchen from the now-adjoined family room (well, I guess it was always adjoined, it just had a tiny door and now has a nice wide opening).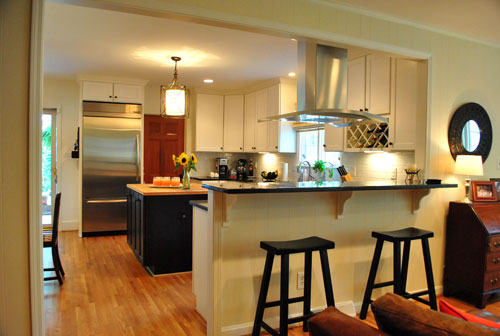 Here's the same angle before the makeover: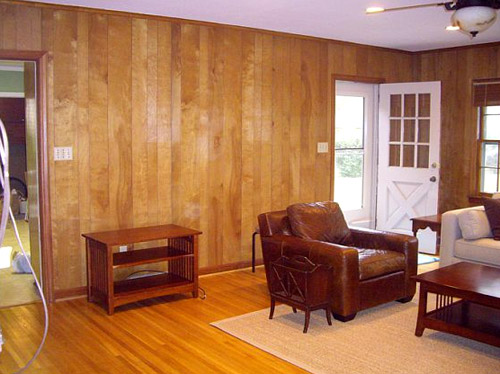 Any open jaws? Ours totally were when we checked out those before pics. Here's a nice shot of the whole family room now, complete with pillows and table lamps from Target and a handsome worn leather chair from the Mitchell Gold outlet in Hickory, NC.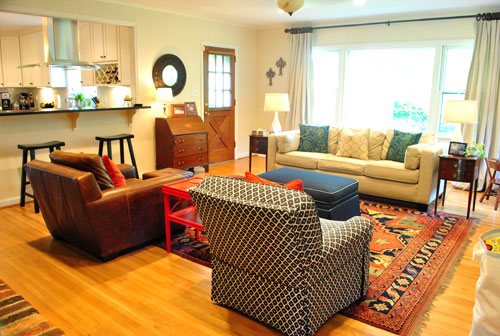 Just for fun, here's a before shot of that room. Isn't it stunning how much some light paint (with primer) on that paneling did for the room (Kristen actually followed our tutorial). And of course that big opening to the kitchen changed the space immensely too.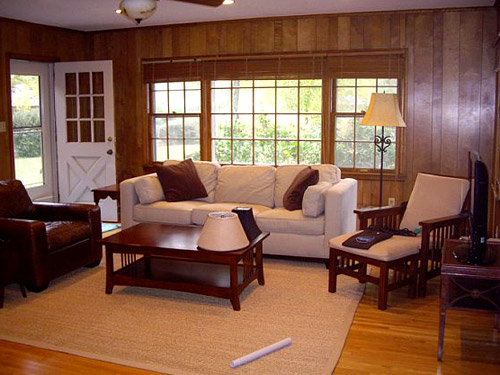 But back to the room as it looks now, I was in love with the casual and welcoming mix of textures and furnishings. Nothing was matchy-matchy but it all felt layered and inviting. Like the big patterned rug (handed down from Stan's mom and dad) along with the old chair that Kristen recovered using this navy geometric fabric. The red side table was a an old secondhand wood one that she transformed with red spray paint (True Red from Lowe's) and some spray on high-gloss finish (for a lacquered look).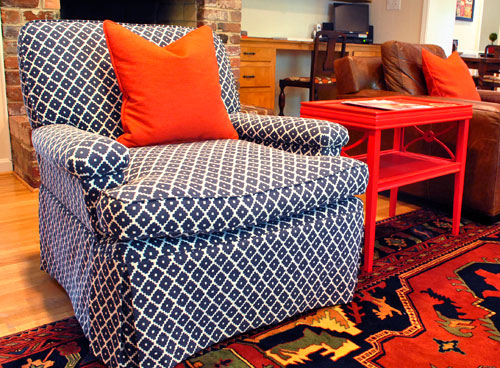 Kristen also let us poke through some other rooms in the house, even though they're still a work in progress. Look how sweetly this little guest room is coming along. I love the matching headboards (another lucky hand-me-down from Stan's parents) along with those fun pillows from West Elm and the cheerful rug from Crate & Barrel. I'm sure when Kristen finishes up in there it'll look even more amazing.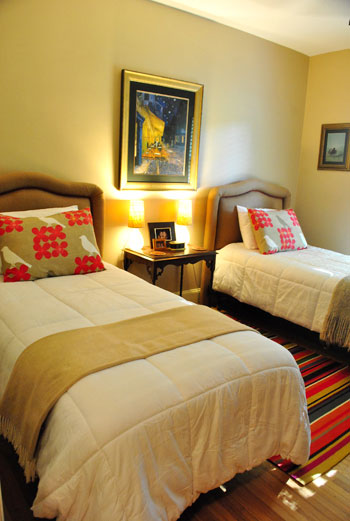 We also snuck some shots of Davis' nursery because there were great ideas all over the place. See the fun patterned curtains? Kristen made them with fabric from Duralee. And since she's such a fan of layering cheerful textiles, she brought in another pattern (from Etsy, called Teeny Tiny Zoo, in the color "Pool" by Alexander Henry) for the pillow and even covered her drum shade with it (for anyone who wants to cover their own lampshade with fabric, here's a tutorial we wrote a while back).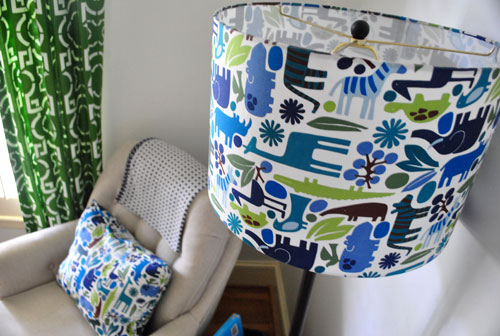 We also loved the DIY-ability of these awesome painted canvases. Kristen got them from this fun boutique (actually as a gift from a friend), but you could print out animals, cut out their silhouettes, trace them onto canvases, and fill in the space around them with paint in varying tones for a similar look.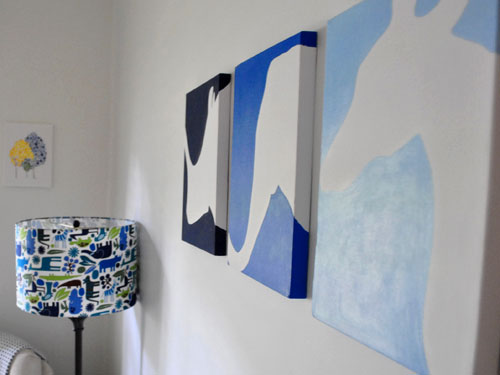 The mobile was also adorbs. Yup, I said adorbs. Anyway, it was made of felt by Eleni Creative, and worked so well with the fun animal fabric… which Kristen used as mats behind some sweet baby photos that she framed above the crib. Genius.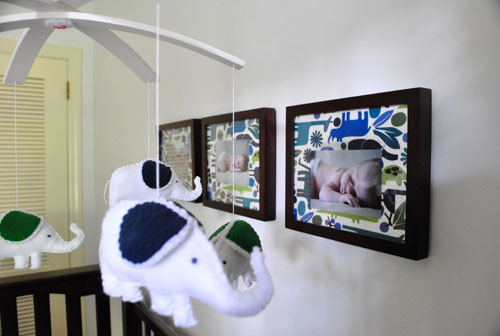 So there you have Kristen, Stan, and sweet little Davis' lovely house in Charlotte. Thanks so much for letting us swing by and share the photos! Let's bring down the house for the whole fam and play our usual what's-your-favorite-part game. Ours were that amaaazing lantern hanging above the island in the kitchen, the fabric covered shade in the nursery, and that awesome navy chair and red end table in the family room.
Psst- Still in a snooping mood? Check out a ton of other houses that we've crashed right here.
Psssst- John and I saw Bridesmaids this weekend (our second movie at a theatre since Clara was born!). 1) It was hilarious. 2) I had lots of fun noticing a heart shaped earring and short skirt pattern when it came to Kristen Wiig's wardrobe. 3) I wanted every single dress that her rival was wearing. Anyone else?