Remember we mentioned the show house that we'd be working on to benefit Habitat For Humanity over the next ten months? Well, we've been itching to give you guys an update but we haven't broken ground quite yet. It's not that we're behind schedule (the goal is to be under-roof by Christmas) but it turns out there's a whole lot of prep before a house is even built. So as people who have never built a house or been part of that process before, it has been really interesting to see what goes into it.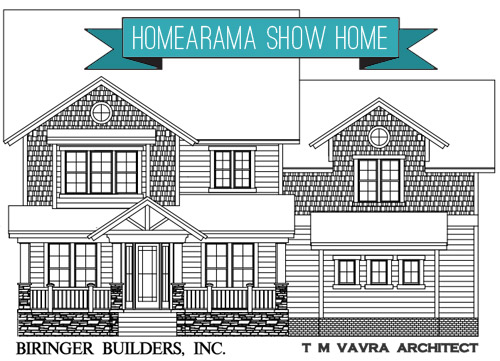 Over the last few months we've been having lots of planning meetings and have even made some site visits to look at some finishes/materials (more on that in a sec). So we thought it would be fun to share an update on the floor-planning front. After about five rounds of revisions and tweaks, we've arrived at this: the final floor plan!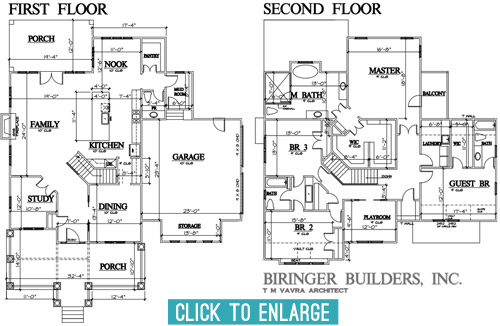 Getting here was a process with lots of cooks, so the final plan is by no means one person's sole influence. The builder, John Waters, and his architect, T M Vavra, originated the plans, but they also had to factor in requirements from the neighborhood's review board. To make sure it fits nicely within the look of the larger community, they require specific things like a certain square footage, and can even veto features on the front and inside the house if they don't like them. There's also input from the Homearama show team (to make sure it's not too similar to other homes in the show, since the goal is for each house to have a variety of features). So lots of it was set before our eyes ever laid on it, but we were welcomed into the process early enough to still make some suggestions to help achieve some of the ideas that we had brewing. So here's a quick rundown of some of the tweaks that we made to the floor plan, with the help of the builder and the architect after we all put our heads together.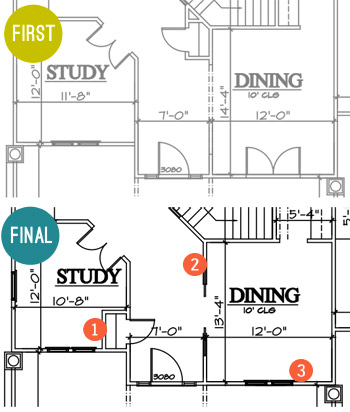 Moved the coat closet. To make the foyer feel more open and provide an unobstructed view into the family room when you walked in the front door, we borrowed space from the study for the coat closet instead of putting it under the stairs (which cut into the line of sight a lot more than being a door in the hallway that would be flush with the wall when closed). It wasn't a perfect solution (we actually debated scratching it entirely at one point) but as we're learning – this is a process of collaboration and compromise.
Hello pocket doors! We upgraded the doorway to the dining room to include glass paned pocket doors with a transom window across the top (like this) to make that space feel a little more special.
Goodbye french doors. As much as we love french doors, the original set of 'em planned to open into the dining room from the porch, which felt a bit impractical. It would cramp the dining room unless we picked small furniture, and we figured that access to the porch from the nearby foyer made it easy enough to get out there while allowing for more room, flow, and a larger table in the dining room.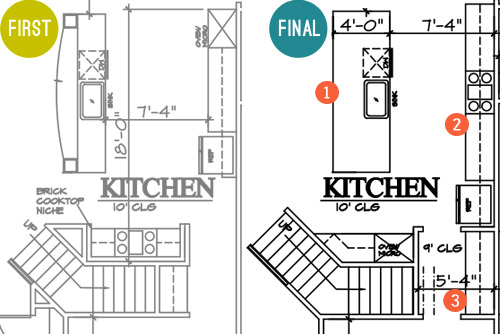 A simpler island. The original had a raised, curved bar top and columns to the ceiling, but we all agreed that a big open, rectangular island would probably be more functional and less visually busy, especially if the architect could devise a way to lose the columns that would have obstructed the view to…
The star of the kitchen. We wanted to achieve that quintessential view of the kitchen with a beautiful exposed hood as the centerpiece. This meant shuffling around some of the appliances so the range could sit centered across from the island. Now when you look in from the living room you won't see a fridge one one side and an oven on the other side – the fridge will be more tucked into a built-in cubby further down, and the backsplash and range hood will be center stage.
A bigger butler's pantry. That appliance shuffle also accidentally earned us more space between the kitchen and the dining room for a larger dry bar area. Plus, by moving it to that wall we've earned another pantry/closet under the stairs.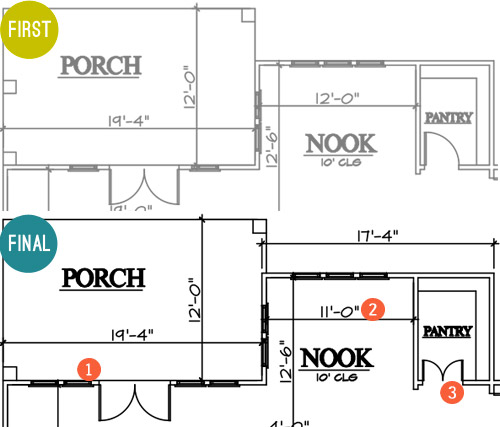 More windows, please! We first considered turning this whole wall between the family room and the porch into french doors, but Builder John reminded us that it would cut into the function of the family room to make clearance for all of those swinging doors. So instead we just added large fixed windows beside the original french door for the appearance of a wall of glass without all that stuff swinging out and hitting potential furnishings.
A built-in breakfast nook. This is the hardest change to see based on the floor plan (since it looks like we just made it a foot smaller). But that's actually because we're planning an awesome built-in breakfast table with a feature window behind it. Something sort of like this, but with a big interesting window in the back like this. More on that table in just a moment…
Pantry door tweak. We thought it'd be fun to make these two frosted glass doors instead of just one (like this). But enough about that, let's talk about the table for the breakfast nook…
Remember when we mentioned making a site visit to source some materials? Well, Builder John and Justin from Homearama introduced us to this place just down the road from us called Dreaming Creek Timber & Frame, where they craft incredible stuff from all types of wood. And they're going to custom make a raw-edge table (kinda like the in-progress one that we saw during our visit, shown below) to contrast against the otherwise crisp and white breakfast nook that we're envisioning.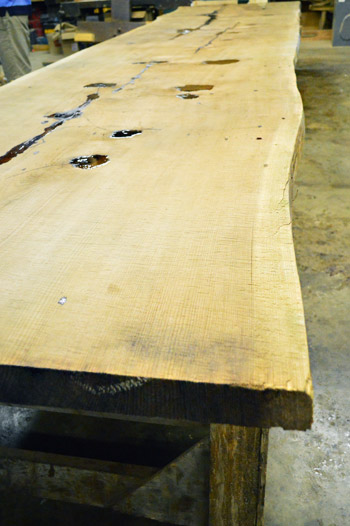 They're also going to provide some other focal points to the house, like the open A-frame rafters on the front porch, which you can see in the rendering of the facade at the top of this post. If the color had been right, we totally would've ask to used these boards they snagged from Coney Island. That's the old wood boardwalk just chillin' in the Virginia countryside. Sherry was feeling the NYC love.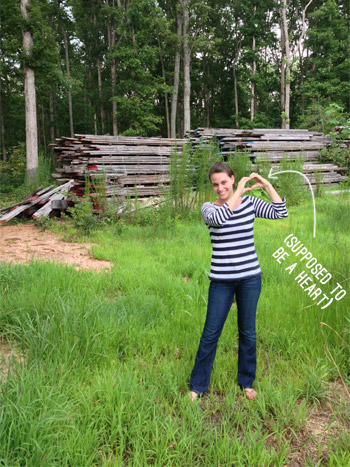 Okay, back to the floor plans. Let's go upstairs, shall we?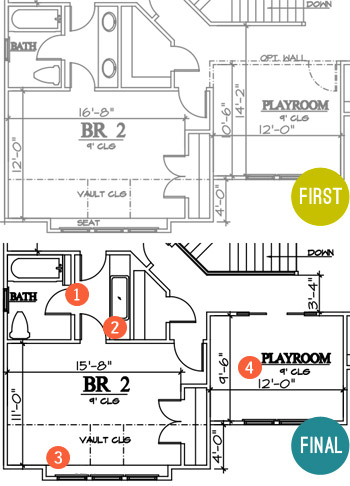 Some fun towel storage. Since the jack-and-jill bathroom between the kids' bedrooms didn't really have (nor did it need) a formal linen closet, we made room for a narrow vertical cubby (for some casual rolled towel storage).
Go big or go home sink. Again, since it was a kids bathroom we thought it'd be fun to put one big trough sink in there instead of the traditional setup of two smaller sinks. It'll still have two faucets so it's easy for two people to use at once, it'll just be extra wide for some added fun. I think Clara would play for hours in there.
Light-filled homework spot. Rather than the bench seat that was originally planned for this spot, we decided that a built-in desk would probably get more use and give the room as much function as possible.
Defining the playroom space. We're actually thinking of this room as a "Kids Reading Room," so it will have more of a quiet, curl up with a book (okay, or maybe video game) kind of feel. So we opted to close it off with a wall, but still give it an open feel with pocket doors. We're envisioning something kind of like this.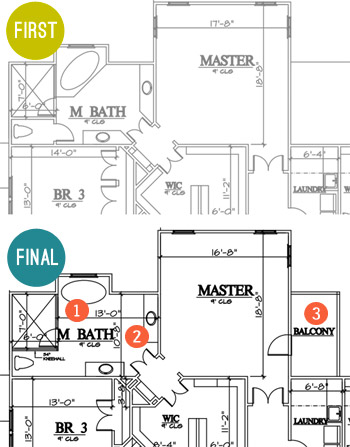 Freed the tub. We thought the tub would have more presence if it was centered under the back window and freestanding (instead of built into the corner), so we changed its angled placement so that it didn't block the shower as much (which also allowed for the entire front of the shower to be glass, instead of being walled in with just a small glass door for entry).
Freed the vanities too. We also thought the twin vanities would be nice and stately if they felt less like angled cabinets with granite on them and more like pieces of furniture set in the room, so we squared them off and are hoping to find some cool dressers or something to convert.
Balcony, baby! When the builder realized there would be unused roof space on one side of the main bedroom (the breakfast nook is below it) we all thought it would be awesome to add a private balcony up there. We originally had one off the front of the house (attached to a kids room) but the placement off of the main bedroom made a lot more sense.
There were a few other changes not mentioned, but those are probably the easiest to show at this stage. But I can't believe we spent so much time talking about the inside without even addressing what happened outside. I don't have the original version, but here's where we ended up.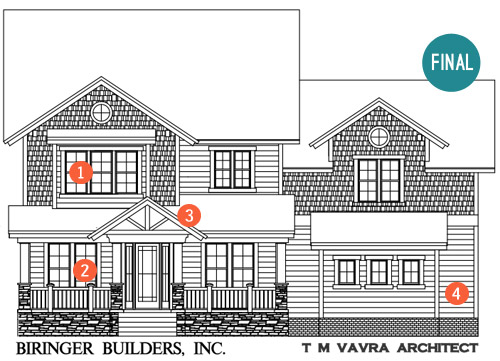 Ix-nay on the alcony-bay. As I just mentioned in that last bullet, the original plan had a balcony with a pergola on this front window (incidentally, it was the presence of this pergola that helped us know that Builder John was the right partner for us). But the neighborhood's review board killed the pergola, which made us reconsider the presence of a balcony on a kid's bedroom anyway (for safety and mischief reasons). So it became a regular window, but that's where our built-in desk is going to go, so we're cool with the swap.
Fake frenchies. Remember how we got rid of the french door in the dining room? Well, we're going to try to capture the look of french doors with big floor-to-ceiling windows on both sides of the front door instead. That way both rooms get lots of light and easy access to the porch through the entryway door, but they don't need to account for the clearance of swinging doors (which would impede on the size of the furnishings and their placement in those rooms).
Open frame. We suggested an open frame look right above the front door. Builder John was all about it and was the one who suggested that we get the Dreaming Creek Timber guys to get us some really awesome accent beams to top things off out there. We think a big hanging glass pendant will look so great shining through that framed detail over the front door.
Go navy! We said early on that we were leaning towards the idea of a navy house with crisp white trim and cool gray-toned stonework around the foundation. Builder John said "dude, I just sold a house that was tan and the realtor said if it was navy she thought it would have sold faster. Say no more, I'm sold on navy!"
We still need to settle on an exact navy color, and we're actually meeting this week to look at a few options along with choosing the exact stone and brickwork that will make up the exterior. We're also thinking of going glossy red or bright yellow for the front door, maybe bringing to life the exterior color combo that Sherry told HGTV magazine she was crushing on a few months ago?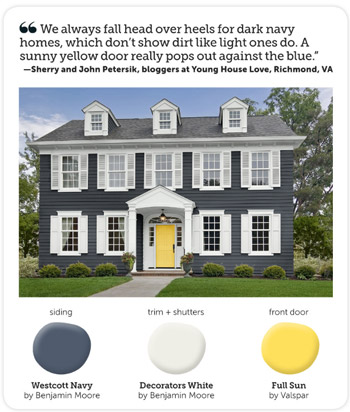 Sorry there aren't more real pics to share at this point. All of this talk of the house is really making us excited to see it come to life in person! Have any of you guys built a house, or been involved in the process through a relative, friend, or work project? It's amazing how much there is to think about, but insanely exciting to think that scribbles on a piece of paper can actually become rooms that you can stand in someday.
P.S. While we often take on side gigs like this to help pay the bills, this one is a purely creative endeavor for us. Homearama compensates their designers for their year of planning and work, but we've opted to donate our entire fee to Richmond's Habitat for Humanity, a cause that Homearama will also be supporting in other ways throughout the event.
Update: Wanna see the finished showhouse? Click here for Our Full Showhouse Tour, which includes final pictures of every room, the floor plan, budget info, a video walk-through, and shoppable showhouse furniture & accessories.