Are you kidding? In this market? Of course not. We managed to sell it for around $5k more than we bought it for back in 2006 (in "the bubble") and it doesn't take a genius to figure out that we spent more than five grand on improvements (we estimate that we spent around $35K on new bathrooms, a new kitchen, new flooring, new windows, a new roof, a new patio, a paved driveway, and upgraded details like crown molding and wider doorways). This is where a "womp-womp" sound effect would come in handy.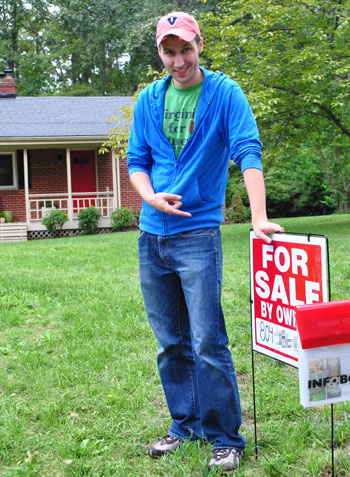 But we're sleeping like babies and are downright giddy about the sale of our house and the purchase of our new one. Why? We're 100% convinced that the time was right and everything happened the way it was meant to. Are we crazy? Maybe. But here's our thought process:
Our monthly payment for the new house is $200 less than what we've been sending in for our old much smaller house thanks to historically low mortgage rates and a great deal on the new house (which we never could have afforded in a better market). More house in a better neighborhood for less money each month? Yes please.
The unimproved houses in our old neighborhood (which look a lot like ours looked back when we purchased it) are selling for 30K, 40K, even 50K less than ours sold for. So not only were our projects fun and fun to enjoy while we lived there, they seemed to help our house retain its value and even improve upon it (even though we bought it when the market was amazing and we sold when the market was, uh, not).
We got an offer within just a few days of being on MLS, so that's a lot to be grateful for in this housing market.
Want more details? Sure. You know we like to talk…
We're not house flippers, we're house lovers (hence the blog name). We never moved into our old house intending to flip it or upgrade it for any other reason than to enjoy it and make it the perfect home for ourselves in the time that we spent there. And it was. So the fact that by doing those updates we were also able to keep the house from dropping a lot lower into a price range that actually may have made us cry ourselves to sleep at night really does feel like a blessing. And we can't forget the inexpensive backyard wedding that we were able to host thanks to diverting our venue rental budget into a new paved driveway and cobblestone patio that were around long after our big day ended. Or the kitchen renovation that spawned a blog that spawned a business that now affords us the opportunity to both work at home with our spawn by our side (sorry for calling you "spawn" Clara- it's a terribly un-ladylike word).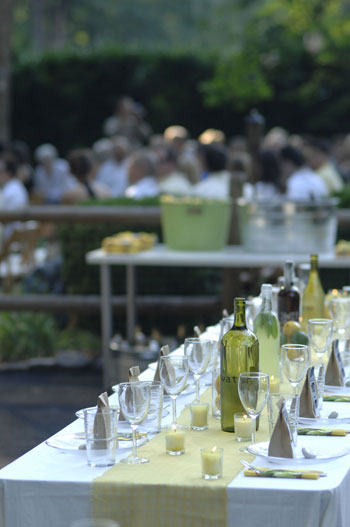 Plus, it's easy for us to see the rewards that the new house holds. After all, we're not just sellers in this buyers' market – we're buyers too. And boy is it a sweet time to buy. We've scored our new larger house in a nicer neighborhood at a serious discount (we paid over 40K less than it was valued five years ago). Plus since interest rates are awesomely low we're potentially saving tens of thousands of dollars in interest over the term of the loan. And since we had some nice equity in our old house to roll over into the purchase of the new one (and thanks to that lower interest rate) that's how we got to that lower monthly mortgage payment that we mentioned above.
Plus we figure that when/if the market recovers in who-knows-how-long, there are greater rewards to be had on our new house than if we had waited around to sell our old one (which might have gone for more money in a few years, but at that point our new house might have been waaaay out of our price range just like it was five years ago when the market was doing gangbusters). And of course we can't ignore the most important facts: that this new house satisfies our passion for DIY, offers more room for our family to grow, and helps fuel our business. Which is really the day to day stuff that helps with the whole sleeping at night thing.
But let's revisit that whole 35K spent on improvements, only 5K of which we actually made back in the sale price. The good news is that it's not like our improvements didn't serve us at all. Similar houses in our old neighborhood are now selling for muuuuuch less than ours did because they don't have any of the updates that ours has. In fact a similar ranch on our old street (only about three houses away) that's notably bigger than ours sold this summer for 50K less (!!!) than our house did. Which makes us feel incredibly good about the improvements that we made to set our former casa apart so that it would not only hold its value but would even creep up 5K since the good ol' days of the bubble. So although on paper it might look like we lost 30K based on what we paid, how much we put into it, and how much we sold it for- we like to look at it like this: by making the improvements that we did, not only did our old house not drop 50K in value in this bum economy, it also slightly improved by 5K. Call it looking through rose colored glasses if you'd like, but thinking about it that way really helps keep things in perspective.
Oh and here's another interesting house-for-sale point that our lender made. He has noticed that what homeowners aren't getting back financially from their improvements, they're getting back in sale speed. For example, a buyer might not pay much more for your house because it has granite counters, but you'll get an offer a lot faster than a similar house down the street that's sporting laminate. And that has certainly been our experience. We were on MLS for 2 days before getting an offer while a similar larger house down the road is going on four months without a bite. And it's listed for $30k less!
Do we wish the market were better? Sure. But we've got zero regrets. Some may accuse us of seeing the glass as half full (and we definitely don't think everyone would make the choice to sell at this time), but these are just a few reasons why we're so glad to be in our new house just in time for Clara's first Christmas. Speaking of which, we've got some boxes to unpack…