Oh happy day! Abbey sent us her lovely mood board after pictures and we couldn't wait to share them. Her space is a great reminder that you don't have to paint the walls a dramatically different color or spend big bucks replacing everything to get a majorly upgraded look. Sometimes just a few new pieces, a slightly more saturated wall tone, and some simple accessory switcheroos can make all the difference. Here's her letter:
I'm finally submitting my after pics of the family room makeover you helped me with this summer. I want to thank you sooo much for your design ideas. By adding in the chocolate furnishings and the rug it really helped provide contrast to the room and define the space. The new glass end tables paired with the round coffee table really give it that classic and contemporary look I was going for. And the new floor length curtains, matching table lamps, and geometric pillows definitely pull things together. Everyone who comes over loves the decor. And you may notice that I went with three prints from Crate & Barrel's Classical Symmetry Set (when you posted them on another mood board I knew I had to have them!). You'll also notice that we added crown molding along the ceiling and updated the baseboards which really helps enhance the look of the room. Thank you again for helping to make our family room a more comfortable place to hang out. You will definitely hear from me again! The dining room needs help too. And congratulations on the baby! -Abbey
Just to refresh your memory, here's Abbey's family room before: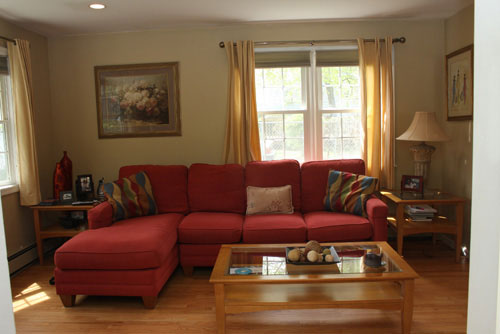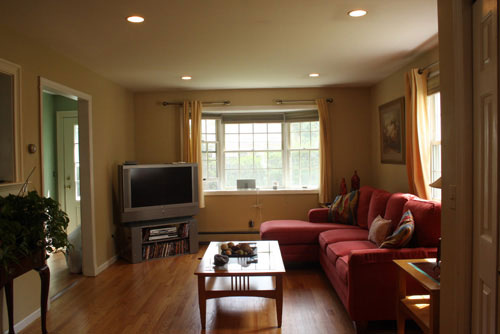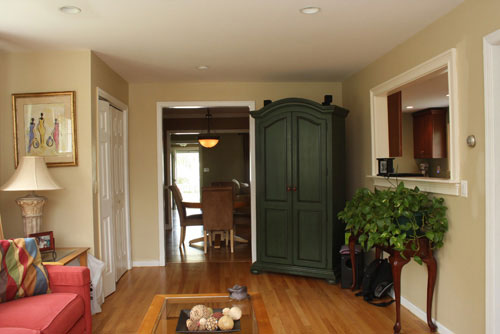 And here's the custom mood board we whipped up to help bring in some classic-meets-modern polish (check out more details on Abbey's mood board right here):
And now for the lovely after photos. Of course some big items like the red sectional and the armoire didn't change. And the wall color just went a bit deeper and wheatier (we suggested Benjamin Moore's Westminster Gold 200 for the luxe and "crisp" finish we knew it would add). But we think the smaller furnishing and accessory updates (like the rug, coffee table, media cabinet, side tables, lamps, pillows, curtains, and desk that we dug up) really chic-ed up the room. Plus there's added function too now that Abbey has gained a workstation along with some serious style.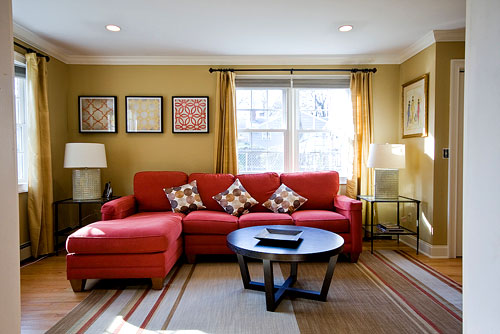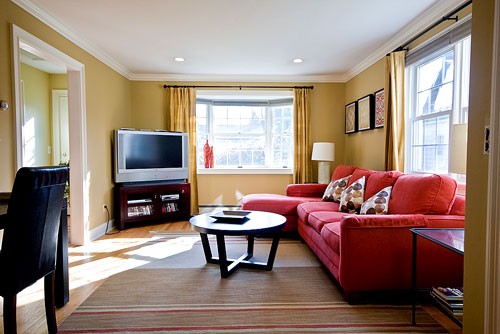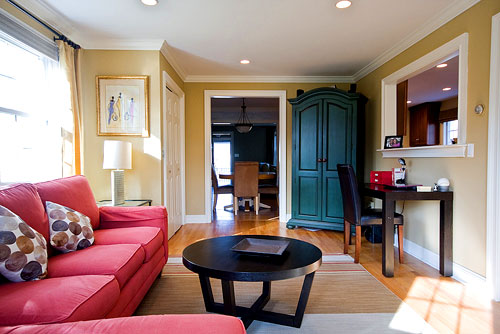 Hooray for mood board after pics! Didn't Abbey do a fantastic job? It's amazing how the red sectional truly shines in the after photos. It suddenly looks like it was meant to be and really pops thanks to the richer wall color and the red stripes in the rug (instead of just blending in with the lighter walls and the rugless floor in the before shots). And the crown molding really is the icing on the cake. Thanks so much for the pics Abbey! We just love when people send us after photos… and we especially love to hear that a room is more comfortable and inviting for those living there. That's what it's all about!
But enough chit-chat. Let's play the what's-your-favorite-part game. We're torn between the wheaty walls, that striped rug and those sculptural lamps on either side of the sofa. Decisions, decisions! And that art is delicious too…
Update: We sadly can no longer find the time to take on client commissioned mood boards (we now whip up general inspiration boards instead) but if we ever reinstate them we'll make a big announcement!