***This giveaway is no longer accepting entries***
Yes, I know it looks like I have a misplaced apostrophe up there, but trust me on this one. This week's prize will have one of you sending handwritten greetings across all seasons of the year (see, I'm looking less punctuationally deviant already).

As you may recall from Friday's thank-you-to-our-sponsors post, Emmy Lu Design Studio is an awesome source for beautiful custom stationery with a DIY twist. Once you pick the style and fill in the custom details (whether it be a holiday card, personal stationery, an invitation or even a baby announcement) Emmy Lu hooks you up with a ready-to-print PDF. That means you can print as many as you want (whether you need five or five million), on any paper you want (bargain or mega-fancy-pants), for as long as you want (the file's yours for eternity). Kinda genius, no?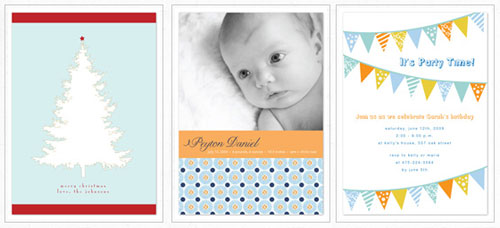 And since it's nearly impossible to pick your favorite design, this week's winner is getting a year's worth of them! That means a new card/invite/announcement of the winner's choosing for every month of the year (which loosely translates to 12 excuses to throw a party, pen a thank you note or even write your mom a letter for crying out loud).
So here's how you can get your hands on these greetings by the dozen:
PRIZE: One custom Emmy Lu design per month (of $50 or less) for an entire year (that's up to a $600 value!)
TO ENTER: Comment on this post with the words "EMMY ME" and…
BONUS QUESTION: …tell us what you do to send seasonal greetings. Do you pose for a traditional family Christmas card? Or something quirkier (like photoshopping your chihuahua)? Maybe you abstain from the madness completely?
GIVEAWAY CLOSES: Wednesday, December 9th at 8pm EST
NUMBER OF WINNERS: One
PRIZE SHIPS: Anywhere in the world!
USUAL STUFF: One entry per e-mail address is permitted. The winner will be selected using random.org and announced on Thursday. Good luck!
Get more info about our freebies on our Giveaway FAQs page. Images courtesy of Emmy Lu Design Studio.