Can you believe it has already been almost five months since we shared a house tour with you guys? So I decided to walk around with the Flip cam and show you how each room can look on an average day (since we had lots of fun with a no-cleaning-first tour back in April). And yes, this is the real deal. I didn't pick up a thing (as demonstrated by my embarrassing bra on the chair in our bedroom, so just pretend you didn't see that, ok?). Oh and for those of you who are at work, you can watch it on mute and pretty much get the gist of the average everyday glory. Or just try to read my lips (just kidding, I'm not on camera).
Things to note:
I taped this before ORBing the daylights out of the hardware on the front door and the sliding doors, which is why it's still brassy (it always takes me a few days to remember to upload videos)
I'm terrible at walking around, talking, and holding a camera (it's too much multitasking, so pardon the Blair Witch Project-ness)
I've listened to this five times trying to hear Natalie Portman or Mila Kunis (since you guys say you hear it) and I can't. I really tried though.
I have no idea why I take time to point out that we have a Ruby Tuesday's coupon on our desk. It's so weird what you think is noteworthy.
I should have paused to turn the ironing board so it points up during the video, thereby resnagging the win in Ironing Board Wars on camera (more on that here).
Burger is so cute. I love how he's just chilling under the covers. Life's good when you're a nine pound chihuahua.
Sorry I'm almost completely inaudible for the second half of the video. Sleeping baby = paranoid whispering mom (which is ironic because we hammer while she naps – just not right outside her door).
You can see that I still have yet to rehang the ribbon chandelier from Clara's closet that I took down to paint and stencil the closet (it's in a pile in our disaster of a playroom).
Yes, it sounds like there's a waterfall in Clara's room. It's her sound machine (mentioned here) which drowns out things like DIY projects and our barky dog.
I like how I completely forgot an entire room (the sunroom) and galloped back through the house to show you things like squished pillows and a blow-up whale pool.
The rocker in the sunroom really is trying to kill me (remember when I talked about it waaay back here in November – um yeah, not much progress)
My dramatic ending on Clara's stuffed animal is beyond weird (yes, we named her Georgia because she's from there). What is wrong with me?
What about you guys. What would people see if you randomly made a shaky nausea-inducing video of your house before picking up a single thing? Anything embarrassing out there like a Carebear night light in the bedroom or an NKOTB poster in the closet? John actually had a Britney Spears calendar when I met him in 2004. Not lying. And she was wearing things like red leather bodysuits and braided pigtails. What can I say, my man has good taste.
Speaking of which, I was just going through old folders on my laptop and I found a bunch of funny old pics that I thought I'd share in the spirit of "any given day." Here's me and Alicia Keys back in 2005. We're old friends. Just kidding, but I did get to meet a bunch of celebs when I used to work in advertising back in NYC (and they were all super nice except for one "star" who is rumored to be not nice – and let me tell you the rumor is true).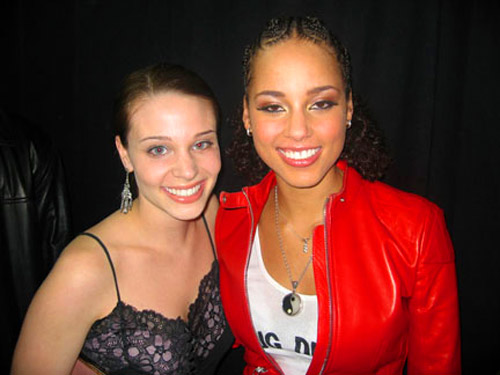 Here's John's passport pic from when he was 16 next to the one snapped when he was 24. Aw, Johnny's all grown up.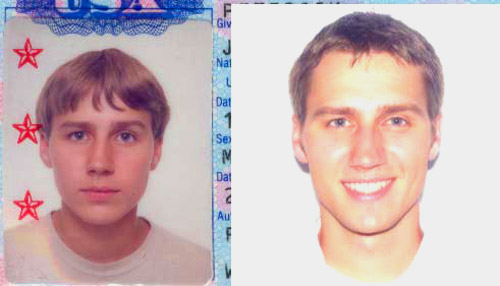 Here's John as a life-sized doll back in 2005 when we worked together (we met at an ad agency named Lowe where I was a copywriter and John was an account guy – aka: a suck up). The entire office cracked up about this project (it was for a certain deodorant client of ours). I definitely prefer John The Doll to the smarmy Ken doll that I had growing up.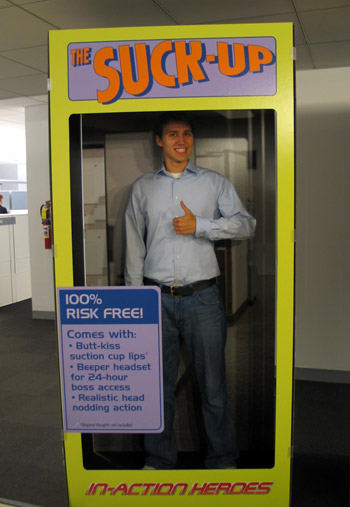 Aw, here's our engagement announcement photo (that we emailed to a bunch of friends and family, hence the photoshopped writing) from 2006. It was snapped about a minute after John got down on one knee at the top of a mountain (more on that here). Best day ever. Well, top five at least.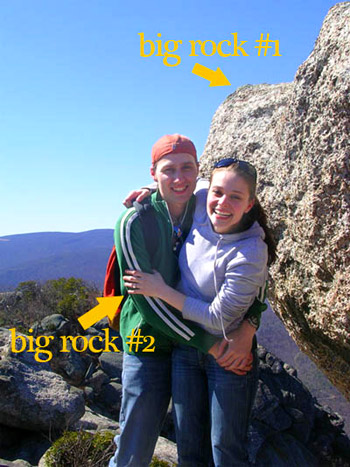 So how's that for Friday randomness? What odd old photos are sitting around on your computer? Would you ever have guessed where you'd be today five years ago? We had no idea we wouldn't both still be working in advertising (we really liked it and miss it all the time!) and after six years of calling NYC home, I never thought I'd leave. So funny how things work out.
Psst- Check out our first ever messy house tour here (it's fun to see how many rooms have changed since April when we filmed it).