Ok, so lots of people (me included) found this original exterior tour of our yard a bit hard to follow. Our first house was nice and simple. We could describe the back and the front and the sides and call it a day with this ol' post of yore, which even included this little sketch: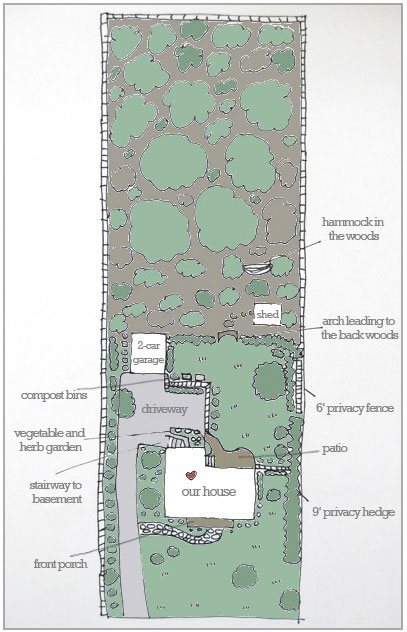 But this house is just waaay more complicated. Even though both lots are about the same size (almost an acre) this one is a lot less long and narrow than the last one. It's more fat and square-ish. And it has a lot more quirks like this little alley between the original part of the house and the addition in the back (more on that here)…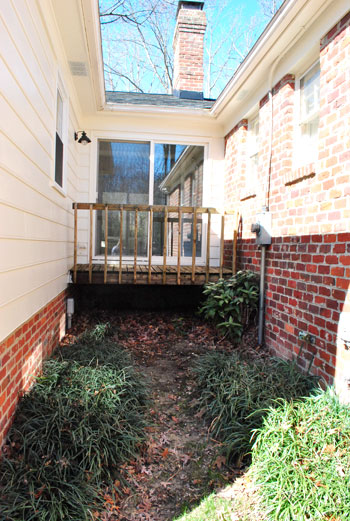 There are also areas that don't look like our property (like this slice of land on the left, which looks like it's outside the bounds of our house but is actually ours)…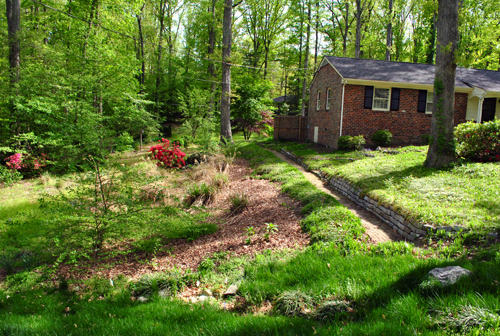 … and little brick paths that meander around the back and side yards…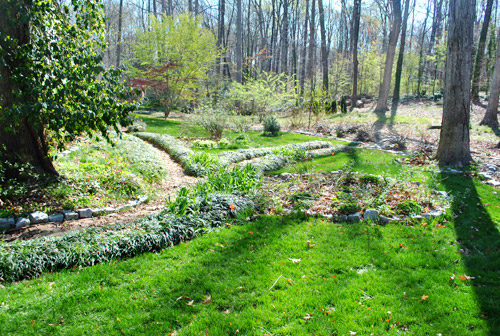 So in an attempt to make sense of it all (or confuse everyone more, you decide) I did my best little sketch of our lot for you (and then scanned it and had fun coloring it in with Photoshop). Oh and obviously it's not to the same scale as the first sketch since this house looks ten times bigger. Oops.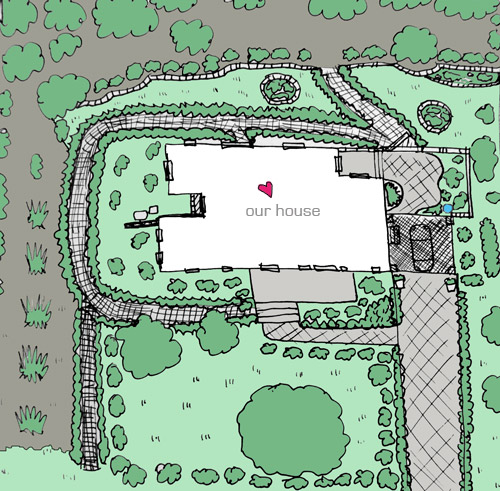 And we thought that the be-all-end-all explanation would be this video that will hopefully help you grasp the whole flow of our lot's mojo (which is work-friendly if you play it on mute- but also funny not on mute thanks to some very excited birds in the background):
And on the subject of our backyard, dude it has CHANGED (!!!) in the last few months. We've loved watching it green up and were so surprised that the back portion of the lot which looked very very brown when we moved in…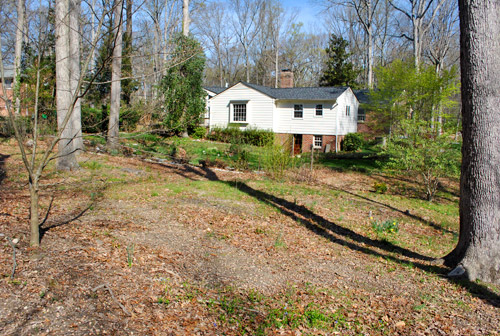 … now looks oh so green and lush and a lot more private thanks to lots of trees and grasses filling in. Not all the way, but we'll take it: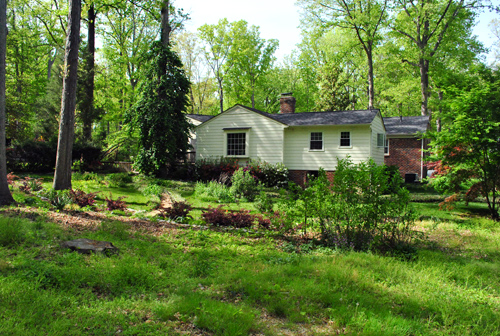 We still have to plant some fast growing evergreens in some strategic spots to add to the privacy-factor (since this house not only has a house on each side of it, but one that can be seen from the back) but it's already feeling a lot less exposed now that lots and lots (and lots) of trees have greened up and created some pretty great leafy screens between us and the outside world. We definitely have a lot to do out there, but just like our last house, we're planning to take our time and see where we end up. Should be fun in that dirt-under-the-nails kind of sore-but-satisfied way.
Have you guys been up to any outdoor stuff? Any dream outdoor features that you'd love to add someday? Mine would be a deck for outdoor dining and some sort of elaborate tree house for the bean. Someday…