That's right, Karl's legs are pale no more. After some thought we decided to give all 12 of our sectional's cheap looking birch legs a coat of oil-rubbed bronze spray paint to deepen them and give them a subtle sheen and dimension that brown paint just wouldn't offer. It was pretty easy except it necessitated a bit of Karl disassembly. Poor guy.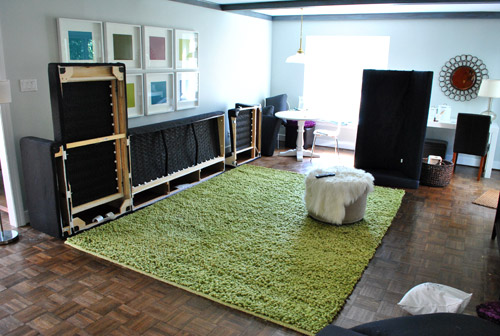 But once we got all of those legs off it was as simple as sanding each of them with low grit paper by hand (I used 60 grit stuff I had around).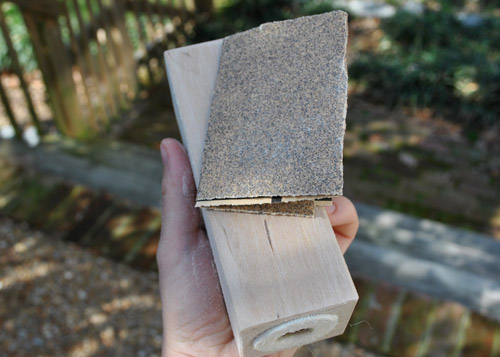 Although the legs looked pale and stain-less, they actually had some sort of clear finish on them (here's one before sanding):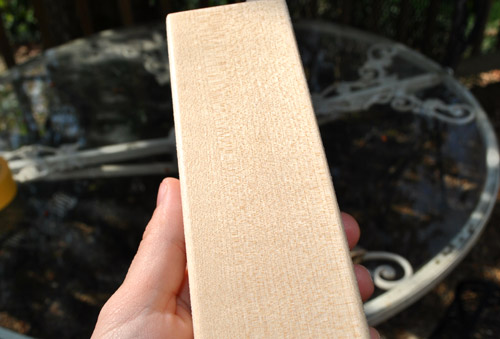 So in order to get the best adhesion for long-term durability, we wanted to make sure to create the most gritty (and grippy) wood surface that we could. Hence the quick sanding step (here's the same leg after sanding):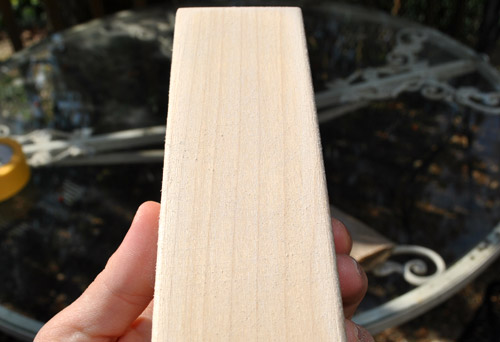 It's subtle in the pics, but hopefully you can see how the sandpaper stripped off that shine and left the wood looking raw and ready for paint (which always sticks a lot better to non-glossy surfaces).
And before I sprayed them, I also removed the little furry floor-protecting pads on the bottom since I didn't want them to get all gunked up with paint. They peeled off pretty easily and still had enough sticky stuff left to go back on nice and securely afterwards.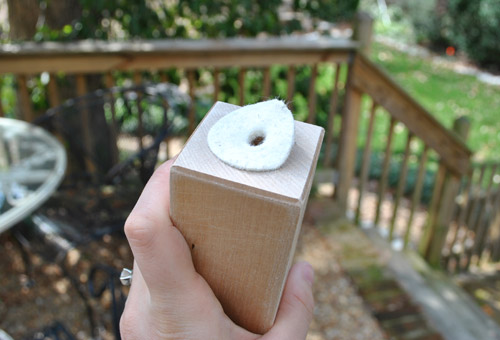 So after each leg was un-padded it was time for their little makeover. Here's what I went with: Rustoelum Universal Metallic spray paint in "oil-rubbed bronze" with a trigger spray nozzle (here's an affiliate link to it on Amazon for anyone looking for it). It's pretty fumey stuff so I laid out some cardboard and did all the spraying outside while wearing a mask that I'm sure freaked out all of the neighborhood squirrels.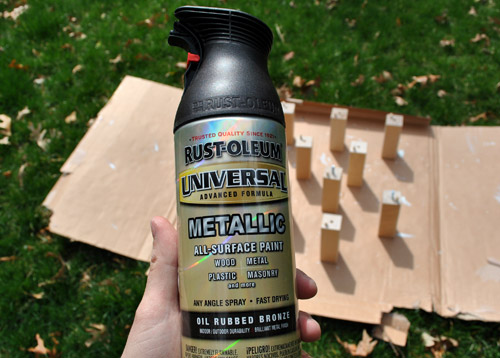 Here are all of Karl's legs after being doused with coat one of their new "spray tan" (I actually applied three thin coats for super even and non-drippy coverage):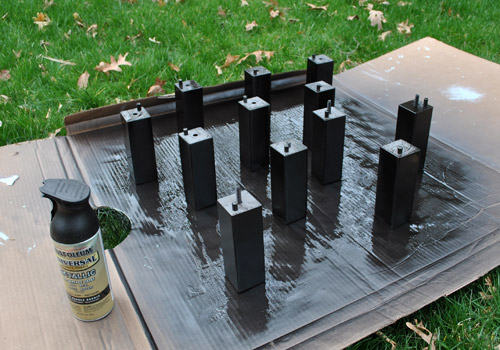 Oh and for those of you looking for a few quick spray painting tips, here ya go:
Skip the cheap $2 stuff in favor of the $7+ quality stuff (I like Rustoleum's trigger spray nozzle because it goes on thin and even and doesn't get all over your fingers).
Always keep the can moving. If you're a-sprayin' your arm better be a-swayin'.
Keep the nozzle about 8-10″ away from whatever you're spray painting.
You really want a mist, not a heavy wet coating.
Three thin and even coats are better than one thick and drippy one.
Spray paint has yet to go no-VOC, so apply it outside with a mask, and let it fully cure as long as the can recommends outside whenever you can (usually 24 hours, we try to double that just to be even safer).
You can "seal" any spray paint (to limit any off-gassing at all once you bring it inside) by applying two thin coats of Safecoat Acrylacq, which is low-VOC and non-toxic.
So once I applied my three supa thin coats of oil-rubbed bronze spray paint, I just let them "cure" outside for 48 hours (12 of them were spent in the sun and the next 36 were spent in the carport because I worried it might rain) while our living room looked like this: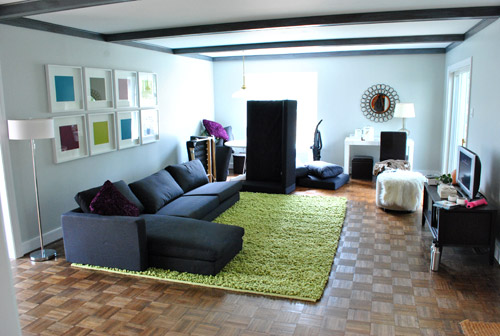 Yup, for two days that was the look. It was actually kind of fun to sit on our super low sofa. And Clara had a ball climbing on and off of it like she never could when it was up on legs. It was almost a shame to put them back on. Except for the fact that our living room looked crazy and getting off of such a low sofa while holding a 20 pound baby girl wasn't exactly enjoyable.
Thanks to two days of outdoor drying time, by the time I brought in our newly bronzed legs they were nice and hard. Almost coin-like thanks to the oil-rubbed bronze paint that created a sleek finish. It's hard to depict that in photos, but it has a nice metal-like sheen when you see it from different angles. And when the light hits it, it sort of bounces off and reflects like glass. Thankfully they didn't smell all nasty and spray-paint-y after 48 hours of drying time outside (even when I stuck my nose right up against them like a weirdo). If they had I definitely would have applied two thin coats of Safecoat Acrylacq as I mentioned in the last bullet above though.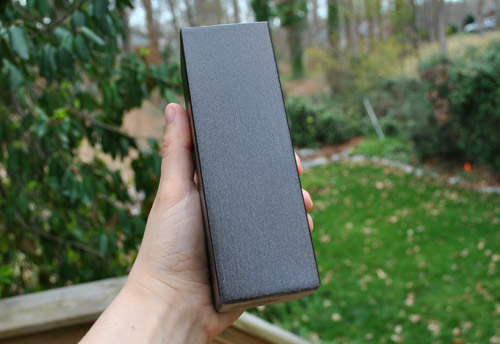 Then all that was left to do was to stick those furry floor-protecting pads back onto the bottom of each leg and cheer John on as he screwed them back into place (he's the allen wrench ninja of our house). Bam, Karl was back to his old self. Only slightly more handsome and dapper. And can I just say that it felt inordinately awesome to have the living room put back together again?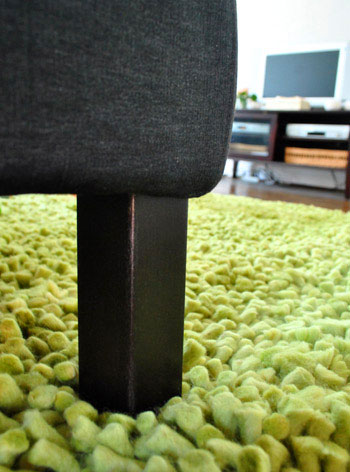 See how the side of this leg seems to glimmer in the pic above? That's the difference between choosing a metallic oil-rubbed spray paint and a deep brown paint or stain. That smidge of glitz just does it for me. But of course stain or paint could have totally worked too, it just depends what tickles your fancy.
Actually from certain angles and in lower lighting situations (like at night) it reads a bit more like a rich chocolate wood stain, which we definitely don't mind.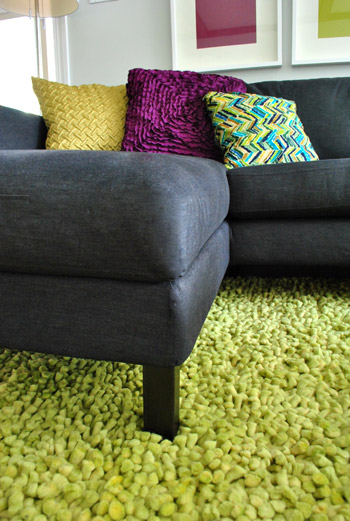 So just for kicks, let's flash back to Karl's legs when they were all pale and birch-y: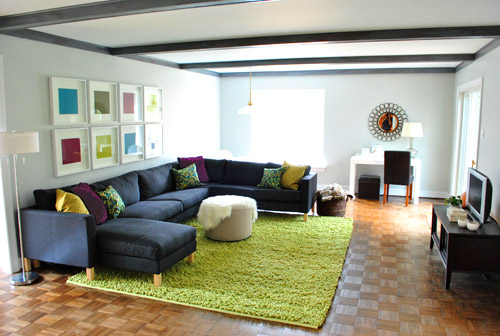 And here's the man of the house now. The difference isn't heart-stoppingly amazing or anything, but as far as details go, it's definitely a bit less "look at my squat little birch legs" than the original look. Most of all, look how happy Beansie is about the change. Just kidding, she's just psyched to be on her favorite rug ever with a few toys. Oh to be a baby again.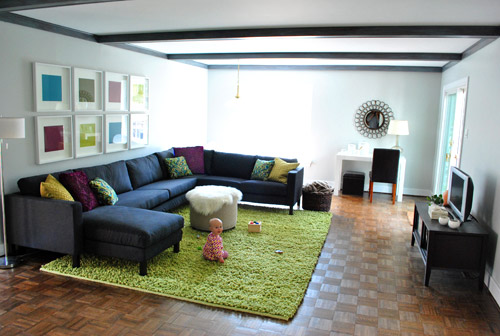 And it'll probably feel even more cohesive in there when we add oil-rubbed bronze curtain rods to the window and sliders (along with all the other stuff we're craving, like a big console table behind Karl and a larger entertainment unit to add balance). But for now we're just loving how our giant $1,248 sectional looks even more like the too-rich-for-our-blood $4,496 version from Room & Board that we fell in love with a while back: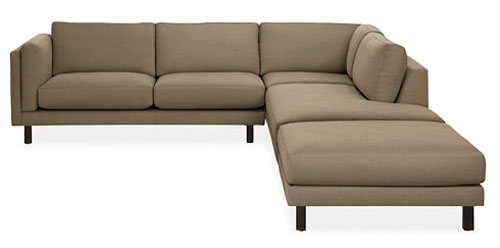 Yay for a little sectional elevating sandpaper & spray paint adventure. If only my blindingly pale leg problem was that easy to solve…
Psst- Check out the weirdest baby toy that we've ever seen (p.s. Clara adores it) right here on BabyCenter.