I thought it might be fun to walk around the house with the Flip cam and show you guys how each room can look on an average day. You know, before we pick the clothes up off the floor, put away Clara's toys, and fold the big blankets that we snuggle under on the sofa. So here's an impromptu house tour (while John and Clara ducked out to the post office and grocery store) in all of its average everyday glory:
Things to note:
Ugh, I have a cold. Sorry about my annoying voice. Who am I kidding, my voice annoys me even when I'm not crazy congested.
I'm terrible at walking around, talking, and holding a camera (too much multitasking, pardon the Blair Witch Project-esque jolts).
For those who requested updated office photos in this post, you can see it in 3-D (well, almost) in the vid.
Burger is so cute. I love how he comes running in and steals the show (and is later seen relaxing in the window).
I have no idea why I take the time to explain Clara's music class kit. It's so weird what you think is noteworthy.
You can sneak a peek at John's behind the sofa console project's progress. Oh and when I say it's not level and it slopes away from the wall, it's because our floors are slanted, not because John's work is shoddy (more pics and details on the big console build this afternoon).
Yes, my ceramic pooch is still sitting on on the back patio. I just can't bring myself to let go of him yet. But I'm working up to it. One day at a time.
You can sneak a peek at the two 30 x 40″ canvases that we got super cheap at Michael's (more details on our plans for them soon).
I have no idea why at the end I'm talking about other rooms while walking back through the house and aiming the camera at the dining room and the kitchen (it's just odd to show the kitchen and say "the messy playroom"). It's official: I'm no Spielberg.
My dramatic ending on my purse is beyond weird. What is wrong with me?
Here's some bonus "ordinary day" behavior. We always tell people how Burger sleeps like a human (with his head on the pillow and his body tucked under the covers) but people rarely believe just how hilarious this is. So here's some visual evidence that I snapped this morning. I promise this isn't staged. John got up first today, so I reached over and took some pics after Burger crawled up from the bottom of the bed to "steal" John's place and sleep in at least four more hours. What a life.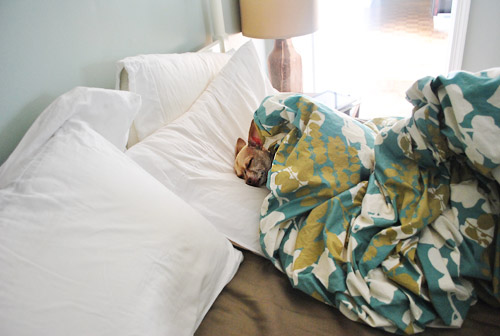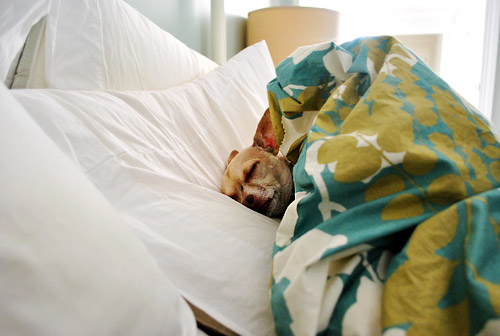 What about you guys. What would people see if you randomly shot photos (or a shaky nausea-inducing video) of your house before cleaning up? Anything embarrassing out there like a teddy bear in the bed or a man-thong on the floor? Thank goodness I put John's leopard one away before filming that video. Haha. Kidding. Sorry honey. I know just reading that is gonna make you all flustered.