There were two houses in our neighborhood that we seriously considered, and today we're sharing a truly random occurrence that involves the house we didn't buy. We're also sharing what we learned from our astrocartography readings. What did the stars say about our move to Florida? Were our readings dead-on or completely off? And what random sentence about a certain mammal made Sherry extremely excited? Plus the tale of a simple outdoor project that took months longer than it should have and the purchase that made us change our tune about outdoor furniture. Also, Sherry did something embarrassing again.
You can also find this episode on your favorite podcast listening app, like Apple Podcasts, Google Podcasts, TuneIn Radio, Stitcher, and Spotify.
What's New
Here's a look at our new fence that we had installed between us and the house that's being constructed next door (plus a peek at our small exterior shed – which you first saw in this outdoor before & after post). And some weeds.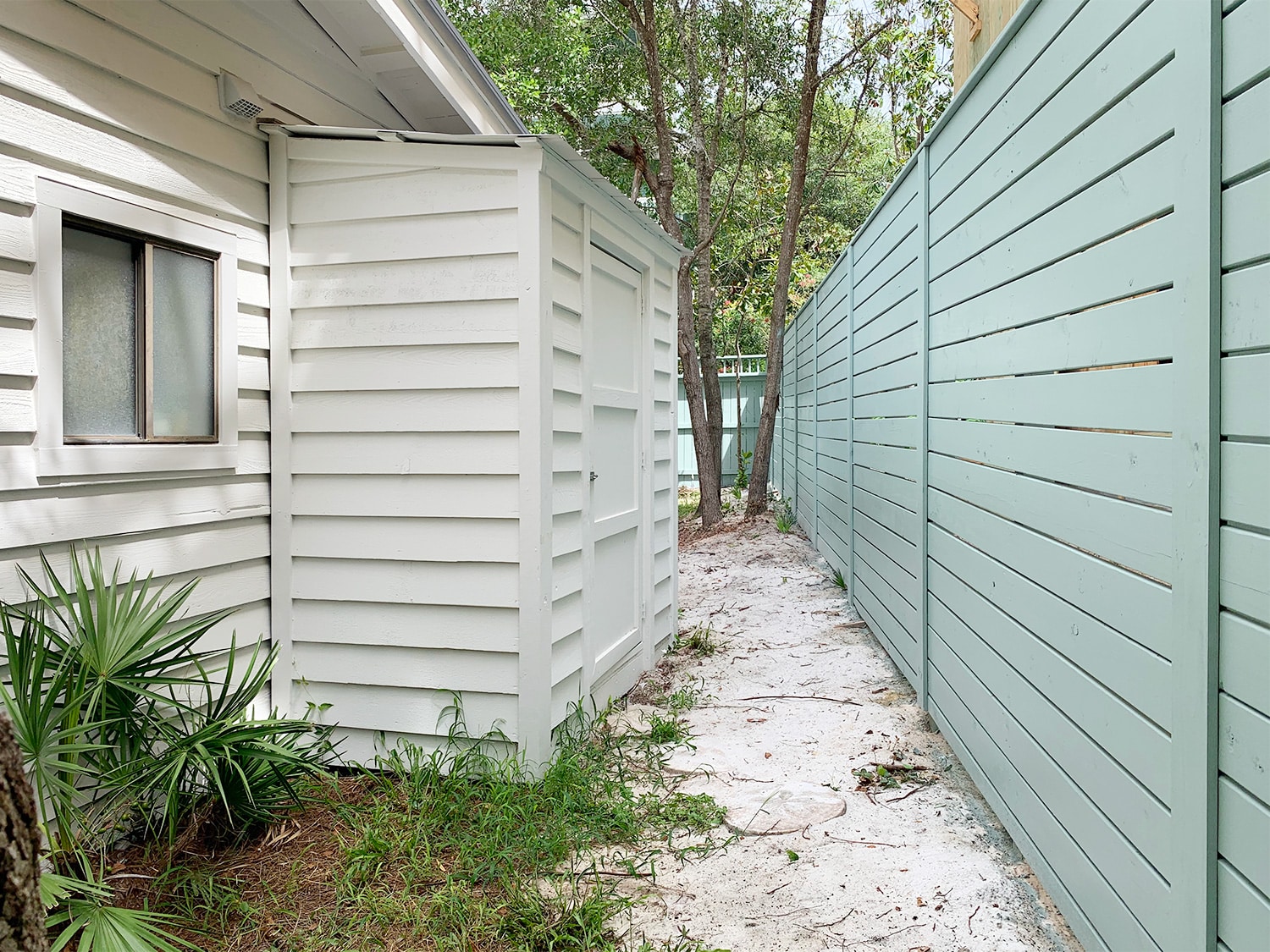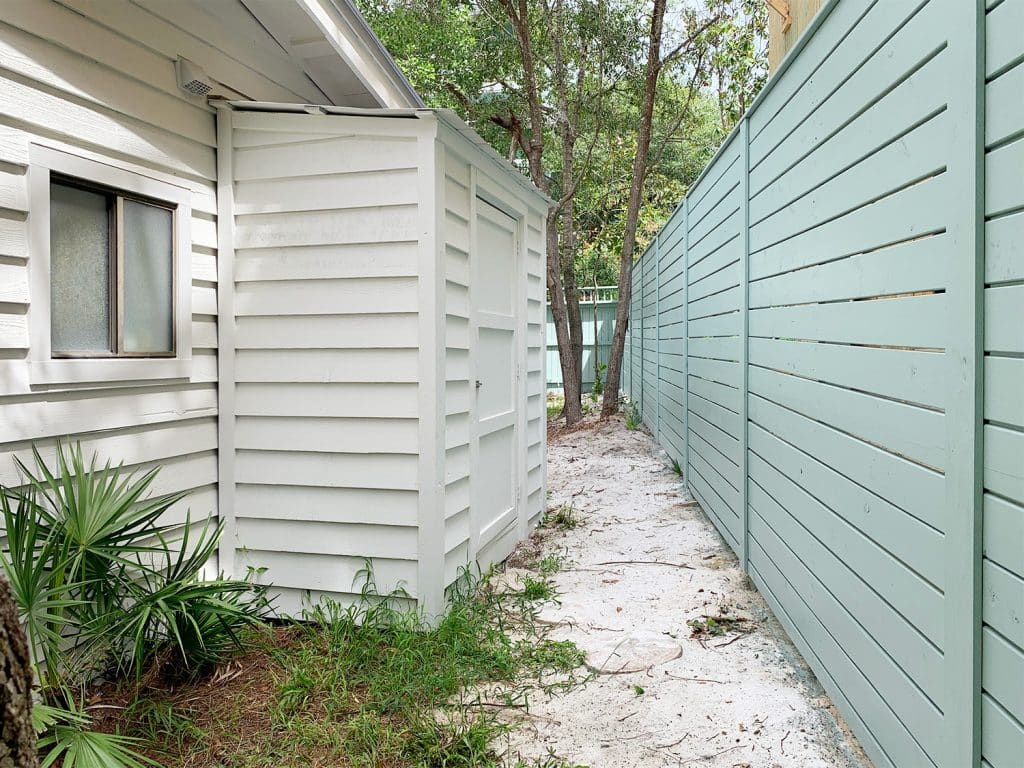 The color of the fence is Halcyon Green by Sherwin-Williams, which is actually the exact same color that our friends used in their kitchen (see their before & afters here)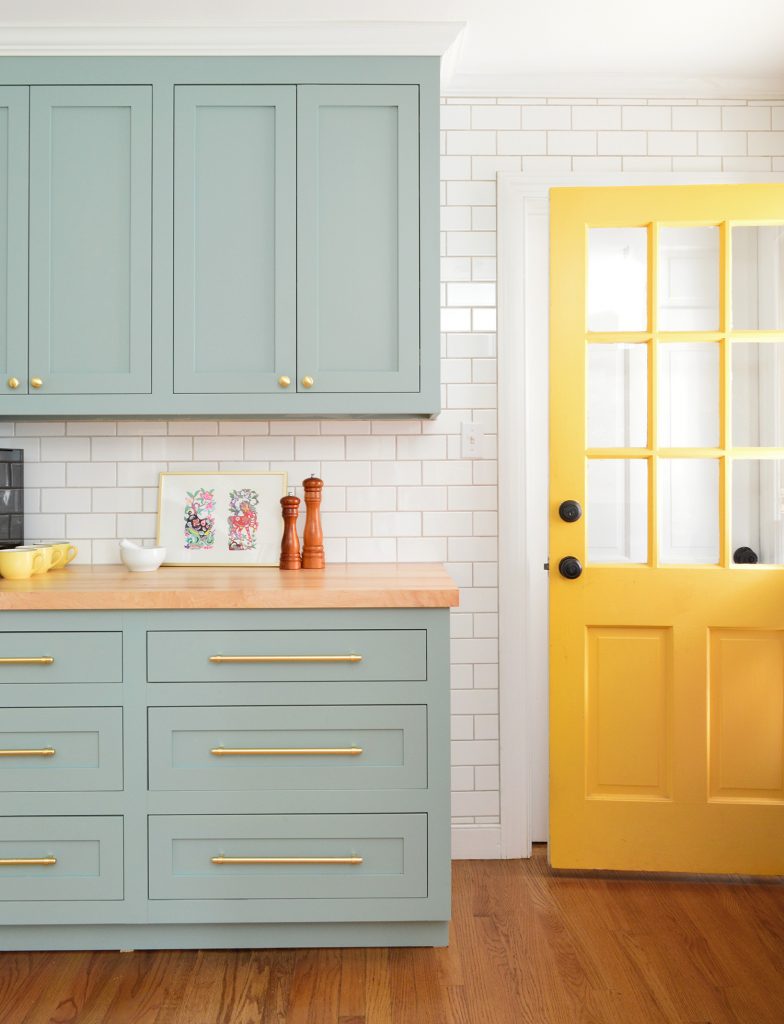 Our next step will be to get the fence extended around the bedroom side of our house to create a little private courtyard/patio area. You may remember seeing this bad photoshop mock-up in the bedroom tour we posted last month.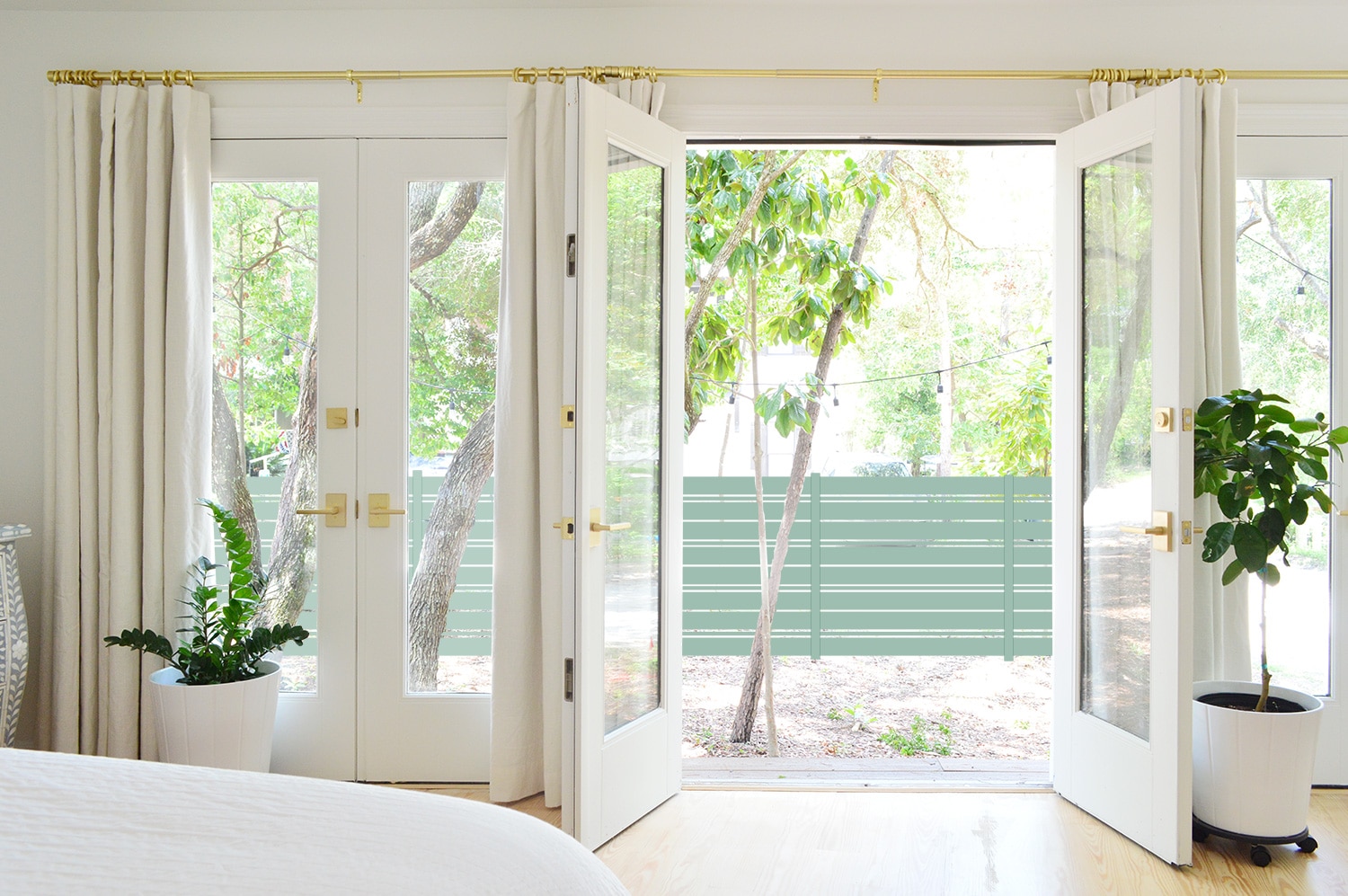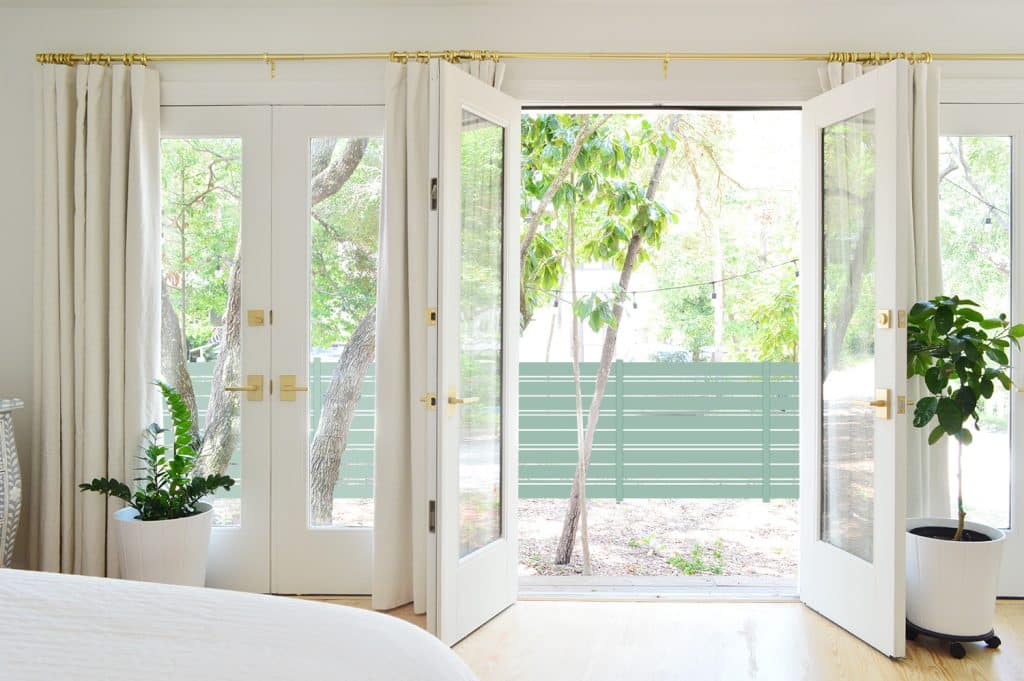 And speaking of that post about our bedroom. If you missed any of the other posts about our progress inside, here you go:
We've also done a couple of posts about the outside, including an exterior before & after tour and a post about how we freshened up our quirky outdoor shower.
And because we know you probably came here for the cheese meme, you can enjoy that below (it's the cheese version of that "Months of 2020" celebrity meme).
We also referenced the infamous "Laura" story involving a neighbor of ours back in Cape Charles. You can hear it in Episode #59, starting around the 17:30 mark.
Sherry also brought up these photos of me on a Segway from over a decade ago. The advertising agency I worked for at the time coordinated with the (then new) Segway tour company in town to create these "shields" to advertise the State Fair. I was one of the employees selected to be a "leg model" for the shields. They took the original photo of my legs that's printed on the segway in one of our conference rooms on an actual Segway – which, if you've ever ridden one, aren't the easiest to keep still (the farm animals were later added digitally).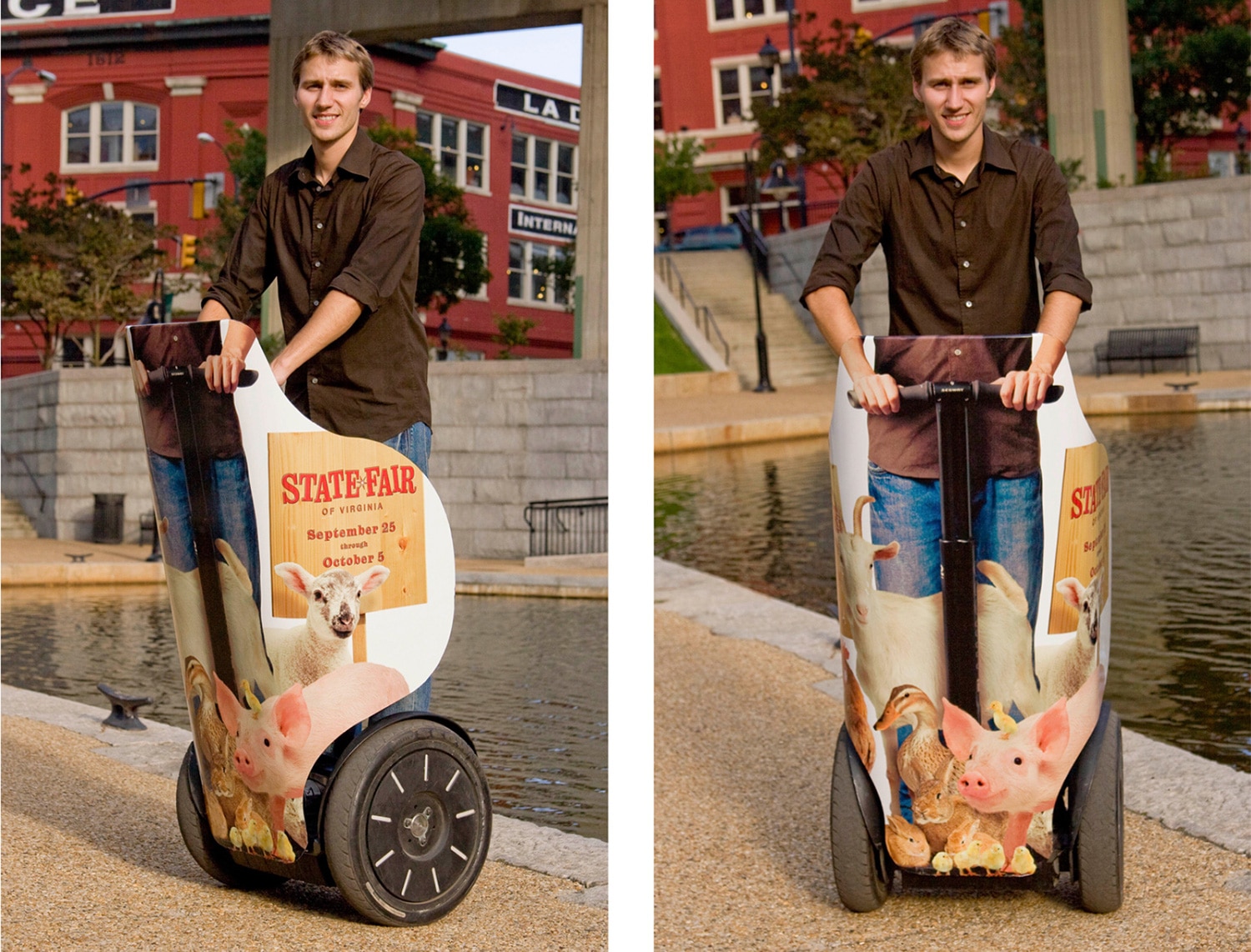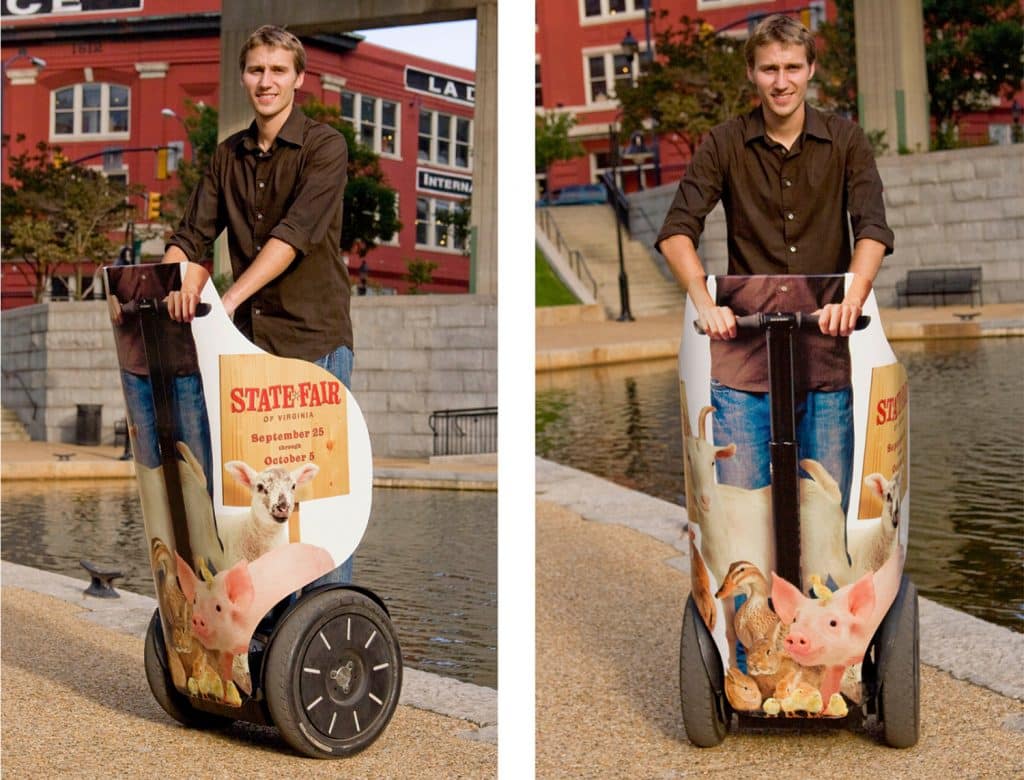 When the shields were done and stuck to the segways, the creative team asked to photograph me again for the agency portfolio – basically matching up with my own legs (in the same outfit) to show the visual gimmick of the shield. So the expression you see in my face is a mix of embarrassment over the whole situation, plus a lot of concentration due to desperately trying not to accidentally roll a very expensive piece of equipment back into a canal. Basically, modeling at its finest!
Our Astrocartography Analyses
First up, here's the original episode (Episode #174) where we talk about astrocartography and the time I gave Sherry a pet psychic reading as a birthday gift.
And here's one of many articles debunking the rumor that NASA changed the star signs by adding a 13th astrological sign (Ophiuchus). Shavonda Gardner talked a lot about it on her Instagram account back when the news resurfaced over the summer, so she's a good one to follow if you enjoy the occasional dip into astrology. We also interviewed her on our podcast in Episode #106 about her downsizing experience (and later followed suit! It was foreshadowing for sure).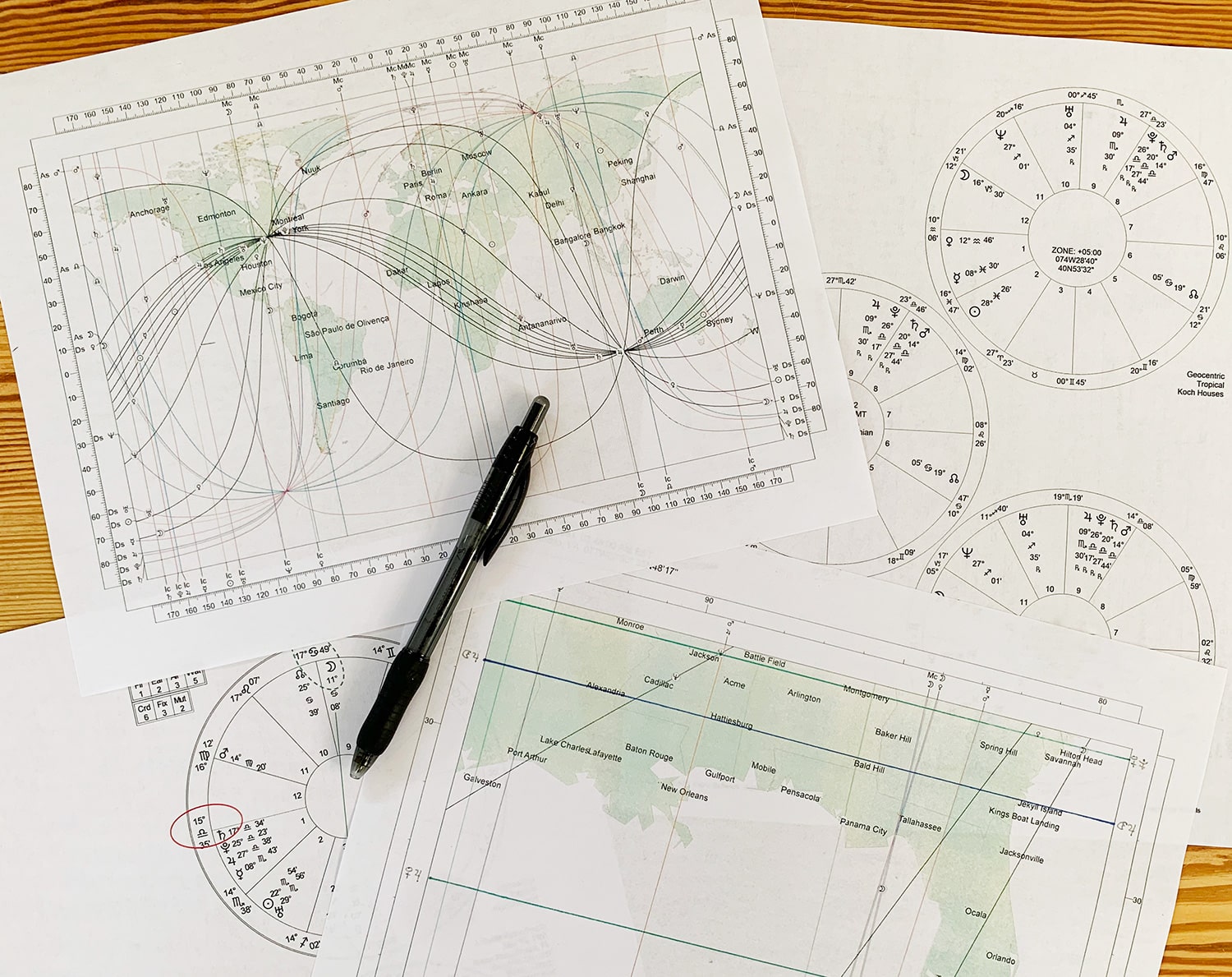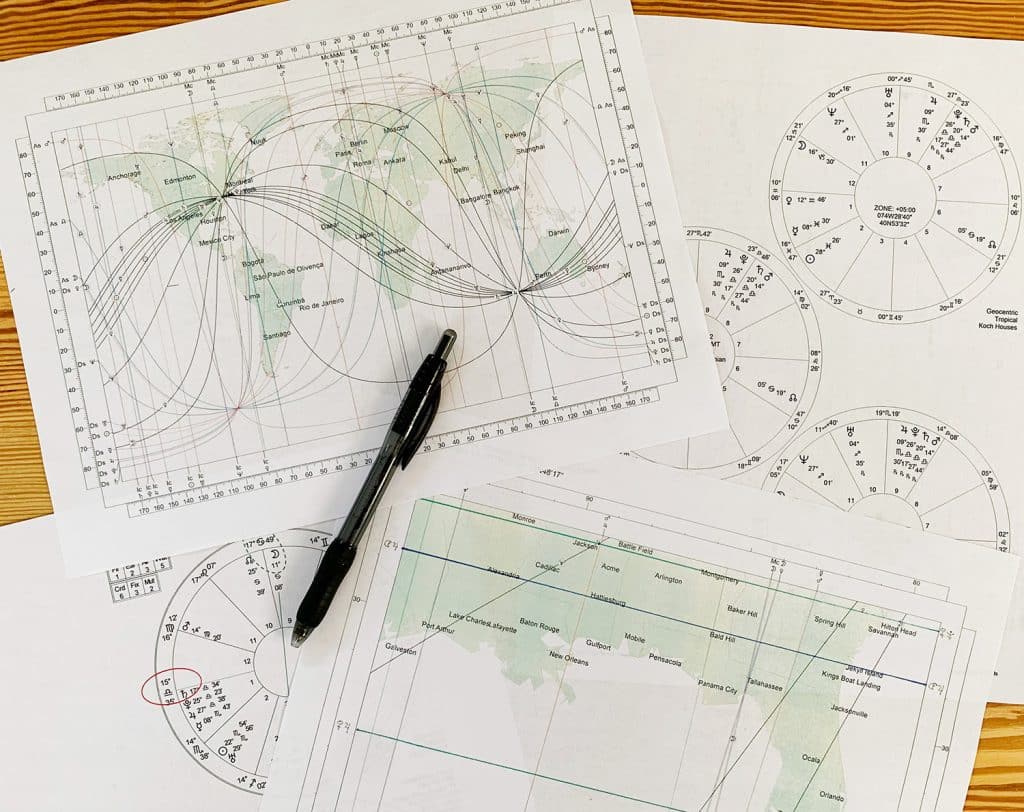 As we described in this episode, our astrocartography readings with Pati Carlson were intricate and enlightening – even for me, the skeptic. She was very detailed and everything she said felt weridly accurate (here's her contact info if you're interested in getting one yourself). We spent over 4 hours on the phone with her across our two readings!
We also referenced Pati's detection of my "maximizer" tendencies, which we talked about in Episode #159. You may recall that Sherry is more of a "sufficer" by comparison, so listen in to see which one you are.
We're Digging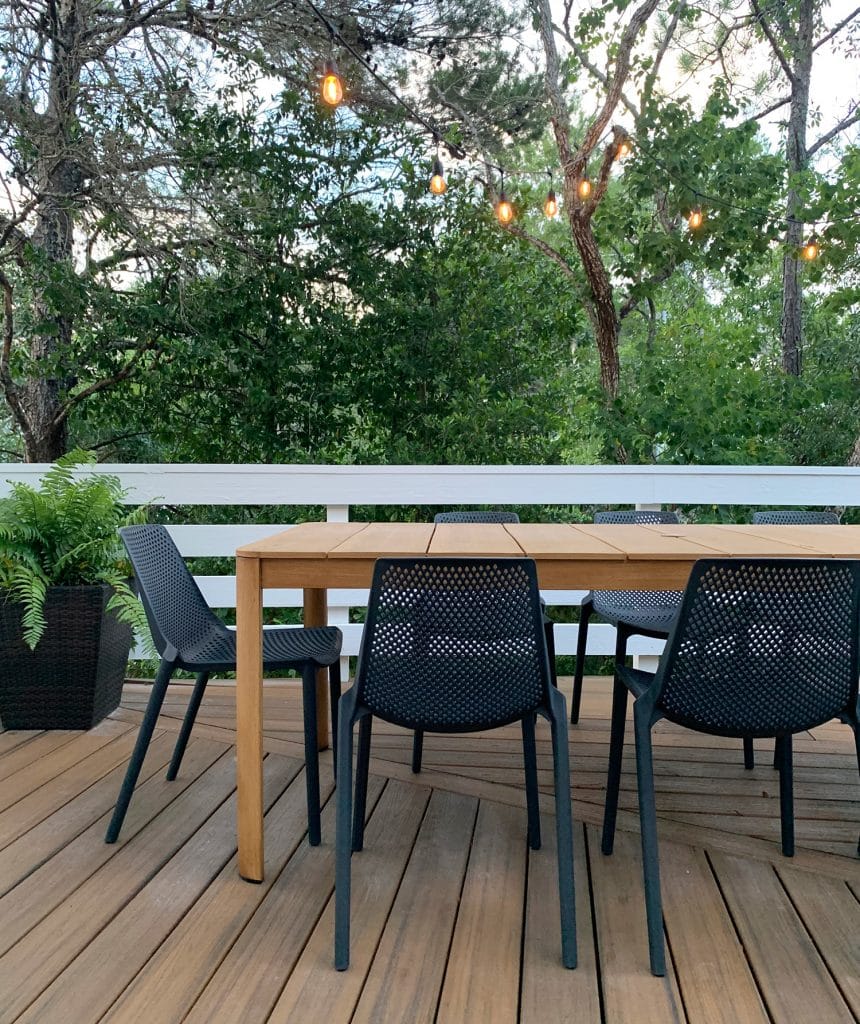 Those are the new outdoor dining chairs we bought earlier this summer. They're currently out of stock, but here are some similar options that have the same features we love: stackable, lightweight, easy-to-clean, very affordable, and don't hold water:
Here's the book I recommended: Why Fish Don't Exist by Lulu Miller. It's hard to describe but it's a fascinating biography + science history + beautiful memoir all in one.
That link above is from Bookshop.org, the place we mentioned that's great for buying books online in a way that supports independent bookstores – especially if you can't visit them in person or shop their website directly (which is always the best thing!)
You can use Bookshop.org to select (or discover!) a favorite local bookstore (heads up, not all bookstores are on there – but many small/independent ones are). You can even use their site to support the Black-owned bookstores that we listed in this post, like Books & Crannies, Brave + Kind Bookshop, Eyeseeme, and Semicolon.
If you're looking for something we've dug in a past episode, but don't remember which show notes to click into, here's a master list of everything we've been digging from all of our past episodes. You can also see all the books we've recommended on our Book Club page.
And lastly, a big thank you to Agility Bed for sponsoring this episode. Agility is giving you 20% off EVERYTHING – hybrid mattresses, cooling pillows, even sheets! – at AgilityBed.com/YHL. Just use the code COMFORT20 at checkout.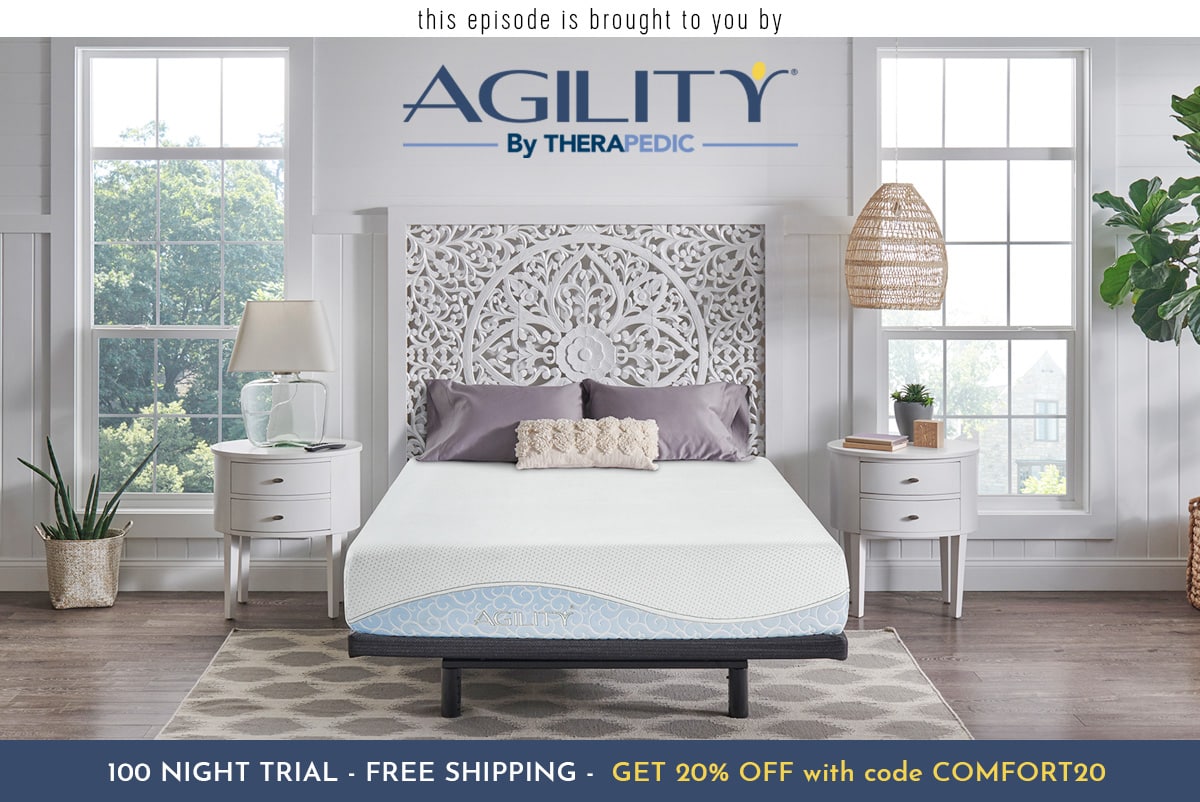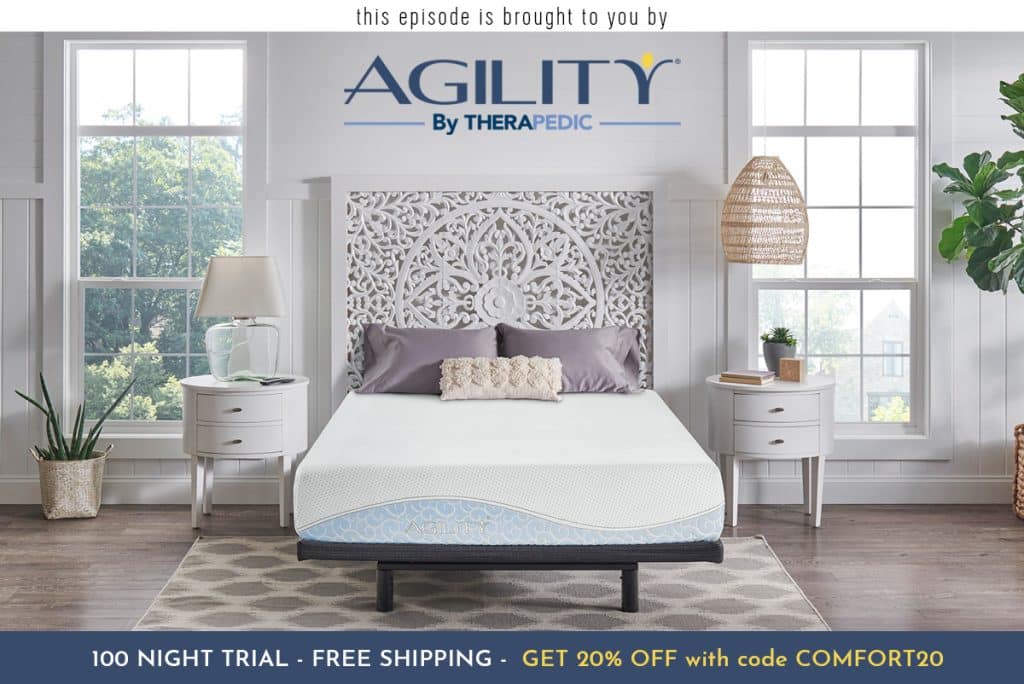 Thanks for listening, guys!
*This post contains affiliate links, so we may earn a small commission when you make a purchase through links on our site at no additional cost to you.