It's been a busy few weeks on our beach house renovation and they've been… well… less than smooth, to say the least. So this week we're taking you through the saga of three setbacks that happened pretty much back to back (including a missed deadline, having no water line to our house, and a surprise medical complication). And although we're keeping it real about renovations not always being easy or straightforward, it all has a happy ending: we survived nearly 20 hours of tiling, and we share the handy gadget that made working in a house with no electricity possible. Also Sherry continues to refuse to be a clean freak, and we spill what it's like to attend a live recording for a huge podcast (they had lines around the block).
You can download this episode from Apple Podcasts, Google Play, Stitcher, and TuneIn Radio – or listen to it below! Then use this page to check out any links, notes, or photos we referenced. Note: If you're reading in a feed reader, you might have to click through to the post to see the player.
What's New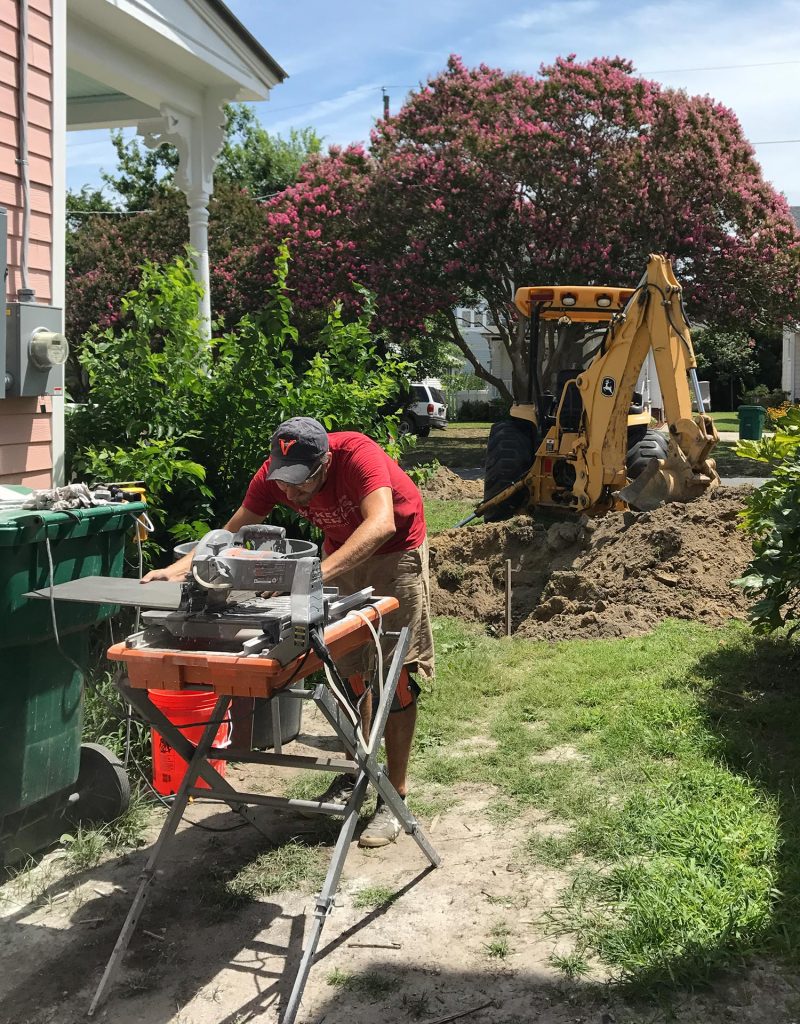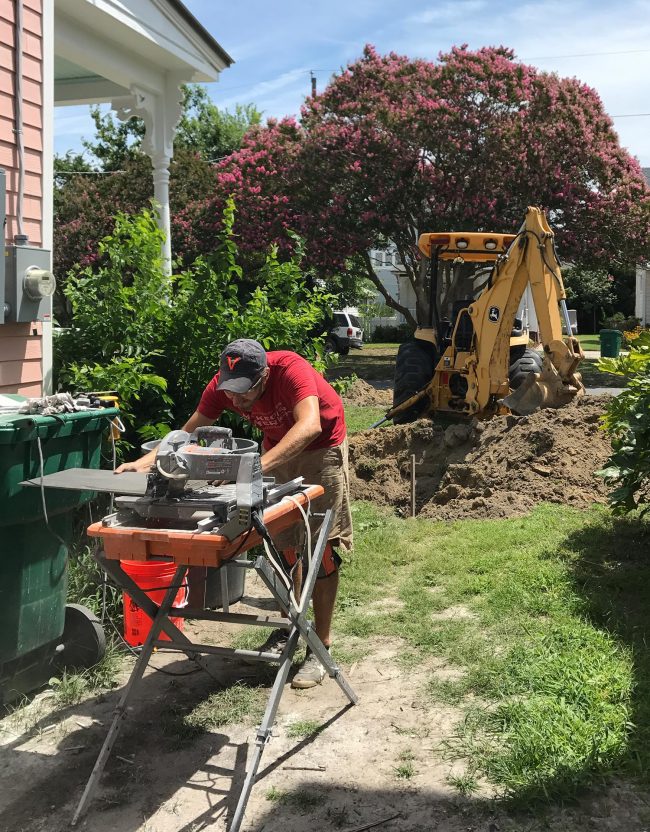 The pic above is probably the perfect encapsulation of our recent beach house craziness: just an excavator in search of a mysteriously missing water line while we furiously try to get tile down in four rooms within 33 hours.
And in other good news, since we recorded the episode, Burger has been completed cleared. He's off all his meds, and his eye is almost as good as new! We couldn't be more relieved.
The photo below is from right before we left for the beach (when he was still very winky from the ulcer). He was clearly not amused by the (slightly melted) dog cookie I found in his likeness. But he ate it in protest.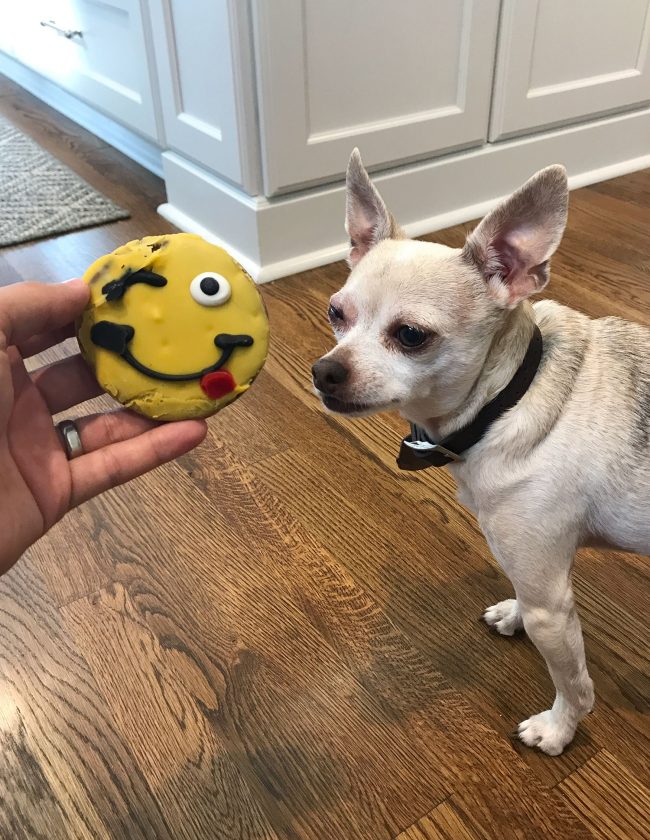 What's Not
We're Digging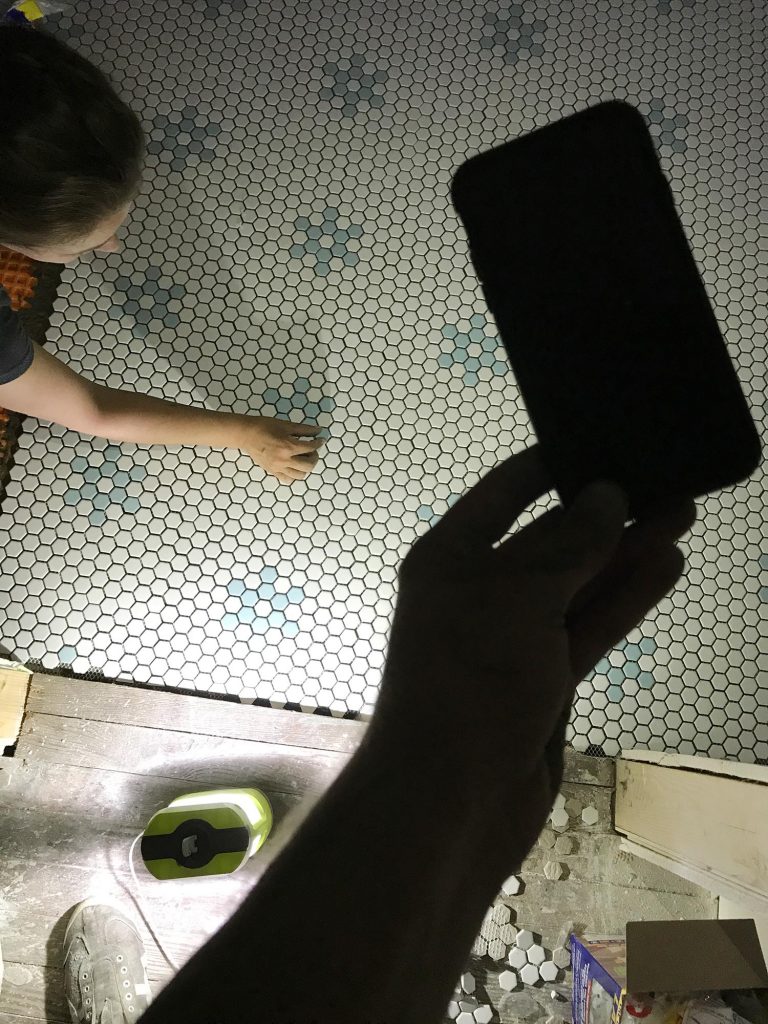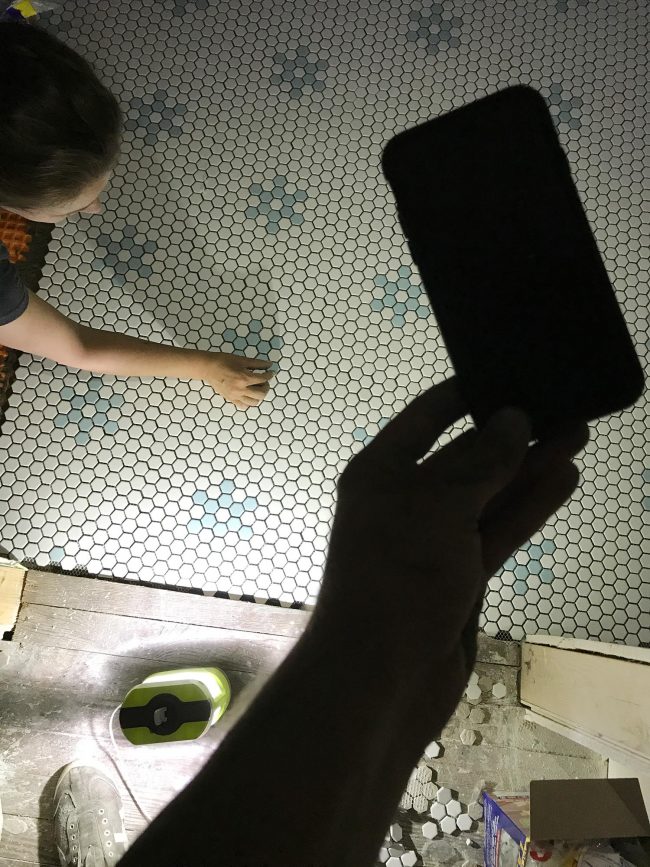 Above is a look at our tiling-after-the-sun-went-down process, thanks to the $30 Ryobi Area Light we bought right before heading to the beach house. The USB charger to keep our phones alive was the MVP. We also enlisted a phone flashlight at this moment right before we left (we had both washed up but Sherry couldn't resist tweaking the spacing on a few of the blue tiles we laid by hand in the master bathroom). You can see more of that bathroom on Instagram.
Below is a shot of the downstairs bathroom and mudroom, which connect, so we used the same slate-style tile in both spaces (don't mind that it needs to be cleaned). The little spacers and yellow wedges are a leveling system we tried out for the first time. It went pretty well – and is especially helpful for larger tiles – so stay tuned for the details in an upcoming blog post.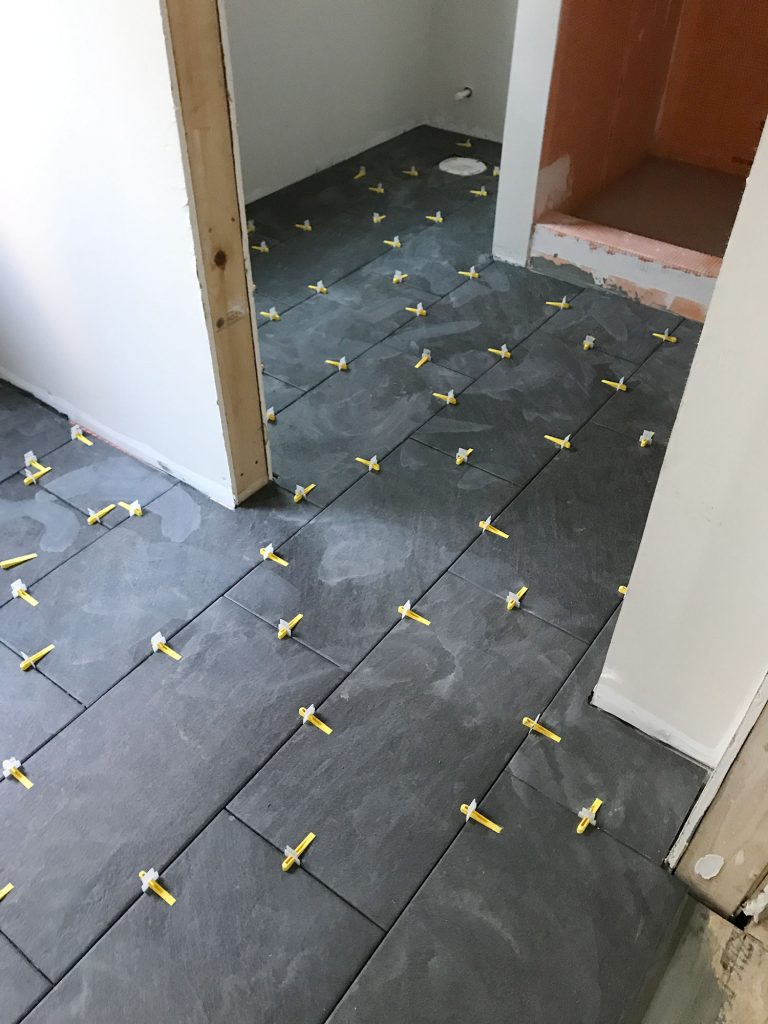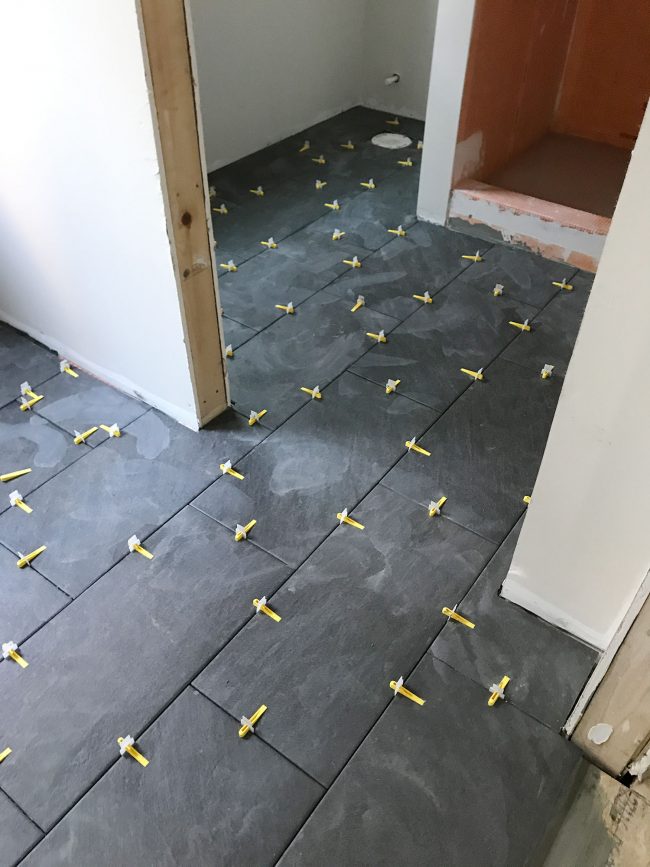 Also – if you want some evidence of how HOT it was working on a house with no air conditioning in Virginia's summer heat and humidity, here's how sweaty I was heading over to the neighbor's hose to get water after just about 30 minutes of unloading the car and lugging all the tile in. Not even actually tiling yet!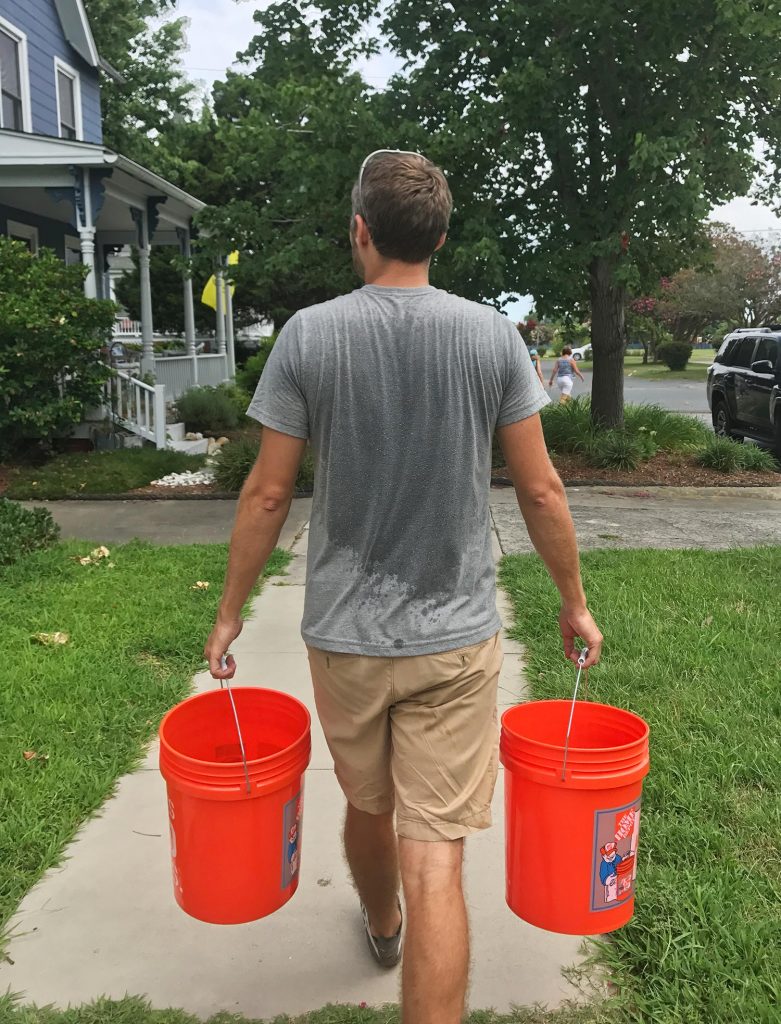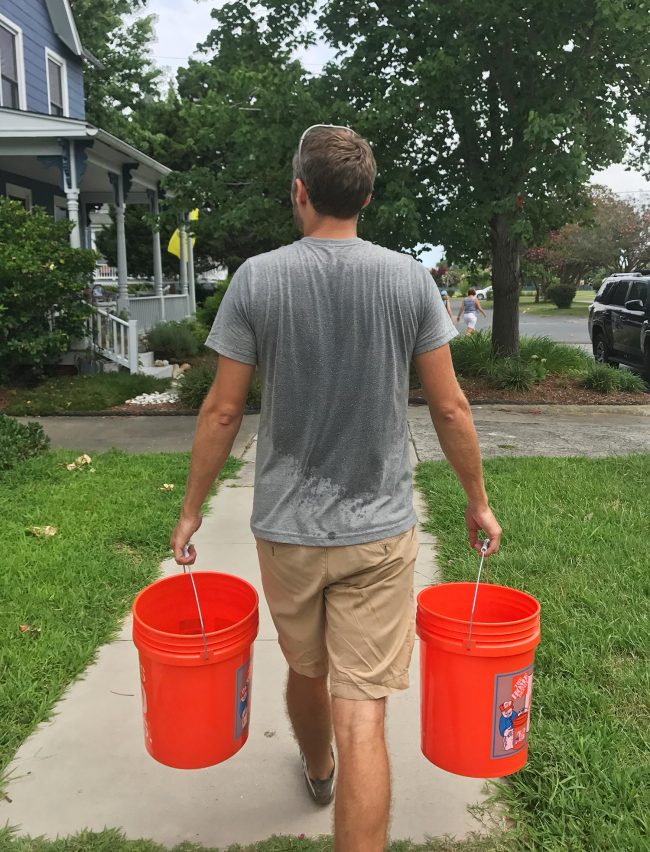 And if you're a Real Housewives superfan like Sherry, you too might find this hilarious recap podcast equally entertaining. It's hosted by two comedians, including Casey Wilson of SNL and Happy Endings.
If you're looking for something we've dug in a past episode, but don't remember which show notes to click into, here's a master list of everything we've been digging from all of our past episodes.
And lastly, a big thank you to The Annie Selke Companies for sponsoring this episode. Don't forget to take a peek at Annie's new bed & breakfast, 33 Main, and use code YHL15 to get 15% off any order at AnnieSelke.com/YHL, including bedding, furniture, rugs, and more!

Thanks for listening, guys!
*This post contains affiliate links*