This morning as John headed off to work he mentioned that he'd hidden "a little something" around the house and encouraged me to "go on a scavenger hunt." As I embarked on a journey that I expected to include lots of looking under, over and between objects in every room, imagine my surprise and delight upon immediately finding this huge concrete greyhound statue waiting for me by my desk- complete with a big red bow.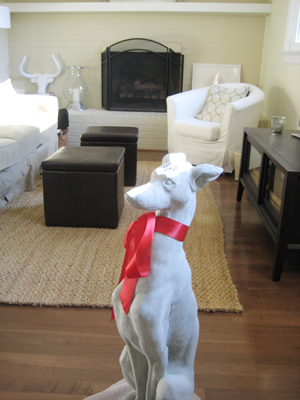 You see, my obsession with greyhound statues began eons ago when I spied a pair of white glossy, ceramic greyhound statues flanking a fireplace in Jonathan Adler's book, My Prescription To Anti-Depressive Living. I then began seeing them everywhere, from hotel designs by Kelly Wearstler to the pages of Domino. And I was itching to adopt one too! And then one fateful day about three months ago we stumbled across a concrete version at a local home and garden center. How cute of my man to remember my greyhound crush after all this time and make one mine. And as always, we saved a pretty penny since I recall that our concrete pup was priced somewhere around FOUR HUNDRED DOLLARS CHEAPER than these glossy ceramic versions going for $465 at Perch.
Originally when we discovered the concrete version at the home and garden store, I daydreamed about topping it with white semi-gloss paint to mimic the sheen of the ceramic statues. But after setting my Valentine's Day puppy down next to the living room fireplace, his subtle matte finish is actually perfect.
And speaking of perfect, I can't have a post about puppies and not mention our other adorable accessory. Burger wishes all the ladies out there a very Happy V-day. And guys, guard your girls, he's a little heart-breaker.