Remember back when we got our conference room slash hotel-ish parsons chairs on Craiglist for $25 a pop?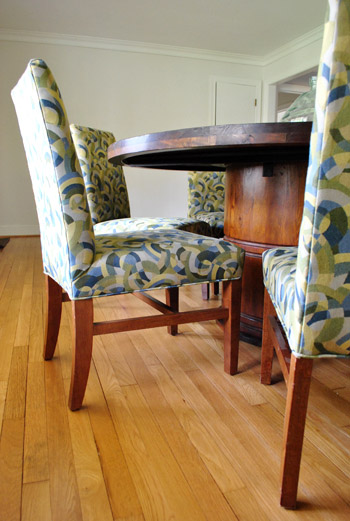 We always envisioned cheerful apple green ones (and even tried a crazy chair-painting project with limited zero success) so in the end we admitted that slipcovers or reupholstering would be the way to go.
And after a long a$$ time spent going back and forth between the merits of slipcovers and reupholstering we decided that slipcovers would ultimately be the best choice for us (since we love the idea of tossing them into the wash). But we didn't want anything fussy and long for fear of taking the dining room from hotel conference room to hotel banquet hall. So first we did some serious slipcover seeking and found a silhouette that we both liked. We landed on a no longer sold Pottery Barn option because we both appreciated the clean-lined mostly-fitted look and the short skirt for that show-me-some-leg effect
But alas, they weren't the green tone that we wanted and they weren't the right measurements to fit our chairs. Oh yeah and they weren't even sold anymore (and when they were they weren't in our budget anyway). After a bit more digging we came across some off-white ones from World Market with the same basic silhouette and they were a lot closer to our chair's measurements. Although they didn't come in a happy apple green color (and instead were off-white) I'm no stranger to dyeing things (like my wedding dress), so I thought it might be fun to give green dye a shot.
But of course being the cheap-o that I am, I hemmed and hawed and didn't even show them to John at their original $60 for two price tag. I know, I know- $30 per slipcover isn't a bad price but for some reason I was just too scared to pull the trigger. So that tab remained open on my computer for a while without me taking any action- not even just the show-your-husband-and-see-what-he-thinks kind. Then I got an email from World Market saying that a lot of their dining stuff was on sale. Dining stuff? Does that include slipcovers? Off to that always-open slipcover tab I flew, and hit refresh. Bam, $20 off!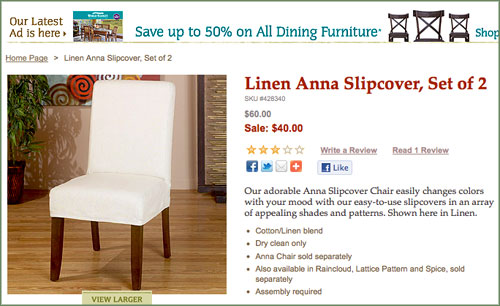 Instead of $60 for two they were marked down to $40 for two (just $20 a pop). Heck, I doubt I could have bought fabric and thread to DIY my own slipcovers for that price (especially if you factor in a laaaaarge margin of error and hours spent screaming into a pillow). And my nightmare was ending up with eight slipcovers that were wonky and abnormal (since repeating the same steps eight times would surely yield some being looser or longer or weirder than others).
Yup, $23 slipcovers definitely sounded like the perfect complement to my $25 chairs. So I did that little tap-your-man-on-the-shoulder-and-tell-him-you-found-something thing and then waited to gauge John's interest. And he proved that I know him well, but not that well. His response? "We should get ten instead of eight. That way if we have any dyeing issues we have extras on hand and if we don't need them we can return the extras to the store to avoid shipping fees (World Market is nice like that)."
I'm used to him saying "we don't need that." So I can't argue with a man who wants to buy more of something. Especially such a practical man with such good points about dyeing and returning the extras if we didn't need 'em. Alrighty then. Ten it was. The total for all 10 slipcovers including shipping and sales tax came out to $232, which made each slipcover just $23 a pop (with a possibility of recouping $40 if we didn't have any dyeing issues and returned the extra two to the store – for a total of $192 spent).
So we ordered them and waited what felt like forever for them to show up (in reality it was probably around 2 weeks) and then I excitedly unwrapped one to slip it onto our chairs to judge how good the fit actually was…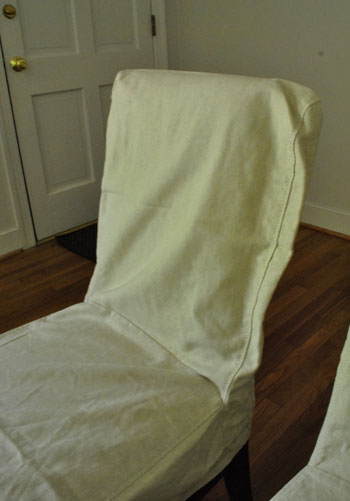 Talk about a womp-womp moment.
I realized I could probably attempt to tailor them myself to get a better fit, but that's still waaaaay outside of my beyond-beginner skill set (I know someone will tell me it's easy and I can do it but I'm all about working up to stuff like that and messing around with idiot proof projects like pillows and runners while I build up my confidence). So instead I decided to take the easy way out and wash one in hot water to see how much it would shrink up. Just as an experiment. Into the wash it went and I waited for the beep to signify that it was time to toss it into the dryer about a half hour later.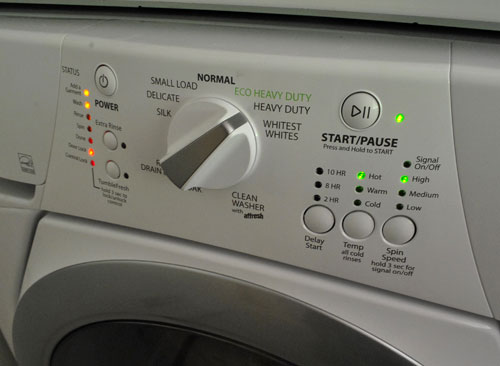 As I went to put it into the dryer I decided to check the tag to make sure it was ok to put it on high heat (for maximum shrinkage). That's when I saw that the tag said "dry clean only." Whaaaaaat?????? Who the heck sells slipcovers that have to be dry cleaned? Isn't the whole point of slipcovers to be easy to just toss into the laundry pile?
Perhaps in an act of defiance (or sheer lunacy) I decided to high heat dry it. I had already washed it in hot water so I just went for it. I was hoping it would come out fitting really well and then I'd know that I could continue to machine wash them at home (because dry cleaning slipcovers isn't an option for someone like me – I mean I can machine wash my sectional's slipcovers, so why would my dining chairs be allowed to be high maintenance?).
When it came out of the dryer it was all warm and delicious and it didn't look like the cover for a dollhouse chair or anything so I was semi-enthused. I ran over to one of my chairs and slipped it on. Holy bananas, it was almost a perfect fit. Still a tiny bit loose on the sides, but perfectly fitted nearly everywhere else and the slight imperfection of the semi-loose sides didn't bother me (we're down with the casual lived-in look, and actually worried that the dining room would feel too formal, so it was a pretty great place to end up).
This story will probably perpetuate the we're-perfect-and-nothing-ever-goes-wrong-here-in-YHL-world stereotype (we're so not – more on that here) but it was one of those "ahhhhhhh" sound effect moments where angels sang and the clouds parted and a beam of heavenly light shined down on the amazing little slipcovered chair. I have no idea why it worked, but I guess it was just one of those crazy risks that paid off. Whatever, I'll take it. And just because I love a little side by side comparison, here's a slipcover before I washed it (in hot water and high heat dried it) next to a newly washed and dried version of the same one: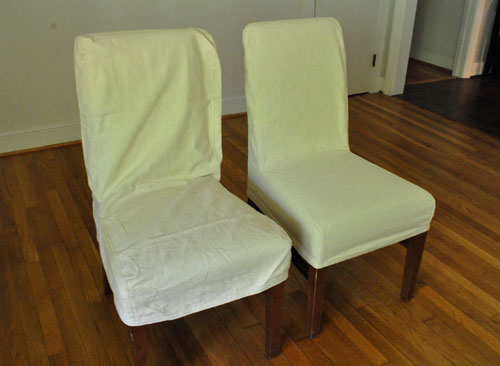 And the great news is that the covers are super thick- so none of that crazy pattern beneath them shows through – even on the chairs in front of the window with the light shining down on them. Whew.
So although I definitely still have plans to dye them apple green down the road, it's immediately nicer not to have all that crazy hotel pattern going on in there. Although with the white walls it's all a little… white.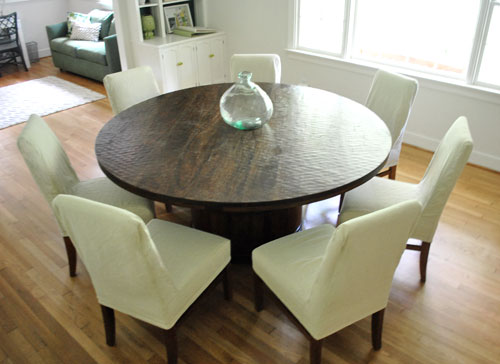 We're actually thinking that we want to paint the walls before we dye the chairs, just to be 100% sure that once the walls get a soft gray coat of color that we won't want to keep the off-white covers for some reason. We don't expect that we will (since they look dingy in comparison to the crisp white trim and built-ins thanks to their off-white coloring), but you know, just in case. If there's anything that this post demonstrates, it's that I can take my time when it comes to pulling the trigger (and then I can snap and defy the washing instructions of said item with a devil-may-care attitude while furiously biting my nails the whole time). Lookout world, I'm a wild child.
Pssst- Oh em gee. Who watched Jersey Housewives last night? What do we think about the new girl (Melissa I think) vs. Teresa? Either way, Momma Manzo is always my favorite (I love to watch her & her boys hang out in that kitchen, throwing cold cuts and talking jibberish).