Ladies & Gentlemen, may I present to you…. (*various trumpets sound and doves fly*)… King Pantry! Why has our pantry earned such a regal title? Because it's wearing some crown…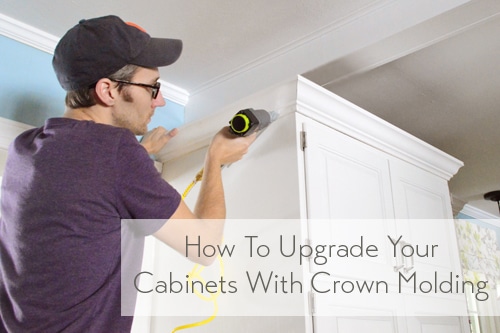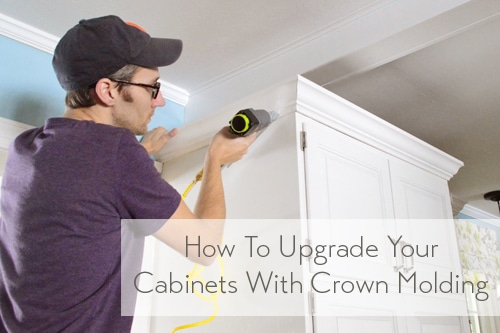 Allow me to rewind and explain its road to the throne a bit first.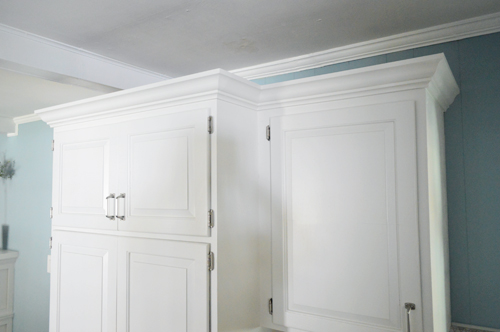 You may remember that the few upper cabinets in our kitchen have lived a very humble life so far.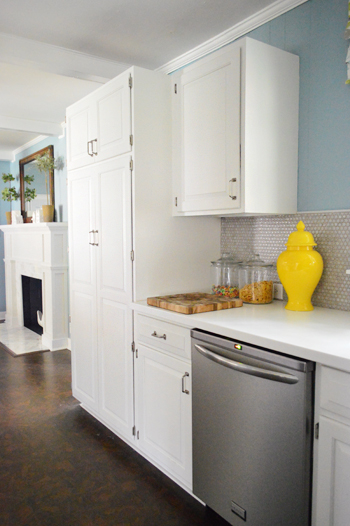 When we finished our kitchen reno last year we decided to forgo any crown molding on the top of our pantry, microwave cabinet, and fridge because we kinda liked the clean, modern look of the square edge (we held some leftover molding up and it didn't look great to us so we crossed that off our list and forged on to other projects).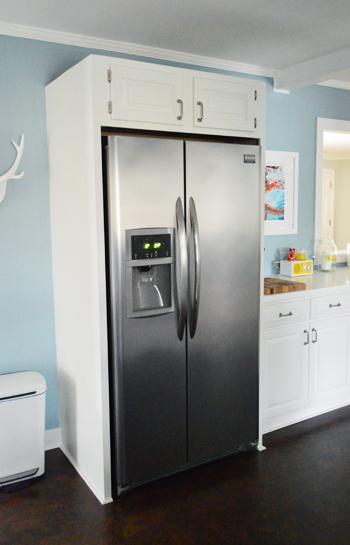 But now that we've been looking at the room with fresh eyes – having repainted the walls and refaced the fireplace – AND having gotten over my fear of installing crown molding thanks to my new BFF, the nail gun (maybe that's the real reason we skipped it last year?)… we decided to reconsider. So we held up a scrap piece of crown to one of the cabinets and had a completely different reaction this time. It wasn't a no, it was a letsdothisthing.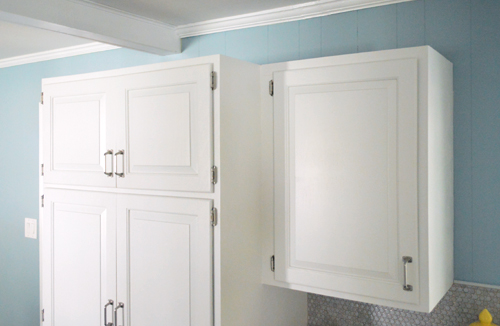 The good news is that it was pretty easy and only took us about three hours to complete. We started off by attaching some scrap 1 x 2″ (leftover from the fireplace build) to the tops of the cabinets with the nail gun and some wood glue, like so: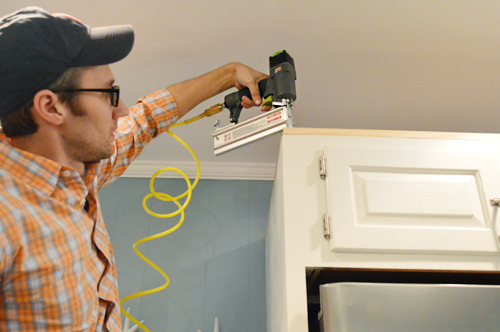 This extra height provided more surface for the crown to rest against, since our cabinet doors leave little space above them. In other words, this would allow the crown to attach securely without looking stupid close to the doors.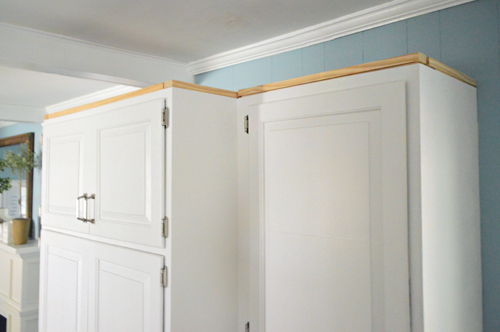 Then we measured (twice), cut, and installed the molding the exact same way we that did our ceiling. You can read a bunch of step by step tips on that here, but we essentially just used our Kreg Crown Pro (here's an affiliate link to the one we purchased) and our miter saw to cut our molding to the correct angles and then used our nail gun (here's an affiliate link to the one we bought) to attach the molding to the scrap wood that we added to the tops of each upper cabinet.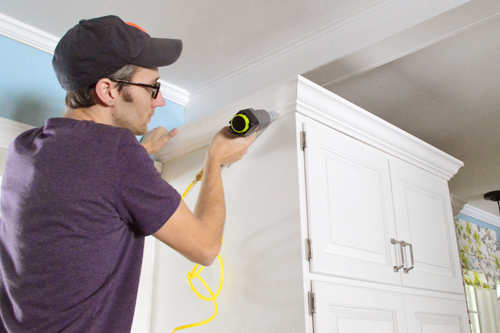 The only tricky part was that we didn't have a ceiling to nail into in this case, so some of our outside corners weren't holding together as tightly. So after a little bit of brainstorming, we just decided to squeeze a bit of wood glue in there and tape them together while it dried. A few hours later we removed the tape and it worked like a charm. Whew.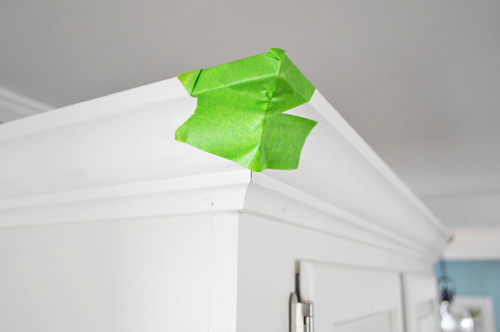 Once the crown was up, we broke out the ol' caulk gun to fill in some of the seams…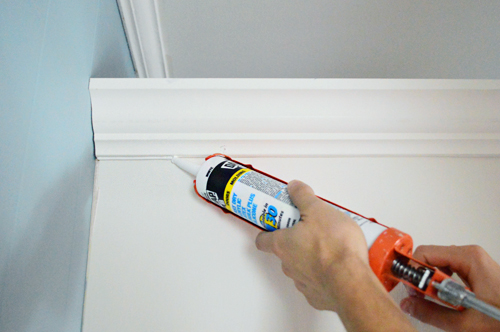 …and then (about 45 minutes later) we cracked open a paint can to give them a coat in the same color as the cabinets (Benjamin Moore's Cloud Cover).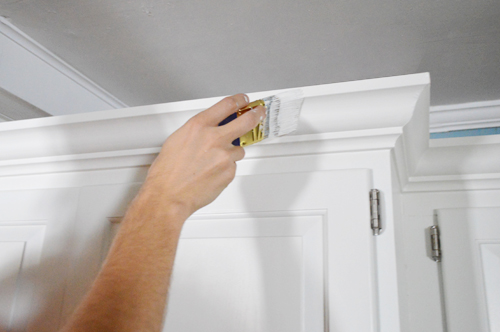 That's it! The entire update wasn't nearly as annoying as we feared it would be. And in addition to being pretty easy – it was pretty darn cheap too. Our only expense was the three pieces of 8ft crown that we bought, so the grand total was about $35 for this entire project. Not bad, right?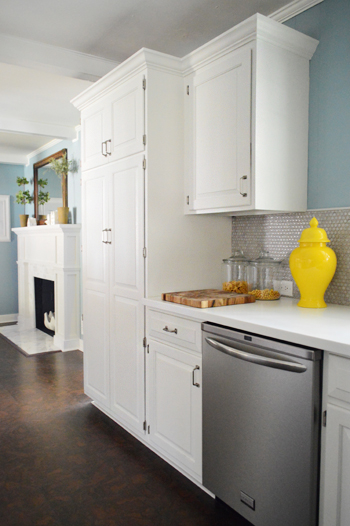 It's definitely one of those projects that Sherry and I are kicking ourselves for not doing sooner, but they do say better late than never, so we're happy we eventually climbed aboard the S. S. Molding. Ahoy.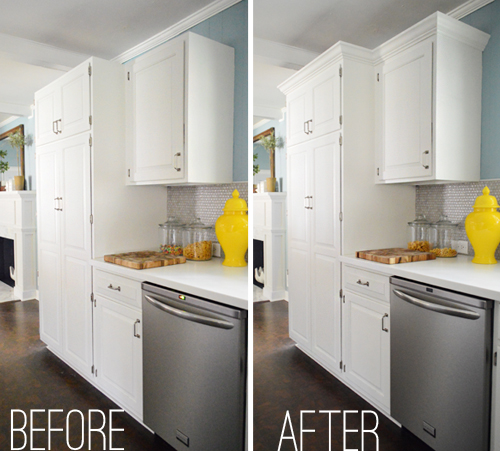 I think the new paint and our fireplace upgrade have steered the kitchen back from super-modern to modern-meets-traditional (we're fans of a nice layered mix) so the crown-topped cabinets jive especially well now.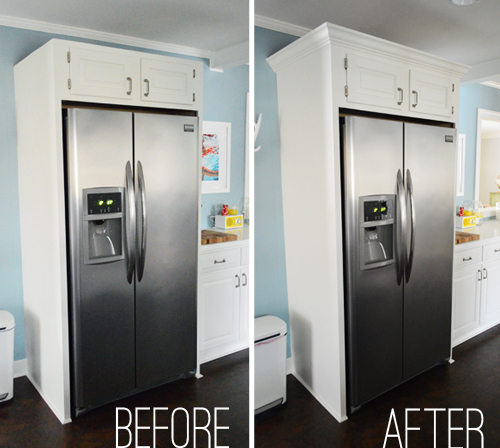 Is anyone else working on some cabinet or kitchen upgrades? Or some quick under-$40 fixes?