Yup, we got a little trim. As you read in last week's Day In The Life post, we recently tackled the add-trim-to-the-hooter-and-the-hotter-office-desk project. The basic game plan was to add some simple baseboard or molding to the bottom of our cabinets so they looked more like built-ins. In other words, the bottoms were looking a little unfinished…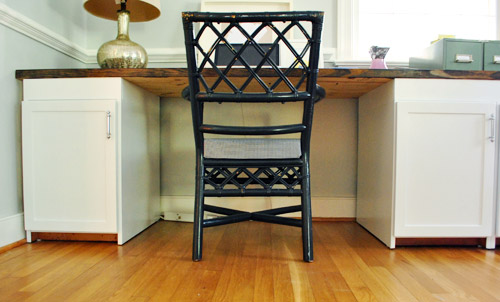 I took measurements and headed off to the store with my little cheat sheet. Notice how I mark which way my cuts go? When I'm making angled miter cuts I'm so anxious about cutting the wrong way that I leave myself as many reminders as possible.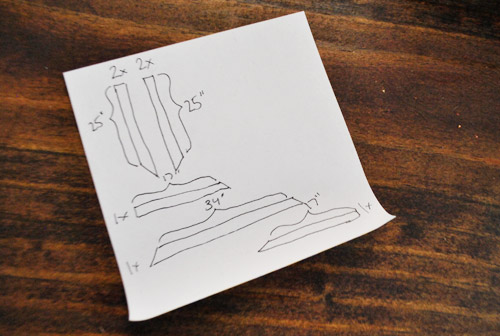 One very critical measurement, not shown here, was the trim height. We had less than 3″ of distance between the floor and the cabinet doors, so traditional baseboard wasn't gonna work. I actually ended up (dramatically) bringing home trim that was very similar (actually, maybe exact) to what we used around our bathroom mirror. Total cost for three 8ft pieces = $14.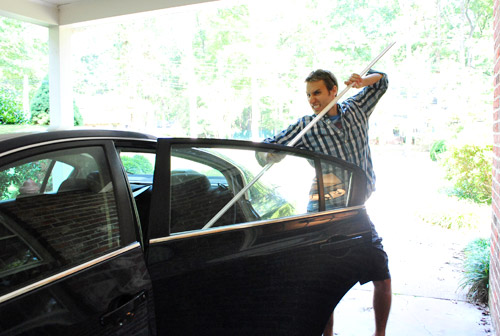 I measured my pieces and again left reminders about what angle my cuts needed to be…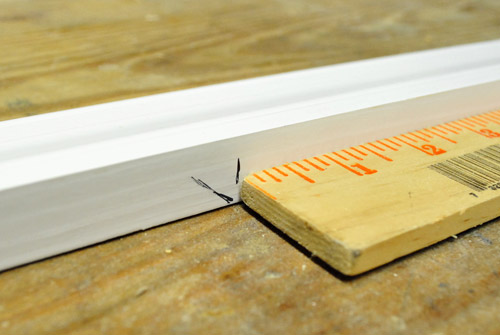 …so that even at the last second I could make sure I didn't have my blade or trim piece in backwards or something.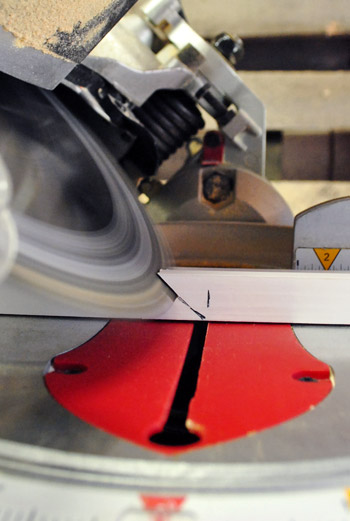 I checked each piece as I cut it just to make sure the lengths and angles were right.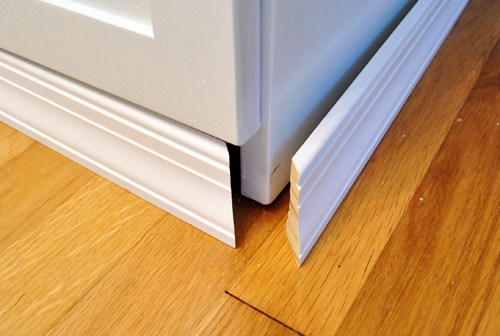 After everything seemed to be lining up, it was time for the nailing portion of the day's festivities. I hammered the small finishing nails in most of the way with my hammer, then finished it off with my nail punch (which helps get the nail set into the trim slightly without banging up the surrounding wood).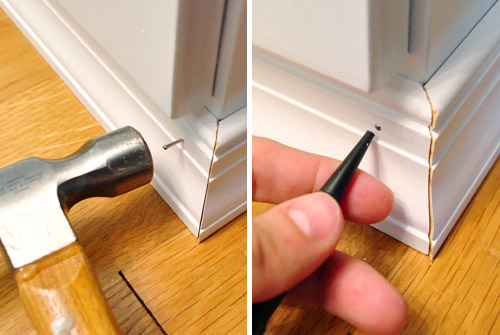 Of course the edges weren't 100% perfect, but that's what a bit of caulk is for (just rubbed into the edge with a finger). It's also good for hiding those slightly sunk nail heads (thanks to the nail punch). Though we actually haven't done either of those things yet. Oops. Soon…
I put two or three nails in each piece of trim, securing it to the cabinet – not the floor – and was done in almost no time. If the white of the trim weren't so darned close to the white of the cabinets already, we'd probably have painted them immediately. But they actually look great as they are (so we plan to paint them when we caulk stuff, just to finish things off).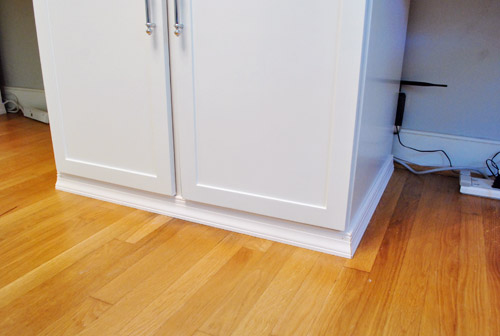 What wasn't looking so great was the mess of cords in these pictures. We've just sort of been ignoring them up to this point, but after taking the pic above we suddenly realized that they were ruining the finished look of our new trim. So we decided to finally do something about it.
Sherry's side was easy because she only has two plugs in one small power strip (her computer and lamp – although for some reason her lamp wasn't plugged in for the picture below). The outlet is hidden behind the desk, so we thought ahead and plugged the power strip in before finishing the desk. Luckily I was able to just tuck her strip out of sight behind the cabinet since there's a smidge of space to allow for the plug (there's no space between the countertop and the wall, so it looks 100% seamless from above – you only see that small crack where the cabs don't sit right against the wall if you're on your knees under the desk). Oh and ignore the raw bottom of the countertop in all of these pictures (it's also not seen except by someone who is Burger's height, but we'll probably do something about it someday because we're anal).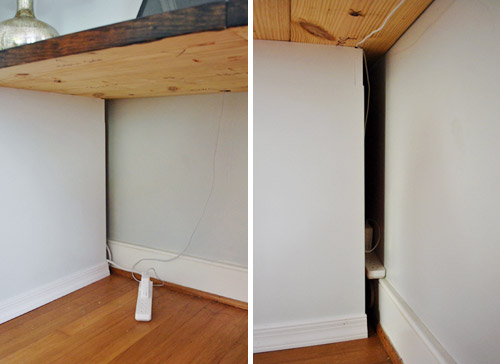 My side was a bit crazier, since I had a larger power strip (from our old office set-up), more plugs (computer, phone, external hard drive, etc) and that big honking wireless FiOS router. Behold the hot mess: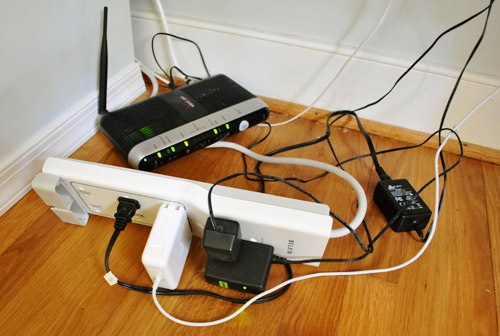 Since tucking it away like Sherry's side wasn't an option (stuff was way too bulky to slide behind the cabinets), I opted to hang the power strip on the wall right under the counter, that way it'd be virtually out of sight. The power strip already had notches for screws on the back, so I just used a homemade guide to make sure I drilled my holes in the right spots.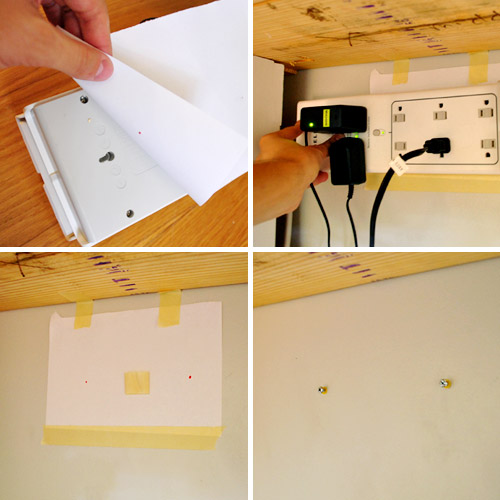 In case the pic isn't self explanatory enough, my basic system was:
I taped a piece of paper to the back of the strip and poked holes through the paper with a red pen, marking the notches.
I then held the strip where I wanted it on the wall and taped the paper to the wall
When I gently pulled the strip away, it un-taped itself and left me with two red guide dots
I just drilled right through the paper so I had perfectly placed holes for my anchors and screws
Then I hung the strip on the wall and plugged everything back in (and slid the router behind the cabinet)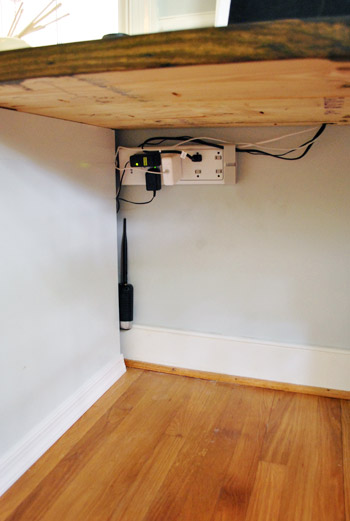 Still looks a bit messy in the pic above, but when you stand back to look at the whole room it's not very noticeable at all. So your eyes can just concentrate on the freshly added trim instead. Note: of course we still have to hang art and window treatments and add bright lamps/shades and rearrange tons of desk stuff, so other than the newly completed desk there's not much about this room that's done.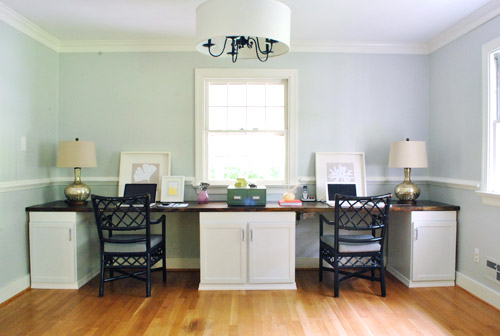 Just as a reminder, here's what the room looked like without the added trim and cord organization. We think it was well worth $14 for the extra polish that it adds: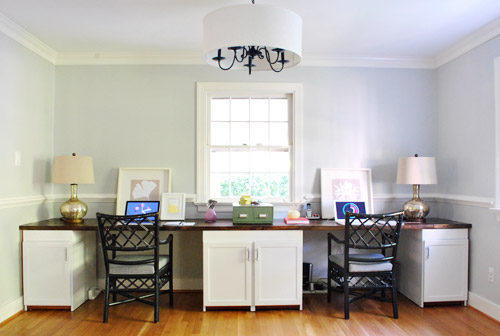 Oh and here's what the room looked like right after we moved in nine months ago, just for some way-back-when reminiscing: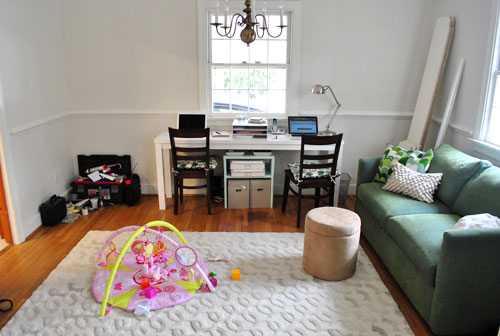 This room in general has really come along in the last month or so. Which is nice since we spend so much time in there.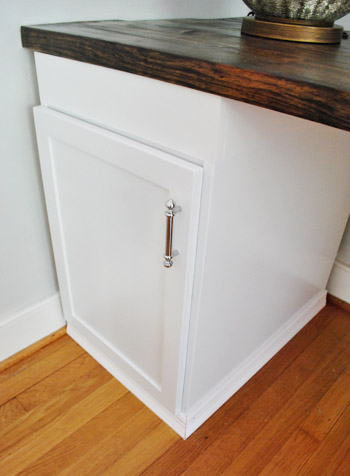 Oh, and I had once talked about trying to add some trim to the side edges (where they almost meet the wall) to complete the look, but Sherry and I had about fifteen pow-wows on the subject and finally decided it wasn't worth the trouble (to make it look truly flush I'd have to do lots of cutting around the baseboard and that didn't sound like much fun – and doing it half-heartedly would probably just make it look worse). So once we caulk those newly added trim corners and nailheads, I think we're pretty much calling this desk project D-O-N-E. Here's how much we spent in total on our 13 foot long wall-to-wall double desk:
Cabinets (from Habitat For Humanity ReStore): $6.30
Kilz Clean Start No-VOC Primer: $0 (leftover from painting the kitchen paneling, but it would be around $20 to buy for those wondering)
Electric sander & sandpaper: $0 (already owned, but would be around $25 to buy)
Benjamin Moore Advance paint (in Decorators White, satin): $40 (thanks to 10% off haggling/begging)
Pre-primed & unprimed wood to build up cabinets (from Home Depot): $51
Framing lumber for counter (from Home Depot): $27.30
Stain & poly for top: $0 (already owned, but would be about $8 and $20 respectively if you didn't have any)
Drillbit for boring cord holes in counter: $4 (from Lowe's)
Trim for bottom: $14 (from Lowe's)
TOTAL: $142.60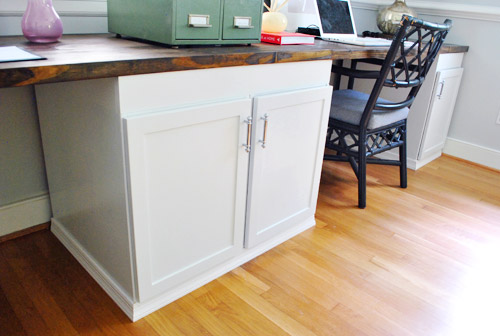 Not surprisingly, our attention has already moved on to another project in the office and we CAN'T WAIT to share it with you. Lets just say that Sherry's epically sore, there's paint in her hair, and she's nowhere near done. More details (and pics) tomorrow for sure. Until then, have any of you guys added trim to make something look more built-in. Or launched a full-scale cord organization? Tell me about it.
Psst- To check out our entire desk building adventure from start to finish, here's the post about planning the layout of the room, here's the post about buying the cabinets, here's the post about other cabinet research we did, here's the post about sanding/priming the cabinets, here's the post about building them up to desk-height and painting them, here's the post about building and staining the counter, and here's the post about drilling cord holes into the counter.