A stained concrete floor is a great and durable flooring option, and – good news! – staining one yourself is a surprisingly easy task (although you'll want to avoid one major pitfall we fell into below). So anyone with a garage, sunroom, basement or porch with a concrete floor should seriously consider this super simple process.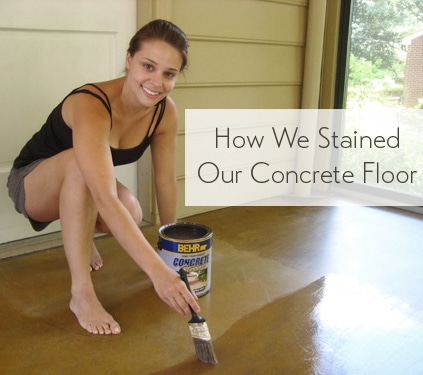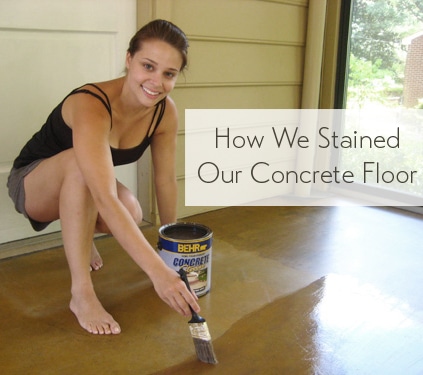 We used Behr Semi-Transparent Concrete Stain in "Tuscan Gold" from Home Depot to give our sunroom's unfinished looking concrete floors a warm wash of honey-gold color: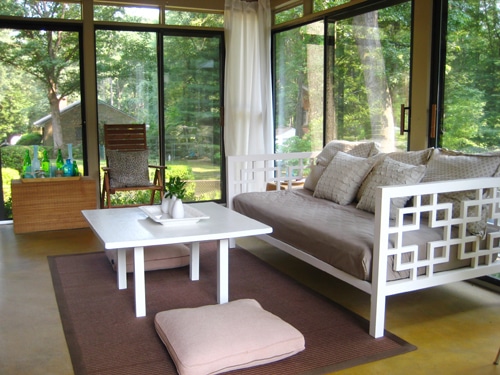 The semi-transparent stain is a great choice for concrete that's in pretty good shape (since it's not an opaque covering, the original concrete will show through). But don't worry about any natural texture variations in the concrete, those look great with a semi-transparent treatment, which really makes the floor look more finished without completely covering the concrete's varied texture beneath the stain. And it's super duper durable. Short of pushing a heavy washer and dryer across the floor, we have yet to see any scratches in our semi-transparent stained concrete floor. Hooray for high traffic areas with low maintenance durability.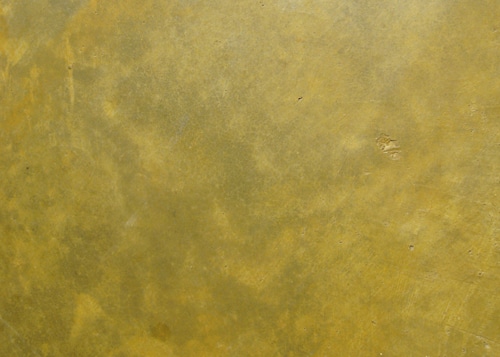 Here are the fast and easy instructions:
Step 1: Thoroughly clean the floor. We used a vacuum cleaner to grab all the bigger dust bunnies and then followed up with a mildly soapy wet rag to be sure that it was squeaky clean. Be sure that the floor is completely dry before moving on to the next step.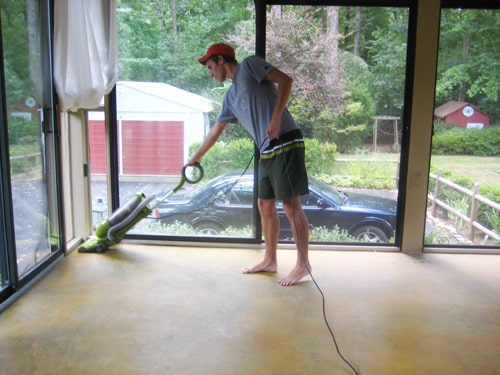 Step 2: You're technically supposed to use a "quality pump sprayer" to apply the stain, but we actually opted to paint on the stain with a brush for that rustic tuscan look that we were going for. Two or three coats should do the trick (the color intensifies slightly with every coat, so keep going until you've reached your desired color saturation). It also helps to apply each coat in the opposite direction of the previous coat, so there are subtle crosshatched brush strokes instead of more obvious lines that all go in one direction). We've also heard that applying the stain with a rag in circular motions can achieve a nice rustic look without any brush strokes at all. Whatever your method, don't forget to be smart about painting yourself out of the room so you don't leave footprints on your newly stained concrete floor.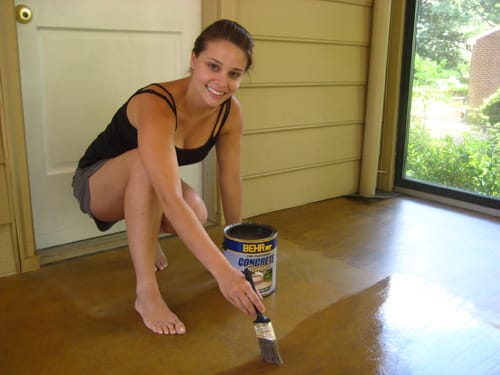 So there you have it. The easy peasy two step process to staining your concrete floor. Our first floor staining experience with the "Tuscan Gold" color that you see above was seamless and we loved the result. But two years later we wished we had gone with more of a chocolate brown color and less of an orange tone (to better complement the colors in the rest of the house and make the sunroom feel more connected to the indoor spaces). So here's where Step 3 comes in…
Step 3: Never ever use a darker semi-transparent stain over an existing lighter semi-transparent stain, or it'll look like this: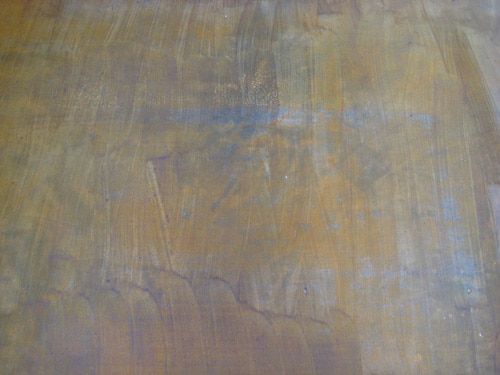 Which was not at all what we were going for. Our stellar idea to just use Behr Semi-Transparent Concrete Stain in "Loden" over the existing orangey-gold color (to tone down the golden hue) ended up looking dirty and dingy, like someone smeared mud on the floor and called it stain. Oops. Hopefully you guys will learn from our mistake. We've heard from numerous other DIYers that applying a darker stain over a lighter stain never looks good at all. They should warn you on the can!
The ultimate lesson: staining raw concrete usually yields perfect results, just be sure to pick your semi-transparent stain color carefully as it seems that second chances are iffy. Otherwise you'll end up repainting the whole floor with oil-based porch and floor paint to cover your grungy second staining attempt. Luckily our sunroom floor adventure had a happy ending, so check out our floor painting tutorial over here!
Update – Wanna know where we got something in our house or what paint colors we used? Just click on this button: