Updated January 2022
A stained concrete floor is a great and durable flooring option, and – good news! – staining one yourself is a surprisingly easy task (although you'll want to avoid one major pitfall we fell into). So anyone with a garage, sunroom, basement, porch, or patio with a concrete floor should seriously consider this super simple process that you can do without any fancy tools or equipment.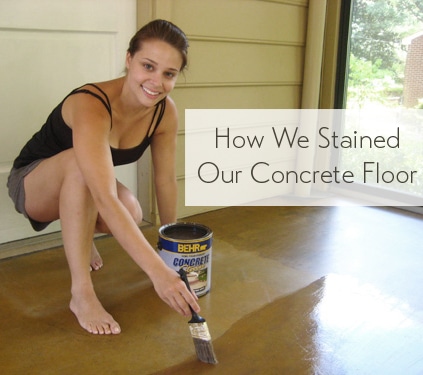 Here are the simple steps to getting you a freshly stained concrete floor:
Choose your concrete stain
Clean and prepare your floor
Apply your stain
Seal your floors
Sounds easy, right? Well… it is!
Step 1: Choose Your Concrete Stain
Most homeowners will be perfectly happy using a water-based concrete stain like the one used by Behr. Acid stains may provide a longer-lasting finish, but they are more complex and unpredictable to use.
Beyond just selecting your stain color, you'll want to decide between a semi-transparent or solid stain. A solid stain will have a more paint-like finish, whereas the semi-transparent will let the color variation of the concrete still show through. So consider the condition and appearance of your existing concrete floor, as well as the final look that you are hoping for when making your choice.
For our project we chose a Behr Semi-Transparent Concrete Stain in "Tuscan Gold" to give our sunroom's unfinished looking concrete floors a warm wash of honey-gold color:
Step 2: Clean & Prepare Your Concrete Floor
Just like a traditional painting project, you'll want your surface thoroughly cleaned before you begin. Use a broom or vacuum cleaner to remove all the dirt and dust bunnies and then follow up with a mildly soapy wet rag to be sure that it is squeaky clean. If you're staining an outdoor area like a concrete patio or walkway, consider using a pressure washer (we love this guy!) to fully remove any caked-on dirt or debris.
Our floor was in great condition, but this is also the step where you'll want to fill or repair any cracks (using a product like this crack repair sealant or this more pourable concrete filler). You may also need to use a degreaser or paint stripper to remove any stick residue that's been left on your concrete . Also, new concrete should be allowed to fully cure for several weeks before applying any stain.
Once your floor is completely clean and dry, you can move on to the next step.
Step 3: Apply Your Stain
While stains are often applied using a paint sprayer or pump sprayer, you can also use a trusty ol' paintbrush and paint roller. The roller gave us quick coverage on the large areas while the brush helped us edge around corners. While this application might take a bit longer, it doesn't involve any extra equipment and you won't have to do as much prep to protect the surrounding area from the spray.
The key with any application technique is to keep a "wet edge," meaning that you're overlapping your new stain only on an edge that hasn't dried yet. Applying stain over a "dry edge" is the equivalent of doing two coats, which may result in a darker or less transparent finish in those spots.
With a semi-transparent stain, the color will darken or "intensify" with each coat so keep applying fresh coats until you are happy with the result. Just be sure each coat is completely dry before applying the next (dry time will vary based on your conditions). We did 3 coats to get our desired color. We alternated the direction of our application – first going lengthwise, the widthwise, then back lengthwise – to minimize the appearance of brushstrokes.
Just be careful to plan your "escape route" whenever staining or painting a floor so that you don't paint yourself into a corner!
Step 4: Seal Your Concrete
The final step is to steal your stained floor once the final coat is dry. Concrete sealers come in a variety of finishes, from low-luster sealers (which will give you finished floors a matte or dull finish) to glossy or "wet-look" sealers that really add a lot of shine. These will be applied in a similar manner to your stain, just make sure to follow the manufacturer's instructions and that your chosen stain is suitable for application on stained concrete.
Avoid The Mistake We Made
Our stained concrete floor held up great – even surviving some appliances being dragged across it with no scratches to the finish! But about two years after we finished the project, we decided we wanted a more chocolate brown color to flow better with the floors inside our house. We thought it would be as simple as staining over the original stain. Nope!
We tried a darker semi-transparent stain (a color called "Loden") over our existing floor and it gave us the streaky, almost dirty results seen below. We've heard from numerous other DIYers since that applying a darker stain over a lighter stain never looks good at all.
So what did we do instead? We ended up painting the stained floor instead and it went great!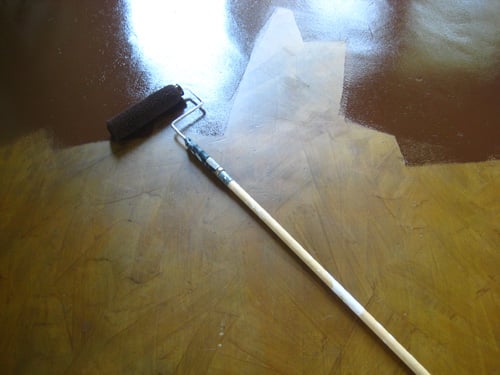 So you can follow our tutorial for how to paint a floor if you want all of the details on that process (spoiler: it's similar to this and just as simple!).
We also later went on to paint a decorative stencil to this same floor to add even more interest to what was once a plain, boring ol' concrete floor.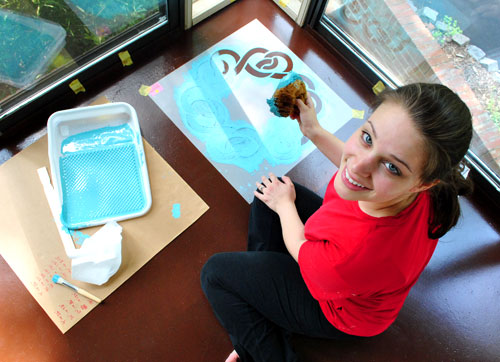 So long story short: there are lots of great options for upgrading your concrete floors. Just choose your stain color a bit more carefully than we did!
*This post contain affiliate links*
Update – Wanna know where we got something in our house or what paint colors we used? Just click on this button: