After so many people demanded to know more about the way we organize everything from our bills to our receipts, we realized that our recent post about seven simple things that make our lives easier just scratched the surface. So we're back to share more peeks into the systems and habits that we rely on to keep everything in its place (so we can find things at a moment's notice, and keep our house tidy pretty much on auto-pilot). So without further ado, here's how we store, stash and stockpile just about everything in our house.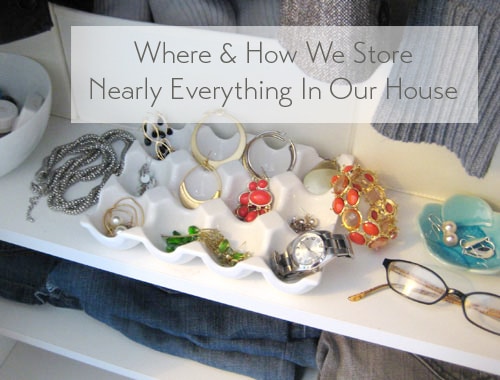 We've mentioned our little DIY mudroom in the corner of our den (a padded storage bench and coat rack from Target instantly create a convenient spot to hang jackets, bags, and leashes so they don't pile up elsewhere). But we haven't revealed what we store inside the bench. Why our paperwork of course! From medical records to tax info and even momentos from our childhood (old drawings and report cards), it's all filed away in different folders labeled for easy identification (we use two of those tiered upright folder stands so everything is easy to see and nothing can slip out and get lost). No one would ever guess that seemingly spare corner of the room is really a huge paper hub. We also have a safety deposit box at our local bank where we securely store all of our important paperwork and info (a small safe can just be carried off in a break in). Can't be too careful these days!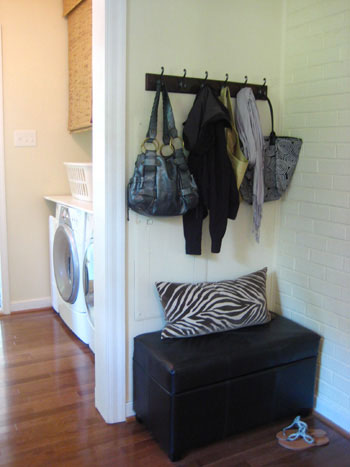 And once we learned about the virtues of storage ottomans, we couldn't help but introduce a padded bench to our dining area too. In there we store all of the paper statements and bills that we've paid (in folders labeled with each company's name- again corralled in tiered upright folder holders) so we can easily find whatever we need for taxes or to prove that we paid something (we pay bills online, but we write our confirmation number and the date that we paid 'em on all of our paper invoices for easy reference).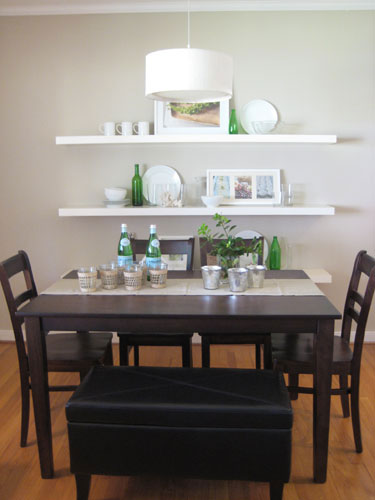 As for receipts, I've worked for a while to come up with a system that really works for me. I used to try to store them by category in an expandable plastic accordion folder, but they seemed to multiply and I felt like I was devoting ten hours a week to putting them in their designated spots (plus certain categories were bulging while others were virtually empty). Then I picked up two white boxes from Ikea for my desk (they were so affordable and I knew I could use them for something). I decided I would just try slipping receipts into one of them. No more sorting by about ten categories, and no more pile of receipts hanging over me. I just empty my purse when I get home each night and toss them into the box. Easy as pie. And finding an old receipt isn't too hard since they're pretty much stacked chronologically, so I spend way less time sorting them up front, and can still find something in in a few minutes when I need to on the back end. Update: check out how we use the other box and hide all the wires in our office right here.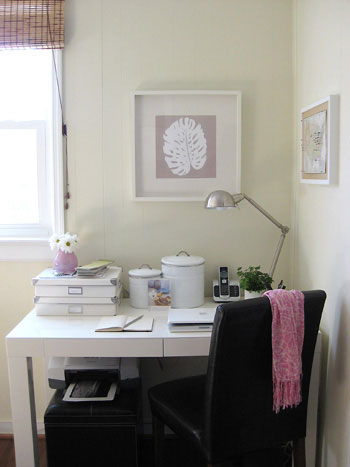 Meanwhile, the white metal tins (also from Ikea) are where we store Burger's food and his t-r-e-a-t-s (can't say the word or he goes crazy). They're cheap little airtight containers, but they still look clean and neat on my white desk. We even have a mini measuring cup in the larger bin which stores the food for easy scoopage. Oh and many people think it's funny that we store our pooch stuff in the den, but it's actually where his food and water bowls are (we trained him in the den back when the floor was linoleum and he's been eating and drinking in there ever since) so it really works well for us.
Oh and as for mail, we sort/pay/file everything right away so there's not "spot" devoted to storing the mail (for fear that it will pile up and create a super huge job down the line). We highly recommend the do it now approach to mail as it seems to really keep the clutter to a minimum.
As for the garbage/recycling/compost situation, we took the opportunity to majorly organize everything after the kitchen reno and we're so happy that our sink cabinet is almost exclusively devoted to those three functions (recyclables in a plastic bin on the left, compost in an air-tight container that we empty out back into our compost bins every few days, and garbage in a small pail on the right). It's so simple and efficient that even our little niece and nephew know where to put their banana peels!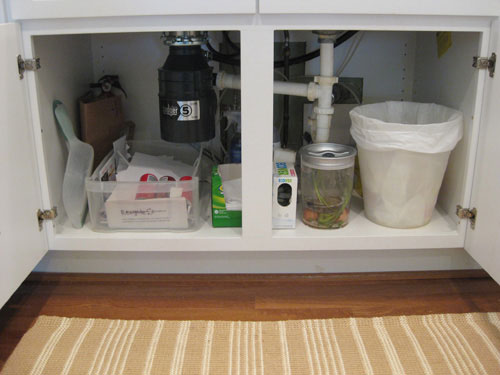 But if there aren't many cleaning products under the sink (just some Ecover dishwasher tablets, a bottle of Veggie-Wash, and a few old Swiffer dusters), where do we keep the cleaning goods you ask? Why in our rolling caddy in our DIY laundry nook of course! Our wonderful wheely friend from Target (for $17!) ensures that there's plenty of room for dishtowels (folded neatly in a basket) and a few green cleaning products (many of them multitask which means we no longer need to store a million bottles of glass cleaner, granite spray, stainless steel scrub, etc). Hooray for extra storage space instead of a slew of rarely-used products and potions!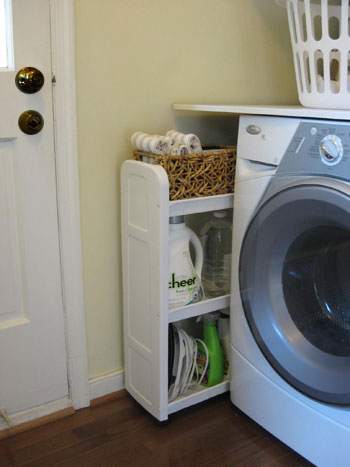 We walk the line between adoring open storage (our linen closet is doorless, we have a glass cabinet in the kitchen, we have open shelving in the dining area) and coveting concealed storage (ottomans, bins and baskets abound!) but when it comes to toilet paper we're all about showing our guests where to find it (TP anxiety shouldn't carry over from public restrooms to our house). For our half bathroom we actually took a roll of toilet paper into Target to find a tall glass cylinder vase to store a few rolls out in the open…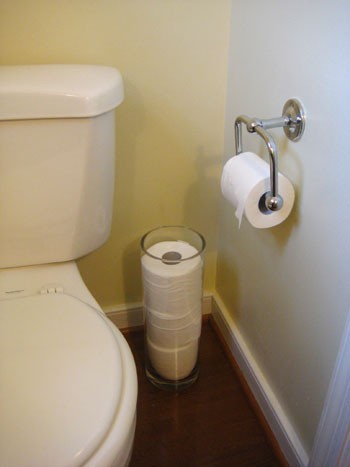 … and in the bathroom we have a little TP pyramid in plain sight thanks to the fact that we removed the door to the linen closet for more of that crisp open storage that we crave.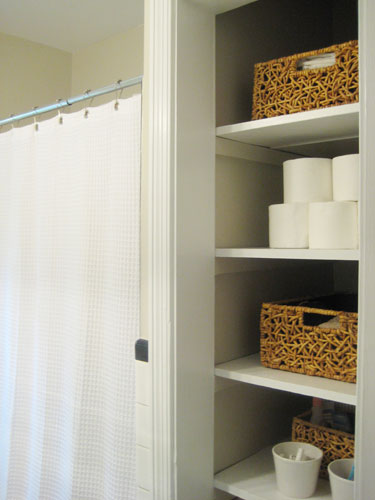 We also decided to make use of the weird old towel bar in the bathtub with a little construction project. So we snagged a shower caddy that's meant to be slipped over the shower head and two metal closet hooks from Target and used them to hook the caddy over the bar. Presto, a place for all of our shower stuff (and our razors no longer get all rusty like they did when they hung right under the shower nozzle).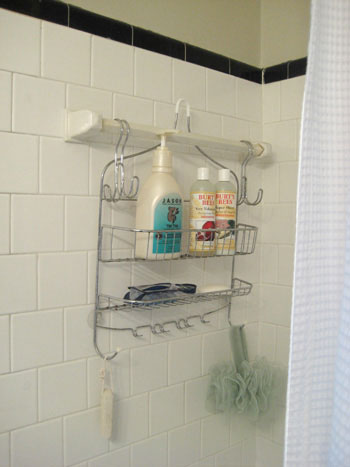 Spare change is like poison ivy. Before you know it, it's everywhere. In the couch, on the counter, in the junk drawer, in the laundry basket. That's why we have one single solitary place for pennies, nickels, dimes, quarters and the occasional Sacajawea dollar coin. Right in this cute little metallic bird piggy bank that we picked up from West Elm a while back. It's located out in the open in our living room so it's easy to drop things in when we're coming or going. And whenever we notice that it's getting full we roll those babies, slide through the bank, and go out to dinner and a movie (with moolah to spare). Gotta love free date night! It's the ultimate reward for keeping our change in check.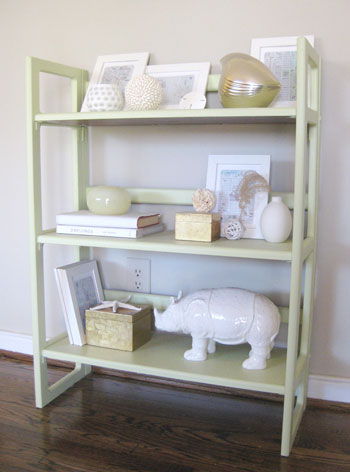 A while back I shared my little jewelry sorting secret: a ceramic egg crate that I snagged at the container store about five years ago (it can even be seen in my old NYC apartment video). It's the perfect way to keep everything visible yet organized behind our curtain closet doors, which is key for a grab and go girl like me.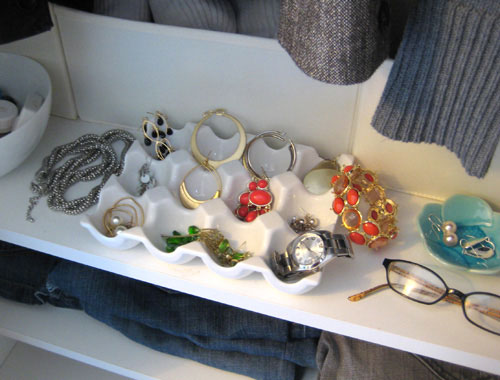 And we can't talk about our boxes and bins without mentioning the other storage systems that we have going on in our kitchen. There's a lot more than meets the eye (which is also the case in our den, and even our guest bedroom). Like this metal filing cabinet that I picked up for $5 at a thrift store. In the kitchen it became a great place to stash spoons and spices (check out the details here), and we love the moody color and the vintage appeal that it adds to the room.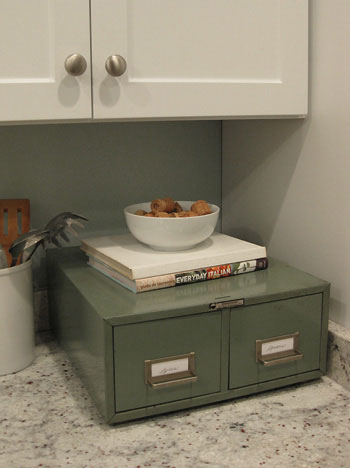 Of course we also have our cheap-o glass jars for cereal storage, which totally come in handy for for easy access and extra room in the cabinets (they free up some major space where two boxes of cereal would otherwise live). Plus they're great visual reminders to restock when we're running low on corn flakes or granola.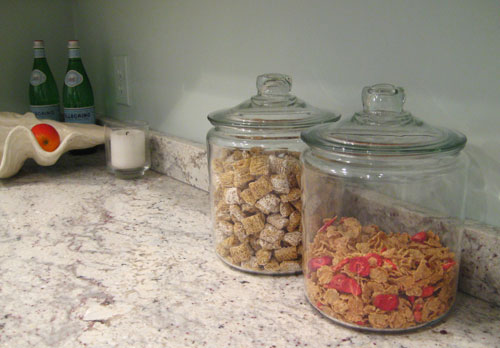 We also use our kitchen for more than just food-related storage. After the renovation we added tons of space that came in handy for a little cabinet devoted to all of my decorative accessories (which we dubbed The Decor Store- read more about it here). Nothing beats shopping your own house to freshen up a bookcase or dining table (and keeping every candlestick, vase, and other accessory on hand in the same spot is super convenient).
Oh yeah and we also keep all of our tools in the kitchen. Betcha didn't see that one coming. Even our installer thought we were crazy when I told him the cabinet base to the left of the stove would be solely devoted to screwdrivers, paint rollers, nails, anchors, sandpaper and other home improvement essentials. But it really works for us and everything is super organized thanks to four whole drawers of deliciously organized gadgets and gizmos. Yummy.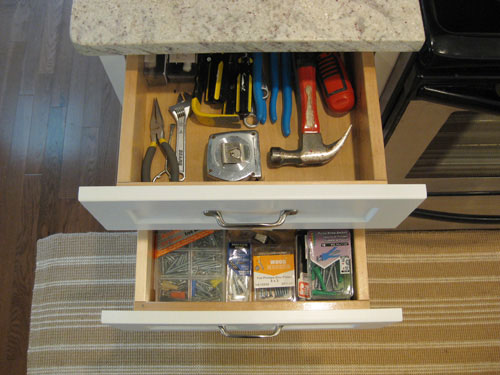 And even with our tools in the kitch, we still have some empty space (which we've heard is a good thing in Feng Shui- something about allowing room for great things to come into your life). Whatever it may mean, we really appreciate the fact that we still have room to grow, and we don't feel like we're bursting at the seams like we did before our kitchen reno. Here's our corner lazy susan with absolutely nothing on the bottom. And the top shelf is where we store a bowl that's too big for our cabinets and a basket full of light bulbs (removing the packaging and stashing them in a basket or bowl is so much more space efficient- and they still say the wattage on the bulb or the base so they're easy to sift through).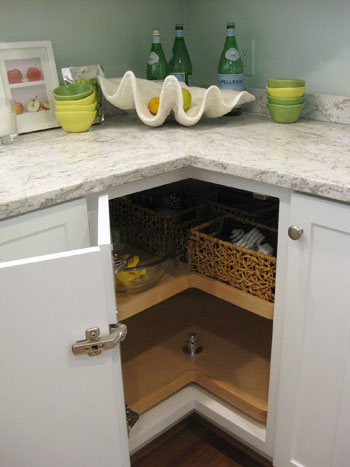 I like to trade out the things in the center of our dining table from time to time, but lately I've been digging a tray full of stuff that we actually use to set the table. We keep the plates in the kitchen since they get loaded up with food in there, but having a few utensils, cups, bowls, and even some nice fabric napkins out on the table reminds us to take our time and have a nice meal whenever we sit down (even if it's just frozen pizza night).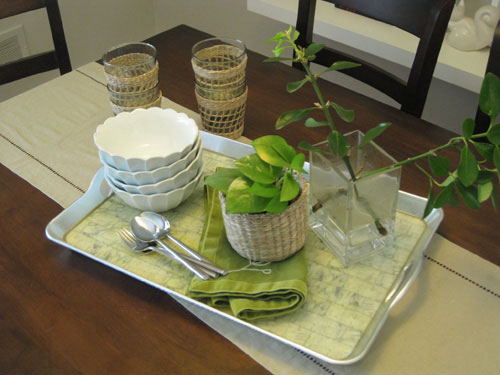 And where do we keep the remotes? In this white shell box ($8 at TJ Maxx) right in front of the tube. It's roomy enough to accomodate all three remotes and it makes finding them a snap (and cleaning up for company no longer means stuffing them into the couch cushions or under the sofa). We also slipped two woven baskets into the bottom shelves of our media stand for Netflix movies, lotion, pads pens, and other things that are nice to have on hand in the TV room. Just by adding those two baskets we have a lot more storage space that makes cleaning up and finding things super easy (which is always a plus when you're trying to watch 24).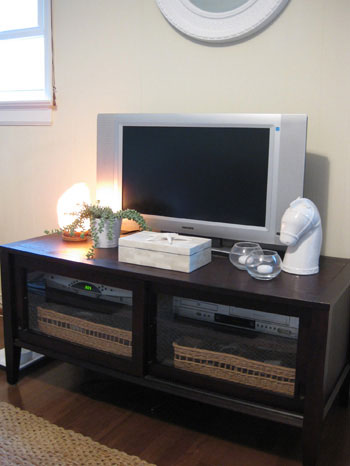 But there's even more hidden storage in the den. The two square leather ottomans that we use in lieu of a coffee table also serve as a place to stash board games and paint decks. You might wonder why an entire cube is devoted to color swatches. Well, lets just say I can't get enough, and it certainly comes in handy when our clients say that their adjoining kitchen is Pistachio by Benjamin Moore or White Feather by Behr (since we have almost every paint deck known to man, it's easy to track down almost any color). And look how pretty they are!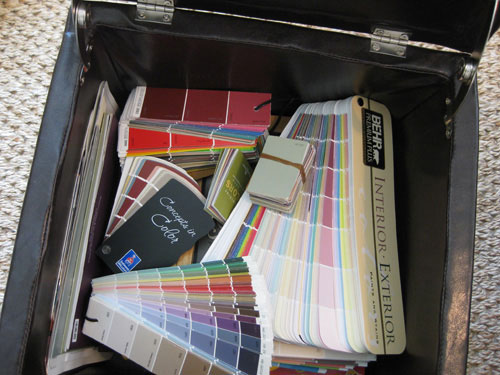 In the third bedroom we also have another storage ottoman secretly housing all the extra linens for the daybed in that room (plus a nice cozy blanket). Keeping the bedding that correlates to that bed right in the room really makes things easy (and it frees up more space in the linen closet to boot).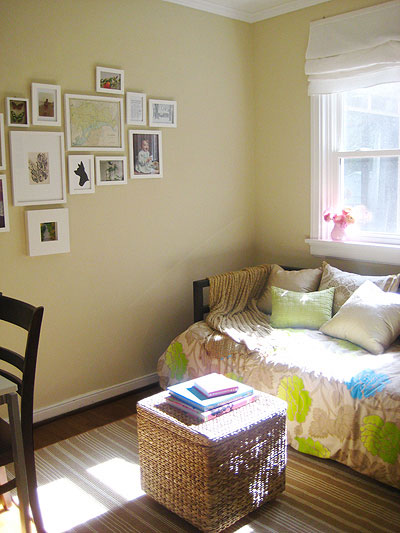 When it comes to our cards and gift wrap, I actually created a little wrapping paper/card writing station in our third bedroom a while back. John thought it was sort of a silly thing that I'd never use but I'm in there all the time! It's so nice to know that I have a plethora of pretty cards to choose from, and they're all organized by occasion in one big box so I'm never caught empty handed at the last minute.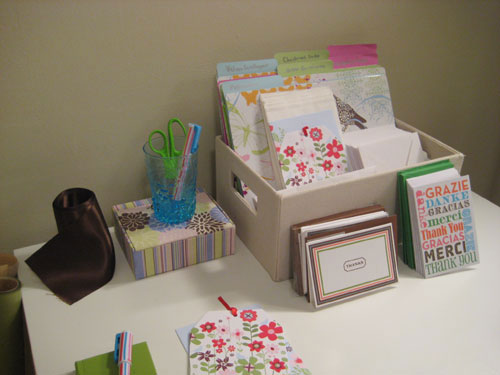 Keeping all of our wrapping paper, tissue paper, gift bags and ribbons at the ready not only makes gift giving easy, it actually makes it fun (and it saves us money since it encourages us to use what we have instead of constantly losing and replacing things). Sticking some gift wrap in a personalized planter is an easy way to keep it handy (and it's easy on the eyes too).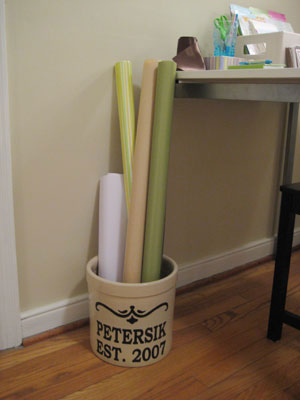 But although we love to stash things in benches, baskets, ottomans, boxes, glass canisters, metal tins, planters and even egg crates… we still think some things look lovely naked. Like this pretty stack of magazines that we keep on the hearth with a metal bull on top for a bit of a fun. Sometimes embracing what you have (and grouping like objects) is a great way to visually integrate and organize things that you just don't have a place to hide.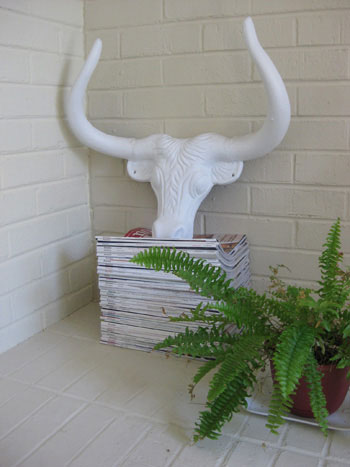 So there you have it. Our house in a nutshell… or a bin/box/basket. How do you guys organize you receipts? Your jewelry? Your spices? Your bills? Your toilet paper? Do tell!
Note: For anyone wondering why we're revealing all this info about our house, not only do we have an alarm, we also have a safety deposit box at the bank with all of our important info, so we're super sure that our house is super secure! Can't be too careful these days!