You may have heard me mention the cabinet that we affectionately refer to as our "decor store" so we're here to further explain what the heck it is. Basically it's where I store vases, shells, candles, vase filler, corks, starfish, decorative dishes and plates, and anything else that I might want to use to switch up a tablescape or house fresh flowers when the mood strikes (don't mind the shrimp scampi in the picture below, I snapped it while John was whipping up dinner).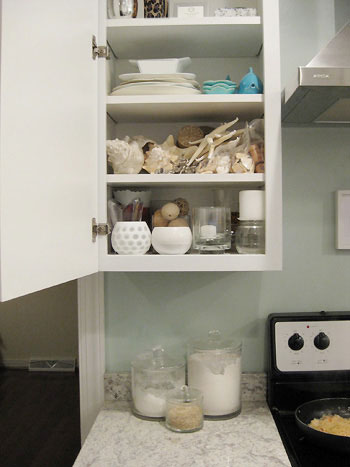 It's great to "shop" in your own home using the things that you already have- and a lot of people have extra vases, platters, corks, and other objects scattered around their house that can instantly become a little decor shop when they're grouped together in a basket, drawer, or cabinet. Even a collection of matchbooks looks chic and personal displayed in a cylinder vase (so go ahead and toss all those random matchbooks that you have all over the house into a zip-lock bag- they'll be much easier to grab when the decorating urge strikes).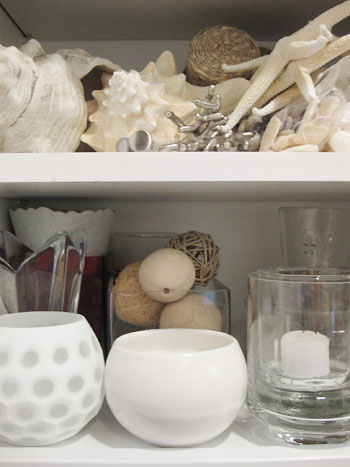 When you have a designated spot for all that stuff, it always feels like you have a bevvy of options at your fingertips and you never have to tear closets and drawers apart in search of something that you could have sworn you stuffed in there months before (or worse yet, forget all about the things you have and buy new stuff when you could have kept that money in your wallet).
Plus designers often suggest rotating decorative objects to keep your surroundings feeling fresh, but real people are busy and it's easy to let something stick around for the season and then a year, and before you know it you haven't moved the stuff on your mantel for half a decade. A little decor store makes freshening things up and switching things out a bit more fun, and more importantly, a bit less daunting. Because sure that candlestick looks good on your console, but maybe for spring a vintage glass vase full of fresh cut leafy branches is just what the doctor ordered…
Do any of you guys have a decor store at home? How about another way that you prefer to store seasonal objects or extra vases and candles? Do tell.