Inquiring minds wanna know what John and I exchanged for V-day so we're here to spill the beans- er conversation hearts. I found this great vintage metal card catalog at a local thrift shop for $5 (well, originally $6 but I'm an infamous haggler) and instantly fell in love with the gray-green color and the steel drawer pulls. John's the resident chef in our house, so I knew using it to add function and style to the kitchen would please him to no end. And the fact that he once worked at a library (and his mom has for decades) ensured that he'd love the card catalog reference.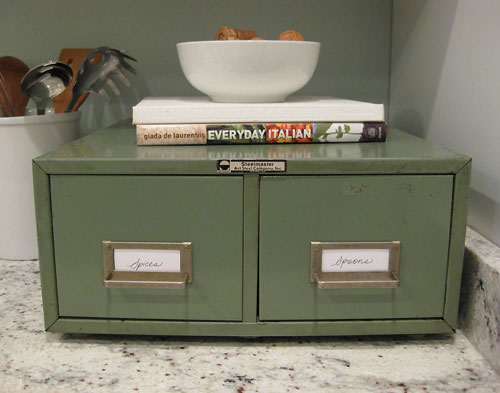 I knew the moody sea green tone would look fab in our greeny-blue-gray kitch, so I immediately brainstormed a few ideas on the way to the checkout. I could rewrite all of John's favorite recipes on cards and catalog them in the drawers (organized by ingredients or meal). Or we could use it as a bread box (the drawers perfectly fit a loaf each) and even as a utensil caddy for our plethora of spoons and spatulas.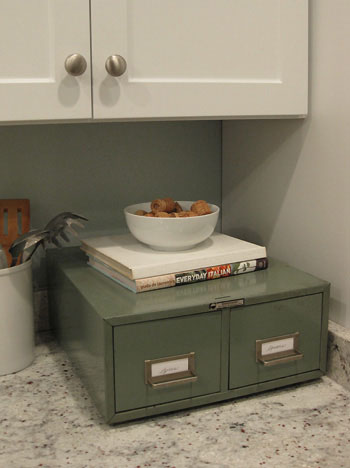 But when I got it up on the counter at home another use instantly became clear- why not use one of the drawers for spice storage? I placed all of our spices into the drawer and voila: a spice drawer was born. And thanks to the addition of a few labels on top of each container, it's easy to locate any spice from above when you pull out the drawer. Because the drawers are both pretty deep, I actually could fit all our spices into one drawer, which freed up the second drawer for spoon and spatula storage. Sweet.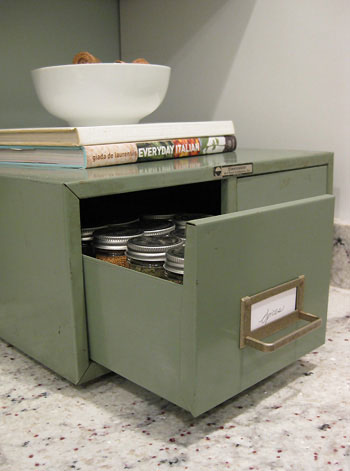 And sure enough, John was tickled pink about his V-day gift. He loves the extra storage space and of course the awesome vintage-industrial vibe that it adds to the room. And one of his favorite things about the V-day box is an old-school label which reveals that it hails from New York- which happens to be super meaningful since it's where we met and fell in love.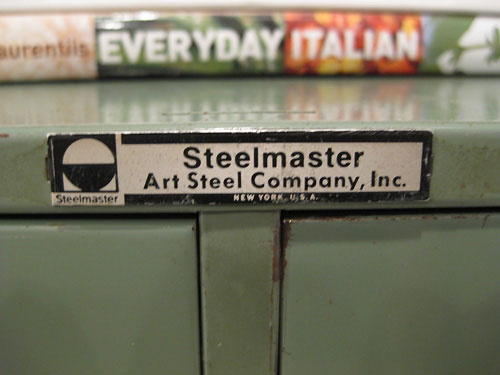 So what did you guys get and give? Do tell. And stay tuned for John's gift to me later in the day…
Looking for more spice storage ideas? Check out this great suggestion from Door Sixteen. Amazing!