A few people noticed the white thing on the floor in the left-hand side of the picture of our new salt lamp and wondered what it was: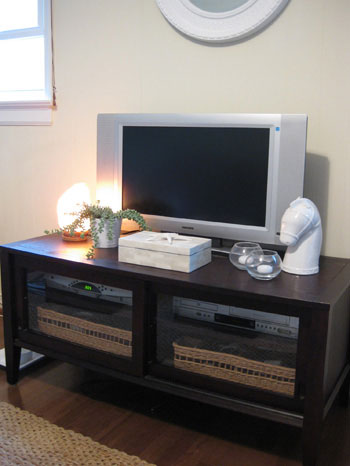 That's actually Burger's little food & water station. By tucking it behind the media stand, it's out of the way for humans (yet still easily accessible for one small chihuahua). And we created this little food & water set-up ourselves from a few inexpensive Target items that were not at all meant for mutts.
Two small ribbed ceramic ramekins (at $2 each) + one white rectangular platter ($9) = a delectable little doggy buffet for Burger. And it has really stood the test of time. We've had it since 2007 and it's super easy to wash since it's not porous like plastic.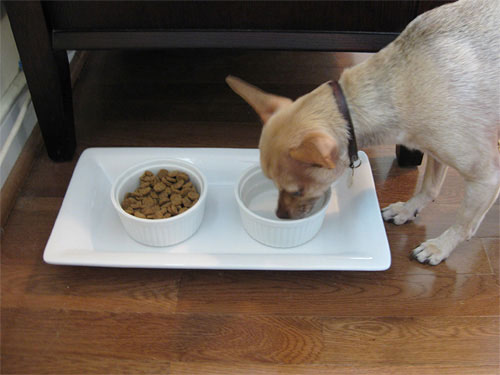 Just for fun, here's the original post about Burger's little feeding station when we first created it about a month into our blogging adventure. Notice that it has no comments at all- I swear we talked to ourselves for months. Thanks so much to everyone who stops in and reads (and responds to!) our posts. We totally appreciate each and every one of you!
Speaking of you guys, what do you use to dole out food and water to your four-legged friends? Metal dishes? Porcelain bowls? Designer doohickies? Do tell.