When it comes to toilet paper, many people prefer to keep their stock, well, out of sight. But for some unexplained reason (perhaps our sheer obsession with open storage, or just plain convenience) not one, but two (out of two) of our bathrooms feature TP in plain sight.
In our half bath we snagged an $18 vase from Target a few years back to corral three extra rolls (with a roll in my purse for measuring reasons- weird I know). And we think it looks oddly elegant next to the, er, throne. Especially considering its cargo.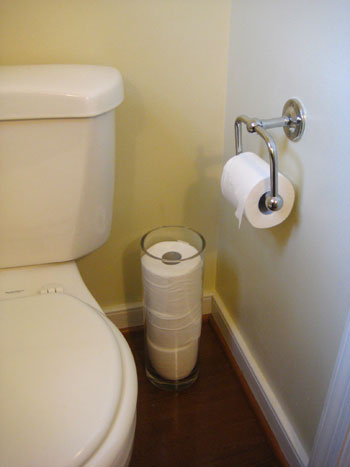 And in removing the door of the linen closet in our full bath, we happily exposed a little TP pyramid, which we think looks charming and abundant (can wealth be measured by a bounty of toilet paper at the ready?):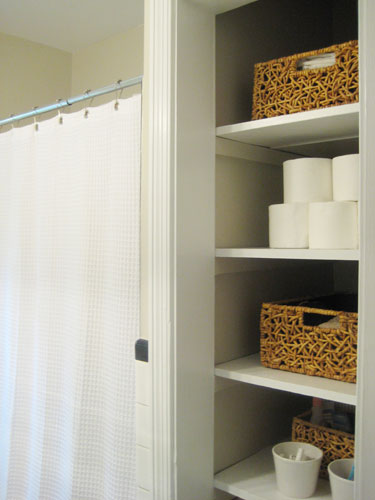 And our open toilet paper storage options are hardly the only two out there. We loved this metal basket that we spied in Christi and Barrett's bathroom when we house crashed them back in October: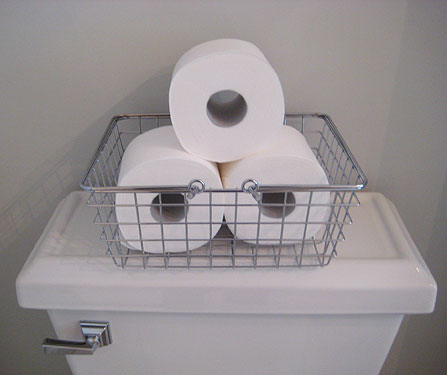 So what do you guys think? Will your extra TP ever see the light of day? Do you have other ideas up your sleeves? I never thought I'd say this but… let's talk about toilet paper!