***This giveaway is no longer accepting entries***
We know that many of you, like us, have a trusty canine companion by your side during your various DIY projects. So this week's giveaway is all about making sure your hound is as stylish as your home. And who do we have to thanks for that? Jon Wye and his specialty line of Dog Collars by FredFred.

Jon is a Washington, DC based designer who's got a pretty sweet line of belts and t-shirts for us humans, but it was his collection of dog collars (named after Jon's dog Fred) that caught our eye. The designs are dynamic (from the fun Dogs in Space scene to the intricate India print) and they're all 100% leather with specially made stainless steel accents. Jon, er, Fred was even kind enough to send Burger a specially sized (1/2″ wide, instead of 1″ standard) Black and Tan Polka Dot collar and he LOVES it. Brings out his eyes, eh?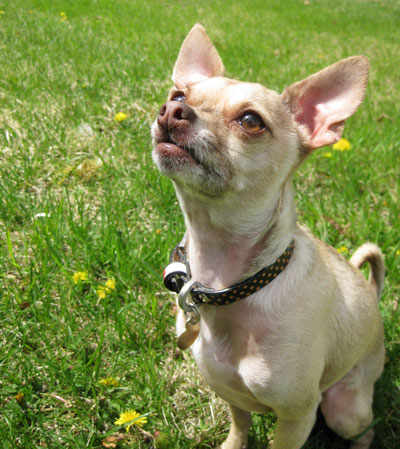 Want one? Then just comment on this post with the words "COLLAR ME" by Wednesday, April 22nd at 8pm EST. Three randomly selected winners will get their pick of any style and size from the full Fred Fred line (including the soon-to-be-added 1/2″ varieties for smaller breeds). And while you're commenting with the words "collar me", we'd also love to know if there's something you currently do or buy to go that extra mile for your pup… a special treat? a doggie massage? a stylish collar perhaps? These three prizes can be shipped anywhere in the USA and, as always, only one entry per e-mail address is allowed. Winners will be announced on Thursday. Good luck!
Learn all about our freebies on our Giveaway FAQs page. Images courtesy of Jon Wye.