Q: Since I'm an avid reader/adorer of all things YHL, I've seen pretty much all the pictures of your home that you've managed to cram into the blog. And every time I see these pics, I swoon over how organized and neat your house is- so very unlike my own. One thing in particular annoys me: office clutter! Cords, cables & wires. Lettin' it all hang out is NOT my idea of organization or attractiveness. How do you guys make your cords/wires/cables more organized and neat? Must I resort to actually having to tie each wire and cord individually? There must be another way! Right? Please? – Erin

A: I'm crazy. I'll just get that out there before I get to answering your question. But here it goes…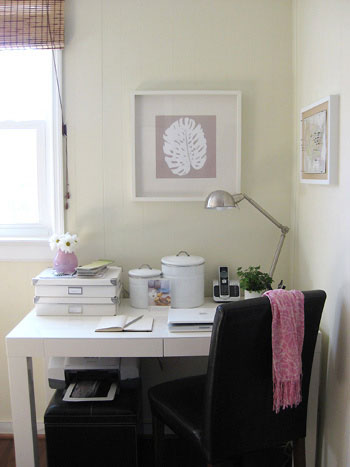 I also HATE cord clutter. In fact, I'm such a freak about keeping cords in check that the two white cardboard Ikea boxes that you see stacked to the left of our computer on our desk actually contain our cable modem and our external hard drive. We punched a bunch of holes around the top, back and sides of the boxes for ventilation (safety first! you don't want anything to overheat!) and cut out notches in the back of each box for the cords to escape so we could easily plug things in under the desk (so no one's the wiser that our "storage boxes" actually store a lot more than paper and files). In over three years of using this method with our cable modem (and about a year with our external hard drive) we've never had an issue with overheating or malfunctioning (although we do occasionally lift off the tops to check on them and air things out). We know it sounds crazy, but it works for us!
Oh and another thing we do (this one's less crazy) is that we have a leather ottoman that we slid right under the left side of our desk with the printer on it (which gloriously hides all the cords that run from the backs of those Ikea boxes and plug into the wall behind it). Sometimes the best cord hiding strategy is just to snatch up something to put in front of those babies- and cheap Target ottomans work just as well as the next thing (all while offering up some great concealed storage for extra office supplies).
Yet another method would be to hit up places like The Container Store, Room & Board and even Target since they all sell "cord wrangling kits" that can help you snake cords down the legs of desks or velcro them all together so you don't even need to use an ottoman to hide anything (this definitely comes in handy if your desk is too compact to accommodate an ottoman underneath it). And a few other office aids that work hard to keep our desk looking orderly are those two white tins on the desktop next to our modem-hiding-boxes, which are also from Ikea. They store all of Burger's food and treats so they're always at arm's reach.
And of course a potted plant, some free DIY art and a cup full of pens rounds out our desktop for a functional and pleasant place to put in some serious blogging time. Plus I can't forget those two shallow drawers in our beloved West Elm parsons desk (which was one of our favorite wedding gifts ever) that help hide clutter like bills to be paid or notes that I scribble down at the end of the day. It really is true that a clean and organized desk makes for a clean and organized mind. I actually feel like I work more efficiently (and feel better) when my desk is nice and organized. So that's our combination of insanely weird (hiding your modem in a box???) and semi-practical solutions (using a storage ottoman to block cords) that keep our compact corner office working hard for us. And it literally is a corner office. See, it's in a corner of our den: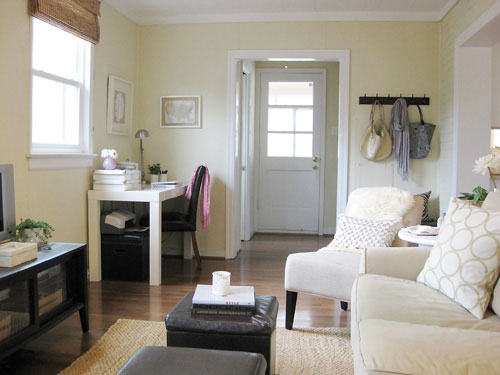 But now we want to hear what you guys do to hide cords and keep your desk in check. Any tips and tricks to share? Do tell.

Psst- Want another cord management idea? Check out Nicole's awesome solution over at Making It Lovely. And to see how we organize and store nearly everything else in our house, check out this exhaustive post of yore.
Update: We're so glad you're loving the Ikea box idea! And while it works seamlessly for us, we can't guarantee that it won't cause your components to overheat or even catch fire so it's important to take adequate precautions when implementing this method. Remember to punch lots of holes in the top, bottom, and sides of the box (as well as to cut a wide square in the back for the cords to exit). Regularly opening the boxes to ensure that's nothing's getting too hot is always a good idea- especially in the beginning to check if your ventilation is adequate. The last thing you want in your lovely home is a fire hazard!