The other day I got to wondering, how do you guys store your jewelry? I picked up a ceramic egg crate from The Container Store about five years ago and it has served as my "jewelry box" ever since. It's perfect for containing my limited collection (I'm all about earrings, but I generally never have more than a dozen in rotation) and the finish works perfectly with my love of all things white and ceramic.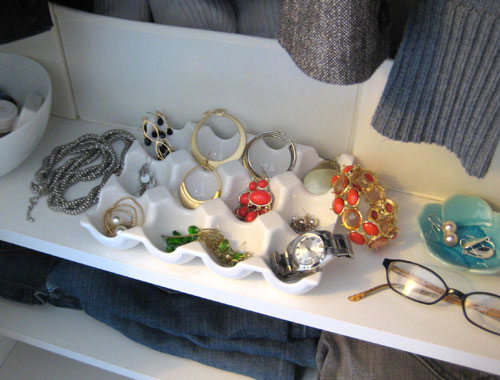 What you're actually seeing above is my "night table" of sorts. Since we flanked the bed with two curtained wardrobes from Ikea, we each use one of the concealed shelves to house a few things that we typically grab before we hit the hay. Which explains that white ceramic bowl on the left. It's actually just a bowl from the kitchen that I repurposed to store my contact case, face lotion, and lip gloss at arm's reach. It's kinda funny when you think that both of these handy storage items are really meant for the kitchen.
And you may wonder where my engagement ring and wedding ring go before bed, well, John and I actually sleep, shower, paint, and do everything else with 'em on. In fact, John's ring hasn't left his hand since I slipped it on at our wedding a year and a half ago (!) and mine only comes off about twice a year for an inspection at the jewelry store (to make sure nothing's loose from all that constant wear). Is that weird? We know we're definitely in the minority here (based on the strange looks we get from friends and family when we mention this fact), but we're wondering if there are others like us out there. Come out of the woodwork fellow perma-ring-wearers and make us feel less strange!
But back to the jewelry storage subject at hand. Here's how John's sister Emily stores hers. She's the lucky owner of a fabulous pull-out drawer with space for her extensive collection of baubles and bling (she also chose Ikea wardrobes for her master bedroom, but she opted for super modern frosted glass doors instead of curtains):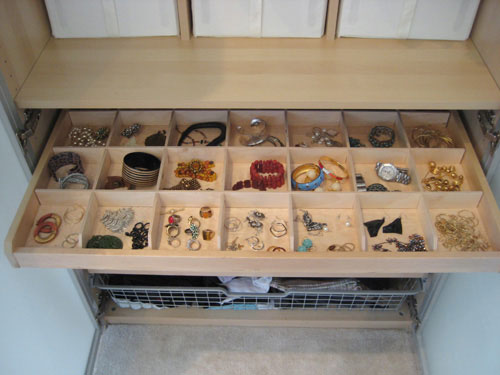 Are you green with envy? Cause I am. Would it not be amazing to be have so much space to store your stuff? Although I'm sure John's thanking his lucky stars that I only have a little egg crate to keep my jewelry buying habit at bay. Now it's your turn- tell us all about how you store your gems and jewels. From wooden boxes to cool display trees (like this one or this one from Urban Outfitters) we'd love to hear what works for you.
Check out a great DIY hanging jewelry box project here on Newlywedisms by Bryn.
Update: We're not the only ones who love a white ceramic egg crate as a jewelry organizer! Our friends at Better Homes & Gardens featured this idea in their April 2009 issue.