I don't know if it's the economy, the downsizing trend or just my obsessive compulsive personality, but lately we've been more into living with less than ever before.
From paring down our closets and cabinets for a soul-cleansing Goodwill run, to sorting our files and folders in an attempt to whittle down our paperwork, we've officially been bitten by the "it's-a-new-year-so-lets-organize-the-whole-house-for-real-this-time" bug. But not only do we find ourselves striving for a clean house with everything in its place. Lately I've actually been craving less. Less to buy. Less to clean. Less to store. Less to use.
For example, here's what we now see when we step into the shower: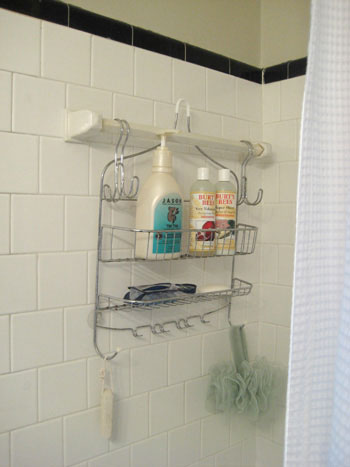 We recently realized we both liked the same shampoo and conditioner (Burt's Bees) so why not stop buying our own bottles and share? Purchasing a single bottle of each breaks the constant cycle of someone needing shampoo or conditioner every time we go to Target (or worse, someone thinking they do and realizing they don't when we get home). And using the same body wash (Jason) allows us to pick up a jumbo sized bottle every once in a blue moon which saves us money, time spent replacing smaller bottles more often, and even cuts down on packaging waste. We also share a loofa, a bar of face soap, and a pumice stone (ok, the last item's all me) so other than the razor (also all me) there's nothing else cluttering up our shower or frequently appearing on our shopping list. Just the small decision to share shampoo, conditioner, body wash and a bar of soap has seriously cleaned up our act in the shower. But there are a few more places that we've opted for less. Update: we've since switched over to Avalon Organics shampoo & conditioner and Dr. Bronner's body wash (which is even more natural) and we love it!
Thanks to a lot of our eco-related changes, pairing down in a few other areas has gotten downright automatic. Relying only on Seventh Generation laundry detergent (no bleach or fabric softener) makes shopping for laundry products few and far between (and makes storing a single bottle a breeze).
And now that I only use all natural eco-friendly and organic makeup, I find that I no longer amass a pile of new products in my makeup bag that I never use. Presto- no more impulsive purple eye shadow or bubble gum pink lip gloss purchases that seemed like a good idea at the time. I've also permanently passed on painted fingernails (and painted toes most of the time) and must admit that I love the clean and never-chipped-and-in-need-of-a-touch-up look. Of course there are water based non-toxic formulas (like Honey Bee Gardens and Zoya) but something about completely eliminating that expense and the time it takes to maintain painted fingers & toes feels like more of a gift to myself than polished ones ever did. And I still keep 'em clipped and buffed for a polished appearance so I hardly feel like I'm "letting myself go." Not that John would even notice if I was (love ya for that, honey!). And in the rare event that I do paint my toes, I use one of three vegan non-toxic polishes that I own (soft pink, deep red and punchy coral are all the colors I'll ever need). No more spending money on the trendy hues or having to store dozens of bottles.
Here's another example of the simplicity bug. Ladies (and gents?), I give you my makeup bag: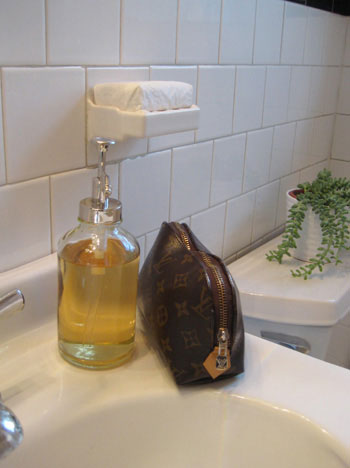 You'll have to excuse my $5 fake Louis purchased in Chinatown over six years ago (can you believe the zipper still works?) but the point is that all the makeup that I own lives in this little bag. It's not a travel bag, it's my only bag (which makes it easy to pop into the suitcase when we do hit the road) and it only holds a handful of tried and true products that get me through the day and the occasional fancy schmancy event.
Here it is all emptied out: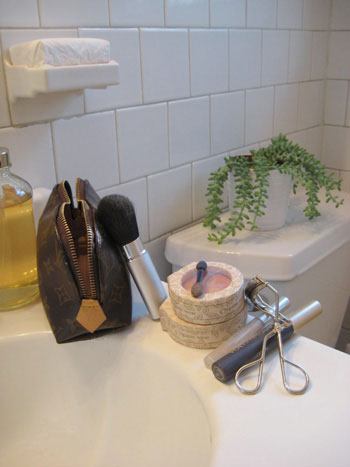 Organic Wear bronze and blush (in recyclable paper containers) not only add a bit of color to my too-pale face, but the bronzer also doubles as shimmering tan eye shadow when applied with the little padded brush. Then I just curl the ol' eyelashes, slick on some mascara and polish things off with a little brow gel and I'm good to go. I've never been great with anything like liquid liner or fake eyelashes, so for those of you who are, maybe I don't know what I'm missing. But either way, my simplified makeup bag facilitates super speedy makeup application, which actually results in my looking more polished than ever before, thanks to a streamlined process that actually appeals to an on-the-go girl like me.
In short, I've never felt like less of a slave to beauty products. Or hair products and perfume for that matter. I've always been a wash and wear girl, so hairspray and pomade have never been my thing, but I've recently made the decision to forsake perfume as well (after years of somewhat religious use). All those chemical fragrances can be irritating and can actually contribute considerably to indoor air pollution, and I actually love the smell of my organic soaps and lotions so I hardly miss the alcohol-riddled scent of perfume hanging in the air before I leave the house. And now there are entire sections of magazines about makeup, perfume and polish that I can gloss over entirely. I can't tell you how nice it is to not always want everything I read about.
By choosing to covet less (and only buy organic and all natural) it cuts way down on the products that can jump into my cart on a whim. And it doesn't feel like I'm missing out on anything at all, on the contrary, it feels like I'm gaining so much more. A healthier and more pure lifestyle, closet and cabinet space to spare, more moolah in my wallet, and extra time that I can spend doing things other than shopping and obsessing over every new product to hit the shelves.
It's official. Life is good when it's simple. And I'm dying to know what you guys do to make life easy and live with less. From sharing products and even making your own to forsaking certain things and purchasing specific items in bulk, we'd love to know what you guys are doing to clean out your closets (and your lives) for 2009! Dish the less is more dirt.
*Check out this great post over at decor8. There's something in the air! Everyone's getting back to basics.
**For an exhaustive list of our favorite certified organic/all natural/chemical-free products, check the comment section of this post for specific names of everything that we use and love.