Remember I shared my first of the year flowers a little while back (a sweet monthly gift from the hubs)? You may recall that they had a bit of New Year's sparkle thanks to a cake stand full of gleaming silver ornaments…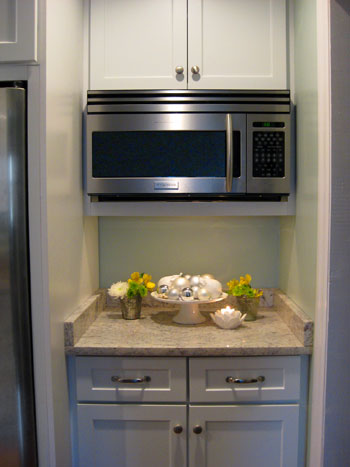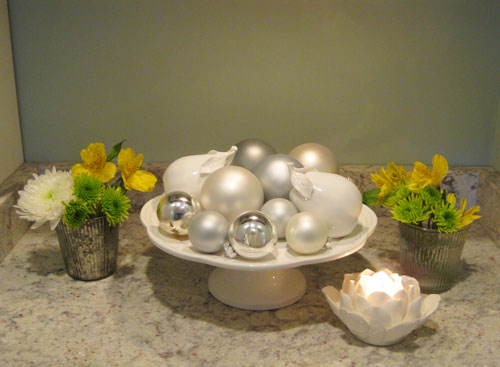 … but I mentioned that in a week or so I'd retire those and fill the pedestal with something a bit less holiday-focused. In all honestly I figured it would be something naughty (cupcakes, cookies, brownies?) but somehow we resisted that tooth-rotting stuff (maybe it's the whole we-regret-our-holiday-gluttony syndrome that hits each January) and filled our clam shell fruit bowl nearby to the brim with apples, oranges, pears, avocados and other healthy fare. Which freed up the cake stand for something else. So I'm back to share my remixed little $4 blooms (all of which are still going strong) with their new is-it-spring-yet? spin.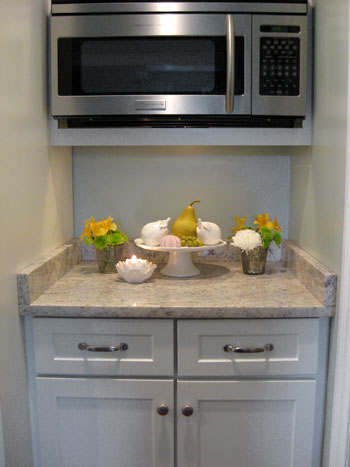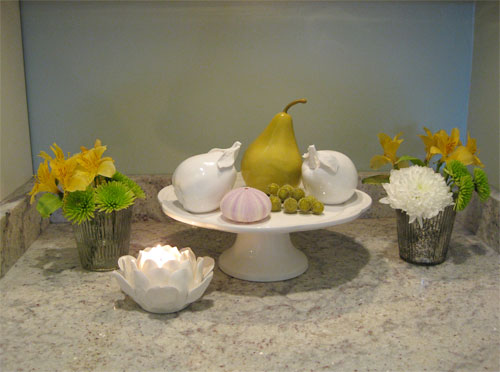 Actually the blooms are in the very same mercury glass votive holders but the pedestal is sporting a quirky little collection of faux fruit. From white ceramic pears (which were also there amid the ornaments) to a big glossy green one… and even a gleaming bunch of grapes and one non edible item just for a shot of pale purple (an urchin I got for 25 cents at the beach a while back)- we seemed to have a surprising abundance of non-edible fruit laying around. So I grouped it together on the pedestal and called it a day.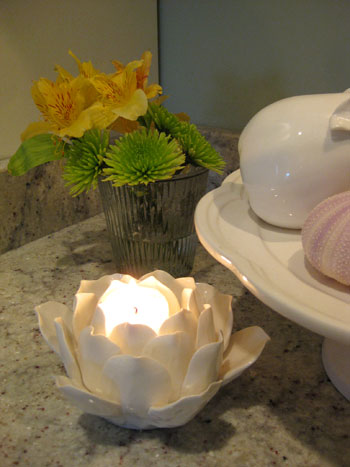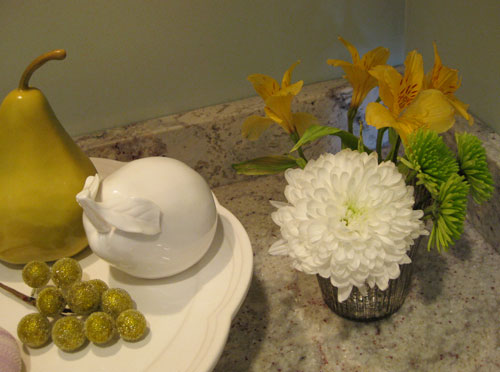 It certainly adds a shot of bright and cheerful color to our usually soft and subdued kitchen. And it's the best kind of color- the no commitment kind. Instead of painting the walls a bright yellow tone, try plopping some punchy flowers/accessories on the counter and see how much of a room-brightener they can be! Now if only sunnier skies would blow in. Soon…
What are you guys whipping out to replace all of that holiday decor? Anyone reaching for cheerful spring stuff even though it's still January? Do tell.
Wanna see our first grocery store bouquet from last January? Itching to check out February, March, April, May, June July, August, and September too? Just follow the links for some pretty sweet cheap-o (and even free) bouquets.