Since I'm a bit of a numbers / statistics nerd, one of the more fascinating parts of blogging to me has always been watching where our incoming visitor traffic comes from (bonus: it also helps us discover new blogs to follow).
Unfortunately we won't be following a couple of the latest sites that linked to us. Why? Because they're written entirely in Greek. While I can read the Greek alphabet (a requirement of the fraternity I was in), reading a blog in that language is a bit of a stretch. But thanks to some suggestions from our friends on Twitter, we plugged the URLs into Google Translate to see what these sites were saying about us. Would they be kind? Would they be snarky? Turns out they were downright HILARIOUS.
The good news is that we immediately understood that they were intended to be kind (thanks guys!), but Google's robotic translation of the language was also quite entertaining. In some cases it was just plain inaccurate- but we were laughing so hard that it didn't matter.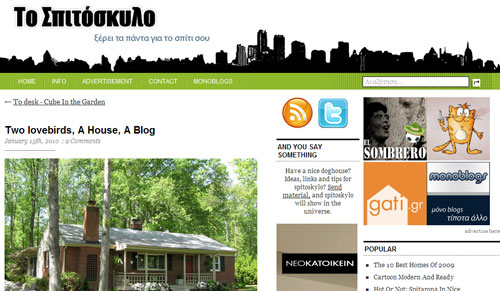 For instance, this site (according to Google Translate) noted that "the Sherry and John loved passionately, and went and found an old house amid nature." So despite trying to keep things PG around here, Google Translate clearly sees us as more of a romance novel.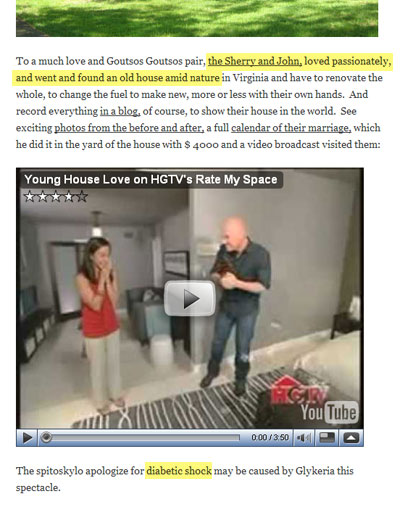 Then Google decided we must be some kind of incomprehensible medical drama: "The spitoskylo apologize for diabetic shock may be caused by Glykeria this spectacle." Hopefully our site isn't really causing diabetic shock over in the Mediterranean. Someone would tell us if it were, right? Either way, the spitoskylo does sincerely apologize.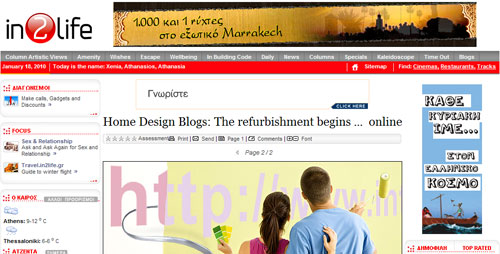 A day after that interesting first post, a second Greek site also mentioned us. Again, Google took some liberties when it came to translating. It starts off very complimentary: "When a couple has humor, fun, style and love of decoration…" but doesn't end so well "…then the result can not be positive." NOT be positive?! Where could humor, fun, style and love not end well? On our site apparently.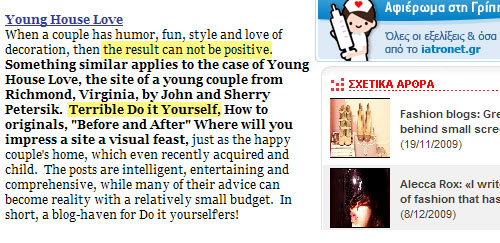 Maybe it has something to do with our "Terrible Do It Yourself" that they mention. We tried to double-check this one with Yahoo's Babelfish site to see what was really said, but it just swapped "terrible" for "horribly." Yowza! At least they went on to say our posts are "intelligent, entertaining and comprehensive" and even called us a "blog-haven for Do it yourself'ers!" Whew. It doesn't really sound like they hate us after all.
So we're chalking it up to a prime example of things being lost in translation and we couldn't help but share the amusing interpretation. We're sure you guys have some entertaining stories about times when a language barrier provided some comic relief. Do tell. Just make sure it's in English or we might have to leave it up to Google Translate to fill us in…
PS: If you want to read the full original posts in Greek go here and here, or check out the Google translated versions here and here. And of course we sincerely thank both blogs for their amazing write-ups! We're sorry Google didn't do them justice but we appreciate them none the less (and even got a few laughs out of the whole thing).