So our built-in wall-to-wall desk already made some good progress this week with the painting and making-taller of our cabinets. But something was missing.
Yes, remember the view from before?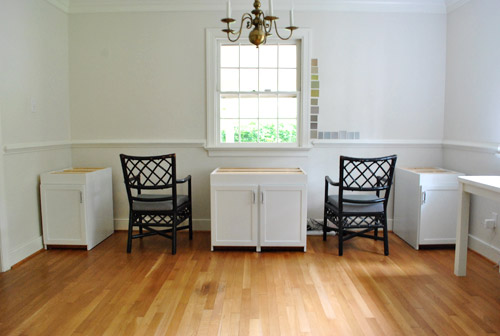 Yes, we were devoid a counter (aka, the desk top). John and I were actually quite indecisive about what to do when it came to that part. And whatever we did, we needed about thirteen feet of it (a length that we learned most kitchen counter suppliers wouldn't even deliver since 12 feet was usually the max before you ended up with a seam). At first we considered ordering a legit kitchen counter top (maybe butcher block, maybe silestone, maybe this from Ikea – although they would all have a seam). I think after having saved so much with our $6 cabinets we thought that maybe the top could be our splurge.
But, then again, we're not very good splurgers. Also, I was leaning towards something white (to keep things light, and to tie into the top of the nearby built-ins in the dining room) but John was Mr. Hesitant about white overload (and worried that the white tone of the counter could clash with the white of the cabinet). I know, it's shocking to hear a guy worry about clashing white tones (especially when he usually can't tell one white paint chip from another) but he can own it. In short, we were stuck.
But after seeing this DIY-ed desk that Aubrey and Lindsay built, John won we both realized that wood was the way to go.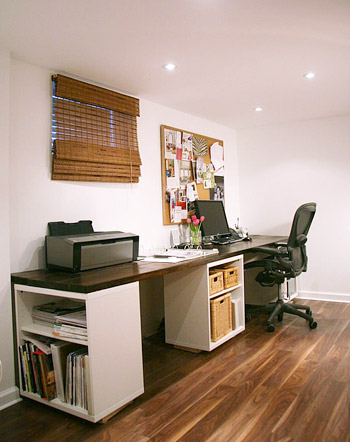 We've always loved the combo of white and deep wood (we did something similar but flipped when it came to refinishing Clara's dresser), so why not? And rather than "matching" a white counter to the tops of the built-ins in the dining room, we thought referencing the rich wood tabletop in there could really look great.
So with the "rich wood finish" decision made, we tracked down our materials. We wanted something thicker than the 3/4″ console table top (just to stay proportionate with the four chunky cabinets below and the thirteen foot length), so we picked up some 2 x 10″ untreated framing lumber. It was as thick as one of those jumbo cutting boards and I walked around the store talking lovingly to it, which was completely embarrassing but I could. not. help. it.
While there we had the guy at Home Depot cut a bunch of eight foot pieces in half so we could fit them in the car (it would also make maneuvering them at home much easier). And this is the most exciting thing. Total cost: $27.30. Yup, it came to less than a dollar a square foot (which is a heckova lot cheaper than most other countertop options, even butcher block or laminate from Ikea).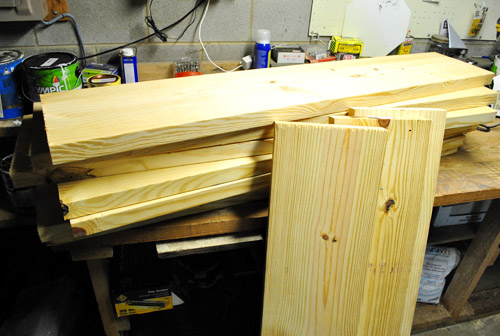 So with everything home, we did a rough layout on the floor of our basement workshop to figure out which pieces had the nicest edges (for the front lip) and which ones should be hidden in the back. We didn't have 13 feet of floor space to work with, hence the overlapped look.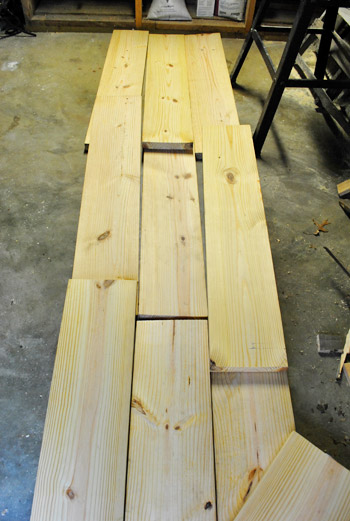 Since I was going to do the staining, John helped me label the back of each piece with clear directions so I didn't end up staining the wrong side. The X meant "don't stain this side" and STAIN FRONT meant, well, "stain the front edge" since it would show on the outer boards if it was a front board.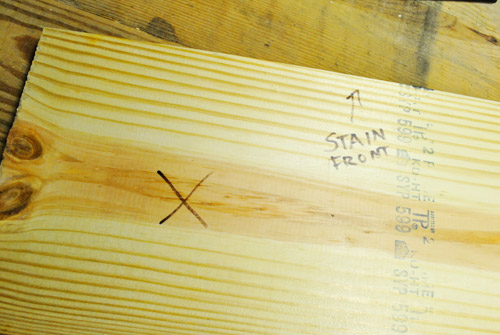 John's duty (besides cutting a few end pieces to size) was sanding (since I still had memories of my vibrating hand from sanding the cabinets in the priming step of the process). John used the same cheerful little mouse sander to go over each piece thoroughly with some coarse 60 grit sandpaper first (to smooth out any big imperfections) and then went over things again with some finer 150 grit paper afterwards – just to give it an even smoother finish.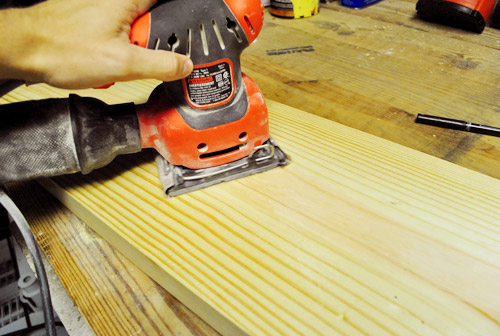 One potential challenge with lumber like this is the prints and stamps that come on them. We ended up using only the sides without marks, but if that weren't the case we could've just used some extra sanding elbow grease to buff out the ink. But thankfully the other sides were just fine.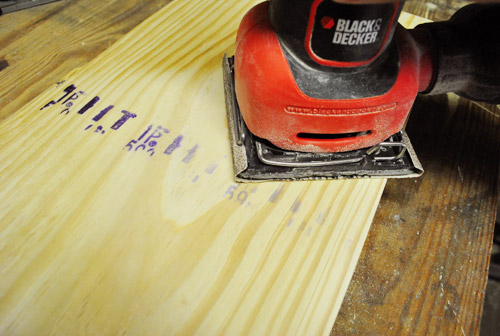 With everything sanded, we brought the boards into the sealed-off sunroom so I could stain them. We decided to use stain we already had on hand (leftover from the console project, actually I think it was from another project before that one) and ultimately decided to use the dark walnut and not mix in any of the ebony this time. Although we had done a combo of the two for the console, we weren't really going for that same weathered / distressed look. Instead, we were trying emulate the deep, rich finish of our dining table.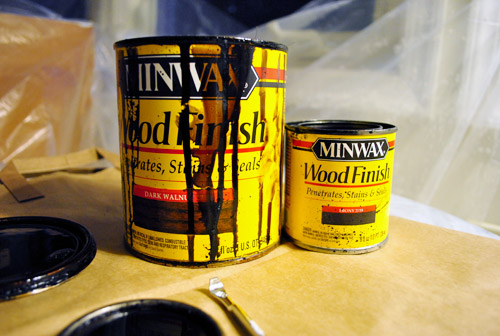 So as usual, I brushed on a coat of the stain with a paintbrush (and a mysterious gloved hand)…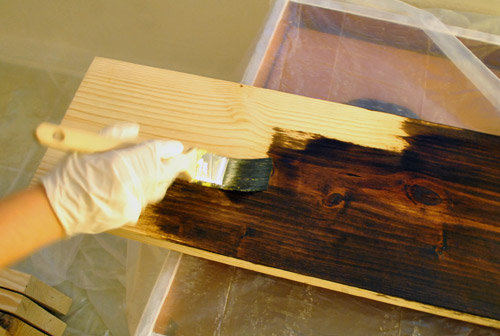 …and then wiped it off with a rag after letting it soak in a for about a minute.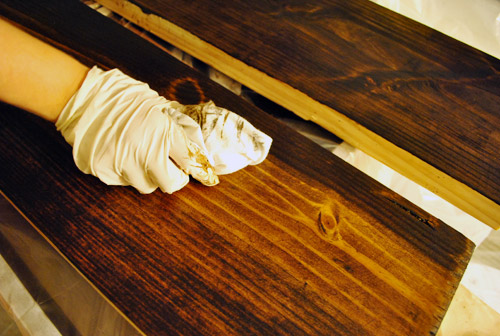 Once they dried overnight, we were left with these beauts (I did the staining at night and shot these after photos in the morning, hence the different look/undertones – you'll see the actual finished look later in the post though).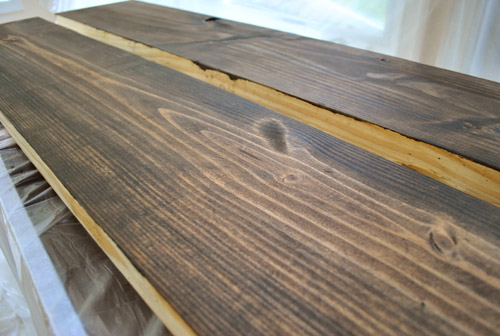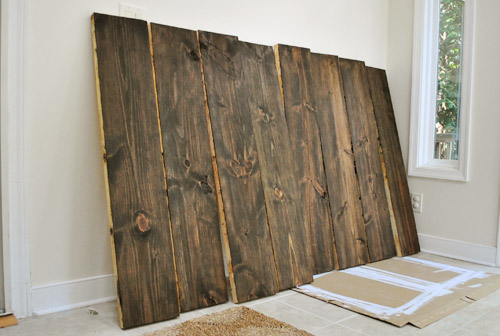 John's original plan for building the counter was to recreate his process for the console top, just on a larger scale. That meant using his beloved Kreg jig to screw the boards into one another side-by-side so they became larger sections that he could then piece together on top of the base cabinets. But after going to town with his jig on a few boards, he realized these heftier boards weren't gonna jive with that plan – especially when he had a seam straddling two cabinets. You can't tell from this picture, but this set up was a bit wobbly. And a wobbly desktop (or something uneven that made our laptops wobbly) wasn't the goal.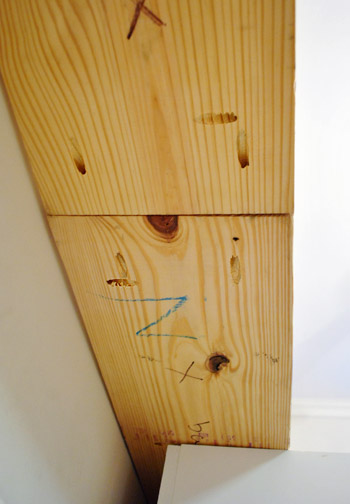 So he adjusted his approach to focus on screwing the boards to the cabinets first, and then to each other wherever necessary (for added support). It wasn't a bad alternative, it just meant a lot more cramming his body into the base cabinets to drill screws up into the bottom of the counter planks while I leaned on things to keep them in place from above.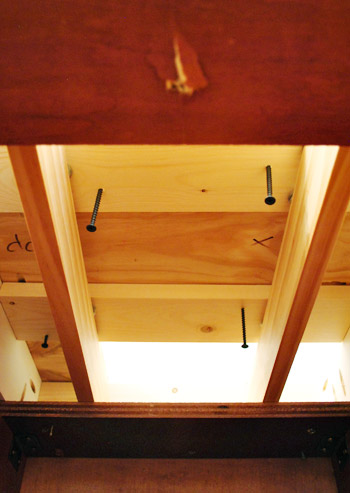 True to form, wherever he could, John used his pre-drilled pocket holes to secure the pieces to one another for added strength (did I mention the man loves his jig?).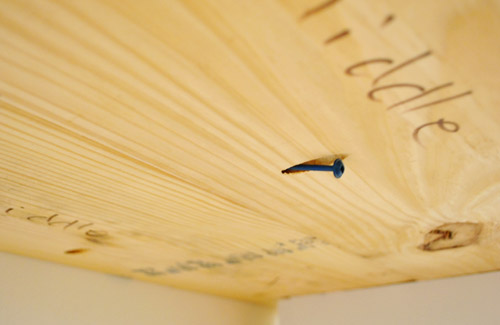 Perhaps our favorite discovery of the day was realizing that our camera tripod could double as a great jack-substitute to keep the boards level while John screwed them together (this was a lot more precise than me standing there and trying to hold them at a consistent height). They make a good counter-building team, John and his trusty tripod.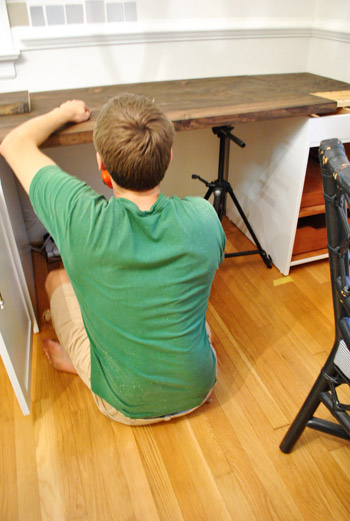 The brevity at which I'm recounting this process makes it seem like it was fast and easy. It wasn't. You know we like to keep it real, so the counter install (not counting a few hours of sanding/staining) took us the better part of an evening – maybe around four hours? And it was relatively exhausting, especially to poor John who was doing the bulk of the lifting and contorting himself into the base cabinets to drill. The most frustrating part was realizing that our boards, like most, weren't all perfectly straight. So we had to do our best to counteract/deal with the whole slightly warped thing (once we screwed them down/together in a few places they seemed to level out, but it took some finessing to make sure the tops stayed level as we went).
But eventually it got done. Though it did teach us a lesson in staining: be sure to stain about a centimeter over each edge, even if you don't think it'll be visible, since some of the tiny cracks between where the boards met revealed slivers of unstained wood. Luckily it was nothing a little stain touch-up with a small brush couldn't fix (I dabbed it in there and then wiped the seam with a rag to blend it).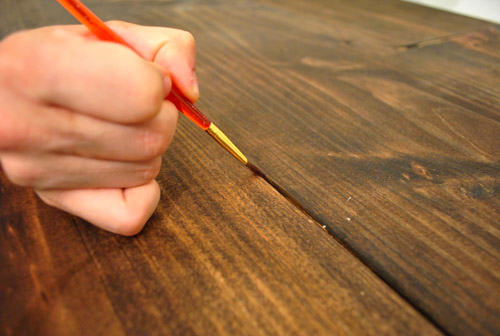 With the touch-ups dry, I later added three thin coats of our favorite non-toxic low-VOC poly alternative (Safecoat Acrlacq). This is the can that we originally bought for our bathroom vanity project over a year and a half ago and it's still going strong (we use it for almost everything).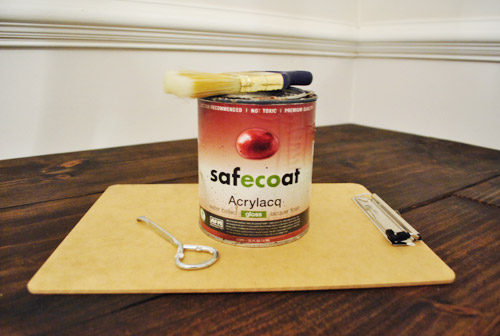 The Safecoat seal will not only protect the finish and add lots of long-tern durability, but it also gives the wood a richer glossy look – just like our nearby dining table.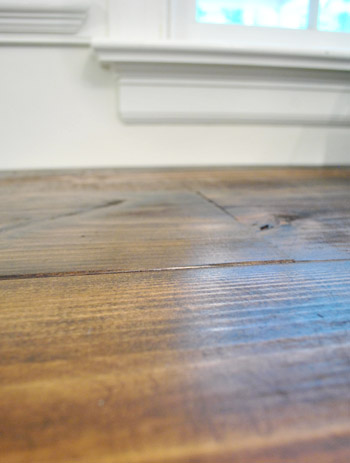 Once we'd given the whole thing 24 hours to dry, it was time to take her for a spin. This is what our new desktop looked like empty…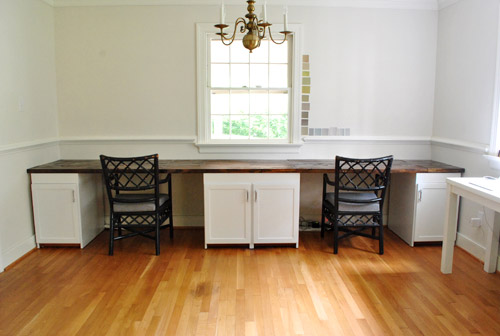 …and here she is with some "styling" (come on, do you know me at all? I love to put a bunch of stuff on newly completed projects – just to help us get a sense of what it might look like when it's in use). Of course everything was just shoved there in four minutes so it's safe to say that nothing is permanent and I obviously want some larger art to actually hang on the wall (which we still have to paint, hence the swatches) and a bunch of other things will likely change/evolve as we actually get into using our new desk.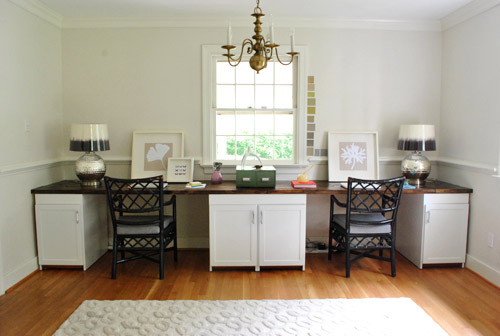 And yes, I borrowed the lamps from the console table in the living room and added some fun shades that I spotted at Target (they still have the wrapping on them, which is why they're so shiny). But eventually we'll have to grab two more lamp bases for in here (where we might keep the two-toned shades – we'll see).
We're so happy with how the office looks from the dining room. The wood top ties right into the wood table and doesn't look weird with the white topped built-ins in the foreground. Whew.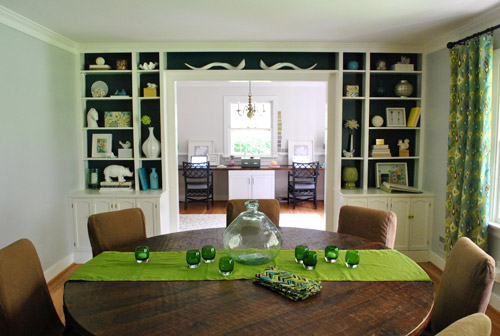 And the chunky wood top is such a rich counterpart to the white cabinets, we really couldn't be happier. Oh and see that vintage green library box (found for $4 at a thrift store a while back)? That's our new drawer system for pens, pencils, tape, and scissors – so the file cabinets are full of larger things (like the shredder, some storage boxes, etc). So far it's all really functional- so I owe you a photo of the insides of those cabinets once we're more settled in.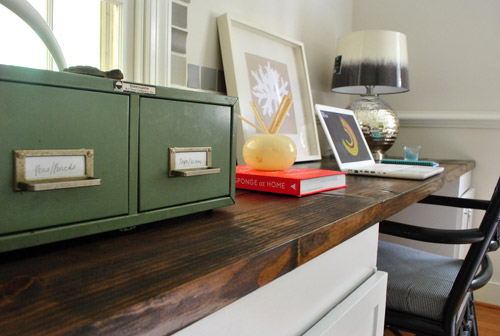 Oh and as for writing things down atop a wood plank counter, there are a few seams, but they're four feet apart and the boards are nice and thick. We also generally use notebooks and notepads anyway, so getting bumps and lines when we write isn't an issue. In fact in the square foot of counter space to the right of each of our laptops there's not a single seam cutting through – so any pad or piece of paper could be written on easily without any seam-conflicts. Which is a nice accident because we just laid the boards in a staggered zig-zag pattern and they happened to fall without any seams to the right of our computers. Holla.
Overall, the current setup (although the "styling" is ever so un-permanent)…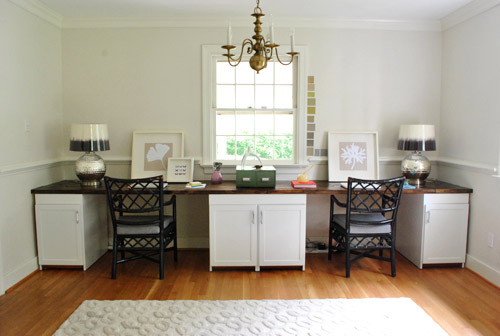 … is definitely an update from the old office setup (you can read more about the floor-planning process here). Only now do we realize how cramped that desk really was: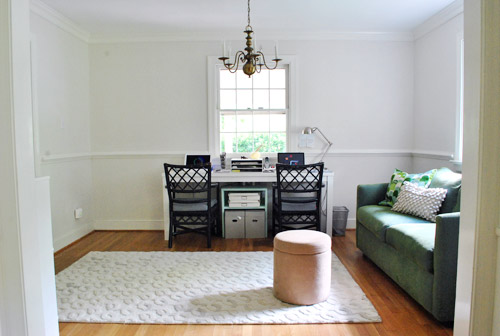 Of course we're not 100% done with things. We still want to put some sort of molding around the bottom and sides of the cabs to give them a more built-in look. Plus we're still not sure if we're gonna stick with the shiny silver hardware finish that came with the cabinets (of course I've thought about ORB, but don't know if that'll look too matchy with the black glass pulls on the file cabinet nearby- I'll keep you posted though). Even with those little things still on the to-do list, our budget's looking pretty darn good for the ol' wall to wall built-in desk project:
Cabinets (from Habitat For Humanity ReStore): $6.30
Kilz Clean Start No-VOC Primer$0 (leftover from painting the kitchen paneling, but it would be around $20 to buy for those wondering)
Electric sander & sandpaper: $0 (already owned, but would be around $25 to buy)
Benjamin Moore Advance paint (in Decorators White, satin): $40 (thanks to 10% off haggling/begging)
Pre-primed & unprimed wood to build up cabinets (from Home Depot): $51
Framing lumber for counter (from Home Depot): $27.30
Stain & poly for top: $0 (already owned, but would be about $8 and $20 respectively if you didn't have any)
TOTAL: $124.60
We're psyched, especially since a white laminate counter from Ikea that would span the 13′ length would be around $125 on its own (not counting any cabinetry, paint, etc). But of course just like any upgrade, our new desk is making the rest of the room look terrible. Haha. We need wall paint. And window treatments. And to actually update the chipped navy chairs that we grabbed for $35 a while back. And art. And a chair for the corner. And a lighting upgrade. And about a million other things. But thinking about everything at once gives me hives. One step at a time is the mantra these days.
Has anyone else out there gone with a wood topped something (be it a desk, dresser, kitchen counter, etc)? Do you do things backwards (like build a desk before you paint the walls)? Do you find it hard to resist stroking and talking lovingly to lumber at the home improvement center? I gotta get a handle on that.
Psst- To follow our desk makeove from the beginning, here's the post about office floor planning, the post about finding our $6 cabinets, the one about other places we looked, the post about sanding and priming the cabinets, and the post about painting and building up the cabinets before adding the countertop.