The transformation of $6 hotel nightstands into a built-in-wall-to-wall-desk-for-two continues. If you recall, we last removed the hardware, sanded, and primed them all in preparation for painting them white.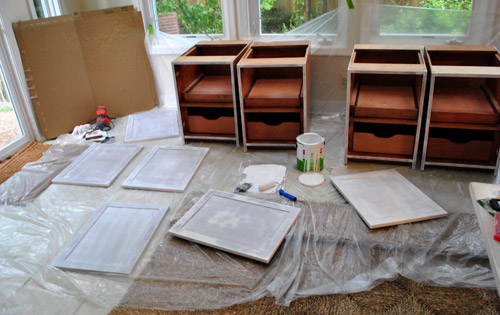 But before painting, we had to do a bit of construction (we needed to attach them in pairs and built them up about four inches so they'd be desk-height). And before doing any construction we decided we ought to look at them in the space first…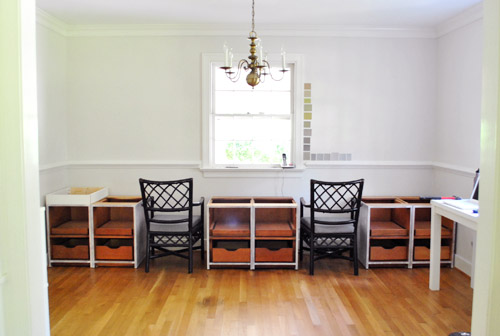 … which is clearly something that we should've done sooner (but they're darn heavy, so moving them back-and-forth isn't fun – which is why we plopped them down in the sunroom and moved on to sanding and priming). Oh well, better late than never. Once we had them in place we realized that it was a bit more cramped than we expected; the three pairs of two cabinets left hardly any wiggle room for our chairs. And things just looked, well, a bit tight. (Ignore the beginnings of construction on the cabinet on the far left. Our original photo of this got deleted by accident so we had to retake after I had already altered a cabinet. And while you're ignoring things, pay no attention to the paint swatches on the wall. Not sure we like any of 'em so we're still at square one with that).
This little space planning exercise inspired us to take out two of the cabinets and look at the wall with four of them instead (two in the middle and two on each side). MUCH better. We loved this configuration a lot more, because not only would it look less crowded, we'd actually feel like we were sitting at desks (which usually have more breathing room than a few inches on each side of the chair). And there's still more than enough storage space between the four remaining cabinets and our double wide two-tier file cabinet on the other side of the room.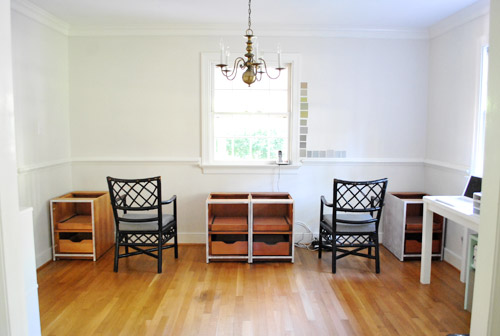 Had we spent more than $6.30 on all six cabinets, it might've been a harder decision to ditch two of them, but I think we can handle eating the $2 (and the wasted time spent priming and sanding the extras). And who knows, maybe we'll even figure out how to repurpose them (Sherry has been yacking about making a play kitchen for Clara for a while, so I'm sure she'll fill you in if that happens).
Now on to the construction part of this process. The goal was to (1) visually connect the two cabinets in the middle so they'd look like one large two-doored cabinet instead of two cabinets randomly parked next to each other and (2) build the cabinets up four inches so that they'd be standard desk height (around 30″ tall with a counter) so our existing chairs could easily slide under the counter. I debated all sorts of fancy versions of this process, like:
"I'll build a drawer!… which would be about 2″ thick… and therefore totally not worth the trouble/expense… so never mind"
"I'll build them up from the base so the things in the cabinets are easier to access… by a few inches… wait, it's a lot easier to build up the top since the bottoms have legs and a few inches won't make a difference… never mind"
Finally I opted for a simple budget-friendly solution: I just picked up a bunch of 1 x 4″ boards at Home Depot (including some that were pre-primed, hooray for convenience) and cut them to size to create a nice little built-on frame to raise them up four inches.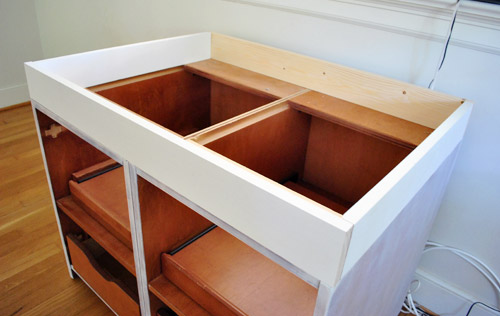 Then using my Kreg jig I drilled some pocket holes to attach the front and side together, and then screwed them into the top of the cabinet. You can see it more easily on one of the single side cabinets in this shot: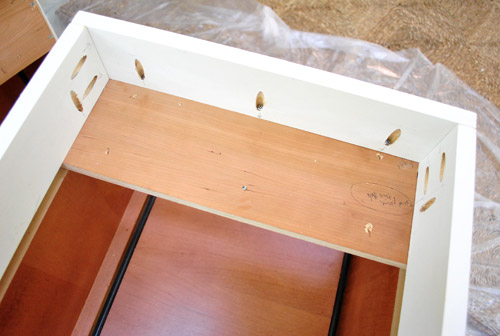 Then I attached the back piece which is where I used an un-primed 1 x 4″ (because it won't be visible at all against the wall and under the countertop). Why? Because an 8ft piece of primed 1 x 4″ was about $1 more, so using unprimed boards wherever they weren't visible saved me a few bucks. Sure, I could have saved $3.50 more by just using unprimed wood everywhere and priming the visible parts afterwards, but since we already primed all the cabinets we lazily decided that it was worth spending $3.50 for primed wood in the visible spots so we wouldn't have to break out the primer and do all that clean-up again. We figure finding six dollar cabinets makes small luxuries like an extra $3.50 spent on pre-primed wood ok in our cheapskate hearts.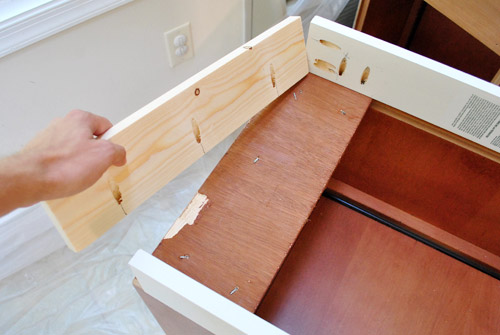 That simple frame accomplished exactly what I needed in terms of building things up and connecting the two center pieces, but the cabinets weren't thoroughly prepared to handle a counter top quite yet. That's where some 1 x 3″ boards came into play. I cut a few pieces that would span the inside of my new frame and drilled them into the top of the cabinet. This added even more strength/stability, just because I'm Captain Careful.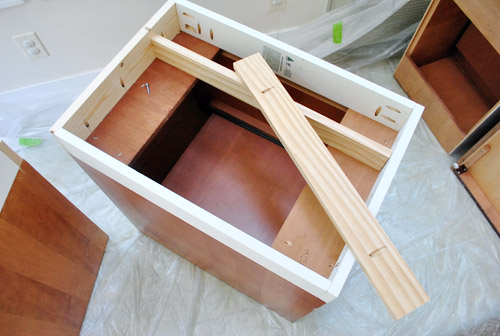 Then I topped that with some leftover 1 x 4″ slats that lay flat – which created a platform for me to screw the counter top into when it comes time. They're not attached in this pic below, so you can see that they don't sit level with the frame at this point – but I'm going to add some washers to raise them up a smidge when it comes time to actually screw them in (so it's all one big level plane):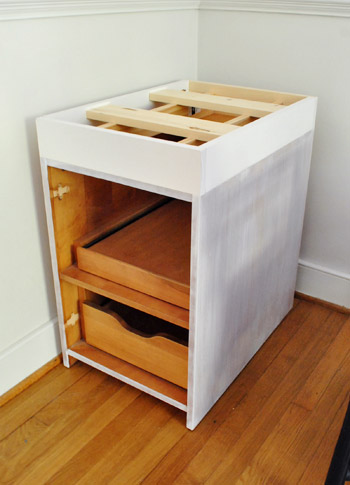 With that, the construction portion of the project was largely over – well except for the counter of course, which we're still working on and will cover in a few days. We're doing something similar to the top of our living room console table… sort of (more details as soon as we're a little further along). Once that's all said and done, we're also planning to add some baseboard trim around the bottom of the cabinets (where they meet the floor on the sides and front) to make them look even more "built in." So yeah, I guess maybe the construction portion isn't completely over. But we're good for now.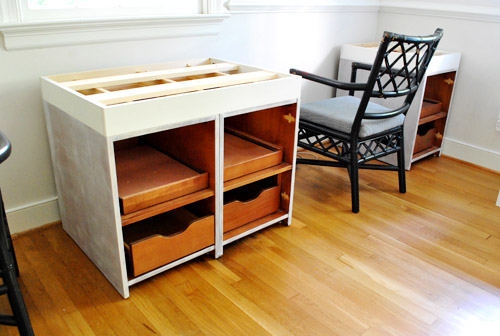 So let's move on to painting the cabinets. As we've mentioned, we're painting them white for a nice clean look (which will tie into the white built-ins that are visible in the adjoining dining room, don't wanna get to crazy with colored built-ins near white ones- we just want these to look like they've always been here).
We decided this was a perfect opportunity to try Benjamin Moore Advance paint, which a number of you guys have raved about recently. It's self-leveling, which means it helps coat more evenly for a smoother finish (something that's perfect for a cabinet project) and it's a high quality alkyd formula (so it should be nice and durable) and it's also water based and extremely low-VOC (even after the colorants are added) which is always a plus for us – and is extremely rare for cabinet paint.
The only drawback is that it's expensive, at least for cheap-os like us (it's around $45 a can). But as a thrifty reader named Heather suggested, Sherry told the Benjamin Moore guy about a 30% off sale at Sherwin Williams and asked if he could match it. He said he couldn't do 30%, but offered 10% off on the spot – without so much as a coupon. So she saved around $5 by asking a quick question at the register.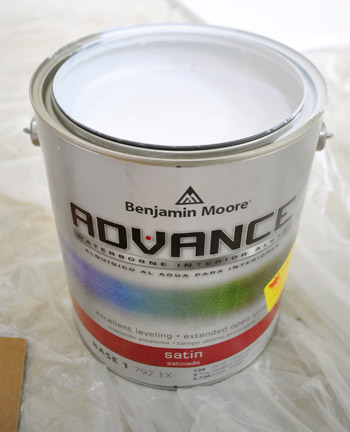 We got the paint in Decorators White (a bestselling color by Benjamin Moore), which is pretty much the perfect white tone according to the lady wife. You could hold fifteen swatches of white paint up and they'd all look the same to me, but apparently Sherry can see all sorts of variations and likes Decorators White the best. Oh and we got it in a satin finish because they only offered that or high-gloss (which I worried would show more imperfections).
Interesting side note – the pic above is taken after we were done painting all of our cabinets. So you can see the insanely small amount of paint we used for this project (it was nice and thick, so it covered really well). This means we definitely could have gotten by with a quart (for around $25) but we're glad we got a gallon since we plan to use the rest of the gallon to paint the cabinets in the kitchen down the road. Which might further take the burn out of a $40 gallon of paint. Haha.
Sherry's tools for the painting task were both a brush (to get in cracks and corners) and a small foam roller (for a quick, smooth brushstroke-free finish on large surfaces).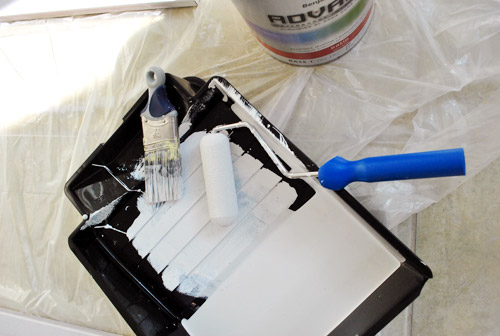 You can (hopefully, although it depends on your monitor) see the slight difference between one coat (on the door on the left) and two (on the door on the right). Two coats probably would've been fine, but we did a third just to be safe – and to make sure there wasn't a difference between the areas that we primed and painted and the pre-primed 1 x 4″ boards that we only painted (which were much lighter than anything else to begin with). Three thin and even coats (remember, this is Sherry's mantra) definitely did the trick, and as seen from the photo of the paint can above, we hardly used any paint. Which is nice since we initially wondered how far it would go.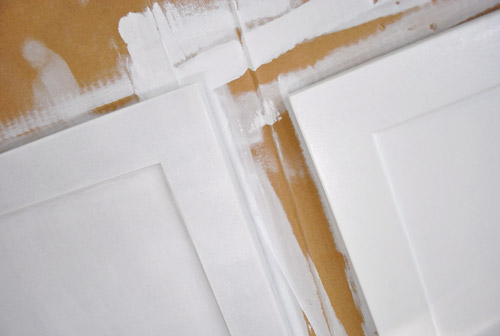 Here's a finished door after three full coats. Each coat took Sherry about 30 minutes, which wasn't bad at all. Except that the can called for over 16 hours of drying time between coats, so instead of finishing this process in an afternoon it was a bit more drawn out over the course of a few days. But everything cured up nice and strong and looks great. As for Sherry's review of the Advance paint: "I want to marry it." So yeah, she loves it.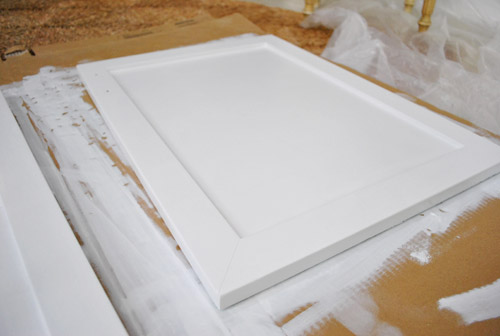 And of course, a few consecutive days of painting is made much easier when you've got a fan club watching you intently (as some of you already saw on Young House Life). Here's the wife in the sealed sunroom sporting her inside-out painting clothes with the bean looking on. You can see that we just used some leftover cardboard (from old Ikea purchases like the file cabinet) to paint on.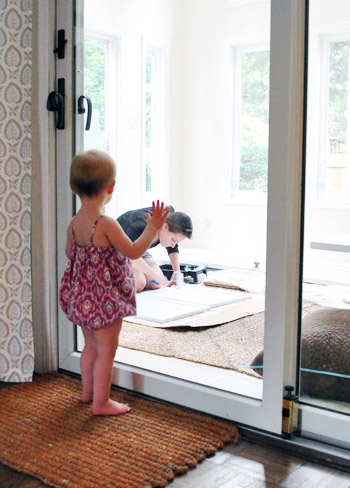 Even though the Benjamin Moore Advance paint is low-VOC, it's not no-VOC. Which is why Sherry painted all of the doors in the much-ventilated / Clara-and Burger-free sunroom (also to avoid baby hand-print and puppy paw-print mishaps). We had to paint the cabinet bases in place in the office (the big middle section was too heavy to lift once the two cabinets were built up and connected), so we just kept Clara out of the room and opened all of the windows and ran some fans (Sherry painted during her nap, so by the time she woke up things were aired out and then we just kept her out of the room so we didn't get little fingerprints going on). Thanks to a little flat-cereal-box-under-the-spot-being-painted trick (to keep paint off the floor), we got to avoid putting down drop cloths. Oh yeah, we're rebels.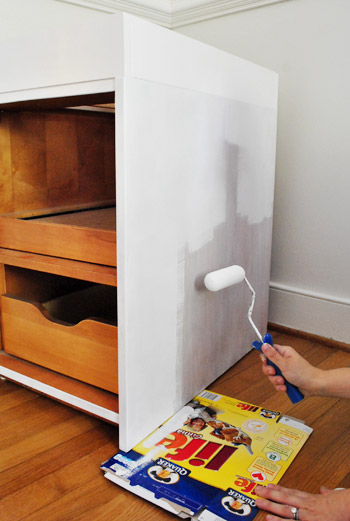 Oh and the shot above demonstrates how nice the BM Advance paint coverage was for us. This is just the first coat going on over the coat of primer that Sherry added a few days ago. That's a really good showing for a first coat according to my paints-everything wife.
So here's the finished piece all painted (and with the cabinet door just laying on top – we later moved that out of the sunroom to make way for countertop progress).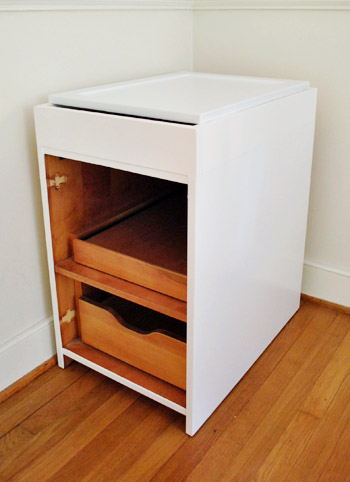 Oh and as for why we didn't paint the inside of the cabinets, here's an excerpt from our initial post about that for anyone who missed it:
As for the backs of the doors and the cabinet interiors, from day one we decided that we wanted a nice clean glossy front for our wall to wall built-ins, but to keep the backs and the interiors (and slide out interior fittings) of the cabinets the same natural wood tone that they were to begin with. We certainly know that not everyone would go that route, but the new KraftMaid drawers that we installed in our first house's kitchen renovation had wood interiors and we really liked them (you can actually see some of them here full of tools):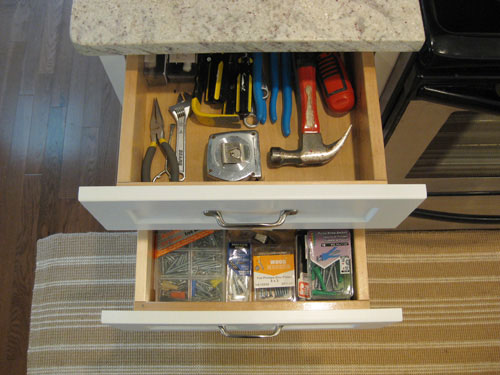 They had glossy white drawer fronts, but inside they held up a lot better to natural wear and tear than anything painted (since we're weirdos who will stash hammers and screwdrivers almost anywhere). And we actually don't mind the whole wood + white look (sort of like the dresser we refinished for Clara). Although in this case we decided from the outside that the cabinets would look entirely crisp and white (no contrasting color in the door front or anything), and only when you swing them open will you see the wood tone.
But back to our freshly painted cabinets. The white paint was a big help in making the middle pair seem like one piece. We contemplated adding some caulk or wood putty in the slight crack down the center, but we held off since we thought it might be less obvious once the doors were reattached.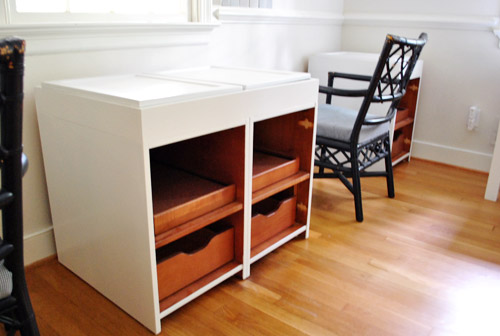 And sure enough, they were. So here's everything built up four inches and fully painted. We just needed to wait a few days to attach the cabinet doors…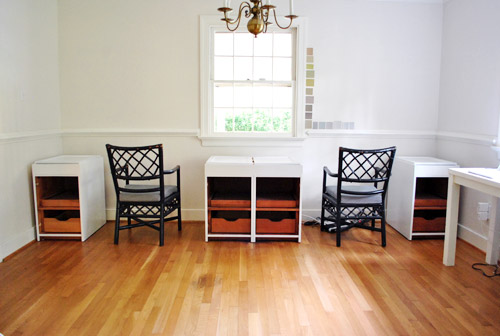 … which looked pretty darn good once we added those: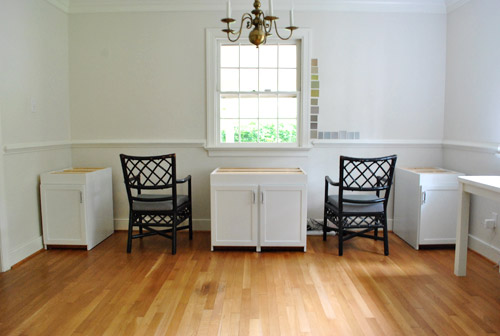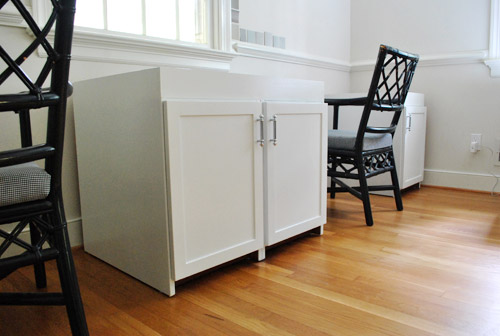 Of course we still have to add molding around the base of them all (so they look even more built-in), which will hide any areas down by the legs that still appear to be wood toned. And we're going to trim out the sides as well (so they appear to attach to the walls on either end). We'll hopefully be back with those details soon. But in the meantime, you know we love a budget breakdown, so here's the wall-to-wall desk tally so far:
Cabinets (from Habitat For Humanity ReStore): $6.30
Kilz Clean Start No-VOC Primer$0 (leftover from painting the kitchen paneling, but it would be around $20 to buy for those wondering)
Electric sander & sandpaper: $0 (already owned, but would be around $25 to buy)
Benjamin Moore Advance paint (in Decorators White, satin): $40 (thanks to 10% off haggling/begging)
Pre-primed & unprimed wood to build up cabinets (from Home Depot): $51
TOTAL: $97.50 (which was about the cost of one unfinished base cabinet at Home Depot or Lowe's)
We'll also be back with all of our countertop details soon- just gotta make enough progress to snap some pics and share that stuff. One thing is for sure: we can't wait to use our new double desk. And yes, Sherry has been walking around saying "double desk" like Robert DeNiro says "double dose" in the Little Fockers trailer (not sure how I feel about this weird club mix of it below though):
What did you guys do over the long weekend? Any building? Painting? DeNiro impersonating?
Psst- To follow our cabinet makeover process from the beginning, here's the post about finding our $6 cabinets, the one about other places we looked, and the post about sanding and priming the cabinets to prep them for paint.
Pssssst- I just shared one of the coolest dresser makeovers we've ever seen on BabyCenter (and it's not just for kids).