Last weekend we journeyed two hours north to Arlington, Virginia so Clara could have some quality time with her cousin Elsa (and apparently so my cousin Travis and I could rock some daddy-plaid, shorts, flip flops, and matching Kettler bikes together (the latter of which were both his, found for a huge deal on craigslist).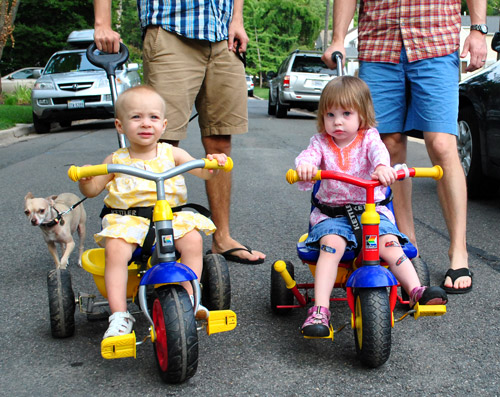 While there, Elsa's mom, Cat (who is Sherry's BFF that we introduced to my cousin back in 2007 – and now they're married with two kids) took us to this cool shop in Old Town, Alexandra called Red Barn Mercantile. It had tons of beautiful stuff, but what caught our eye most was this bowl of vintage printing press letters.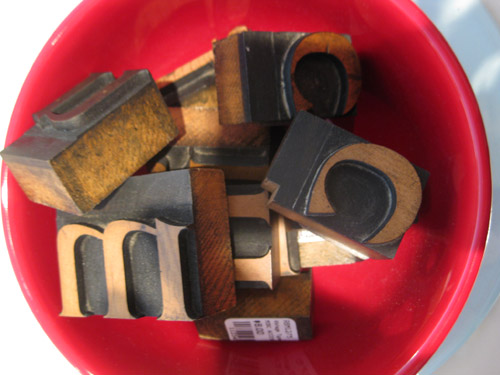 Six bucks later we snagged a "C" so that Clara can be now represented amongst our original collection of letters and numbers (7, J, S, L, O, V, E). The first three were purchased at a NYC flea market just weeks after we started dating on 7/7/05 (which explains our love of the number 7) and the last four came from a flea market in DC a few years later. We also looked for a "B" for Burger, but they only had lowercase ones (which just look like a "d" instead, since they're backwards). Sorry Burgs! The search for an uppercase B continues…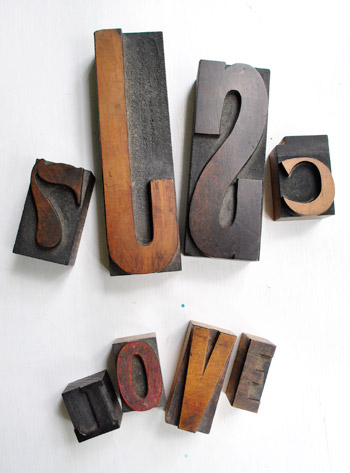 But that's admittedly not that amazing as $6 purchases go. It was actually our other $6 find on that trip that we're still pinching ourselves about. You ready for this jelly?
Six dollars got us more than just this cabinet hardware…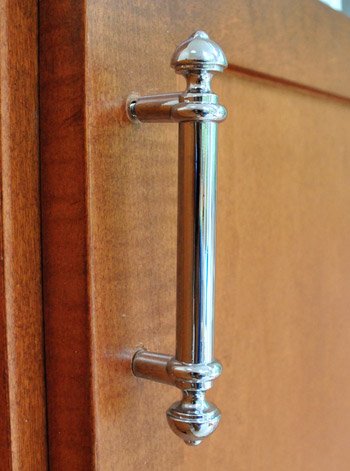 …it even got us more than this whole cabinet…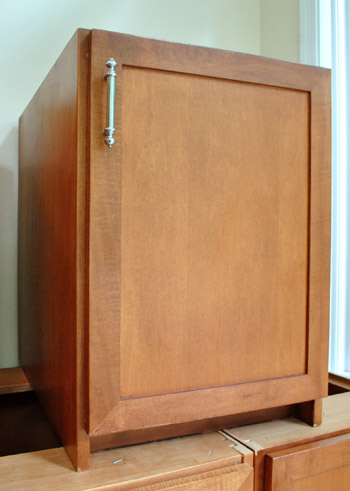 …it actually got us SIX CABINETS. All for just six measly dollars. Not each. Total.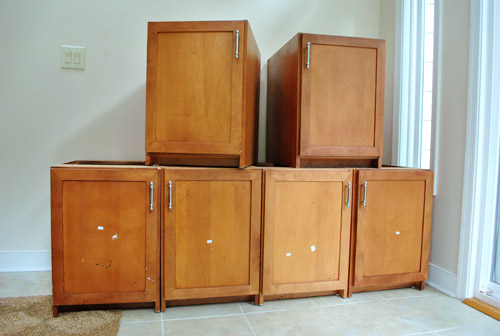 If you're in as much disbelief as I was when Sherry first told me about her find (Clara was napping in the car, so I stayed outside with her and Sherry went in and called me with the details), here's some proof: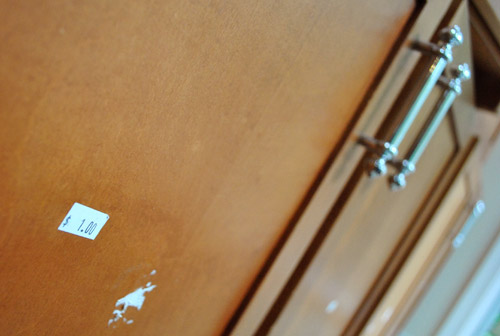 We found them at the Habitat for Humanity ReStore in Alexandria (sooooo glad we decided to swing by there while visiting the area) and they truly were just selling them for a dollar each. Apparently they were once nightstands at a hotel. The hotel donated a truckload of them and the ReStore had finally gotten rid of them all (priced at $15 each)… until some overzealous purchaser brought back a bunch that he had leftover. So the ReStore guy told us they priced them at just $1 to get rid of them quickly (they already made their money we assume, since they have a No Refund policy).
Oh and for anyone worried about bedbugs, I'm an obsessed checker-outer due to a life-changing encounter with them back in NYC, so I frantically looked over every inch of them like a paranoid weirdo before taking them home (and then did another thorough check once at home, just to be sure). You can read about that harrowing NY experience here. When it comes to what I look for, I've learned that bed bugs are visible to the naked eye, so you should be able to see them and their droppings if you look everything over and check cracks & crevices. They also don't like slick surfaces like glossy cabinets or plastic bags and prefer softer things like mattresses and upholstery where they can more easily walk, along with dark crevices where they can lurk/hide/ruin your life. So when buying something with more places to hide than cabinets (like an upholstered armchair) you'll want to be extra careful – but you should still see some evidence of them in the form of small little stains on the upholstery, usually along the seams – which are (shudder) their droppings. You can also leave things in a holding area like a garage or sunroom for a day or two and recheck them again before bringing them inside.
And speaking of getting them home, miraculously we could fit two into our Altima – even with all of our travel gear like a pack & play, a dog crate, a baby in a big ol' carseat, a husband, a wife, etc (one cabinet fit in the trunk and the other sat in the front seat while Sherry rode in the back with the Burger, the bean, the pack & play, and the folded up dog crate). The ReStore held the others since my dad was serendipitously going to be in the same area for a meeting (he drives a Honda Pilot so the remaining four fit nicely inside). We're usually the suckers without any means to get big things anywhere (especially when we're so far away from home), so it was a nice change of pace. I guess these $6 cabinets were just meant to be ours…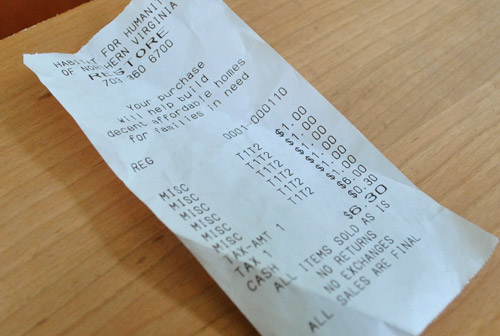 Well, as evidenced above, they actually cost us $6.30 with tax. So I guess it was the best six dollars and thirty cents that we ever spent.
They certainly don't feel like shoddy $1 cabinets. I mean, just check out the interior fittings on them. Hellooooo slide-out shelves!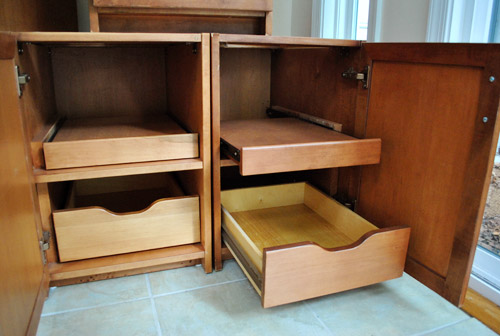 If you didn't already connect the dots, they're meant for our built-in office workstation that we talked about in this post and we hope to set them up like this: two cabinets against the left wall, open space for a chair, two cabinets in the middle, open space for a chair, two cabinets against the right wall to create built-ins that we discussed right here in this floor planning post…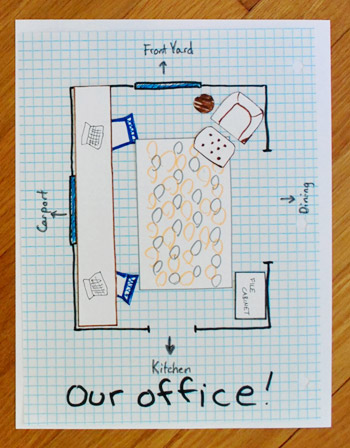 With that arrangement we'll have exactly 30″ for each of our chair openings, which is perfect since our chairs are 24″ wide (and six inches of wiggle room is a lot more than we have in our current small-homemade-desk-made-from-a-door situation). Of course our new cabinet friends do need a bit of work before they're ready to move in permanently. For starters, they need a coat of primer and some glossy white paint (they appear to be 100% solid wood, so they should be great when it comes to adhesion and durability like traditional painted cabinets). Oh but we're not going to paint the inside of them (lots of white built-ins actually have wood interiors – which hide marks and smudges a little more, too). All of the new white KraftMaid drawers from our first kitchen were wood on the inside, and we really loved it. But don't worry, we'll share all the painting details as we go.
We also need to do something about their height, because they're only about 26″ tall and our chairs are 27″ (so the arms wouldn't even slide under them if we added a countertop at this point).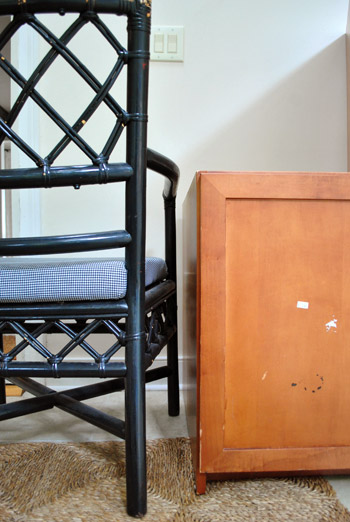 Ideally we'd like our desk to be about 30″ tall, so I'm thinking I'll build just a simple box on top of each cabinet pairing that I can paint along with the cabinets so they look seamless. Haven't decided if it's worth building it as a little open shelf up there or just fronting it with a solid piece of wood (kinda like those dummy drawers in front of kitchen sinks). Or we could build them up from the bottom. Not sure yet, but we'll definitely keep you posted.
It was not only amazing to find $1 cabinets, but to realize that they weren't too tall like 99.9% of the base cabinets out there (which are 35″ and hard to cut down since they're one solid piece that includes the kickstep) was such a relief. Plus they were still deep enough for a desk (upper cabinets were the right height but only 12″ deep, which would make for a very very skinny desk or all need to be built out from the back with a lot more lumber than building these up a few inches). So yeah, we're psyched. After some pretty thorough searching, the cabinet gods were good to us. Which was especially nice after the file cabinet gods weren't as sweet (we searched for eight months for secondhand file cabinets for the office and ended up giving up and spending $150 on this system from Ikea). You win some, you lose some I guess.
Anyway, since not everyone can stumble upon the cabinet equivalent of The Dollar Store, we thought you might appreciate hearing the other places that we looked and the other solutions that we considered (of which there were maaaany). So we'll be back to fill you in on all of that research / legwork / consideration in a few hours. Hopefully sharing a few other options that we considered may help someone else who can't find secondhand cabinets that work for their project. In the meantime, what's the best under-ten-dollar purchase that you've made? Was it clothing? House related? Did you buy a movie ticket and meet the man of your dreams there? Someone out there has to have one of those should-be-made-into-a-movie stories.