These.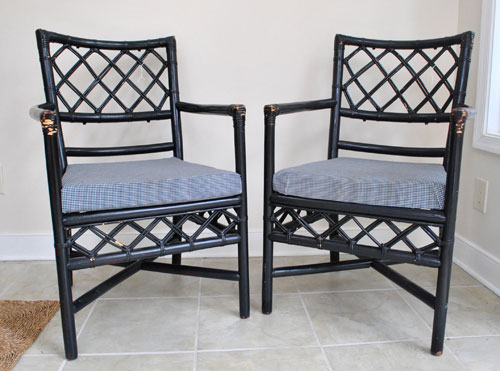 Are you surprised that we were thrifting again? I'm not. These were originally $90 a pop ($180 total). Marked down to $70 each ($140 total). With an additional 50% off. So we ended up paying just $35 a chair ($70 for both of them). Not bad considering Ballard sells semi similar metal versions for $199 a pop here and reminiscent-ish rattan ones for a whopping $249 a piece here.
And they're sturdy little buggers. I sat in them expecting a rickety mess with flat cushions (why else would they be so cheap?) and I was surprised. Not bad. Not bad at all. So I did that "wow, John, they're really quite nice" thing and I walked around them and scratched my chin and looked at John again and batted my eyelashes and explained how much I've always wanted chairs just like this and how we have so many places they could go and on and on. After a while John got sick of listening to me agreed and we carried them up to the cashier with a spring in our my step.
In fairness to John, he might not have been as giddy as I am, but let's face it, not many people on earth are as unabashedly enthusiastic about life in general as I am. Which I know can be highly irritating. But we have a pact that we don't get anything unless we both sign off on it and actually like it. So if John hated them it would have been a total no go. Really, he can put the kibosh on things like you wouldn't believe. And exercises that right on a very regular basis. Luckily, being the freakishly happy person that I am, I usually can be found seconds later lovingly stroking a vase that I want instead or just generally getting ecstatic about non decor things (like the mention that our latest Netflix arrived) and skipping out of the store. But after talking about all the possibilities for a major makeover, even John is psyched to give these babies some love. Cause you know we're into that sort of thing. It's better than on par with ice cream and puppies to us.
You can't really tell from the pics, but the chairs are actually a deep navy color. With lots o' chips and scratches.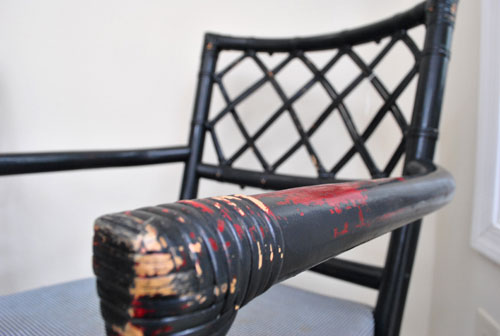 But not for long. We're gonna repaint and reupholster them with something fun. And we'll share how we do it all (with pics) when we get there. We're not sure about what color or even where they'll live (most likely in the office as our new desk chairs since they're so comfy and then we can craigslist the kitchen chairs that we're currently using along with the table when we DIY a kitchen island down the road). We'll probably just sit on them as-is for a while, since we should be focusing our attention on more dire projects (like the guest bedroom). But I've always had a thing for lattice-y chippendale-esque chairs so I'm happy to have them. Oh and guess what? Johnny somehow squeezed them both into the Altima like a true hero. My man.
Oh and I guess you're wondering where we got 'em. A cute little local antiques place called the Midlothian Antique Center (which is next door to Hancock Fabrics, where we get clearance yards of bold prints & patterns for our Clara project). So even though we were in the market for a few fabric scraps, I totally did that drag your man next door "just to look" thing. Ten minutes later John finds himself trying to squeeze these puppies into the car and I'm chatting the whole way home about colors and fabrics (while he's most likely zoning out and thinking about sandwiches or washing the car).
Psst- Yes I still have this rocker to redo. It's about 15% done (stripped of its old fabric & tacks just waiting to be sanded, stained, and reupholstered. Pics to come when it's fully pimped.