First of all- holy cow. We just had a crazy earthquake a few minutes ago. Very strong! It was completely unexpected for our area (we've never had a strong one before). The epicenter was right outside of Richmond (only about 35 miles from our house) and it registered about a 5.9! We've even heard from friends up in NY who felt it. Miraculously nothing fell off the walls or broke, but the whole house shook violently and it was insanely loud (we all gathered under a steel-enforced doorway and stared at each other). So yes, we were all shaken up by it but very thankful that we're ok and hope that everyone else who experienced it is too.
Now for the cabinets. We promised to share all of the other places we hunted/solutions we considered when it came to the office built-ins (mentioned here) – because our thrift store cabinets definitely weren't the first things we found. And we figure since not everyone can stumble upon six cabs for six bucks (uh, we never even thought that was possible until this recent discovery) we hoped that detailing a few other options that we considered might help anyone else who can't find secondhand cabinets that work for them. So here we go, on a virtual cabinet-hunting whirlwind of sorts…
Our first stop was actually the Richmond Habitat for Humanity ReStore, but we didn't find much in the way of cabinets. We did find that Clara loves the breeze from a big industrial fan.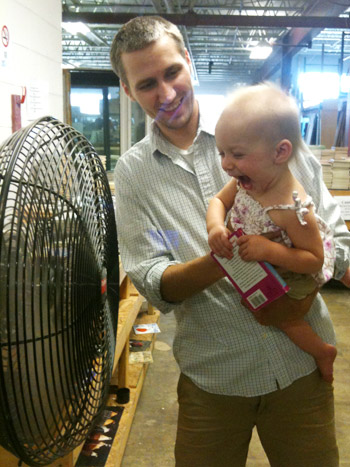 And that they had this crazy big leather / zebra-print lounger thing if anyone's interested. Tres practical for storytime, no?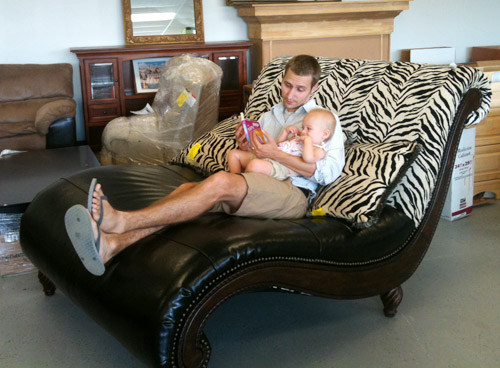 The cabinet situation though was almost enough to make us give up on the ReStore entirely (everything was too tall or too wide and we couldn't find six identical cabinets (or three identical double-wide-ones) that would work to make our wall of built-ins look related enough (and not like a mismatched secondhand cabinet sale). They did put us on a notification list in case anything that matched our needs came in, which was nice (never knew they did that).
So next we dragged the kiddos (yes, Burger included) to Lowe's and Home Depot to see if their stock cabinets could do the trick. They had a lot of affordable-ish options for unfinished cabinets in a slew of shapes and sizes. Our rough math put us at about a $300 investment for three double-wide cabinets (to create left, middle, and right cabinets with two open spaces for our chairs along the built-in wall like this). Then we could have just painted them and topped them with a wood counter, which wouldn't have been too bad for a wall of built-ins and a nice long two-person desk (around $400 for two desks or something custom built-in along an entire wall sounded about right I guess).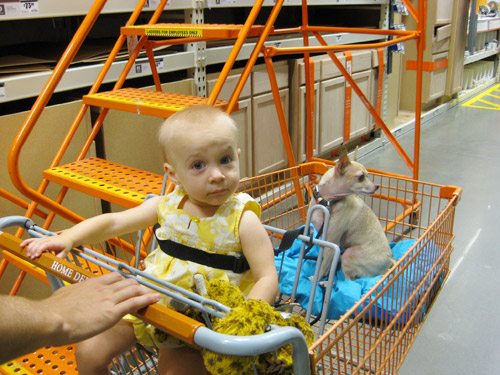 The only hitch in our plan were the cabinet sizes. Base cabinets were the perfect depth for a standard counter (24″) but their toe-kick made them too high (35″) for our chairs (27″). We contemplated adding casters to our chairs to make them higher, but weren't sold on the idea (especially because 2″ casters might be cool, but 4″ casters would be a bit much for our chairs). So we looked at 30″ upper cabinets instead, but at only 12″ deep it'd make for either a super narrow desk or cabinets that floated a foot away from the wall. Definitely something we could remedy by buying additional lumber, but again, not ideal.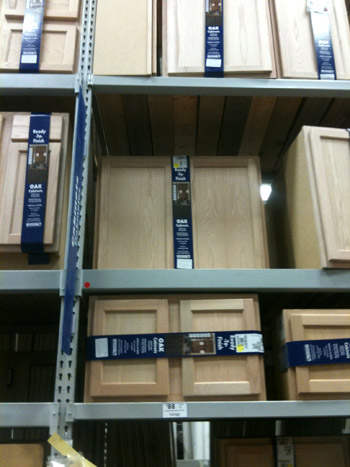 Then it was time to do some Craigslist surfing, but nothing turned up in the way of cabinets that would be the right depth or height off the bat (and we worried about sacrificing stability and making things look a little – uh, shady- by trying to cut something down or build it out). If we had found something super cheap or almost perfect (like our much-shorter-than-average $6 ReStore cabinets) we would definitely have pounced on them. Even for around $100 for the set. But nothing with the right dimensions came up after a few consecutive weeks of checking back.
Then we turned to Ana-White.com to see if we could find any awesome plans to build something ourselves (like the plans that inspired our giant console table build). There were definitely a few workable options, but we realized that a lot of the plans would cost more than $30 per cabinet (thanks to lumber, hardware, hinges, and interior fittings) – and because we noticed that many secondhand cabinets on craigslist and in thrift stores were under $30 (and some were priced waaaay under that), it made us wonder if we'd actually spend more building something than retrofitting something existing.
Next we checked out Ikea. From their website, it looked like we could build their cabinets without a toe-kick, making them the perfect height (around 28-30″ instead of 35″+, which would be too tall for our existing chairs (even if we added casters to them). Score! And we all know Ikea has tons of customization options, so it was starting to feel like a perfect solution… even if it was a bit pricier – roughly about $500 if I did my math right, since we definitely wanted doored cabinets over open shelving (for Clara reasons along with the general desire to very roughly mimic the look of the base cabinets from our built-ins – though not exactly). We were actually pretty invested in this being a good solution, so I started mapping it out using their online planner tool (technically for kitchens) since we were planning a stop there after our visit with Cat, Travis, Elsa and their new son Edison.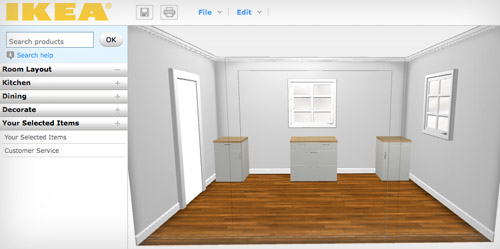 But that trip to Ikea never happened, thanks to our decision to give the Alexandria Habitat For Humanity ReStore a chance while out of town. Though even that trip started off somewhat discouraging. They certainly had more cabinets than our ReStore in Richmond…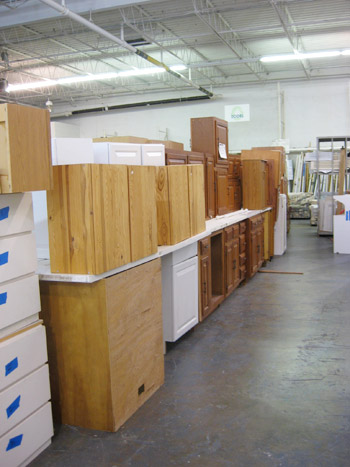 …but the prices weren't necessarily screaming "take me home" at first. Yowsa.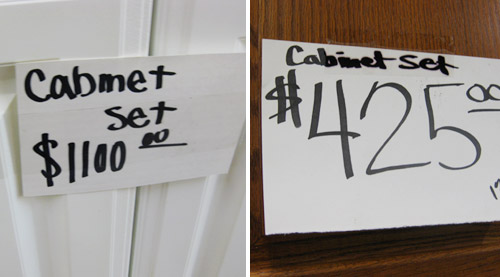 Of course, that was until we came across the ones in the very back with $1 stickers on them that screamed "You'd be an idiot not to take us home. We're six friggin dollars!" And the rest, as they say, is history.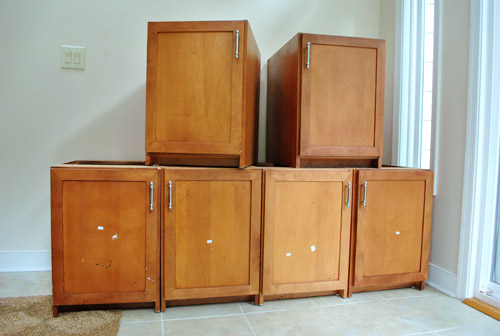 Well, not totally history – there's still lots to do to these puppies. But that's a story (and a project) for another day. Someday soon hopefully. You know Sherry and her propensity to paint anything that doesn't move…
So in summary, it was harder than we thought to find cabinets that were deep enough (24″) and not too tall (over 30″) and we ended up checking two thrift stores, two home improvement stores, an online build-it-yourself website, a Swedish warehouse, and the list of a man named Craig. The cost of the project ranged from around $300-$500 at most places that actually had things that might work (not including a countertop), which was definitely making us sweat a little. Custom built-ins can obviously add function and value to a house, but unlike adding a patio to a monkey-grass-riddled side yard, it somehow felt a bit more like a rushed gamble to spend half of 1K on a desk, at least for cheap-os like us (who built our current desk from an old bathroom door). So we're glad we took our time and eventually came across something around 95% cheaper. The lesson: hold out if you can, and leave no stone (or store) unturned (unvisited?). Whenever we dive in too soon we get all nervous and twitchy and sometimes even lay awake wondering if we rushed into something that might not be the best thing for our house/lifestyle in the long run. So there you go.
What have you hunted down after visiting a bunch of stores or googling a ton of options? Is there some sort of magic number (like five places) that usually results in a major score? Have you been searching for something for months or even years that continues to allude you? Isn't it funny how the perfect thing is always in the last place you look? Probably because once you find it you finally stop looking.
Psst- The lady wife did a fun little interview about how our blog has grown and revealed a lot of behind the scenes blogging and book-writing info for anyone interested right here (it's long, but full of tons of juicy stuff, at least in my humble husband opinion). We're also over on BabyCenter talking about a sweet little boy's nursery that we crashed (coolest light fixture we've seen in a long time).