Just as we did over Memorial Day, we used the long Labor Day weekend to squeeze in a few days at my parents' beach house near Bethany Beach, Delaware. It was another trip full of family, food, and fun-slash-weird finds. And you know we love a good vacation/what-we-saw/what-we-bought post. And we actually bought two pretty big items that we've been trying to find for a while.
Our weekend adventure actually began in Maryland. Specifically, here: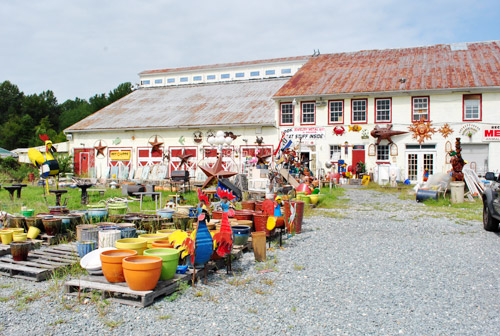 It's the Ole Sale Barn in Denton, MD. We've passed it countless times on our treks to the beach and have always been fascinated by it. The stars finally aligned on this trip (i.e. weather, holiday schedules, baby nap schedule) to allow us to make the stop… at which point we were immediately greeted by Beyoncé. If you don't understand the reference, you must read this (warning: there's profanity, but it might be the funniest thing on the interweb).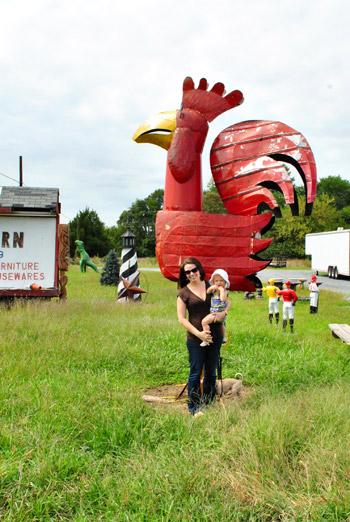 The oddities didn't stop at the over-sized metal chicken (which, we should note, was no longer there on our return trip – meaning someone probably bought the thing). Clara was weirdly fascinated by all of the lawn jockeys. Maybe she was just happy to be taller than them? Find Clara. It's like Where's Waldo.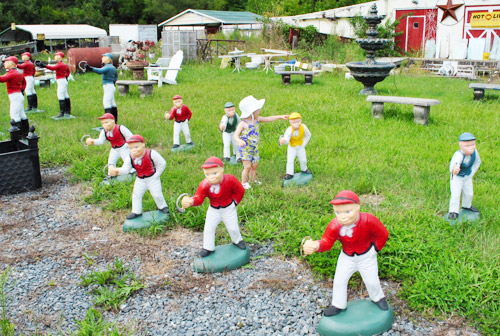 There were actually some cool finds amongst the smorgasbord as well. We think these were patio table tops or some sort of grate cover, but we thought they could make really cool (albeit heavy) wall art.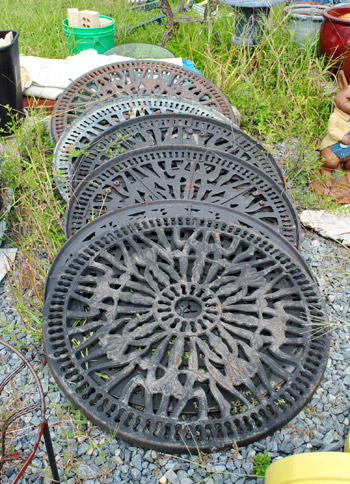 I was obsessed – wait, correction – OBSESSED with these white and gold sign letters. The guy was selling them for $20 each and they were even wired to light up. Had any of the letters meant anything to us I would've taken them home without hesitation (I later realized an upside down L could've looked like a 7 – which is our favorite number – major bummer). Oh, and the owner told me that they were meant for a Dollar Tree store but "never made it to their destination." Not sure what that meant (did they "fall off a truck?") but I figured it was best not to pry.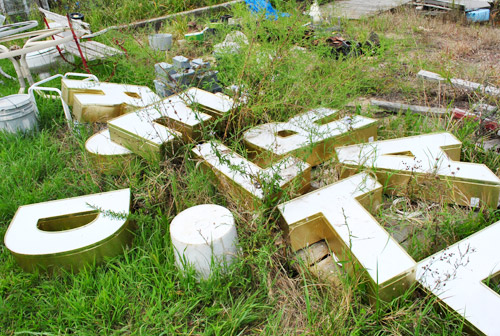 Inside the barn was a bit more chaotic, but there was still plenty to dig through. The only thing that really caught our eyes (besides a giant metal Shrek and a carnival water pistol game) was this trio of overlapping mirrors. It looked less odd in person (we could picture it painted charcoal or soft gray) so the photo doesn't really do it justice. Now we're just mesmerized by the creepy plastic mermaid bust in the reflection. Totally didn't see that when we snapped the pic. Maybe she's a Mer-ghost.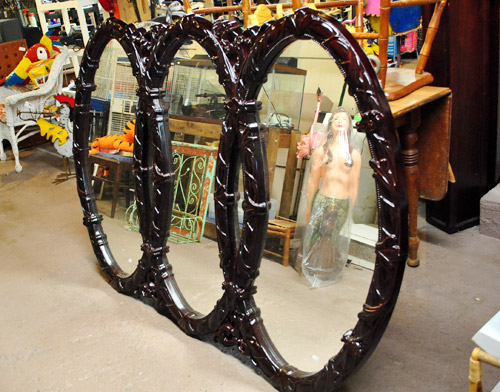 In the end, we left the Ole Sale Barn without anything but an X next to "stop at that fun looking barn place" on our mental travel checklist. And of course now I live with deep regret that I didn't buy one of those big letter L's and flip it upside down to make it a 7. Sad clown.
One place that has its fair share of Xs on that same must-stop-by checklist is Beach Plum Antiques, one of our favorite stops in Bethany. It's overflowing with cool, beach-y finds and we've mentioned it here and here among other places. Don't let the "antiques" part of the name fool you, it's a good old fashioned thrift store and we've snagged lots o' deals there.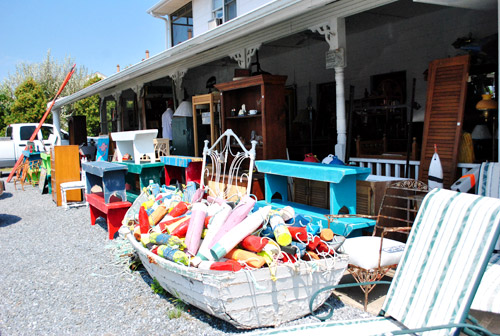 They had some of your usual beachy-cool objects, like these nautical glass buoys…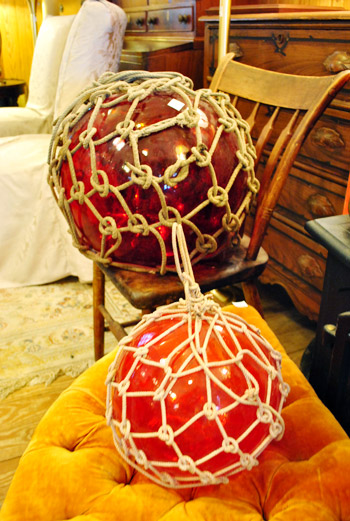 … and some more unique discoveries, like this crazy cool ship's throttle. If only the darned thing weren't $395. That put a pretty quick "stop" to our daydream about where it could live in our house. After poking around a while we (kind of surprisingly) left Beach Plum Antiques without any purchases either.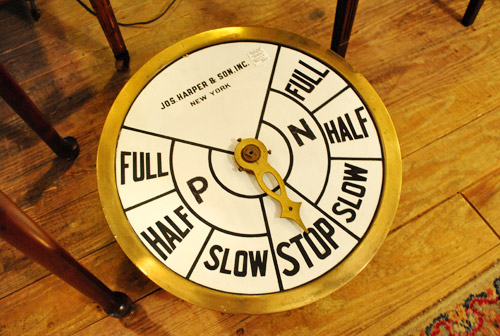 Shopping wasn't the only way we got our home-y fix over the long weekend. On Sunday we took a quick detour to visit the nearby home of some of my parents' friends, Pam and Neil (Pam was actually one of my bosses at my high school library job). They were putting the finishing touches on an above-garage addition that not only added two bedrooms and a bath, but also a second story. See the peak on the left side of the house with the double window?That's all new as of just a few months ago.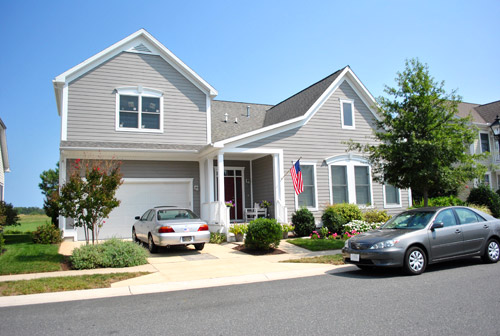 A new second story meant they needed a set of stairs, which Pam and Neil had custom designed for a cool open & industrial feel. Since they greet you as soon as you open the door, they wanted to make them as visually unobtrusive as possible so your eye still continues through the hallway and into the living room behind it (hence the light colors and the thin wire sides). It's hard to tell from the photos, but the light wood was very softly gray-washed, which looked really airy yet still warm because the wood tone and grain showed through.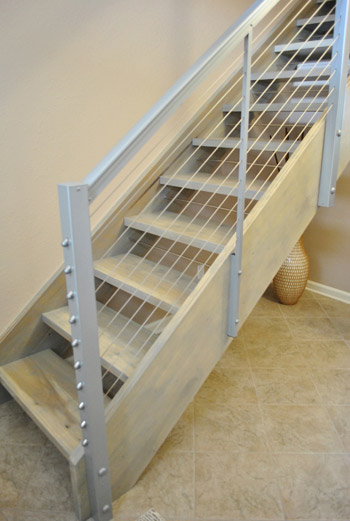 To make way for the stairs they also had to bump out their front door about 3 feet (so the last step wasn't right on the door frame). The only problem was that they didn't have enough extra floor tile sitting around to fill the new space (they only had about 12 squares). So they made lemonade and designed this mosaic inset constructed entirely of new tiles, meaning the few large leftover ones could be used around the border so the whole thing looked intentional (as opposed to screaming "we ran out of tile"). It looked so much like an intentional choice, that we complimented their "tile welcome mat" even before hearing the story about the material-shortage dilemma.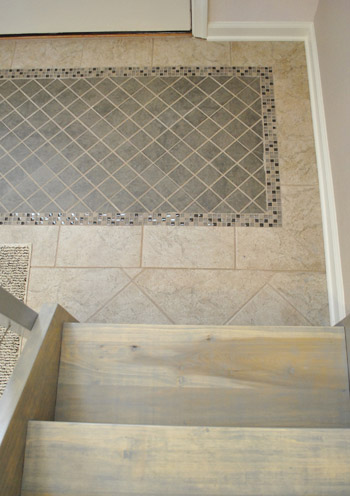 They had another smart use of tile in the new bathroom upstairs, where Pam couldn't find any small tiles that she liked for the shower floor. Since she had already fallen in love with the larger tiles used in the rest of the bathroom, she had her builder cut the large tiles into a bunch of smaller squares for the shower floor. Certainly a bit more work, but it definitely took the guess work out of "will this tile coordinate with that tile?" and looked really great (and not too over-done with different tiling choices everywhere). It definite had that easy beach-house feeling.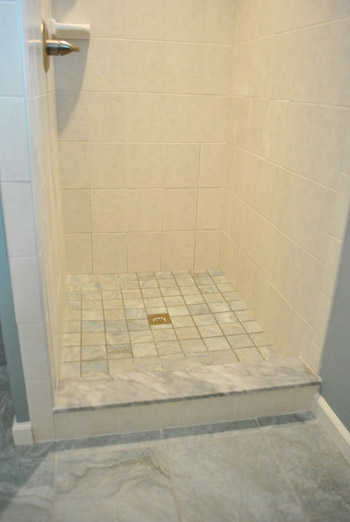 But the weekend wasn't all just inspiration. We did come home with a little somethin-somethin, thanks to this yard sale sign that Sherry spotted on our way back from the playground one morning.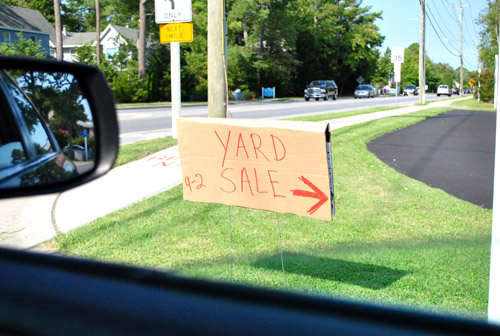 We did our usual drive-by to see if it was worth stopping, and these night stand beauties immediately caught our eye. They're the real deal (from the 50s or 60s, made of solid wood, and even have awesome dovetailed joints). And you know we're desperately in need of some not-too-short nightstands with drawers (instead of the squat stand-in old living room side tables that we've used for the last nine months).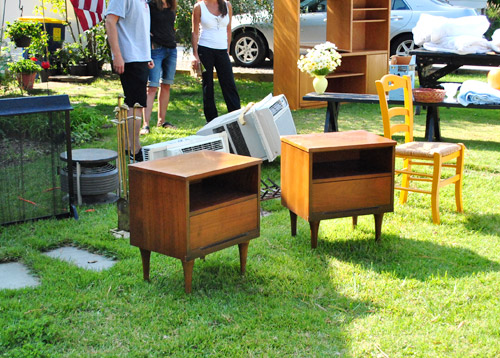 It was meant to be. Especially when the seller was willing to hand 'em over for just $11 each (he was asking $30 for both, but Sherry pulled the "all I have is $22 cash" thing, which was actually true). We worried they wouldn't fit in our car (with a huge baby seat, pack & play, and dog crate to work around) but we somehow got one in the trunk and one in the back seat. And seriously, can you beat $11 a piece?
Had our car been bigger, we also would've taken this guy home. But my sister (who has a larger car and a similar design taste) took one look at our pictures and high tailed it back to the same yard sale. She came back $30 poorer with this in her trunk. We think it's hilarious that we each own part of the same mid century bedroom set (we would have used the dresser as a cabinet/buffet in our dining room near the front door). My sister Emily's not sure where she's gonna put it yet, so we're secretly hoping we'll inherit it eventually. We'll even pay $30 for it. Haha. Fingers crossed.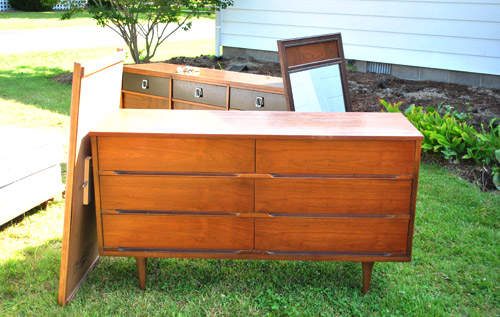 But if you think all of our antique hopping, addition touring, and yard sale scoping got in the way of a "normal" little weekend trip, have no fear. Clara's a beach diva, so there was no denying her some sand and surf (notice the nightstand seat-belted in next to her?).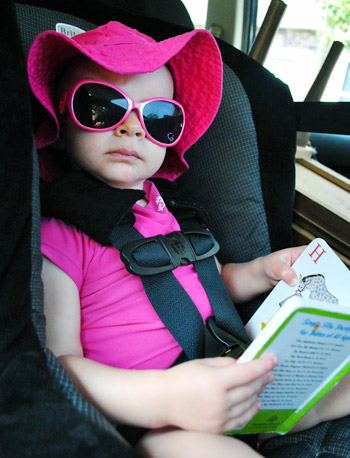 The water was a bit chilly and the beach (well, what was left of it after Irene) was on the crowded side, but Clara was none the wiser and we all had a great time.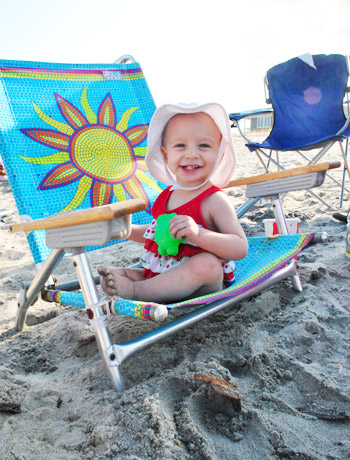 She and her cousins partied with sand in their diapers and said a proper sayonara to summer (which some of you saw earlier this week over on Young House Life). And of course there was some sea gull watching (and the occasional "birdieeee!" scream).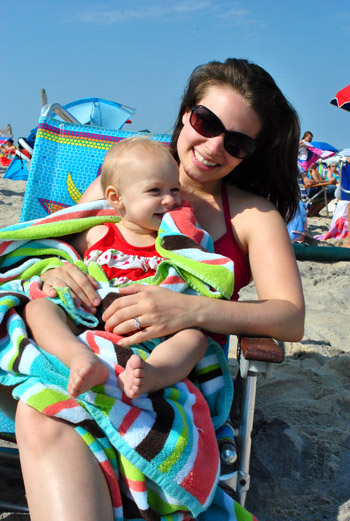 Is there anything better than a sunny day with my girls on the beach? Maybe $11 night tables. Just kidding. Kind of.
What did you guys buy/do/travel to see this weekend? It certainly was nice to get out of the house (and stop staring at the half-completed desk) for a few days. I think those breaks keep us coming back for more DIY madness (that counter might have killed me pre-break, but two days on the beach + cheap nightstands = Refreshed John, who was ready to build). Do you have any other end-of-summer things on your agenda? We keep forgetting it's not still August. So when my aunt mentioned that Christmas was around fifteen weeks away our brains almost exploded.
Psst- We announced this week's giveaway winners. Click here to see if you're one of them.