Reader Redesigns
Last year Lilly and her husband Markus spent her Independence Day making over her half bath, so we thought we'd celebrate her sweet makeover on their one year bathroom anniversary. Here's her (hilarious) letter:
After living in our 1952 house for three years, I was so excited to finally be able to remodel our tiny but crazy powder bathroom that connects to our bedroom. We did all of the demolishing, painting, tiling, plumbing, painting, beadboard and trim ourselves and it was a Fourth of July weekend blast!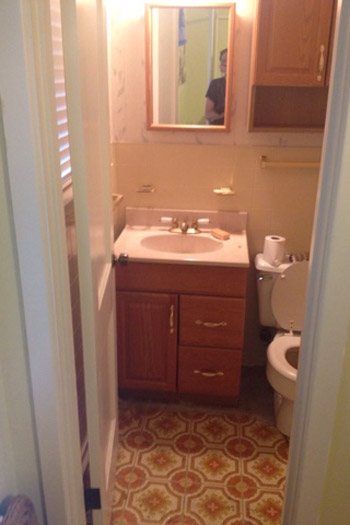 I let out my aggression on some wallpaper one day after work. It was stuck on well, much like our previous bathroom makeover, but after borrowing our neighbor's Scunci steamer it started peeling off easily.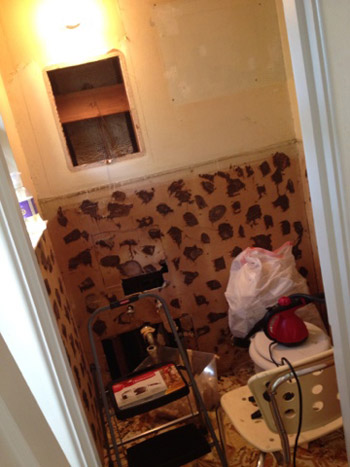 We took a full day to mix the mortar and lay all of the tile. We purchased a wet saw at Home Depot for about $90 and snipped some tiles off of the sheets and cut them down to fit the edges and corners using the saw. We accidentally mixed a second match of mortar too thin, which caused our tiles to not stick to the floor and nearly brought the end of our marriage, but soon we had completely tiled floors!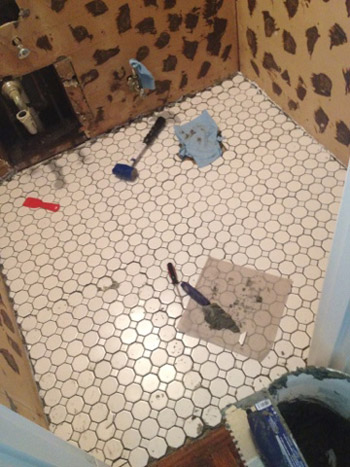 I think my favorite part of the entire bathroom experience was grouting. You start to see it all come together, it's almost idiot proof and it's good for the upper body. I chose a grey grout to pop against the white tile and stay neutral for future home owners. With that said, after spending so much time on this bathroom project it is unlikely that I will be selling this house before my death. I picture George Banks in front of the wrecking ball in Father of the Bride II.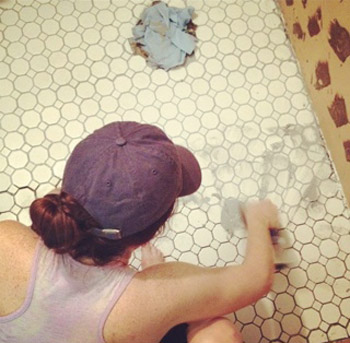 I knew I wanted the room to have a midcentury prep feel, with nautical elements even though I hate theme bathrooms. I thought the rope mirror, polished chrome hardware, and navy wall gave the look I was going for without going overboard (overboard?? heh? …a little nautical bathroom humor).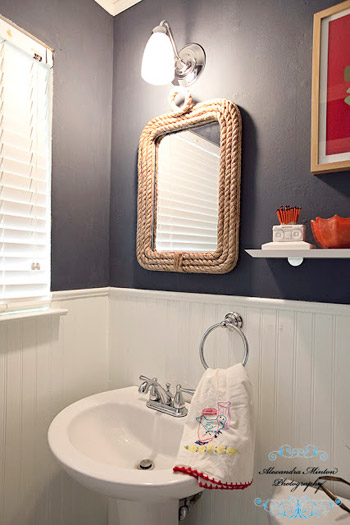 This piece [on the right wall] was originally a gift to my grandfather and he took so much pride in it, hanging it over his easy chair up until he died. My grandmother processes her life through shopping for furniture, so everything in their house is different now and while I love our family today, I cherish having a piece of the house that used to be with me in my new family's home.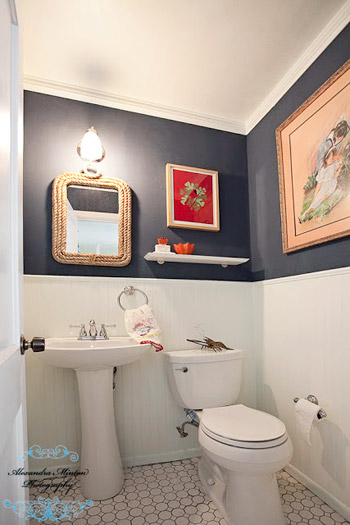 My secret favorite part of the room is the built in magazine rack that I saved from the original architecture and reinstalled and painted to match the beadboard and trim. It's a perfect place to stash some of my "never will I ever recycle these in a million years" editions that I still enjoy flipping through. – Lilly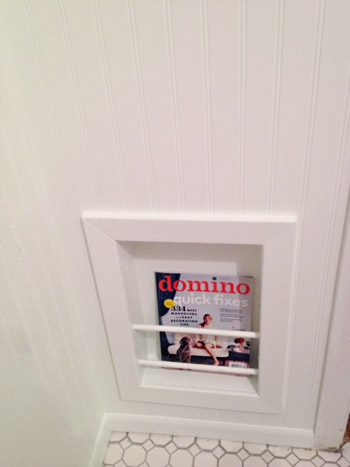 So a big thanks to Lily for sharing her makeover! We especially love that she included the art from her grandparents' house and restored the original magazine rack. Be sure to hit up Lilly's blog for the full story and a complete source list. Happy Fourth of July weekend everyone!
&nbsp&nbsp&nbsp
Cindy had fun making a room for her daughter Sarah, but then plans changed and she had to make a quick adjustment. We loved that she made a mood board to keep herself on track, and hunted things that she loved until she found some great deals. Here's her letter:
Hello John & Sherry! I want to share the latest update in our home. In the beginning of the year we decided to let our kids have their own room. Around March of last year this room became our little girl's bedroom…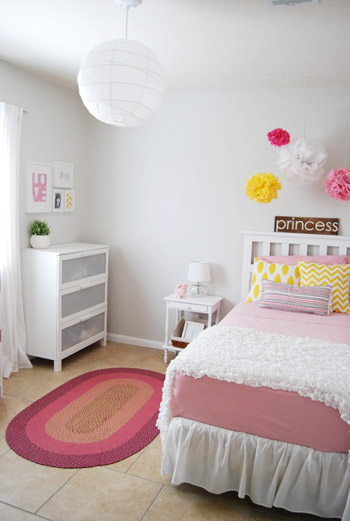 A couple months after finishing this room we found out we were expecting #3 and since our home is a three bedroom home that meant the baby had to share a room with one of his siblings. Since my daughter is the youngest we chose to re-do her room once again so that she can share with her baby brother, Levi. It was a little hard trying to design a shared nursery for both a baby boy and a toddler girl, but I came up with this design board…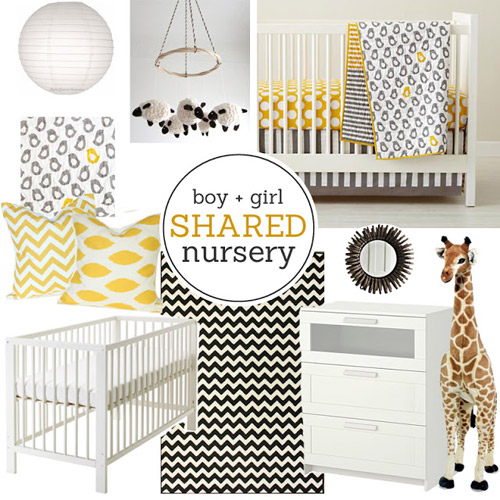 I pretty much stuck to it and here is the room now…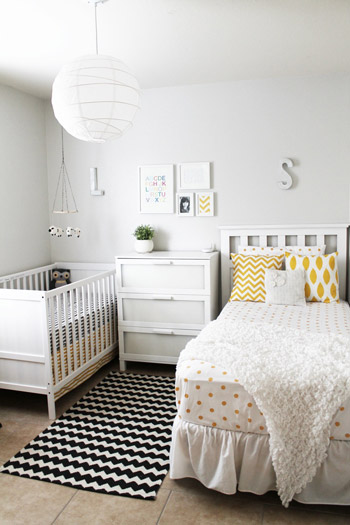 I fell in love with this giraffe as I was browsing through nurseries on pinterest. I looked to see how much they were and almost didn't end up getting it because it was a bit too pricey for me but then I found this one on Amazon here for half the price! It's one of the first things I purchased for this room.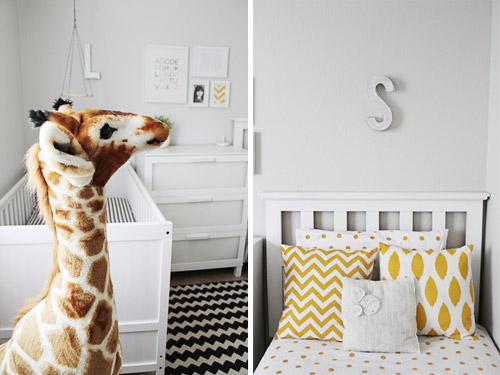 One of my favorite parts of this room is the mobile. It is the inspiration for this nursery..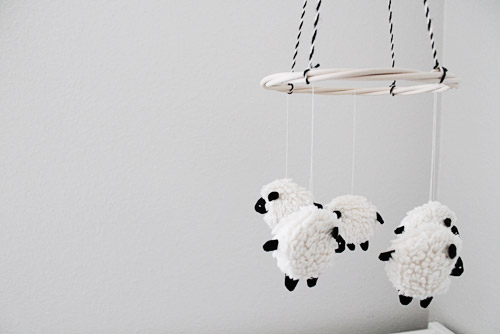 It's crazy how much this room has changed in just one year! I tried to re-use many of the items I had purchased for the first makeover but sadly had to take all of the pink away and store it. My princess still LOVES her room though and she is very excited to be sharing it with her little brother! – Cindy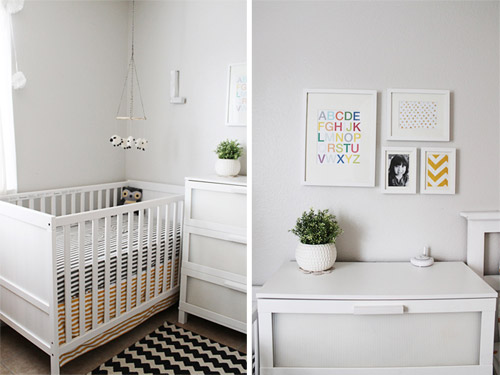 Looks like a pretty rocking shared room to us. It's awesome how just a few tweaks gave it a fresh new life (without even painting the walls!). If you want to see more photos of Cindy's makeover, check out her blog. She also has a full source list outlined here. Thanks for sharing Cindy!
Psst- Looking to make a mood board yourself? We make ours in Adobe Photoshop (after bringing a bunch of our favorite items into Photoshop, we size 'em, cut them out, and add some numbers) but if you don't have access to Photoshop, we've heard great things about OlioBoard, Polyvore and MyDeco so you might want to check those out.
&nbsp&nbsp&nbsp