It's no surprise that we're in the mood for a good kitchen makeover these days. Okay, who are we kidding, we're always in the mood for one. But Erin & Zach's do-it-yourself remodel of their 1950's kitchen is especially familiar (and inspiring since we're just at the beginning of our current kitchen's transformation). Here's their letter:
We wanted to share the redo of our 1951 kitchen (take note of the sweet before lamp and the heavy-duty ceiling beam disappearing act).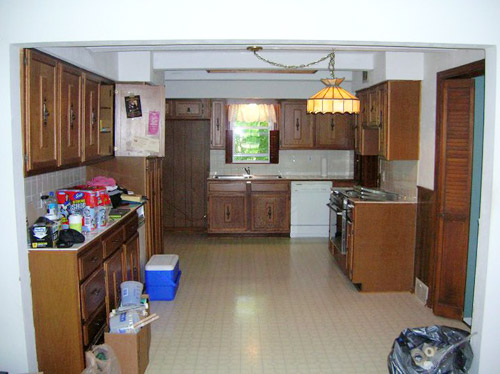 We were so lucky to peel up the old laminate floor and the plywood to find original (albeit quite damaged) wood floors that extended into the middle of the kitchen. We found matching red oak floor pieces and filled in the missing & damaged spots.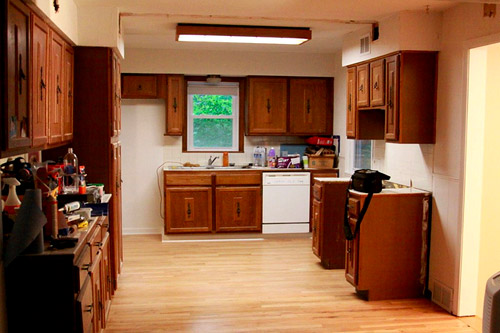 One of the cool things we did was to buy two pre-made cabinets from Home Depot to create the breakfast bar. We put them side-by-side and filled one of the openings with wood pieces to make it seamless.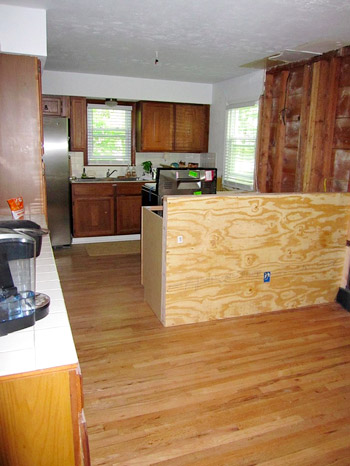 We also re-used all the cabinets but updated the hardware. Painting that many cabinets and doors definitely took patience … and three coats of paint. The new blue color in kitchen is Behr Primer + Paint in Clear Pond, Eggshell.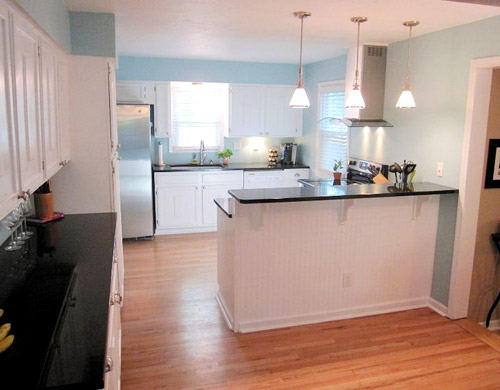 Thanks so much for checking out our kitchen. We love it!! ~ Erin & Zach
We love it too, guys. Congrats on a job very well done! It's a reminder of not only how much work is ahead of us, but also what a big payoff there can be at the end! Seriously, it doesn't even look like the same room.
PS: We've announced the winners to this week's giveaway. Click here to see if you're one of them.