Lately lots of the submissions that we've been getting are kitchen related, and you know we're in the kitchen mindset these days… so we're happy to share. Jasmine & Sam's remodel wooed us with their use of white on white with tons of texture and a sleek clean feeling. And when it comes to function, we're really impressed by how the addition of more upper cabinets and details like molding and trim elevated (both literally and figuratively) the entire room. Here's Jasmine and Sam's email:
Hey guys! My family and I just had our one year anniversary in our new house and I thought to send you some pics of our new kitchen. We actually did almost all of the projects in our house makeover on our own. Luckily, we are a handy pair.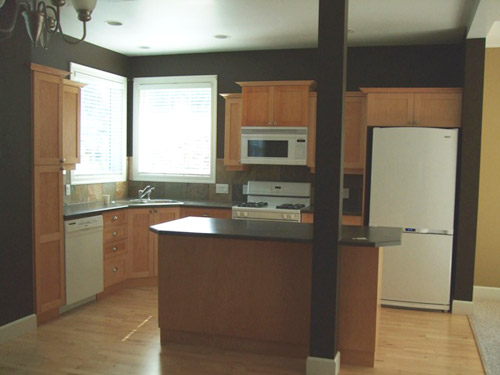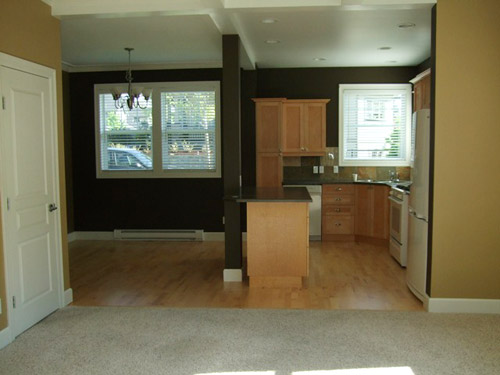 The kitchen cabinets were maple, in a shaker style. We ordered a second set of cabinets from a local company (Summerhill Kitchens) for the top row to match the bottom row and sent all the doors to an automotive painter friend of ours who sprayed them in Benjamin Moore's Simply White. I painted the gables, and stretchers, and anything else that was nailed down with a foam roller. The big splurge was new appliances – all Vikings. Love them. A Lot. Not Sam's favourite things to install, but totally worth it (we saved money by having him install them all).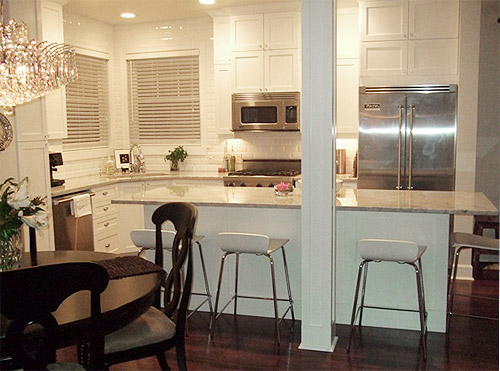 The backsplash is a white beveled subway tile. They were a great bargain (around 60 cents each) from here. The floor was a combination of birch hardwood and the ugliest shag you've ever seen. Not only was it ugly, it really broke the space up. After ripping it all out, we laid an engineered walnut floating floor on top throughout the whole main floor. We bought it from an auction that sells flooring a few times per year, so the flooring ended up being an unbelievable $1.50/sq ft (including underlay). Oh and the stools are from Crate & Barrel.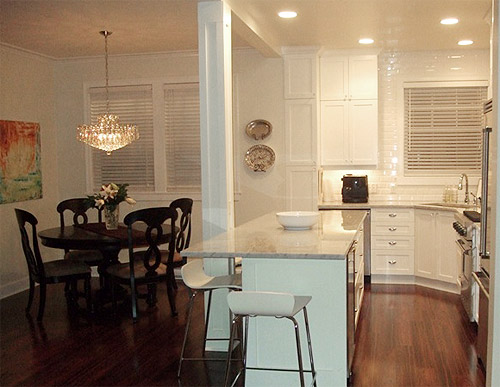 The wall colour is Antique White and the cabinets and trim are Simply White by Benjamin Moore matched to Home Depot's Behr Paint & Primer in One paint. There's a post in the middle of the kitchen that we really really wanted to remove, but apparently since it holds up the entire house, they told me it had to stay. So we tarted it up with moulding and called it a day. We're used to it, but I still wish it was gone. Anyways, have fun with your kitchen renos, catch ya later! – Jasmine and Sam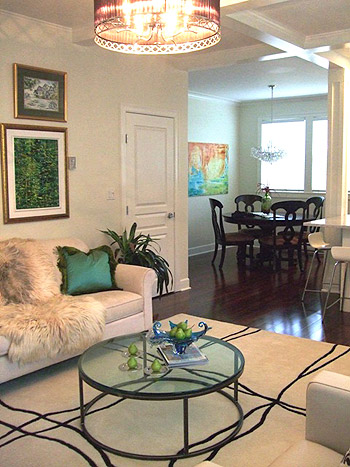 Anyone else think Jasmine and Sam need to start a blog so we can learn more about their renovations? They look like quite the stylish duo. And I for one, love that coffee table above. Here's hoping they can drop in and answer any comment questions that you guys have here. And in the meantime, let's play the what's-your-favorite-part-game. I'm digging the extra cabinetry they added along with those cool stools. And Sherry's drooling over those shiiiiny counters and that gleaming backsplash.
Psst- We (finally) shared our road-tripping Thanksgiving adventures with friends, family, and food over on Young House Life. Find those deets here.
Psssst – We just put our dining table and six chairs from our first house on Craigslist (it's from Target, is in great condition, and is about four years old). More deets here.