Coming off of the heels of our own adventures in stencil land, we just had to share this note from Ginny who stenciled her dining nook earlier this year. Methinks she had a clawed hand of her own going on after she finished (just like my lady wife). Here's what Ginny had to say about her dining area makeover: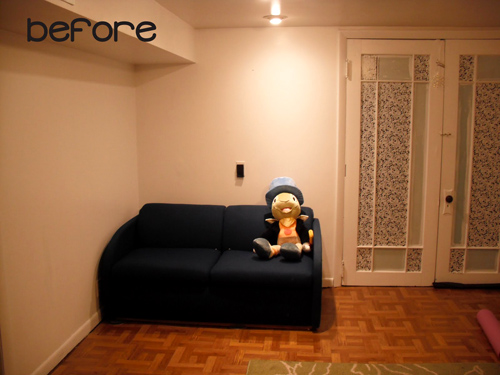 I wanted to create a dining corner in my living room. Well, although I bought my table, finally got the chairs I wanted, and tried to dress it up, it still didn't feel like a dining room to me. It was just this table in the corner of the room. Then it hit me like a ton of bricks. I was missing COLOR. I wanted the color to match my living room so I brought in some green to match the carpet.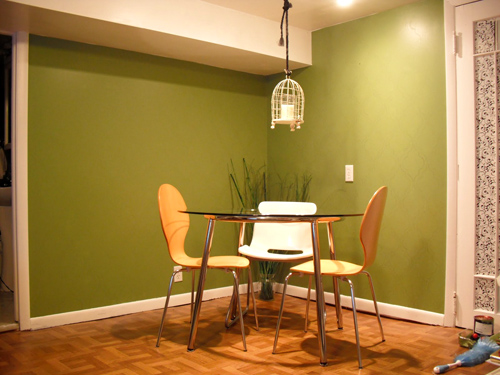 Then I saw this post that inspired me. So I went to her website to see what she did in full detail and she actually got the idea from this website. This is why I love bloggers – ideas go from page to page to page! So I cut out the template, traced it on the wall… which took 4.5 hours. Yes, my hands were hurting the next day. But then I also had to paint the lines, which took even longer :(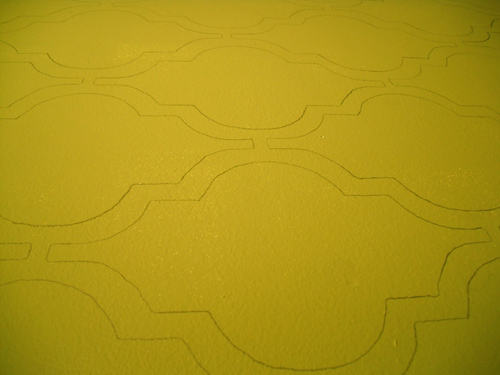 Now I'm absolutely positively head over heels in love with my dining room! -Ginny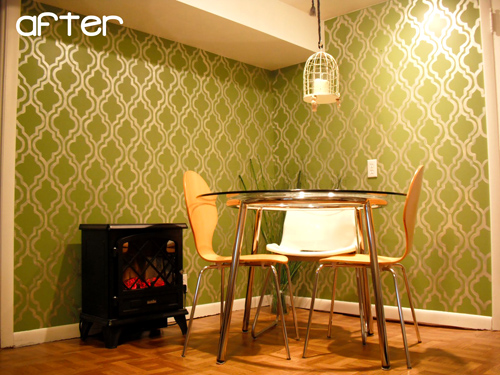 Thanks so much for sharing Ginny! We really love how the bold color and pattern made a statement out of an otherwise ordinary corner. You can read more details about her project here. Anyone else out there inspired to use a similar stencil or color palette in their dining space (or beyond)? And hopefully Ginny's hand recovered eventually! Sherry's are finally back to normal. But I'm not about to ask for a back rub just yet. Don't wanna push my luck…
Got your own awesome before & after project? Send your story, pics, and related links to [email protected] to be considered for a possible Reader Redesign feature. You know we love any and all design eye candy!