Will we ever grow tired of seeing a piece of furniture that has been completely transformed with a little bit of paint? Probably not. At least not as long as we're getting emails like Jesse's. Here's an excerpt from his blog about the whole hexagon-tastic transformation of this coffee table that he sent our way:
You can see in the photo that this was one of those over-lacquered tables that was pretty beat up. But the curves are all there, and they are nice!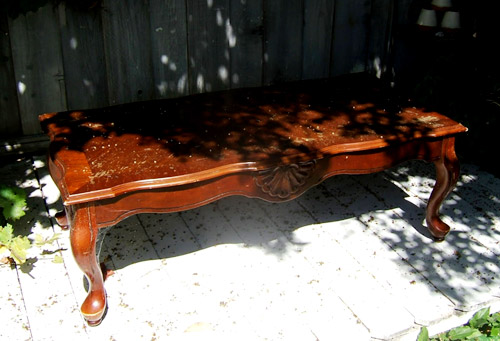 The top had really pretty woodwork, a nice diamond inlay. So, continuing with my recent love affair with wood AND paint rather than one or the other, I stripped this table to the bare wood. I stained the top "dark walnut" and then went hexagonal with it. Here's the after: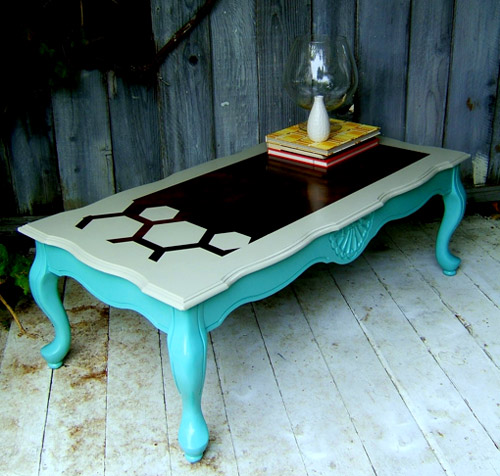 I love the dark wood flowing in between those hexagons, and then the contrasting turquoise underneath. It's actually a light turquoise that I spotted in the mishap aisle (so I can't be sure of the name).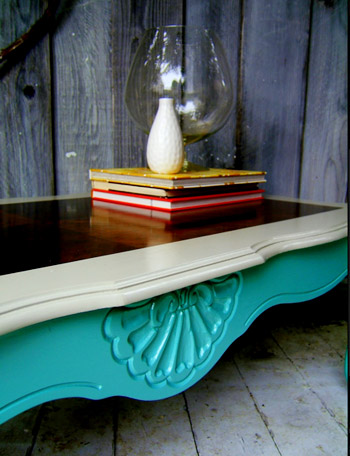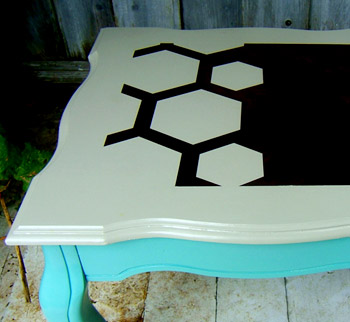 Didn't Jesse do an awesome job? You can check out more pics and details here on his blog. We love the play between the traditional shape of the table and the modern color and pattern. I'm sure we've walked past many a similar table at thrift stores or yard sales before. Now we might give them a closer look!
Psst – Got your own awesome before & after project? Send your story, pics, and related links to [email protected] to be considered for a possible Reader Redesign feature. You know we love a makeover.
Psssst – We don't always tell you when we have a new post up on Young House Life (they just go up every few days – even on nights and weekends – so clicking the Life tab under the header or subscribing is the best way to see all those behind-the-scenes posts). Couldn't let our Halloween night pics go up without a little shout out though, so feel free to check them out here.